In Las Vegas and nationwide, Japanese whisky is experiencing golden age
Updated March 22, 2017 - 5:16 pm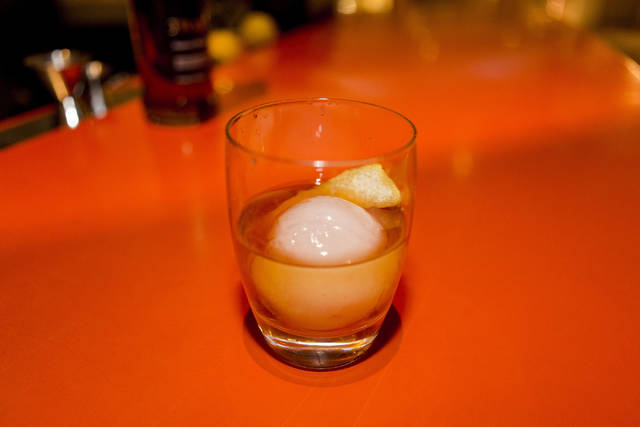 When Bill Murray struggled with the line "For relaxing times, make it Suntory time" in the 2003 film "Lost in Translation," the very idea his director was so intense over a Japanese whisky was part of the joke. The nation was not, at the time, known for its whisky.
Fast forward 13 years and the bottle Murray is holding, a $300-$400 bottle of Hibiki 17-year-old by Suntory, is prized by whisky aficionados in Las Vegas and around the world. And its more popular, less expensive younger sibling is quickly disappearing from bars across the country.
"The Hibiki was named the best blended whisky in the world," says Hayes Swope, who offers it for $23 a pour at SushiSamba at Palazzo. "But they can't make the 12-year anymore. I still have a bottle of it. We have two (at the restaurant). And when it's gone, it's gone. They're never reproducing it."
Neither Suntory nor its Hibiki brand is a fluke. Japanese whisky is experiencing a golden age. Some credit Murray with bringing it to prominence. But the appeal goes beyond that.
"The Japanese take whisky very seriously," says Adam Carmer, a UNLV professor and owner of The Whisky Attic. "They're craftsmen. They're artists."
The world is taking notice.
"A few years ago the Japanese started winning every competition," Swope explains. "In all the different spirit competitions, when it comes to brown liquors and whiskys worldwide, the Japanese are taking every category. They've got the best single-malt whisky, the best blended malt, the best overall whisky in the world."
The tipping point came in 2014, when whisky connoisseur Jim Murray named a 2013 single-malt sherry cask by Yamazaki the World Whisky of the Year in the 2015 edition of his Whisky Bible. In addition to driving the price of a bottle of that limited release from about $100-$200 in the U.S. to anywhere from $3,000 to $5,000, it fueled a seemingly unquenchable thirst for the nation's whisky.
"They didn't predict the demand," says James Shearer, global bar manager for the Zuma restaurant chain. "The global market for Japanese whisky is so much that (not only) Hibiki 12 will no longer be made. Nikka and Suntory have announced that they will no longer be able to make (other) beautiful age statements, because they've just run out. They'll have to take another 10 or 20 years to produce them."
Japan is a relative newcomer to the small club of nations that produce serious whisky (or whiskey, depending on the country). The drink is believed to have been brought to the island nation by U.S. Commodore Matthew Perry in 1853, when he sailed to Japan to open trade and, as Swope puts it, "decided to sweeten the deal with a barrel of whisky."
In 1918, Japanese chemist and businessman Masataka Taketsuru traveled to Scotland for what would be the Mars distillery, to study organic chemistry and apprentice at local distilleries. When he returned home in 1920, his benefactor had gone bankrupt, so he lent his skills to the distillery that would become Suntory. Upon leaving that position in 1934, he founded Nikka distilleries, which is still a top producer.
Japanese distilleries offer both blended and single-malt creations. Unlike the Scots, they only blend from within their own distillery or family of distilleries. But Suntory alone creates 116 single malts, six more than the entire nation of Scotland. Flavors range from light and sweet to heavy, smoky and loaded with peat.
Like most whiskys, they can be enjoyed straight, with a touch of water or in cocktails — although mixing high-end whiskys is considered blasphemy by many.
Traditionally, ice should be offered in spheres, which have a lower surface area and, therefore, dilute the product less. (Zuma hand-carves its ice spheres, but volume and time constraints have led SushiSamba to use molds.)
With local selections of Japanese whiskys growing (SushiSamba offers around 30, Zuma has 26), choosing one can be intimidating. Shearer recommends you "come and establish a relationship with your bartender" first.
"The bartender needs to understand what (customers) like," he says of newcomers to the genre. "Do they like something sweet? Smooth? Do they want wood notes to it? Do they want something peaty? What is their go-to choice for a Scotch?"
Whatever you choose, the career barman doubts you'll be disappointed.
"What we love about Japan — not just in whisky, but in sake and beer and anything that they do — is the detail and the time and the precision and the patience speak for itself when you try it."
Contact Al Mancini at amancini@reviewjournal.com. Follow @AlManciniVegas on Twitter.
A previous version of this story incorrectly stated that "Lost in Translation" was released in 2010.
HOW TO MAKE SASUKE
6 lime half-quarters
4 1/4-inch-thick wheels of fresh pineapple
2 ounces Iwai Japanese Whisky
1/2 ounce pineapple juice
3/4 ounce simple syrup
Bamboo leaf for garnish
Muddle lime wedges and pineapple pieces. Add other ingredients except garnish. Add ice and shake vigorously.
Pour into tall glass; garnish with bamboo leaf and insert fat straw.
Serves 1.
— Hayes Swope, SushiSamba