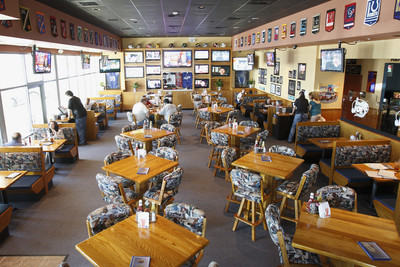 As the name indicates — and the sports memorabilia, 20 beers on tap and 36 plasma flat-screen TVs confirm — Indigo Joe's Sports Pub & Restaurant is a sports bar.
But underneath Indigo Joe's sporty exterior beats the heart of a family-friendly restaurant with a menu far beyond that of the average sports pub.
While hard-core sports bar fans can enjoy a separate, enclosed room with a classic sports bar ambience, families can feel comfortable dining and catching games in the main dining room.
"We're trying to bring sports to families with this concept," said Nathan Trent, who with partner Christine Chan opened Indigo Joe's at 7260 S. Cimarron Road Aug. 18.
"We have people who come here who aren't even sports fans," he added. "They just enjoy the food."
Indigo Joe's is open 24 hours a day and seats 205. Reservations aren't required.
Starters: Fresh fruit and cheese platter, $8.99; seared ahi tuna, $8.99; Kick Off platter of steak and chicken kebabs, chicken wings and baby back ribs, $11.75.
Soups and salads: Southwestern chicken soup in a sourdough bread bowl, $6.99; Mexican chicken salad, $9.50; Joe's Waldorf Salad, $8.79.
Entrees: Santa Fe chicken sandwich, $8.50; 12-ounce certified-Angus rib-eye steak, $17.99; full rack of barbecue baby back ribs, $16.99; grilled swordfish, $13.99; an Angus California burger, $8.99.
Extras: The Sexy Alligator, with Midori melon liqueur and Chambord, $6; and the Raspberry Cheesecake, with Malibu rum, butterscotch schnapps, pineapple juice and half-and-half, $8.
Desserts: The Banana Joe, creamy banana and cheesecake in deep-fried pastry, rolled in cinnamon and sugar and served with ice cream, a caramel drizzle and toasted almonds, $6.75.
Information: 851-5637.