Inside the only Las Vegas restaurant serving this kind of African food
Updated January 26, 2023 - 2:27 pm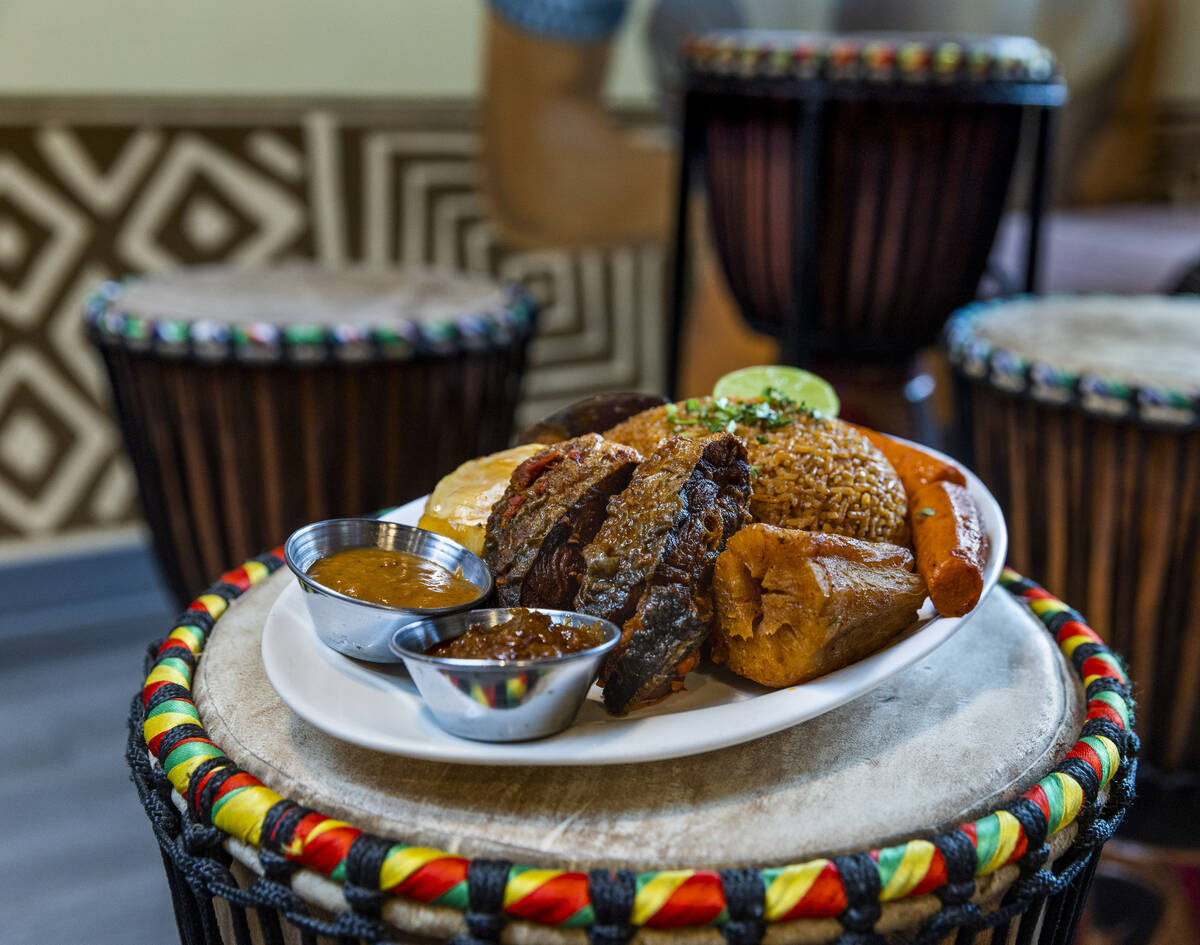 For Oulay Ceesay Fisher, the recipes were the hardest part.
When she opened Calabash African Kitchen on South Rainbow Boulevard a year ago, she had working capital (from a successful career in finance and tech). She knew her way around a budget and a balance sheet. She had cooked the food on the menu — from her native Senegal and Gambia, on the coast of West Africa — all her life.
And she had a supportive spouse, Brian Fisher, willing to do everything from peel onions to clean bathrooms.
But Oulay Ceesay Fisher did not understand that detailed recipes are essential at a restaurant for maintaining food quality and consistency, for determining the cost of a dish, for tracking and ordering ingredients.
"When I opened the restaurant, I had no restaurant experience. I had never even waited tables. I did not have recipes," she said. At home, "we just close our eyes and cook. Someone once asked me, 'How do you know if something is enough?' I feel my ancestors."
In the past year, she's supplemented her ancestors with professional education (including recipe writing), with kitchen assistance (including a Senegalese cook), and with front-of-house training so servers can explain the menu.
When Americans think of African food, they typically default to Ethiopia, or perhaps Nigeria. At Calabash African Kitchen, Fisher isn't just deepening the culinary culture of Las Vegas with the city's only Senegambian restaurant. She's also "teaching people my culture through food," she said.
"To a lot of people, Africa is hungry, and yes, there is hunger and wars and droughts and famine. But in Africa, we share a lot through food, too. In the morning, cooking in the kitchen, it's the best moment of my day."
For signature rice, appealing heat
Calabash African Kitchen takes its name from the calabash gourd (or bottle gourd) used across West Africa to fashion carryalls, serving utensils and dishes, musical instruments and more.
Jollof rice, a signature Senegambian dish, is often served family-style from a calabash. In her own kitchen, Fisher said she uses rice fragments (called broken rice) to make the dish, but at the restaurant, she uses jasmine rice more familiar to customers.
The rice and vegetables are simmered in a roasty tomato sauce that includes a West African pepper condiment made from habaneros, bell peppers, scallions, ginger and lots of garlic; the condiment lends the jollof a pleasing hum of heat.
"Back in Gambia and Senegal, we put it in almost everything," Fisher said. "I come in every morning and do it for the food I'm going to be cooking."
Jollof is vegetarian, but fish, chicken, lamb or beef can be added.
Peanut soup simmering
Peanuts are an important West African crop (their history bound up with European conquest, expansion and slavery, as meticulously covered in the 2022 book "Slaves for Peanuts" by Jori Lewis).
For mafe-domoda, a lusty peanut stew, tomato paste, bell peppers, habaneros, onions and scallions are sautéed until almost scorched. Water and peanut butter (typically homemade in Senegambia) are added.
The stew simmers for an hour or so, then arrives with steamed white rice, sticky-spongy foufou (boiled cassava dough) or a heap of fonio (a tiny African heritage grain) playing foil.
"Some people like it liquidy," as in Ghana, Fisher said. "Our peanut butter soup is thicker, in Gambian style."
The smell of the street
The Calabash menu draws on Senegambian street food with dibi afra (called suya in Nigeria), featuring chicken, lamb or beef marinated before grilling. Fisher's marinade mingles black pepper, garlic, the West African pepper sauce and vinegar. Dibi afra is served with pickled onions, spicy mustard and a small salad.
"Each West African country has its own version," Fisher said. "When you walk down every street in the evening, you can smell it. For dibi afra, I needed a good grill." (The Calabash grill cooks with gas, charcoal or wood chips.)
It starts with melon seed
Egusi soup, of Nigerian origin, ranks among the most famous of West African dishes. Fisher cooks the soup differently than in Nigeria, adding egusi paste (from ground melon seed) and water to a sauté of palm oil, red bell pepper, onions, scallions and habaneros.
"The egusi seed is oily, so to cut the oil, it needs to be spicy," Fisher said.
Bitter leaf, a green leafy vegetable, also hits the pan, then everything is cooked down. If the soup incorporates smoked fish, goat or beef, a corresponding fish, goat or cow's foot stock can be substituted for the water. Versatile foufou joins the soup at the table.
Ancestral dishes
On TikTok, foufou (or fufu) has gone viral, Fisher said, with #fufuchallenge videos explaining foufou and how to prepare and eat it. The app demographic has been a boon to Calabash African Kitchen.
"The kids see things on TikTok; they want to learn about other cultures; they drag their parents in here," Fisher said.
A significant portion of the restaurant's customers are Black Americans, Fisher said. They're frequently curious about the food. "Some of them get emotional," she said. "They ask, 'Is this what our ancestors used to eat?' "
Fisher cooks in the Calabash kitchen about 80 percent of the time, she said. Although staff training continues (with a cocktail program now added), Fisher said she was now confident her team could send out jollof and peanut soup, dibi afra and egusi, that meet her standards.
She has the recipes down.
Contact Johnathan L. Wright at jwright@reviewjournal.com. Follow @ItsJLW on Twitter.