Inside the world of personalized cocktails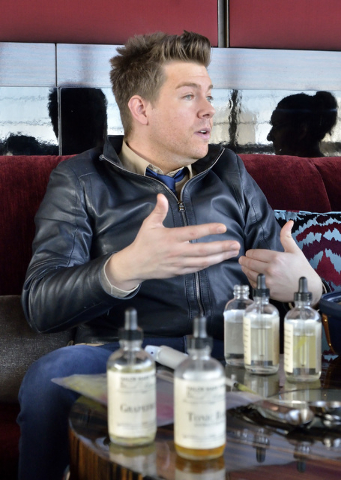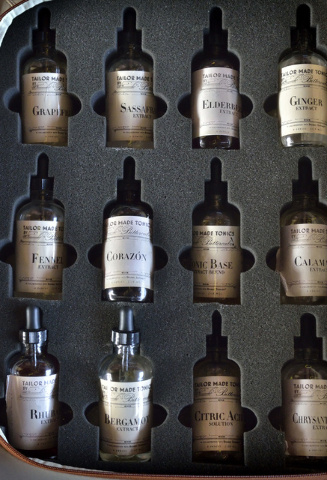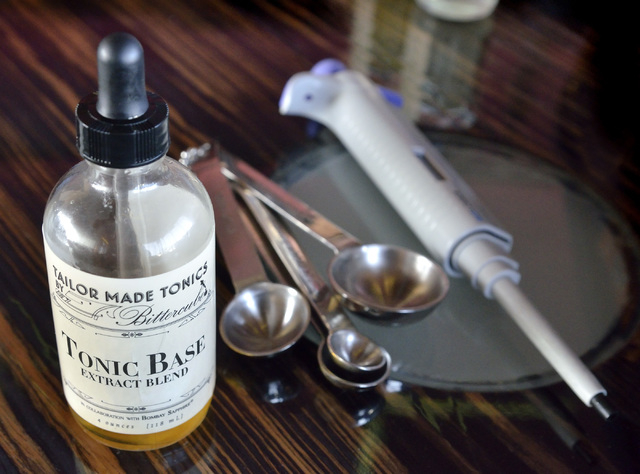 It's 2 p.m. on a Tuesday, and I've got the club going all the way up.
To the 23rd floor of Mandarin Oriental, where in the cocktail bar I am presented with about ten different Harry Potter-like vials, which may or may not have been used in a lesson with Severus Snape at Hogwarts.
And by "club," I mean me — let's drink at work.
It's not long after Gary Hayward, Bombay Sapphire brand ambassador and master mixologist, begins his lesson in designing tonics that I realize this is something really special.
Meticulously — for someone who is only fluent in Moscow Mules (me) — he goes about explaining the premise for the program he and Bittercube Bitters deigned with the liquor company to customize the classic gin-and-tonic cocktail at bars across the country.
He starts by unzipping a case packed with bottles of botanicals and extracts that he will inject by the micro-liter with a syringe-like tool, "a pipette," to make a tailored tonic water. "Where's the gin?" I ask myself silently.
"This is the cool part," he said with a smile as he dialed in his instrument.
"We'll have bartenders that will go, 'okay, I want something floral,'" Hayward said, "and they've smelled through it, they've tasted all the extracts, and they're like, 'okay, I want three ingredients in my tonic, keep it nice and simple; I want spicy, citrus and floral.'"
Afterward, each bartender is asked which of the notes he or she wants to taste first, giving them complete control of the design process, before dropping in the additives.
I stop to smell the bergamont and grapefruit, then ask for one Hayward-personalized tonic. Here comes the 80-proof alcohol.
"My favorite is grapefruit, calamansi," he starts, then pauses to explain that calamansi is a hybrid fruit like a mix between a kumquat and a mandarin orange. Bergamont and ginger, he names as his final tonic ingredients.
"What do you call it," I ask.
"Maybe the 'Royal Tonic,'" he replies.
After mixing the concoction with gin and simple syrup, Hayward and I are ready to sip our Royal Tonics.
"Shall we have a gin and tonic?" he asks.
"Sure, yeah," I respond with only enough hesitation to make it look like I haven't been thinking he'd never ask.
I can identify the flavors he picked out with each straw-full, and when I compared it to a generic cocktail of the same main ingredients, I was immediately extra thrilled to be consuming cocktails on the job.
It's unlike any gin and tonic I've ever had — absent of excessive bitterness, fruity and smooth to drink.
And it's not just the Hayward-personalized tonic making the beverage so wonderful; it's the gin.
"So, it's a program initially designed for Sapphire East," he said, explaining that while a similar program could work with a different brand, his specifically would not.
"As we make it, as we taste it going along, and as every gin has a different recipe, it wouldn't work."
Bombay Sapphire and Bombay Sapphire East are citrus-forward gins, and the additives are meant to compliment it.
"Before we even started on making the liquid itself (for Bombay Sapphire East), we already knew that we wanted to make a gin that was perfect for tonic water," Hayward said of the three-year-old Bombay Sapphire-branded gin.
A designer tonic water to be exact, made to order.
You, Las Vegas, can also try the custom tonics made with Hayward in partnership with bars like Public House, Herbs & Rye, Oak and Ivy, Mandarin Oriental and Vanguard, who've created their own.
Contact Kimberly De La Cruz at kdelacruz@reviewjournal.com or 702-387-5244. Find her on Twitter: @KimberlyinLV.