Iron Chef Morimoto hints at opening Las Vegas ramen spot
November 8, 2017 - 10:29 am
Updated November 8, 2017 - 4:13 pm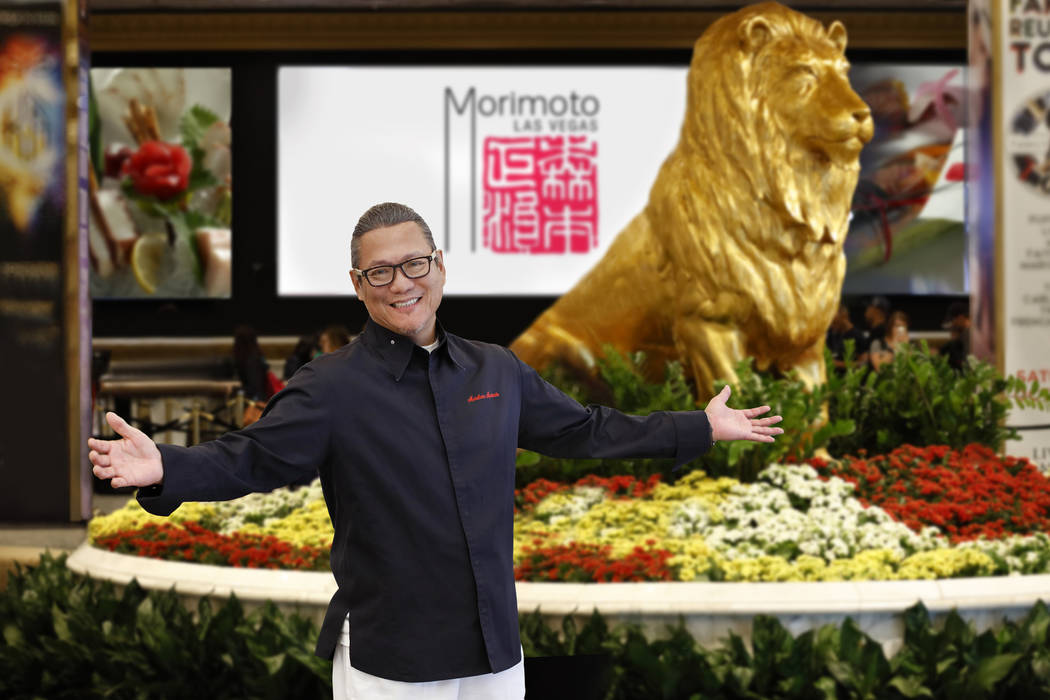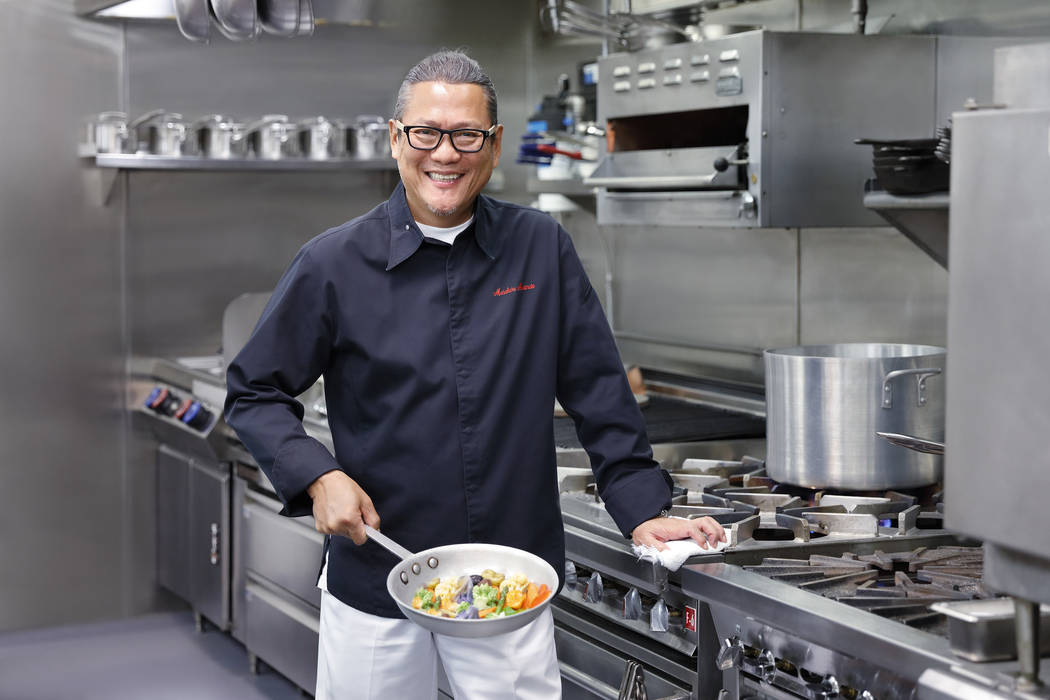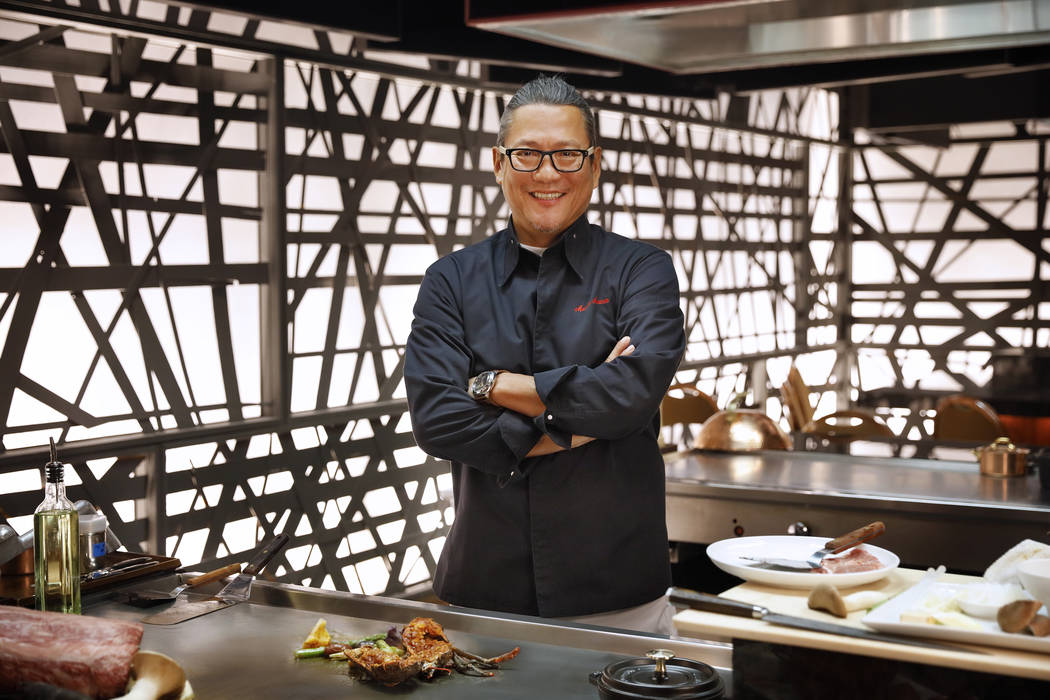 Iron Chef Masaharu Morimoto was in Las Vegas last week to celebrate the first anniversary of his MGM Grand restaurant. The excitement of being here clearly hasn't worn off yet. In a few free moments before the interview for this story, he had ducked out a back door of the restaurant to visit the hotel lobby, where the iconic golden lion statue had been decorated in his honor, in advance of a cookbook signing two days later. When he returned, dressed more for a tennis court than a kitchen and grinning mischievously, he showed off pictures someone had snapped of him, behind the velvet ropes intended to dissuade others from seeking a similar souvenir. His glee at having secured the shot was more reminiscent of a giddy tourist than a globe-trotting head of a worldwide culinary empire.
A unique market
"Vegas is a special location," the chef said, "a special place."
Morimoto said his understanding that Las Vegas is unlike anywhere else had made him a little unsure about how the restaurant would be received. He's been pleasantly surprised.
"After one year, I don't see any difference (between Las Vegas and my other locations). I thought Vegas would be different: gambling, high rollers. But I'm kind of surprised to see a lot of foodie people come here."
That's not to say there isn't some crossover between those two customer bases. In fact, he says, that crossover has helped the restaurant, which can be a bit on the pricey side.
"The only difference is that the high rollers come in and spend a lot of money," he said. "They don't care about money. I was not ready for that."
As a result, Las Vegas customers don't think twice about ordering premium items such as Japanese sea urchin or prized A5 wagyu beef.
New restaurant coming?
But have no fear. The chef doesn't intend to use that as an excuse to raise prices. On the contrary, a recent experience in New York City has taught him there's also plenty of money to be made serving more budget-conscious customers. In the spring of 2016, Momosan Ramen & Sake opened in the city's Murray Hill neighborhood, offering the Japanese noodle dish and other broths and a handful of appetizers. The chef reports it has been "very busy, and interesting."
Ramen exploded onto the Las Vegas scene about seven years ago, but has failed to make a serious impression on The Strip. If Morimoto has his way, that might not be the case for long. When asked if he would consider opening a Momosan in Las Vegas, that same smile returned to his face.
"We're negotiating," he teased. No other details were offered, other than that, if Momosan or a similar project did come to town, the prices would be in the $18 to $19 range for lunch, and around $15 to $28 for dinner — making a Morimoto meal much more affordable for those dining on a budget.
A jet-setting life
Don't look to book reservations anytime soon, however. The last time Morimoto teased about a Las Vegas restaurant opening it took four years for it to come to fruition. In the meantime, the chef has plenty of other things on his plate. After opening a new space in Doha, Qatar, last month, he has three more openings scheduled before year's end: two in Hawaii and another in Dubai. That packed schedule keeps the celebrity chef traveling year-round.
"I counted how many nights I used my own bed, with my own pillows and my own blanket," he says. "It was 68 days last year. The other 297 were spent up in the air or in a hotel."
The schedule is so grueling that he had to turn down an appearance on a new version of the TV show that made him a household name: "Iron Chef."
"Unfortunately, I couldn't do it because of my schedule," he lamented. "Next time I have to do it, because I'm the only original from 'Iron Chef Japan.'"
Keeping things fresh
Back in Las Vegas, the chef has total confidence in his local staff to not only prepare his classic dishes, but to create new ones worthy of the Morimoto name.
"That's why I'm here," he said. "I'm speaking about things with the chef and the sous chef and the managers to see what's going on. And they have enough skill, after working for me for years, to create for the Las Vegas customers."
That could mean some fresh surprises on the menu in the coming weeks and months.
Related
Discover playful, palate-pleasing perfection at Morimoto
Morimoto's chocolate tart ignites and melts before your eyes