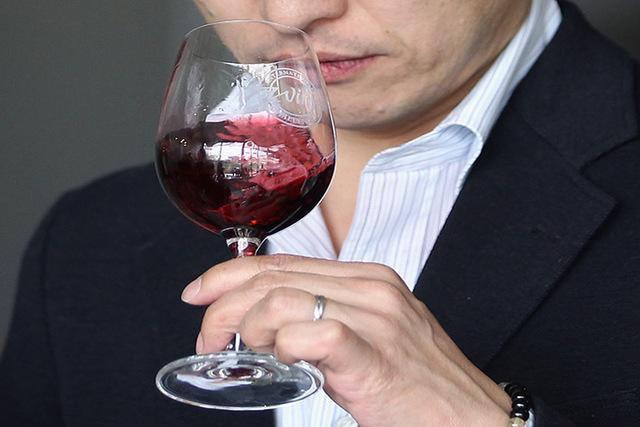 Is red wine really good for you? And if it is, would eating grapes or drinking grape juice be good for your kids?
Well, the jury's still out on the first question. As for the second, it's an unqualified "yes" on the first part, a caveat or two on the second.
"Red wine's potential heart-healthy benefits look promising," according to the Mayo Foundation for Medical Education and Research. "Those who drink moderate amounts of alcohol, including red wine, seem to have a lower risk of heart disease."
But after that, things get as cloudy as bad wine.
The seeming confusion revolves around resveratrol, a substance that's gotten a whole lot of attention lately. Resveratrol is found in grape skins, blueberries, chocolate and a few other plants, including peanuts.
Polyphenols, which are antioxidants in red wine, may help protect the lining of blood vessels in the heart, Mayo said. Resveratrol is one of those polyphenols, and may help reduce low-density lipoprotein, or LDL, cholesterol, which is the one we think of as "bad" cholesterol," and help prevent blood clots.
Seems like a simple progression from A to B to let's all start drinking more red wine, right? And why not get on the resveratrol bandwagon, adding to the mushrooming sales in supplements of the substance? Well, those words "may" and "might" in that paragraph are pretty important.
"The studies suggest that resveratrol may help prevent cardiovascular disease because it acts like an antioxidant, in that it inhibits inflammation and such," said Mary Wilson, a registered dietitian and extension nutrition specialist with the University of Nevada Cooperative Extension. "So yes, it's true that wine, especially red wine, has heart benefits, but it's not known to what extent resveratrol is attributable to this."
Most of the studies, Wilson said, have been done on animals, not people. And according to Mayo, to get the same dose of resveratrol used in the studies on mice, you'd have to drink more than 1,000 liters of red wine each day, which we can all agree isn't a good idea (and which makes us wonder about those poor drunken mice).
And there's another little problem.
"Interestingly enough, when I looked at some of the current stuff, there was a researcher in 2012 who fabricated the results," Wilson said, "so it muddied the water a little bit."
So where does that leave us? Wilson said some studies showed that the resveratrol supplements were safe, but that high doses caused gastric distress in some people, and Mayo says your body can't absorb most of the resveratrol in the supplements.
And so it all comes back to food, and consuming a balanced, nutritious diet.
The reason red wine is thought to have greater benefits than white is because the resveratrol is found in grape skins, and red wine is exposed to the skins longer than white. So eating grapes would be a logical place to start.
"Because we don't know the optimal doses and who might benefit, we'd be better getting our resveratrol from our diet, such as grape juice, grapes, peanuts, blueberries and wine," Wilson said.
"Simply eating grapes, or drinking grape juice, has been suggested as one way to get resveratrol without drinking alcohol," Mayo said.
The only problem with grape juice, Wilson said, is that it has a high naturally occurring sugar content. Eight ounces of grape juice contains 150 calories, which works out to more sugar content per ounce than a Coke.
"It would be smart not to drink large quantities," Wilson said. Or to let your kids drink large quantities.
Mayo points out that neither the American Heart Association nor the National Heart, Lung, and Blood Institute recommend that anyone should start drinking red wine in an effort to prevent heart disease, since alcohol consumption — especially overconsumption — can worsen or bring about a whole raft of health problems.
So it all comes back to the basics: Consume a healthy diet. Or, as Wilson said, "Give them grapes and blueberries."
Contact reporter Heidi Knapp Rinella at hrinella@reviewjournal.com or 702-383-0474.