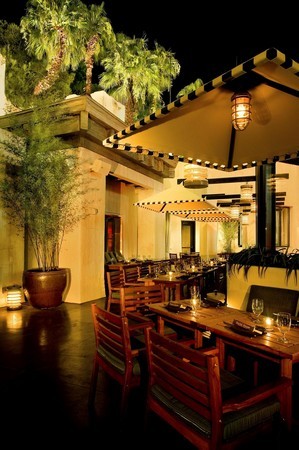 When hotelier Phil Ruffin bought Treasure Island in March, he was impressed enough with Social House to take over the reins from Pure Management Group, opening his own Pan-Asian restaurant in the same space. (Social House plans to reopen at Crystals at CityCenter.)
Khotan Pan-Asian's menu is similar — high-end Chinese and Thai cuisine with tons of sushi — as is its ambience.
"I still get a lot of people who call and ask for Social House," says Khotan general manager Robert Perry. "When they come in and try it, they're uniquely surprised. They get the Social House service and feel, and all the back-of-the-house and sushi guys are prior Social House cooks." (Head chef Lou Hansrisuk is a new addition.)
Ruffin stacked the eatery with his private 20-piece jade collection. (The name Khotan is an ancient Buddhist kingdom meaning "city of jade.") Otherwise, though, the decor remains the same, too.
"The restaurant was beautiful as it was," Perry says. "It didn't need much work to it."
As with Social House, outdoor seating features views of the Strip and Siren's Cove, and a second-floor space with a balcony that used to be Steve Wynn's private office. (He built one for himself at every property he opened.)
Khotan, which seats 450, is open 5-11 p.m. Sundays through Thursdays, 5 p.m.-midnight Fridays and Saturdays at Treasure Island, 3300 Las Vegas Blvd. South. Reservations are recommended.
Signature dish: Lobster curry, $39
Starters: Jalapeno hamachi, $22; crispy asparagus, $14; Kobe sliders, $24
Soups and salads: Shrimp cocktail, $16; Thai beef salad, $24; miso soup, $6
Entrees: Whole fish P-A, $36; Kurobuta pork chop, $33; A-5 Kobe filet (market price)
Desserts: Coconut creme brulee, $9; chocolate spring roll, $9; pineapple cake, $9
Information: 894-7777