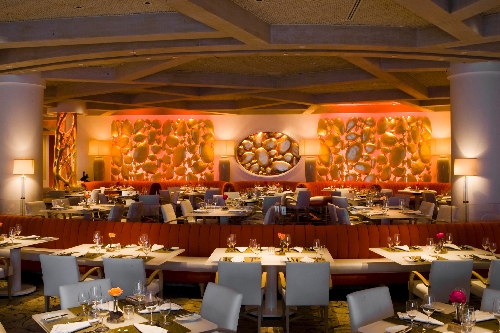 Diners are sure to find some timeless favorites on the menu of Lakeside Grill, which opened Oct. 28 at Wynn Las Vegas, 3131 Las Vegas Blvd. South.
What may surprise them, however, are the upscale — and, in many cases, unusual — twists chef David Walzog gives such American classics.
Lakeside Grill is a sister restaurant of Walzog's SW Steakhouse, also at Wynn, and Walzog says it complements both SW Steakhouse and the resort.
Lakeside Grill is "centered on familiar food and has a very big fun factor to it," he explains, offering a "different environment within the (Wynn) campus."
The goal, he adds, is to take "familiar favorites and kind of add a little zing and excitement to them. And, from all of the things we're hearing back from our guests, they're really embracing it."
The dining room has a color scheme built upon whites and "kind of electric, warm oranges," Walzog says, and takes full advantage of the resort's Lake of Dreams.
The result, Walzog says, is an "airy" and "very comfortable, bright, exciting dining environment."
Lakeside Grill seats about 320, which includes an outdoor patio. Hours are from 5:30 to 10:30 p.m. Sundays through Thursdays and 5:30 to 11 p.m. Fridays and Saturdays. Reservations are recommended.
Starters: Garlic bread meatballs, $12 and $24; strip steak sandwiches with caramelized onions and truffled Robiola cheese, $14 and $28; spiced Alaskan crab with avocado aioli and soy glaze, $16
Soups and salads: Tuscan-style vegetable soup, $12; house mixed field greens with English cucumber, Nicoise olives and zinfandel vinaigrette, $12
Entrees: Poached New England sea bass with citrus gremolata and roasted fennel, $36; Mesquite-smoked prime rib, $50; oven-roasted Dover sole with toasted pasta, confit tomatoes and champagne butter, $58
Extras: Baked potato pave, $10
Desserts: French toast bread pudding and lemon meringue pie, $12 each; peanut butter cup and bacon-chocolate bar, both $6.50 each or three for $18
Information: 770-3463
By JOHN PRZYBYS