Las Vegas chef branching out to Tivoli Village, Stratosphere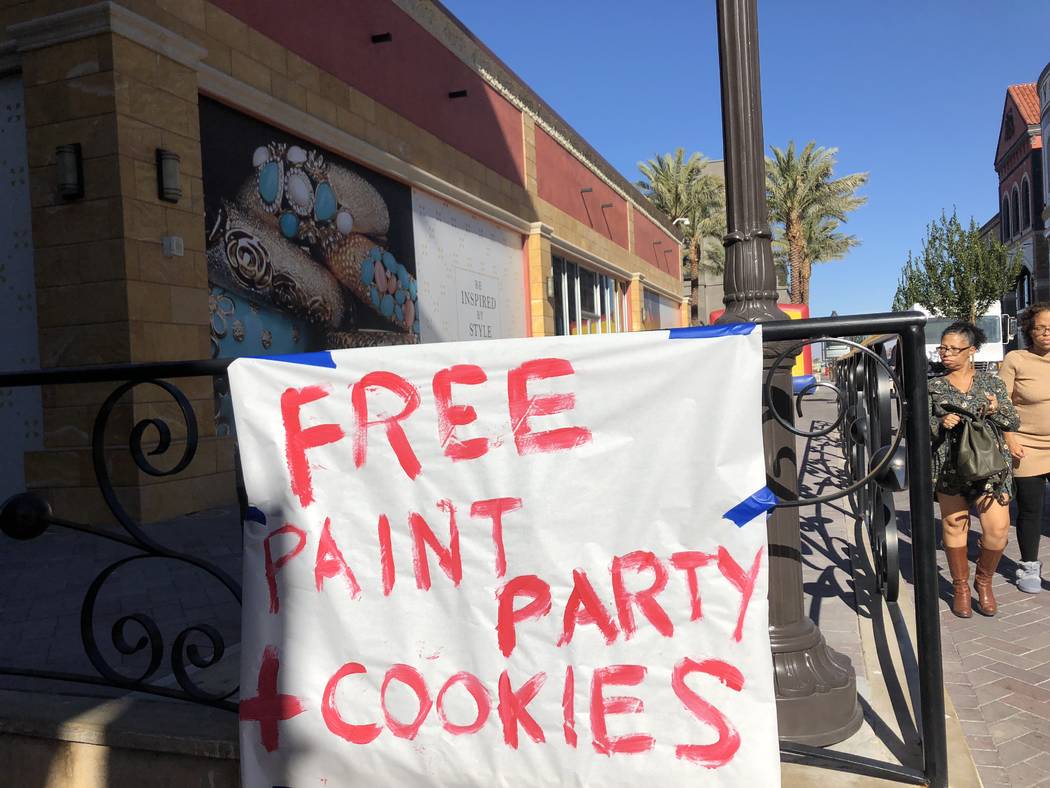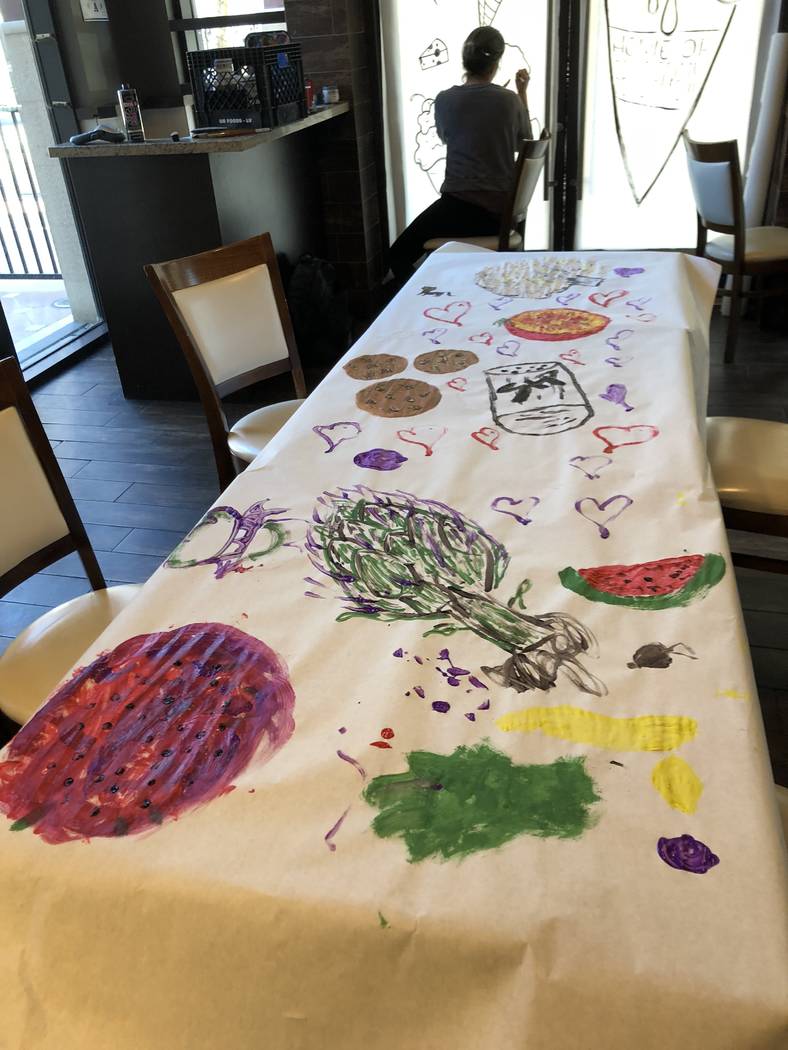 James Trees has a lot on his plate these days. On Saturday, he and his team from Esther's Kitchen hosted a paint party at Tivoli Village to decorate the construction windows of a new project called Ada's. For any passers-by lucky enough to wander inside, he and chef Dylan Jobsz provided cookies.
Even before that combination pizza and ice cream parlor, with its attached gin bar, opens early next year, however, Trees has another project to launch. On Dec. 27, he'll take the helm of the concession area on the Stratosphere's 108th floor observation deck, re-christening it 108 Eats by James Trees.
'Insane level of love'
These new projects come less than a year after Esther's opened in the Arts District, quickly becoming one of the most talked-about restaurants of the year among both foodies and the general public.
"It was insane the level of love that we got from our community," Trees says of the restaurant's reception. "And I appreciate every single human being who walked through that door."
The Las Vegas native, who spent a decade working in San Francisco and Los Angeles before coming home to open Esther's, credits his many friends in the local culinary community with contributing to its buzz. Beyond that introduction, however, he says the Italian restaurant struck a chord through its dedication to approachable cuisine, quality ingredients and reasonable prices.
"I think people are like yeah, this is what restaurants are supposed to be like. They're supposed to be fun. They're supposed to be community-oriented. They're supposed to be geared toward everyday people being able to go out and enjoy their lives a little bit … and still be able to pay their bills."
Keeping it affordable
Trees is confident that philosophy will help him thrive at Tivoli Village, despite the fact that many successful local restaurateurs have failed there.
"To put it mildly, I think people overstep their bounds in Summerlin. And so the restaurant graveyard is a bunch of ego that was in lineup after lineup after lineup (at Tivoli)."
He points to the success of Echo & Rig, which he describes as "a reasonably priced steakhouse," as proof that the right concept can work there. He hopes Ada's will find a similar niche.
"Pizza, pasta and ice cream — these are the things people want," he says of the menu. "And we're not going to go crazy on the price."
At the Strat
It was a combination of Trees' Las Vegas roots and the food he delivers at Esther's that secured him the space at Stratosphere. He has relationships with several members of the hotel's culinary team that go back decades, including Bart Mahoney, vice president of food and beverage for the hotel's parent company, Golden Entertainment. Mahoney was responsible for getting the chef his first Strip internship at The Mirage when he was 16 years old.
"It was almost like bringing a family member back into the fold," Mahoney says of teaming with Trees again. "And it doesn't hurt that this family member has one of our favorite restaurants in town right now that we all seem to eat at weekly."
What inspired them to make the move from customers to partners was the desire to modernize a space on the 108th floor of the Stratosphere Tower.
"We're looking for a great place for people to eat, but (just) as importantly enjoy the 360-degree views of Las Vegas," Mahoney explains.
Trees says he was sold on the idea when he learned that the plan was to transform the space with the amazing view from what he describes as "a 1987 convention hall vibe" into a sort of "Nevada/Las Vegas museum" that will use its vantage point to highlight historically important places in the valley.
"Steve Arcana (Golden Entertainment's executive vice president and COO) is all about making stuff about Vegas, and trying to tell our history as a city. I'm from Las Vegas, so this means something to me."
Once again, simple food and reasonable prices are key to his strategy. Small snacks will be priced around $4, with sandwiches expected to be in the $10 to $14 range.
"I'm not trying to push it," Trees says of the venue. "I just want to do a little thing there and be of service to (Golden Entertainment President and CEO Blake) Sartini and our community. Because like everything else, it's all about being of service to your friends. And in this industry, if I don't have a friend like Bart Mahoney, I would never be where I am today."
Contact Al Mancini at amancini @reviewjournal.com. Follow @AlManciniVegas on Twitter.
The menus
■ Ada's
At its heart, Ada's in Tivoli Village will be a pizza and ice cream spot. The former is familiar turf for Trees; pizza is a mainstay of the Esther's Kitchen menu. Frozen desserts are something new, however. So the Esther's team has been working hard to develop their recipes.
"We've been R&D-ing ice cream like maniacs for five months," Trees says. "So we're going to come in and do chef-driven ice cream."
Among the flavors being tossed around: strawberry rhubarb, white coffee and chocolate, brown butter + pear, and burnt cocoa chocolate.
Beyond those two staples, the chef says the offerings will remain simple.
"We're going to have a few pastas on the menu, and good salads with good ingredients."
The bar program will also be key to Ada's. The restaurant takes its name from Ada Coleman, the first female lead bartender at London's Savoy Cocktail Room. In her honor, the cocktail menu will focus on her preferred spirit, gin, and the signature cocktail will be one she invented, the hanky panky.
■ 108 Eats by James Trees
Since the Stratosphere space he's taking over already housed an ice cream concession, Trees says it was a no-brainer to bring in some of the artisanal ice cream flavors he's spent the last five months developing for Ada's. Gourmet cookies will also be on the menu. Some of the varieties currently being floated include pretzel and butterscotch, the big peanut butter jam, blueberry white chocolate and salted chocolate chunk.
For those who want something savory, rather than sweet, he's building a menu around Esther's fresh-baked bread.
"I think our bread is ridiculously good, and I want to use that bread to make sandwiches. So we started putting together the idea of doing a panini shop."
The current draft of the menu offers options such as sliced meatballs with basil ricotta and bianco pomodoro, mushroom + truffle, chicken bacon ranch with bacon jam and jalapeno jack cheese, and a sandwich version of Esther's signature Porchetta.
Smaller savory bites, such as gourmet chips and popcorn, also will be available. 108 Eats will not have a bar. But they'll offer coffee from the Arts District's Vesta Coffee Roasters.