Las Vegas chef Mario Batali still innovating 15 years later
December 6, 2017 - 11:22 am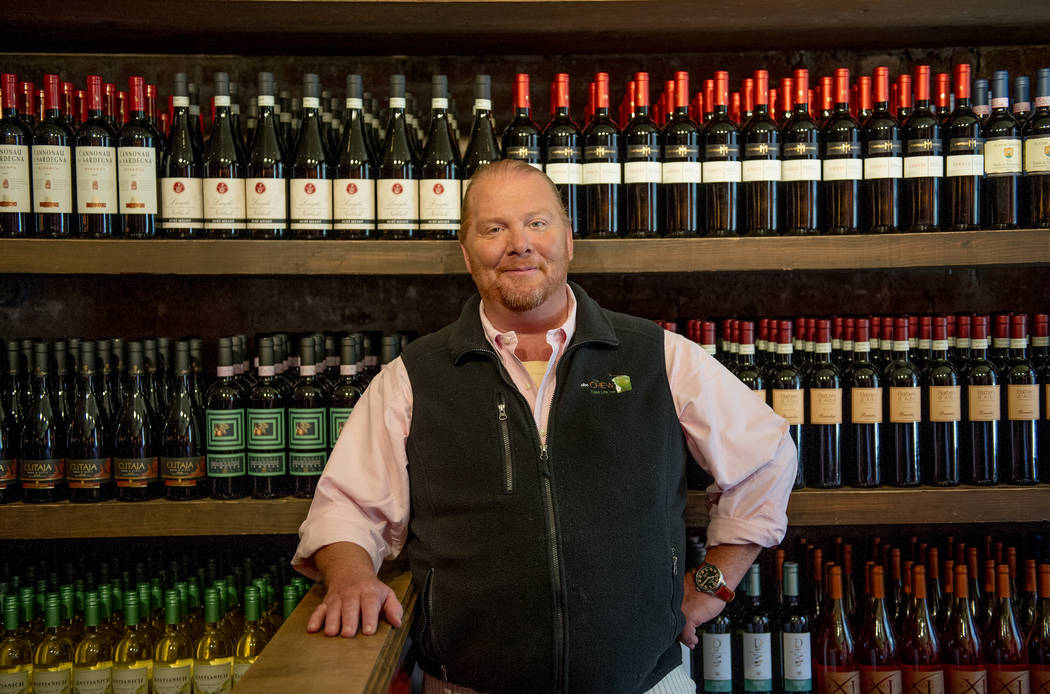 Over the past 15 years, Mario Batali has become an integral part of the Las Vegas food scene, with B&B Ristorante, Otto Enoteca e Pizzeria and Carnevino Italian Steakhouse, as well as the now-closed B&B Burgers & Beer. And he's not slowing down. In late 2018, he'll open a Las Vegas incarnation of his international Eataly concept at the new Park MGM resort.
Right now, however, he's focusing on Carnevino, which will celebrate its 10th anniversary Saturday night with a special dinner called "A Decade of Deliciousness: Mario and Friends Celebrate Carnevino." And as the name indicates, he'll be getting a little help in the kitchen, courtesy of James Beard Award winners Paul Kahan, Nancy Silverton and Michael Symon, as well as renowned butcher Dario Cecchini.
Mistakes and discoveries
Over the past decade, Carnevino has drawn national acclaim for its aged beef program. But Batali says that wasn't what he expected would be the restaurant's focal point.
"Because of the large table sizes you can get in Las Vegas, I'd always hoped we could do the super-large format steaks," he explains. "Like a rump steak for eight, or a shoulder blade that's a 13 or 14-pound steak. And that has met with a resounding failure. Nobody wants to eat anything other than the cut that they recognize as the premium and the best."
That preference for the best parts of the cow forced Batali to change his approach to cooking rather drastically. His previous restaurants, including B&B, were always known for transforming less popular parts of an animal — including tripe, brains, tails, snouts, ears and feet — into gourmet feasts. Since steak lovers weren't interested in that kind of magic, he had to innovate in different ways.
"When you're dealing with (high-end products) and you put it in the 1,000-degree broiler with just salt and a little olive oil, odds are I can train a chimp to do that pretty quickly," the chef concedes. "But it doesn't diminish the significance of the shopping and the organization."
Taking steak to a new level
Those are the areas in which Carnevino's team has excelled over the past 10 years. To start, they get their meat from a small group of select farms. More importantly, the team travels to each of those farms to personally select cuts immediately after slaughter. Finally, but perhaps most revolutionary, once beef arrives in Las Vegas, it's dry-aged in a private facility for at least 90 days, which far exceeds the industry standard. Moreover, the team has turned the culinary world on its head by super-aging a few special cuts of beef, sometimes for 200 days or more.
Batali credits the super-aging concept, which has become the restaurant's signature, to a pair of his employees.
"Zach Allen, our first chef and culinary director, and (current culinary director) Nicole Brisson were always toying around with the super-aged meats," the celebrity chef explains. "They'd always hide something from me and just let it sit back there, then taste it."
To his surprise, the public embraced the complex flavors that resulted from those experiments, setting Carnevino apart from the crowd in a city packed with steakhouses.
Next up
Batali's next Las Vegas project, Eataly, will once again try to bring the city something new with an outdoor space where they can eat and shop.
Dining will be located in a piazza similar to the one in Los Angeles' Eataly, with "an interesting take on Neapolitan street food."
"The piazza will have five or six different and changing purveyors," he explains. "They're all next to each other. They're all run by us."
A signature dish will be something called a panigacci. The chef explains it as "unleavened dough cooked on top of what looks like a terra cotta roof tile."
"You cook by residual heat," he continues. "You heat up the roof tile and you roll it through this oven. Then you take them out and put the batter on top, and it cooks on top of that. Then you pull it off while it's still warm and make a panini kind of thing out of it. So it's kind of a crisp crepe meets a tortilla. But it's not a taco and it's not a crepe."
The chef insists, however, that the shopping component of Eataly will be at least as important as the dining.
"Everywhere that we drop it — whether it's New York City or Boston or Chicago or Sao Paolo or Los Angeles — all of a sudden, (Eataly) revolutionizes the way the home cook cooks. Because they realize they are no longer living through the UPS and FedEx world. They can get these amazing ingredients and take them home and cook them."
It's all part of a philosophy Batali has embraced since he first came to Las Vegas.
"If we pay attention to the locals as our core business … then we have what's a core business plan," he remembers telling skeptics. "And we've seen that happen."
If you go
"A Decade of Deliciousness: Mario and Friends Celebrate Carnevino" will take place at 7 p.m. Saturday at the Palazzo. Batali, Paul Kahan, Nancy Silverton, Michael Symon and butcher Dario Cecchini will create a five-course meal, priced at $380 including wine pairing, tax and gratuity. What's on the menu? Batali was kind enough to tell us what each chef has planned for the evening.
Kahan, he says, will prepare a dish the chef compared to an olive-oil poached pork. "It's almost like a tonnato kind of thing," he says. "And it will have albacore and preserved peaches and puntarelle."
Batali plans a beef cheek ravioli with white truffles.
Symon, who is preparing to open a barbecue restaurant at the Palms, plans to serve smoked brisket with sauerkraut broth.
From Cecchini, Batali promises, "a brasato di modelo, which is a middle shank stuffed with bone marrow, served with shallots that are braised in vin santo (dessert wine)."
Finally, the dessert will come from Silverton: pistachio semifreddo.
Batali says the company will be as good as the food.
"It'll be all of us there at all times. Dario Cecchini is a party waiting to happen. And unbeknownst to (many), so am I, and so is Symon, and so is Khan, and so is Nancy."
To reserve a seat, go to carnevino.com.
Contact Al Mancini at amancini@reviewjournal.com. Follow @AlManciniVegas on Twitter.