Las Vegas chefs remember Joel Robuchon's 'truly amazing' style
Updated August 6, 2018 - 4:22 pm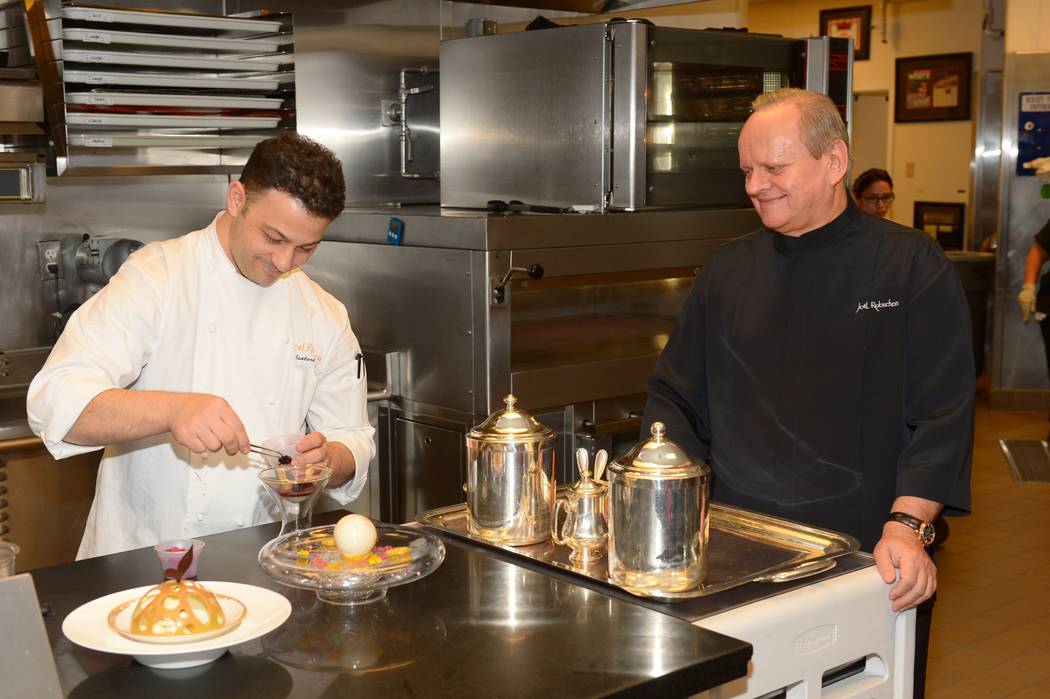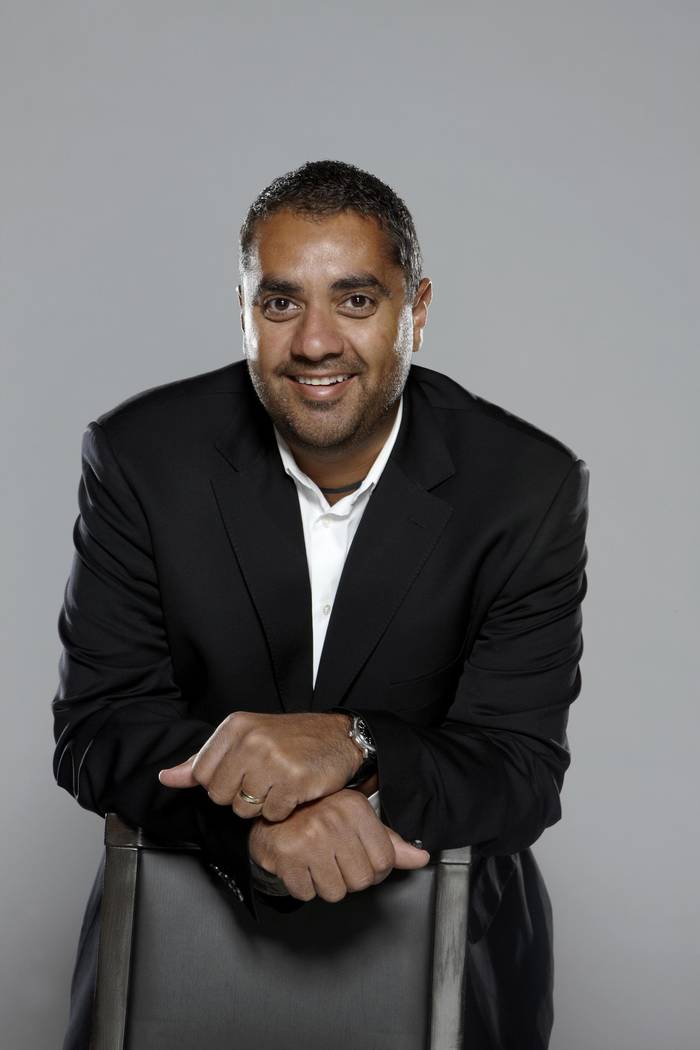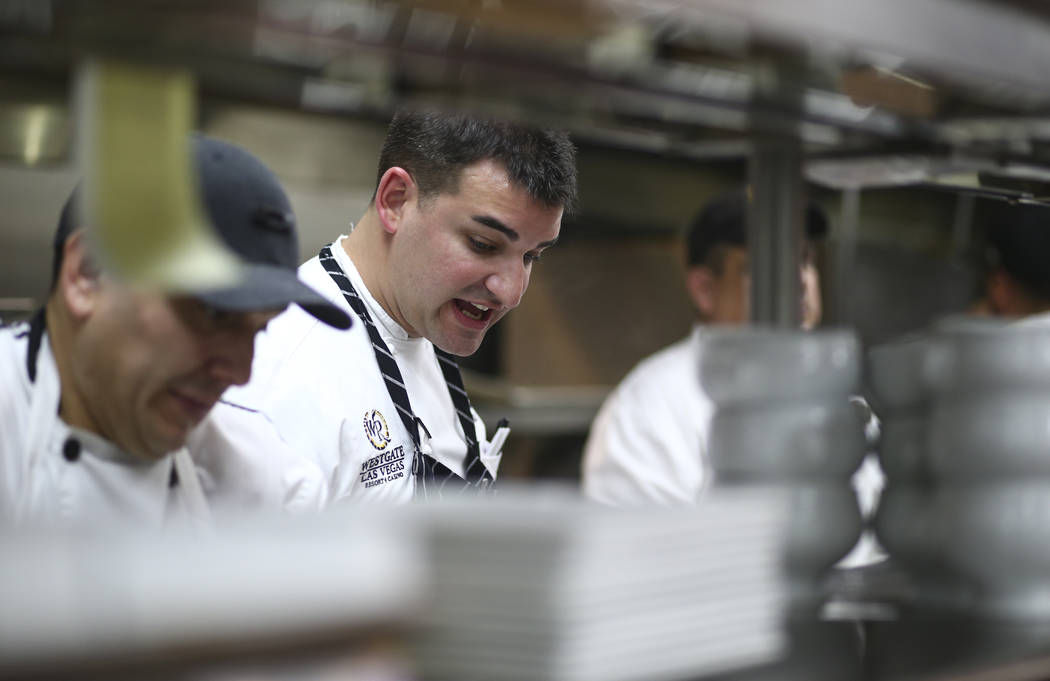 Whether they worked for famed French chef Joel Robuchon or were one of his peers, members of the Las Vegas food world remembered the pioneer on Monday.
"Chef Robuchon was the standard of how everyone measured (themselves). I remember my first meal when he opened at MGM, just thinking to myself that it had obviously changed the way everyone perceived Las Vegas in a lot of ways," said Michael Mina, who operates restaurants worldwide, including four in Las Vegas.
"As far as the chef community, I don't think there's anyone more respected. When you think of the greats, and the greatest of all time, the people whom you look at and idolize, he was definitely at the top of my list."
Robuchon, who has garnered more Michelin stars than anyone in history and brought Las Vegas its only Michelin three-star restaurant, died Monday at age 73 in Geneva. One of the most celebrated fine dining chefs of all time, Robuchon was known for simplicity in his cooking, and his mashed potatoes were perhaps his most famous dish.
In 2005, Robuchon came to the MGM Grand in Las Vegas with a formal eponymous restaurant as well as his second worldwide location of his L'Atelier de Joel Robuchon. When the prestigious Michelin Guide released its first Las Vegas edition for 2008, the former was awarded three stars, with the latter receiving one.
French for "the workshop," L'Atelier offered a more casual setting where guests could watch the team prepare food. The first opened in Paris in 2003.
As news of Robuchon's death spread Monday morning, local chefs shared their memories.
Hubert Keller, who operates Fleur by Hubert Keller at Mandalay Bay and Burger Bar at Mandalay Place, first experienced Robuchon cuisine at Jamin in Paris with his wife, Chantal.
"That was an amazing experience. And it was not like the (typical) three-star restaurant in Paris, which was intimidating or grand. But his style was truly amazing," Keller said. "Like Paul Bocuse did, bringing the chef out of the kitchen where suddenly the restaurant was known by the name of the chef and not the name of the restaurant, Robuchon was really part of that movement. Nobody knew the name of the restaurant anymore, or cared about the name. They all said, 'We had dinner by Robuchon.' "
Gordon Ramsay, who trained under Robuchon, posted the following on social media:
"We've Lost The God Father of Michelin the most decorated Chef in the World, he kept all of us on our toes! Even when we were sleeping! Merci Chef, God Bless, you'll be missed."
We've Lost The God Father of Michelin the most decorated Chef in the World, he kept all of us on our toes ! Even when we were sleeping ! Merci Chef, God Bless you'll be missed pic.twitter.com/5vY2UlpCwP

— Gordon Ramsay (@GordonRamsay) August 6, 2018
Claude Le Tohic opened Joel Robuchon at MGM as executive chef and won the James Beard Award for Best Chef, Southwest, while working there. He posted the following on Facebook:
"Words cannot even begin to express how deeply saddened I am by the news of Chef Joel Robuchon's passing. He was a mentor and a dear friend. He will forever hold a place in our hearts and his culinary legacy will live on. My deepest condolences to the family."
Emily Brubaker of Urban Seed worked in a Robuchon kitchen for two and a half years. She recalls him walking through the kitchen on every visit, shaking hands with everyone, including the dishwashers.
"He taught me that you don't need to muck food up with tons of ingredients; if you treat the ingredient with respect and cook it with love and focus, you can make something simple into an elaborate dish," she said.
Steve Young, executive chef at Edge Steakhouse at Westgate, moved to Las Vegas to work for Robuchon, and spent two years in the kitchens of his two restaurants.
"You were surrounded by great chefs, and you worked for the best and had to be the best," Young said. "There was no other option. He demanded excellence, that's the bottom line. And that philosophy carries forward to any thing that I do now. You still come with that mindset of excellence and consistency and respect for what you're doing."
Robuchon was born in 1945 in Poitiers, France. He began cooking with the nuns while attending seminary school, and took his first apprenticeship when he was just 15. He took over the kitchen at Concorde Lafayette hotel at age of 29, managing 90 cooks. After earning two Michelin stars for the Hotel Nikko, he finally opened his own restaurant, Jamin, in December 1981 in Paris. It earned its first Michelin star the following year, followed by a second a year later and a third the year after that.
By the time Robuchon opened his eponymous Paris restaurant in 1994, the chef had been awarded the title of Meilleur Ouvrier de France by the French government and Chef of the Century by Gault et Millau. That year, the restaurant was named Best Restaurant in the World by the International Herald Tribune.
At 50, Robuchon announced his retirement and his plans to pass along his knowledge to the next generation. He began work on a series of TV shows. But traveling to Japan and Spain persuaded him to open a new concept: L'Atelier de Joel Robuchon.
Contact Al Mancini at amancini@reviewjournal.com. Follow@AlManciniVegas on Twitter.