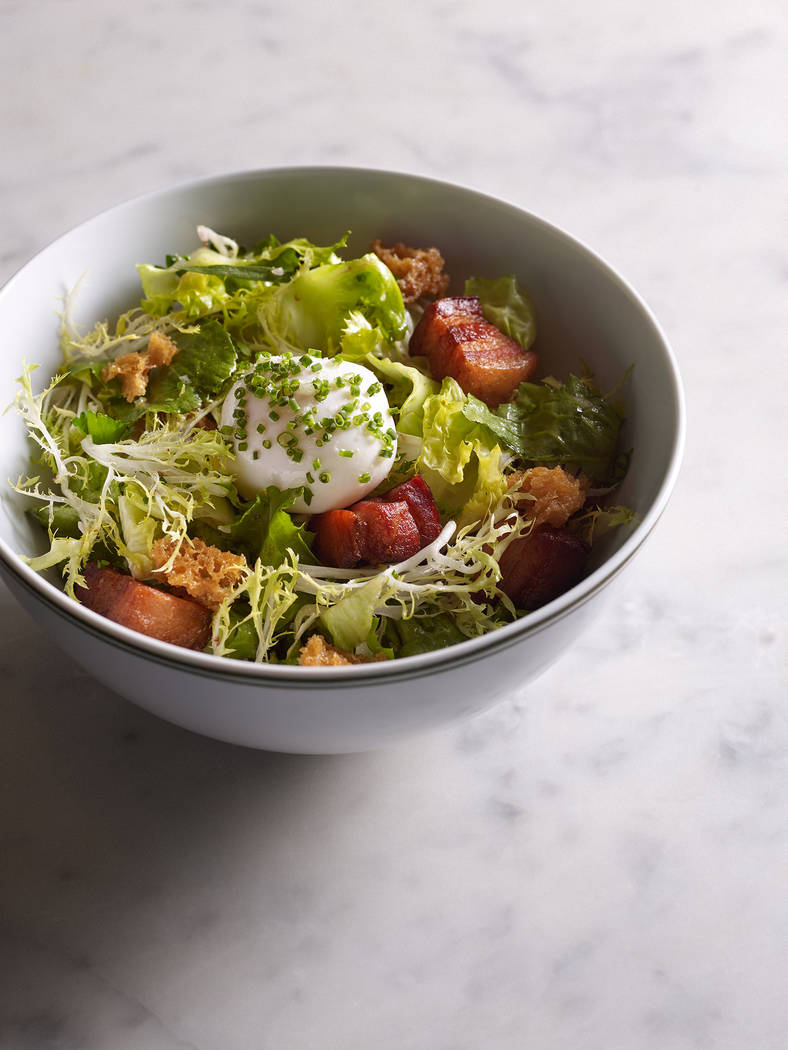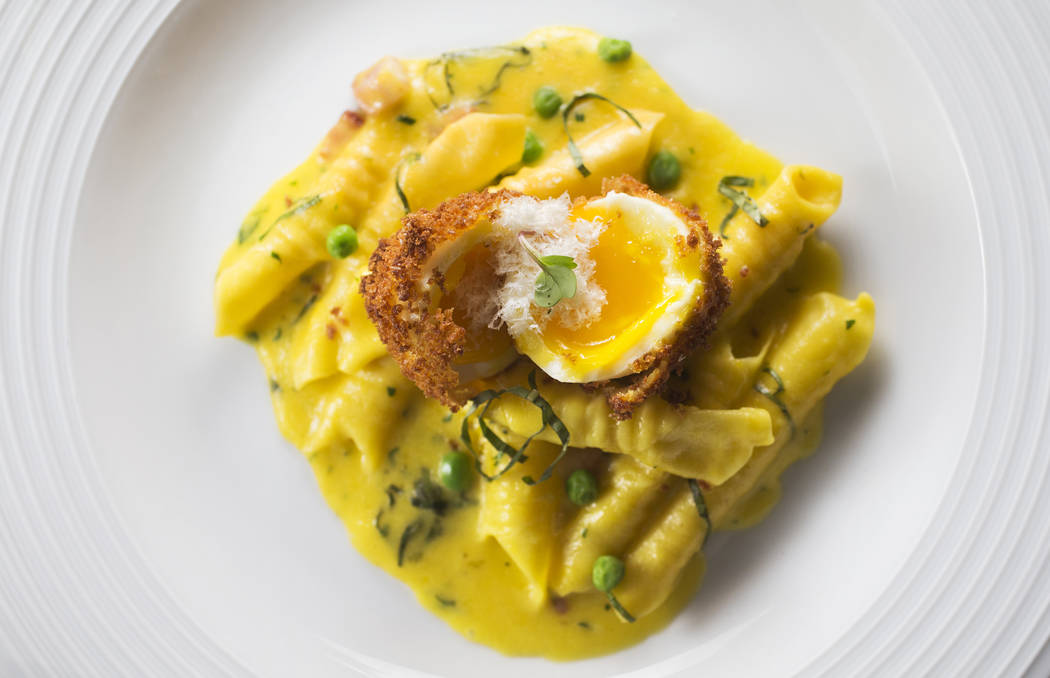 "All About Eggs," a book from celebrity chef David Chang's Lucky Peach empire that was released in April, notes that "Eggs are often the first things that home cooks learn to cook, yet they're among the hardest ingredients to master. Every great chef boasts a signature egg dish."
Las Vegas chefs are no exception.
■ Jaleo at The Cosmopolitan of Las Vegas serves a sort of taco with a fried egg standing in for the tortilla and a filling that includes caviar, brioche and truffles, when they're in season.
■ Carnevino Italian Steakhouse at the Palazzo serves mascarpone mashed potatoes with guanciale (Italian cured pork), with a poached egg on top.
■ Twin Creeks Steakhouse at the Silverton serves a version of garganelli pasta carbonara with a deep-fried, soft-boiled egg.
■ Bouchon at The Venetian has interpreted a classic Salad Lyonnaise topped with a poached egg.
■ The new The Black Sheep in the southwest valley tops bao sliders with poached quail eggs.
■ And the new Sparrow + Wolf tops roasted and pickled asparagus with a sous vide egg.
Chefs behind the dishes say eggs add richness and flavor, but the ways in which the dishes were conceived vary. At Jaleo, chef Luis Montesinos said celebrity chef Jose Andres came up with the egg taco almost by accident while preparing food at an event on Miami's South Beach.
"He was frying an egg and left it on the (flat-top grill) a little too long," Montesinos said. "He realized the egg had a nice, crusty bottom, so you could actually pick it up like a tortilla. The egg yolk is still runny. We take a piece of brioche that we cut into a baton, toast that with butter so there's this beautifully crunchy, toasty, buttery brioche, and add caviar because why not add caviar to everything? When truffles are in season, we shave some on there and it's just amazing."
At Carnevino, chef Arnold Corpuz said when the potatoes are served, the server pops the yolk and mixes in the egg.
"It makes it a lot more creamy," he said. "As opposed to using more mascarpone, we use the egg to make it richer and add more flavor."
Bouchon chef de cuisine Josh Crain said Salade Lyonnaise is on "virtually every little bistro menu" in Lyon, France, generally with some sort of bitter greens, such as curly endive.
"You have that bitterness, which is balanced by the richness and the acidity of a bacon vinaigrette," Crain said. "The poached egg, once you crack that, adds a whole other layer of richness and kind of coats everything with the yolk."
Crain said he also likes poached eggs on asparagus, a sentiment with which Sparrow + Wolf chef Brian Howard would no doubt concur. He starts one dish with the Middle Eastern condiment muhammara, a grilled red pepper dip, and tops it with a sort of bird's nest with pickled asparagus on one side and roasted asparagus on the other. He then adds a sous vide egg — an egg that's been cooked in the shell in a temperature-controlled water bath — and garnishes it with extra-virgin olive oil, grated walnuts, lemon zest and sea salt.
"The creaminess contrasts with the asparagus nicely," Howard said.
For the bao sliders, Black Sheep chef/partner Jamie Tran tops bao buns, made with steamed Chinese dumpling dough, with house-made sausage and quail eggs. Not only are the eggs sized right, she said, they're richer and creamier than chicken eggs.
"I think it goes great with the Japanese aioli" she also uses, she said.
And at the Silverton, executive chef Ashley Archer said he's long used poached eggs to accent salads and other dishes, but decided to try frying a poached egg.
"It's sort of like a Scotch egg but really runny," he said. "I think with a pasta dish it definitely adds texture … because the outside is a little crunchy."
Archer said eggs' creaminess can be used in different ways.
"Sometimes you're doing emulsification; you're doing an aioli, mayonnaise — what have you," he said. "You have that from adding the egg, but it's the most simplistic form."
"Eggs are such a versatile ingredient," Howard said. "They're special. You can do so many different things with them."
Frisee-lardon salad
1 tablespoon distilled white vinegar
4 large eggs
2 tablespoons olive oil
4 ounces slab bacon, cut into 1-by-¼-inch pieces
1 medium shallot, finely chopped
Kosher salt and freshly ground pepper
½ cup red wine vinegar
2 large heads of frisee, torn into bite-size pieces
Fleur de sel
2 tablespoons 1½-inch pieces fresh chives
Pour water into a large saucepan to a depth of 2 inches and bring to a boil. Reduce heat so water is at a gentle simmer and add white vinegar (it helps the egg whites stay compact). Crack an egg into a small bowl, then gently slide it into the water. Repeat with remaining eggs, waiting until the whites are starting to set before adding the next one (about 30 seconds apart). Cook eggs until whites are just set but yolks are still runny, about 3 minutes. Using a slotted spoon, transfer eggs to paper towels as they finish cooking.
Heat oil in a large skillet over medium. Add bacon and cook, stirring occasionally, until most of the fat has rendered and bacon is starting to brown, 5–8 minutes. Add shallot, season with kosher salt and pepper and cook, stirring occasionally, until shallot is translucent and softened but hasn't taken on any color, about 5 minutes. Add red wine vinegar. Bring to a boil and cook until reduced by three-quarters, 5–8 minutes. Taste bacon vinaigrette and adjust seasoning with kosher salt and pepper if needed.
Place frisee in a large bowl and drizzle warm bacon vinaigrette over top. Gently toss until frisee is evenly dressed and slightly wilted and season with fleur de sel and pepper.
Divide frisee salad among plates and carefully set an egg atop each. Season eggs with fleur de sel and pepper and scatter chives around.
Note: Eggs can be poached 4 hours ahead. Place in a bowl of ice water; cover and chill. Reheat in barely simmering water 1 minute before serving.
Serves 4.
Recipe from Bon Appetit
Paprika tomatoes with poached eggs (shakshouka)
1 1/2 teaspoons coriander seeds
1 teaspoon cumin seeds
1 1/2 tablespoons hot or sweet Spanish or Hungarian paprika
About 1/2 teaspoon kosher salt
3 large garlic cloves, peeled
1 large poblano chile, stemmed, seeded and chopped
1 to 2 tablespoons extra-virgin olive oil
2 tablespoons tomato paste
1 1/2 pounds Roma tomatoes, halved lengthwise
4 large eggs
Freshly ground black pepper
Put coriander, cumin, paprika and 1/2 teaspoon salt in a mortar and pound until crushed, or seal in a plastic bag and crush with a rolling pin. Add garlic and pound into a paste. Set aside.
In a 10-inch frying pan over medium heat, cook chile in 1 tablespoon oil, stirring often, until well browned, 10 to 12 minutes. Add spice mixture and tomato paste and cook, stirring, until fragrant, about 1 minute. Stir in 3/4 cup water, then tomatoes. Cook, turning tomatoes occasionally, until softened, 10 to 20 minutes; add more water, 1/4 cup at a time, if mixture starts to get dry (you should see juices around tomatoes).
With a wooden spoon, make 4 depressions in tomato mixture and crack an egg into each. Season with salt and pepper. Cover and cook until eggs are set but yolks are still runny, about 5 minutes.
If you like, drizzle the shakshouka with 1 tablespoon oil, then scoop onto plates and serve with crusty bread.
Serves 2.
Recipe from Sunset
Deep fried poached eggs over heirloom tomato
4 large eggs, whole, plus 2 large eggs, lightly beaten
1 cup unbleached all-purpose flour
1 cups panko breadcrumbs
Kosher salt and freshly cracked black pepper
7 to 8 cups vegetable oil
1 large heirloom tomato, cut into 4 thick slices
Prepare a bowl with ice and water. Line a sheet pan with paper towels.
In a 5-quart pot, bring 6 cups water to a boil over moderately high heat. After the water has reached a boil, turn off the heat. Crack each egg into a ramekin and quickly add to the water. Once you have added all the eggs, cover the pot and set aside for 3 minutes.
Using a slotted spoon, very carefully lift the eggs out of the water and directly into the bowl of ice water to stop the cooking. Remove from the ice water and place on the prepared sheet pan.
Spread the flour on a plate and put the beaten eggs in a shallow bowl. In another shallow bowl, stir the panko with salt and pepper.
Carefully dust 1 poached egg in the flour, dusting off any excess. Transfer the poached egg to the beaten eggs, and then transfer with a slotted spoon to the panko. Coat with the panko and carefully place on a plate. Repeat with the remaining eggs.
Heat the oil in a heavy saucepan over high heat until a candy thermometer registers 350 degrees. Using a slotted spoon, place 1 panko-coated egg into the oil and fry until golden brown, 10 to 15 seconds. Transfer the fried egg to paper towels to drain. Repeat with the remaining eggs.
Season the tomato with salt and pepper. Place 1 tomato slice on each plate and top each slice with an egg.
Serves 4.
Recipe from Food Network
Contact Heidi Knapp Rinella at Hrinella @reviewjournal.com or 702-383-0474. Follow @HKRinella on Twitter.