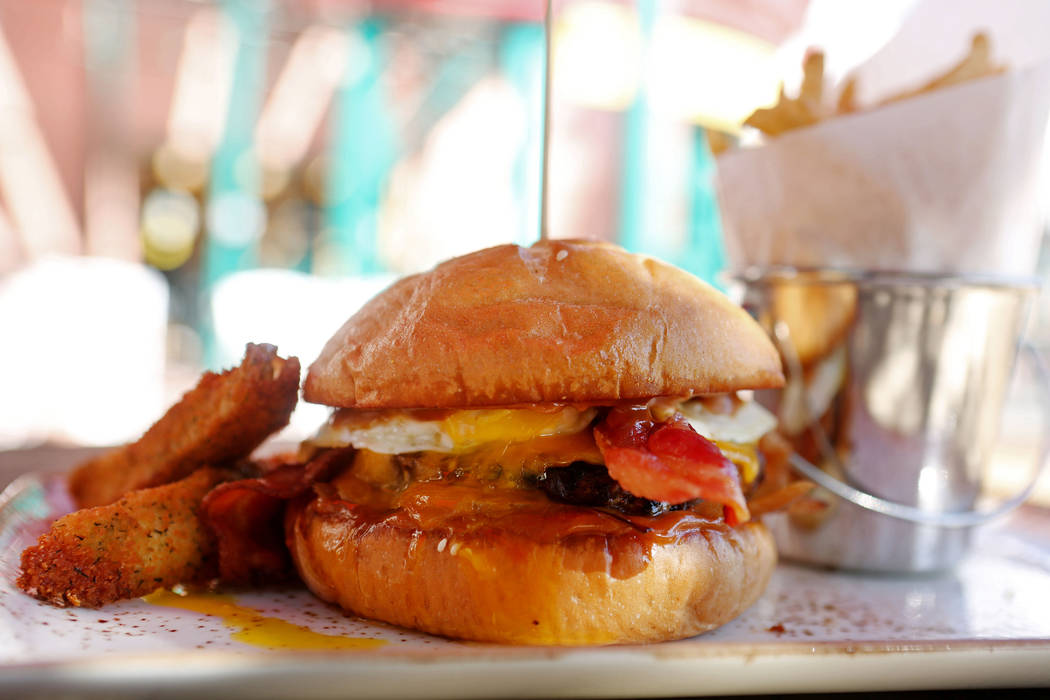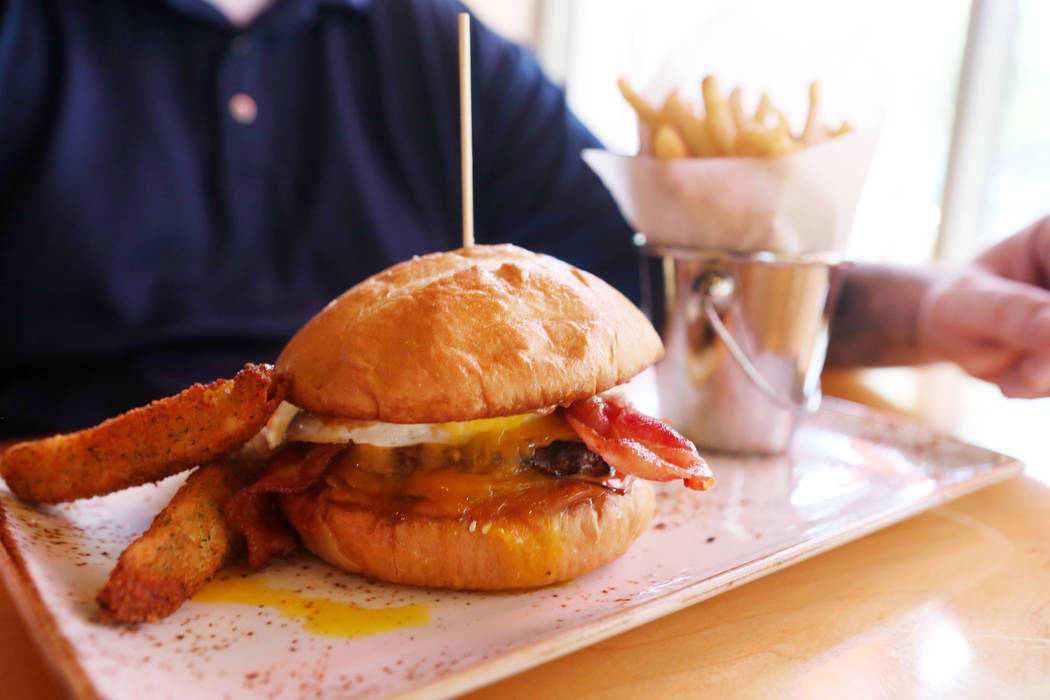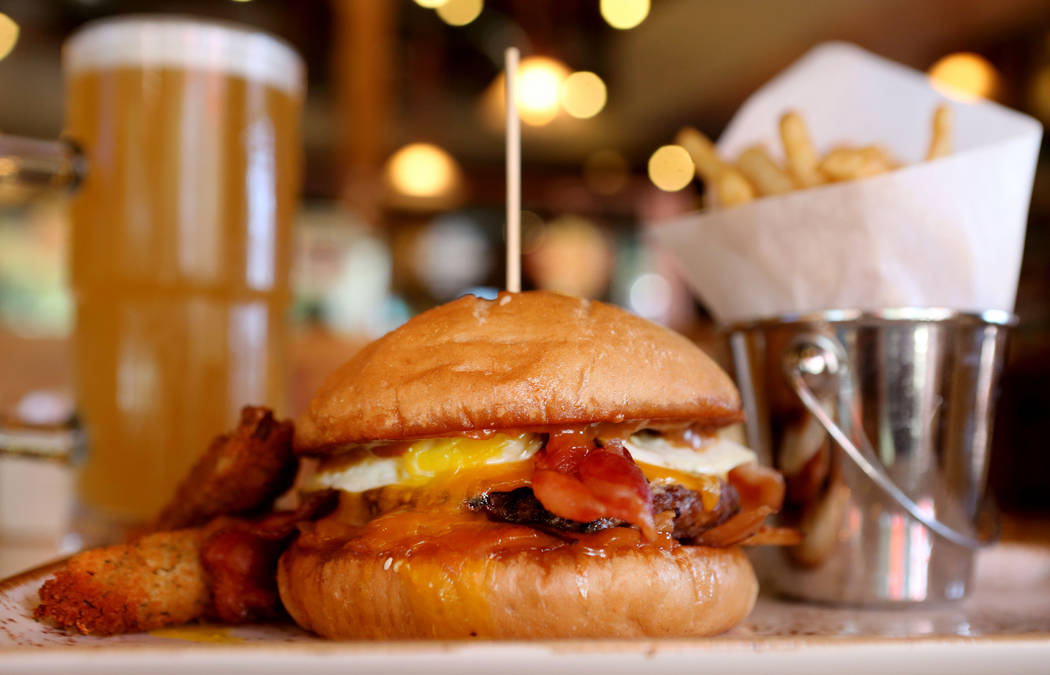 It's a rare American who's never had peanut butter with jelly in a sandwich, but chefs are using the beloved spread in lots of new applications, many of them savory.
The peanut butter burger has been available in some parts of the country for years — mostly as an under-the-radar cult favorite — but Jacob Sanders had never had one before he created the Sriracha and Peanut Butter Bacon Burger for Brewer's Cafe at Barley's Casino & Brewing Company in Henderson.
"I've always liked peanut butter, all my life," said Sanders, executive chef for Station Casinos' Wildfire Gaming Division. "I eat peanut butter on my pancakes and French toast."
He had been thinking up a concept for a new breakfast burger, maybe with peanut butter and jelly. But Sanders also consumes a lot of sriracha. In fact, he likes the Asian hot sauce so much, he said he often puts it on every bite of whatever he's eating, just to be sure it's been thoroughly drenched. So his mind naturally went to sriracha, and a combination so offbeat it might just work.
"Stuff with spins on it — that's the new thing right now," Sanders said.
The finished product was a beef burger with applewood-smoked bacon, sriracha, peanut butter, caramelized onions, cheddar cheese and a fried egg, all served on a brioche bun.
"It's the peanut butter, it's the sriracha — it's the mixture," he said of the flavor profile. "Sriracha is hot, but it's got kind of fishy on the back of it. The meat juices go with the peanut butter oils. The egg over medium kind of breaks, and then you've got that buttery bun. It really goes together."
He hasn't ended up with a peanut-butter-and-jelly breakfast burger, but the wheels are still turning.
Bryan Forgione, executive chef of Buddy V's Ristorante at the Grand Canal Shoppes, has never had a peanut butter burger, but he's had peanut butter shrimp, a recipe created by his father, esteemed chef Larry Forgione.
Bryan Forgione said he loved peanut-butter-and-jelly sandwiches as a kid — maybe a little too much.
"I think I had a peanut-butter-and-jelly sandwich every day when I came home from school," he said. "I got a little — let's call it husky — by the time I was in third grade. Now that I'm older and paying attention to what I eat, I'll just walk by, open the container and take a big whiff. Even the aroma — there's just something about it."
He considers himself a bit of a peanut butter connoisseur, although the nature of that may surprise you.
"The natural stuff is still good," he said, "but there's something deliciously awesome about the Jif and the Skippy. Whatever they put in that, it's good."
But back to the shrimp. Forgione said when he was a young man, his father created a recipe in which the shellfish were basted with a peanut-butter-and-ale barbecue sauce.
"I think that was my first memory of taking something like peanut butter that I just looked at as a fat-kid snack and turning it into something rustically elegant," he said. "To this day, we'll pull that out and do it at events. I even did a father-son dinner with my father with the peanut-ale shrimp, just because it was one of my favorite memories of him and his cooking."
Forgione said he's also successfully used the barbecue sauce on chicken wings.
Marc Marrone, corporate chef for the Tao Group, said Tao restaurant at The Venetian uses peanut butter quite a bit in savory applications.
"The peanut butter gives it a smoother texture," he said. "I've also used it in salad dressings, like a peanut butter vinaigrette that turned out really well. It had a lot of acid in it, and the texture and viscosity of peanut butter helped stabilize it." Marrone said he's used a peanut butter-and-truffle vinaigrette on a duck salad at Tao.
"The texture is beneficial because you can go either way with it — you can go with savory applications or sweet applications," he said of peanut butter. "It takes heat very well but also works very well in chilled applications. When you cook it, it doesn't break as often as many other things."
As far as sweet applications, Marrone said they do a 20-layer peanut butter-chocolate cake at Lavo at Palazzo.
Ashley Costa, pastry chef at Carnevino at Palazzo, said the chocolate-peanut butter torte is very popular in part because it's so well balanced.
"It's not too sweet," she said, made with a layer of feuilletine, "this really good, almost cookie-like texture" mixed with praline cake and chocolate, with a layer of chocolate mousse, topped by a layer of peanut butter mousse with mascarpone and powdered sugar.
"The key, I think, is to not doll it up too much," she said.
Mickey Harden, executive pastry chef at the Hard Rock Hotel, said that as a kid, he liked peanut butter warmed up and poured over vanilla ice cream. Today, he said, he uses it a lot in desserts such as the Nutty Ice Cream Sandwich, peanut butter ice cream on a brownie, served with bacon-caramel popcorn. And The King — "that was like a peanut butter chocolate mousse with a bacon nougatine and caramel banana ice cream."
Next time you're hungry, consider opening a jar of peanut butter.
"When you think about it," Forgione said, "you look at how much peanuts are used widely in Asian styles of cooking. It makes more sense when you look at it from that perspective, instead of a jar of Jif that's supposed to go with white bread and jelly."
"People are starting to put everything on stuff," Sanders said. "Some of it's really weird, but they just mix."
Peanut Sauce
2 tablespoons fresh lemon juice
1/4 cup molasses
2 tablespoons Worcestershire sauce
2 tablespoons vegetable oil
1 tablespoon plus 1 teaspoon cider vinegar
3/4 cup beer
1 teaspoon pure chili powder
1/2 teaspoon minced garlic
1/4 teaspoon dried oregano
1/4 teaspoon dried thyme
1/2 teaspoon dry mustard
1/2 teaspoon salt
1/8 teaspoon cayenne pepper
1 bay leaf
1/4 cup natural creamy peanut butter
Put all the ingredients in a medium saucepan and bring to a boil, stirring constantly. Lower the heat and simmer for 3 to 4 minutes. Remove the bay leaf and let cool.
Use the sauce immediately or store in a tightly sealed container in the refrigerator for up to three weeks.
— Recipe from Bryan Forgione
Maple-Black Pepper Bacon Peanut Butter Burger
1 pound ground beef
1 teaspoon salt
1 teaspoon pepper
4 ounces sharp cheddar cheese, sliced (if desired)
3/4 cup creamy peanut butter
12 ounces maple black pepper bacon
4 whole wheat buns, toasted
Heat grill to medium-high.
In a large bowl, combine ground beef, salt and pepper. Form beef into four patties and grill to desired doneness.
Top each burger with 1 ounce cheddar cheese, if desired.
In microwave oven, warm peanut butter 30 seconds.
Place burger patty on bottom bun. Spread warmed peanut butter on top of patty generously. Top with two to four slices bacon and add bottom bun.
Serves 4.
— Recipe from Hormel
Peanut Butter Chicken Wings
2 cups smooth natural peanut butter
8 cloves garlic, minced
1 cup soy sauce
1/2 cup brown sugar
1/2 cup water
Zest of 1 lime
Juice of 2 limes
1 teaspoon cayenne
1/2 teaspoon freshly ground black pepper
24 chicken wings
Place all ingredients except wings in a large bowl. Stir to blend well and set mixture aside.
Score wings to allow marinade to penetrate meat. Place wings in marinade; massage wings in marinade and place in fridge for 30 minutes to 24 hours.
Heat oven to 350 degrees. Line a large baking tray with parchment paper.
Place wings on tray and bake in oven, turning halfway, until meat is cooked and wings are crisp and golden brown, approximately 30 to 45 minutes.
Serves 4.
— Recipe from Food Network Canada
Cream of Peanut Soup
1/4 cup (1/2 stick) unsalted butter
1 medium onion, finely chopped
2 celery ribs, finely chopped
3 tablespoons flour
8 cups low-salt canned chicken stock
2 cups smooth peanut butter
1 3/4 cups light cream or half & half
Finely chopped salted peanuts, for garnish
In a large saucepan or soup pot over medium heat, melt the butter. Add the onion and celery and cook, stirring often, until softened, 3 to 5 minutes.
Stir in flour and cook 2 minutes longer.
Pour in the chicken stock, increase the heat to high and bring to a boil, stirring constantly. Reduce the heat to medium and cook, stirring often, until slightly reduced and thickened, about 15 minutes. Pour into a sieve set over a large bowl and strain, pushing hard on the solids to extract as much flavor as possible. Return the liquid to the sauce pan or pot.
Whisk the peanut butter and the cream into the liquid. Warm over low heat, whisking often, for about five minutes. Do not boil.
Serve warm, garnished with the chopped peanuts.
Serves 10 to 12.
— Recipe from King's Arms Tavern, Colonial Williamsburg, Williamsburg, Virginia
Contact Heidi Knapp Rinella at Hrinella@reviewjournal.com or 702-383-0474. Follow @HKRinella on Twitter.