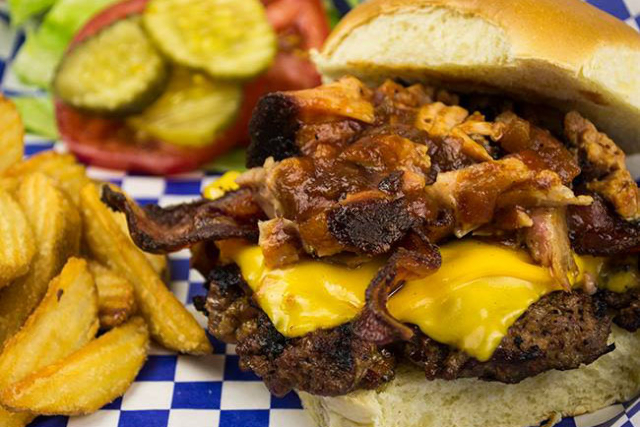 If you offer it, it appears, the Daves will come.
Tuesday's promotion at the Southern Nevada locations of Famous Dave's Legendary Pit Bar-B-Que, in which anyone whose first name was Dave or David could come in for a free two-meat combo, brought lots of Daves to the five valley restaurants.
"We had a great day," said local franchisee Dave (seriously) Dworak of Sonoran Barbeque LLC. "We had about 1,500 Daves show up. It was a huge success. We gave away about $25,000 of free food. We were steady all night, and on a wait most of the night."
Dworak said the Henderson restaurant, at 651 Mall Ring Circle, was the busiest, followed by the original Las Vegas location at 1951 N. Rainbow Blvd. Dworak said he ran a similar promotion a few years ago, but that this year's "was a lot bigger."
As it turned out, it became a national story, even though the promotion was offered only at the Southern Nevada locations. A Las Vegas Review-Journal item about the promotion, which was posted online Monday afternoon, spread like a hickory-fueled wildfire through social media and becoming a Facebook trending topic. The Review-Journal was contacted by people in locations as far-flung as Duluth, Minn.; Cherry Hill, N.J.; and Southern California to see if they, too, could take advantage of the offer.
They couldn't.
"We were the first franchise group to try this," Dworak said. "Michael Coldwell of Braintrust (Marketing and Communications) thought of it a few years ago, and we wanted to create some buzz again." Dworak said he saw a Florida news item that mentioned the promotion — and that it wasn't available to Florida Daves.
"It was a really good turnout, and a lot of fun, too," Dworak said. "It was really good to create some excitement and get some people in our restaurants that haven't been in for a while, and also some new guests that haven't tried us at all."
Asked if he'd consider doing it again next year, he said, "I imagine we will. It's named Famous Dave's, and we just wanted to do something fun for the Daves."
Contact Heidi Knapp Rinella at Hrinella@reviewjournal.com. Find more of her stories at www.reviewjournal.com, and follow @HKRinella on Twitter.