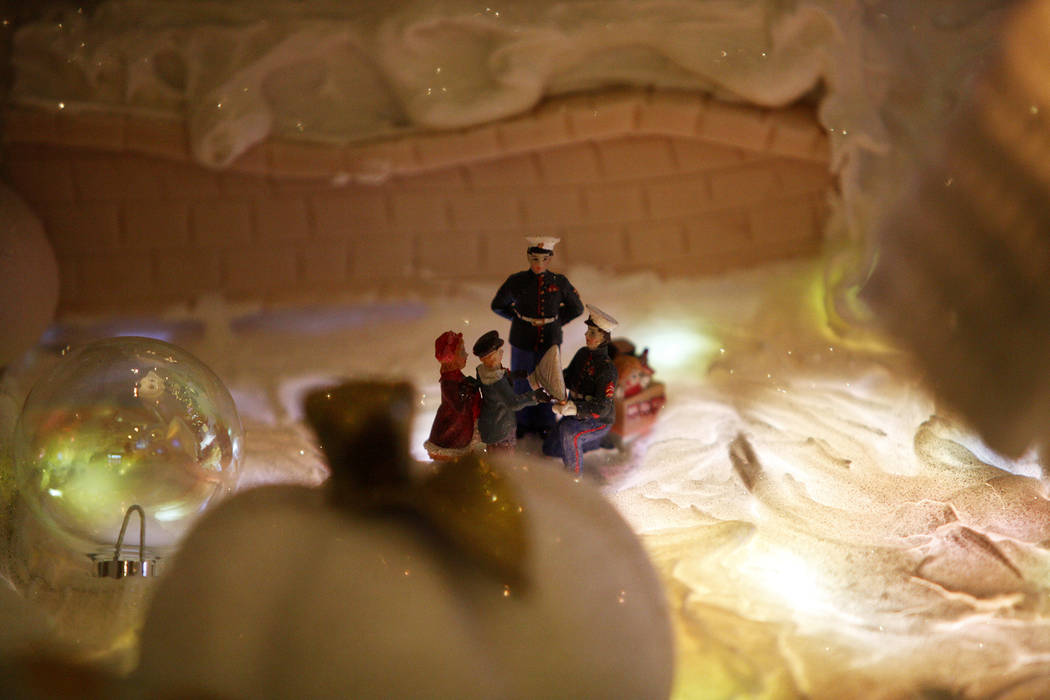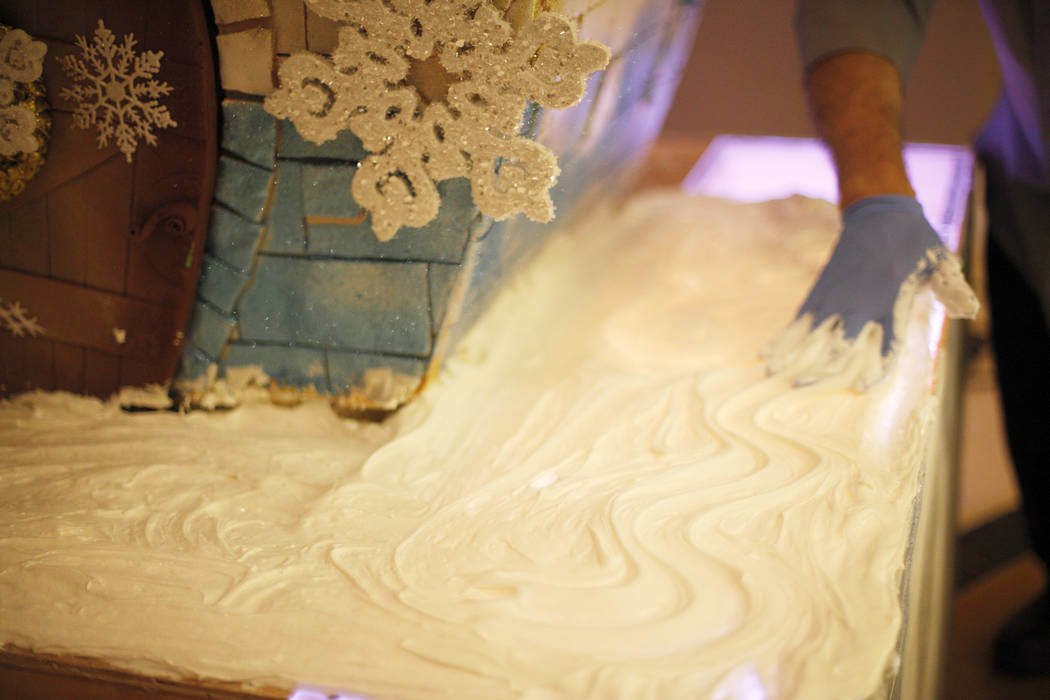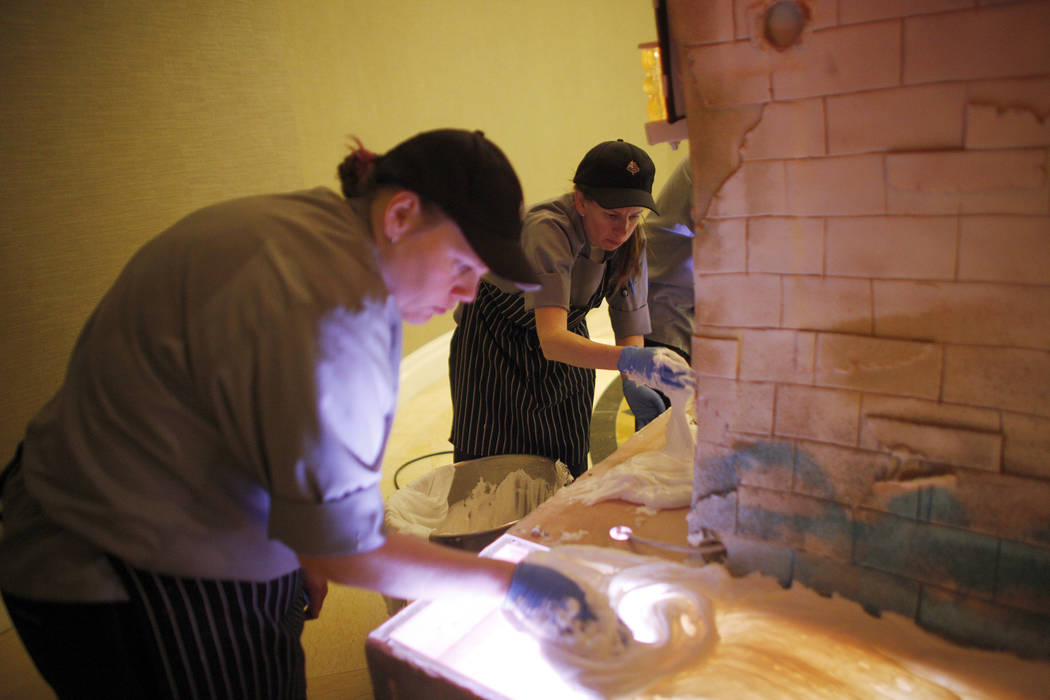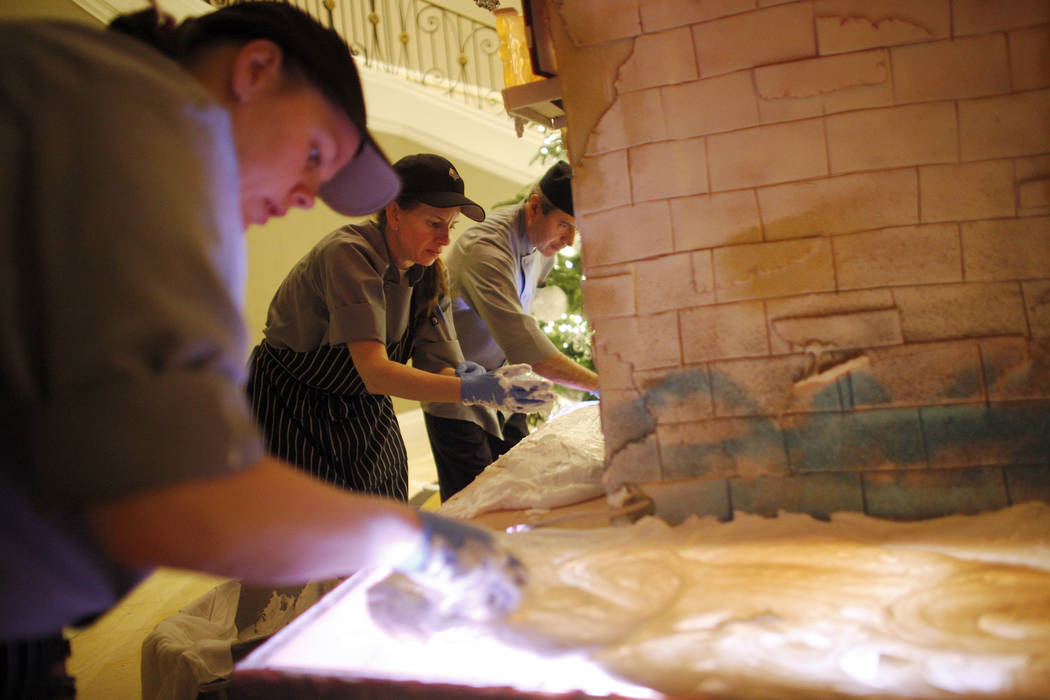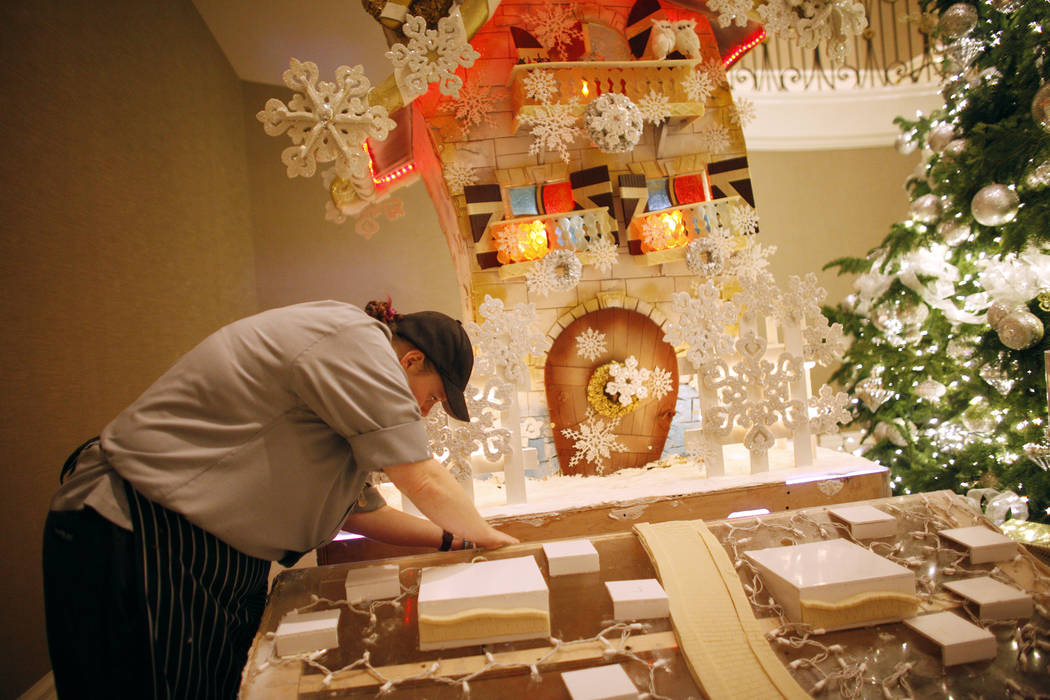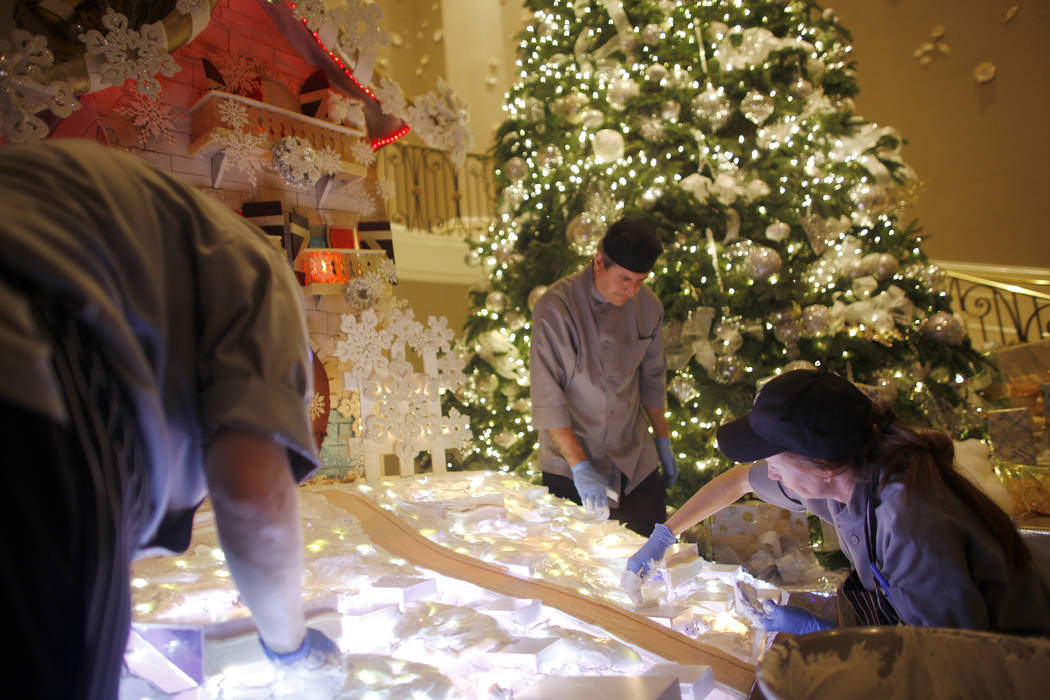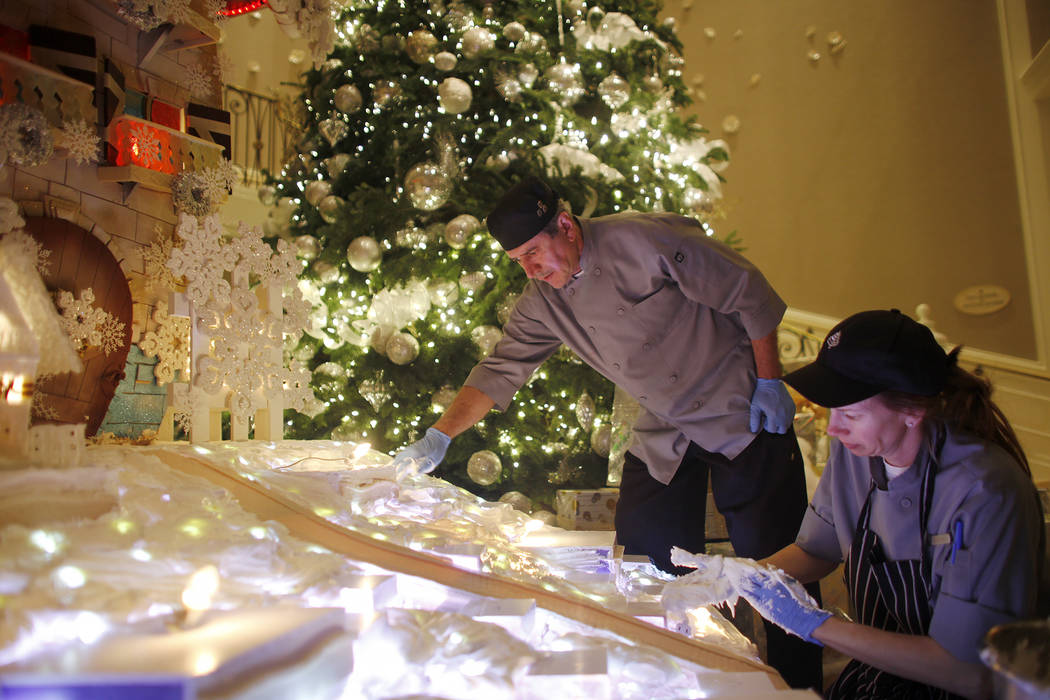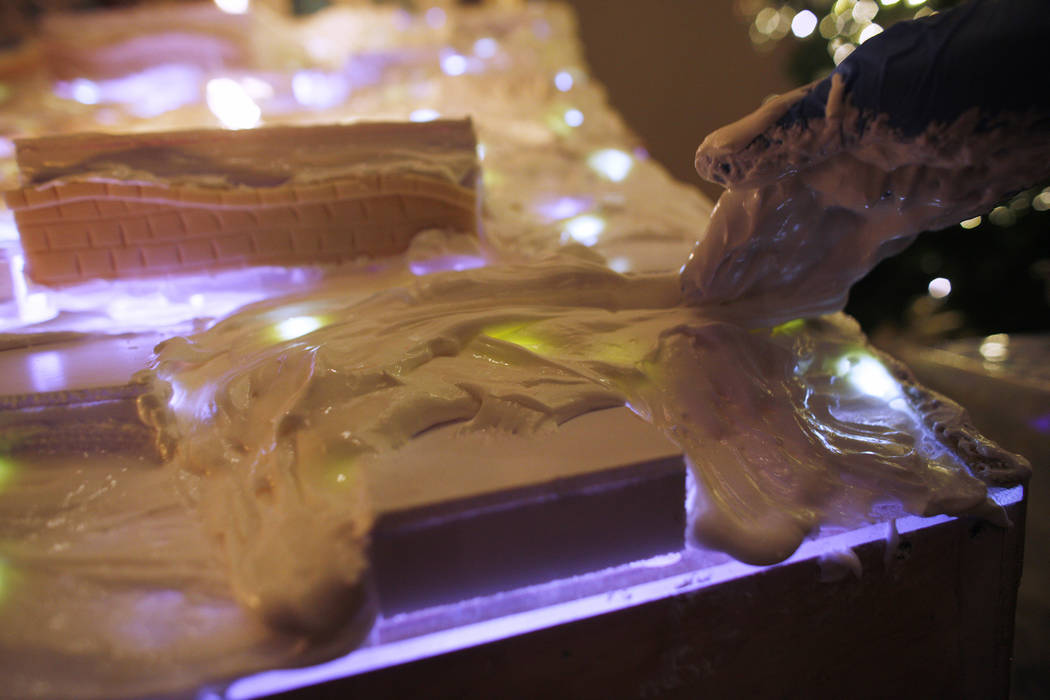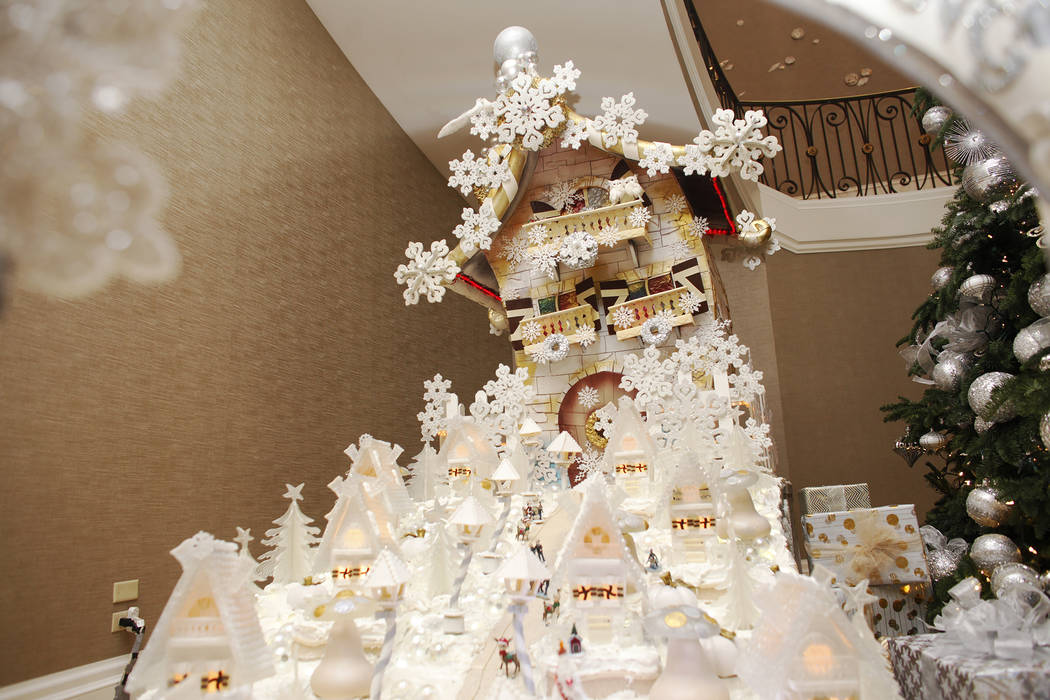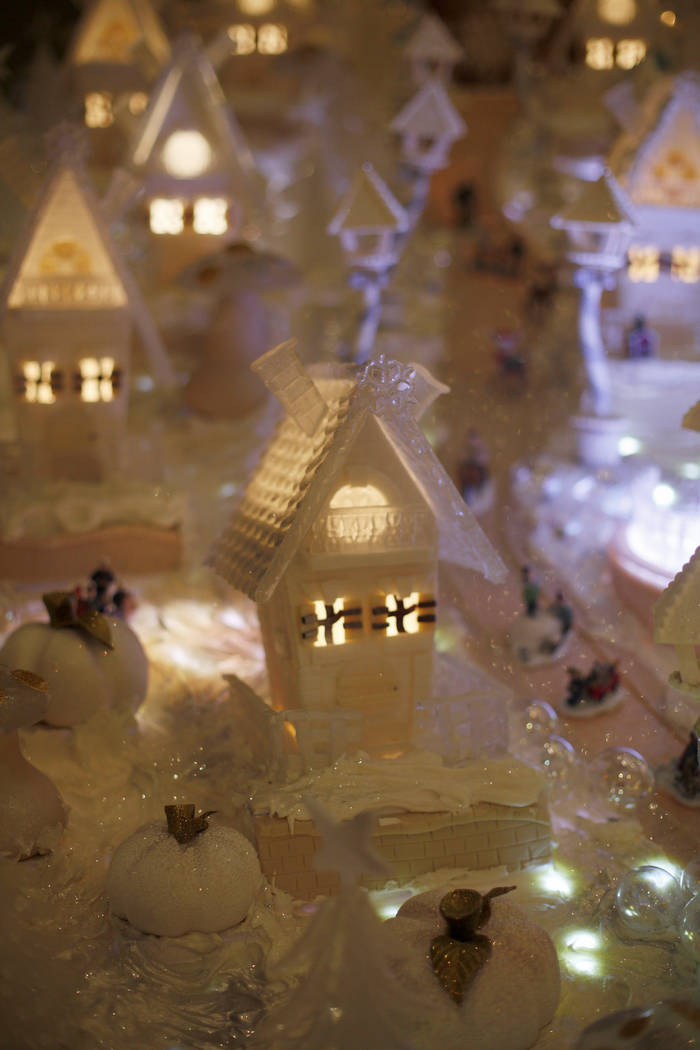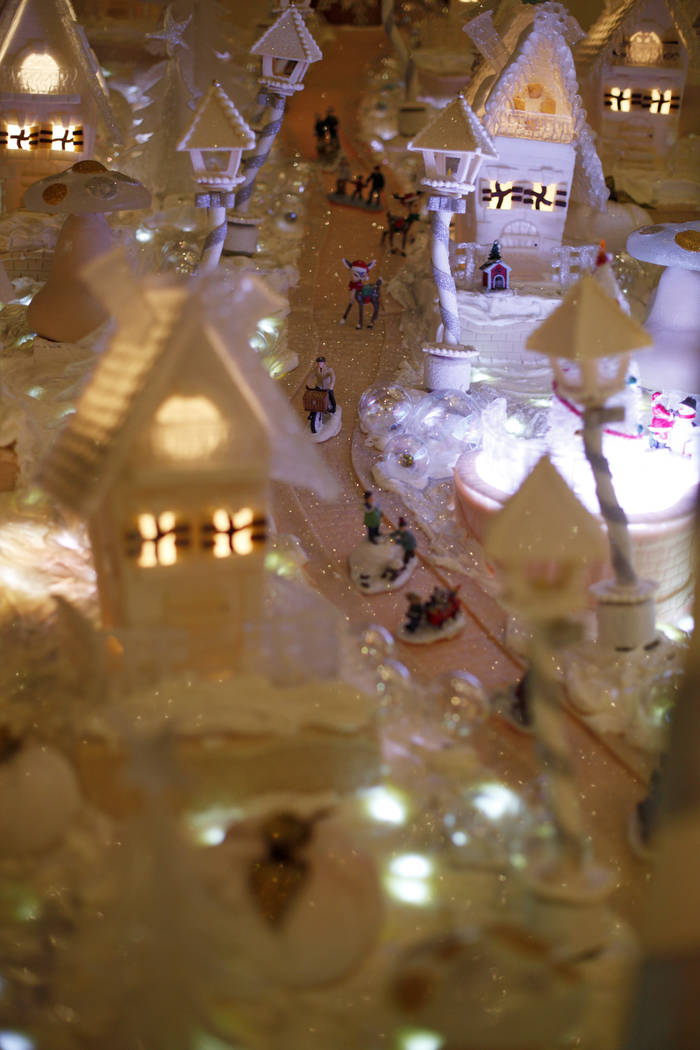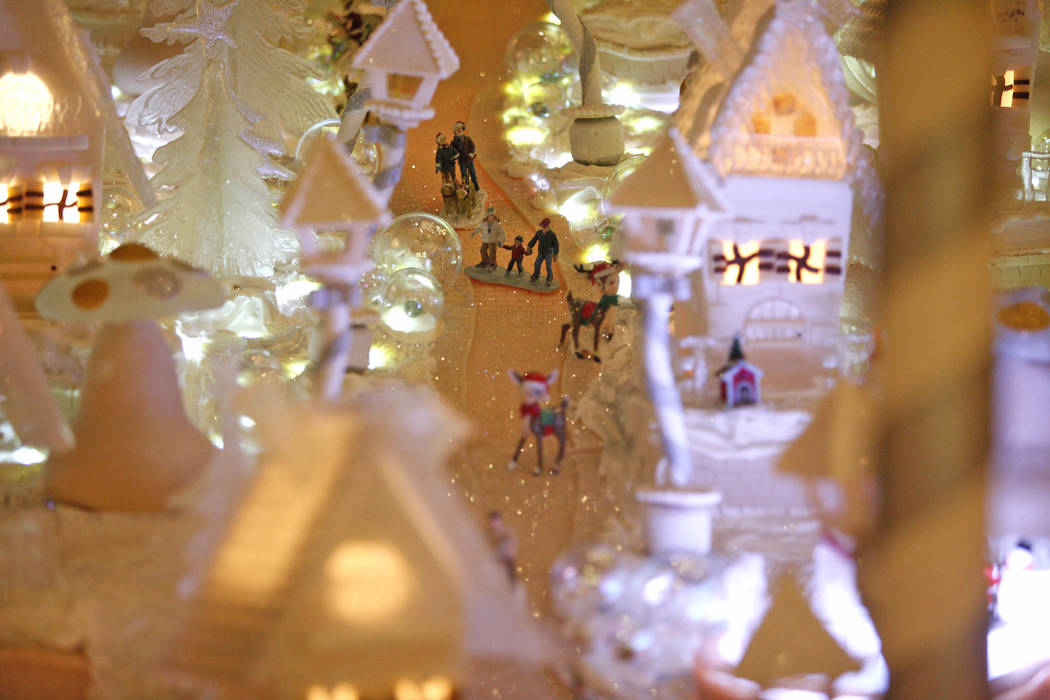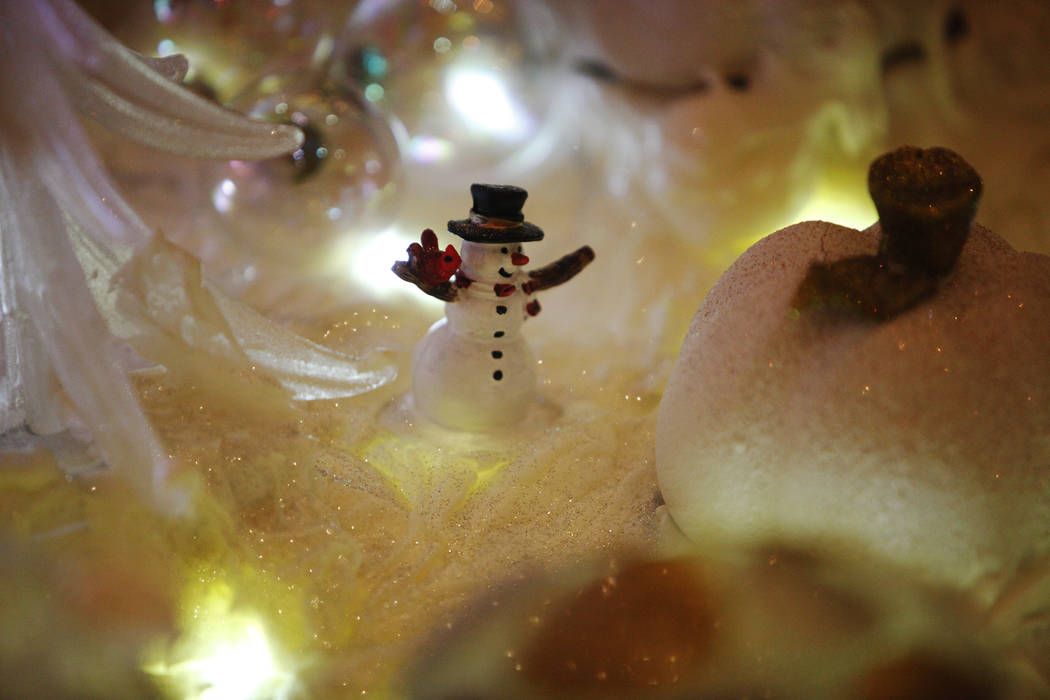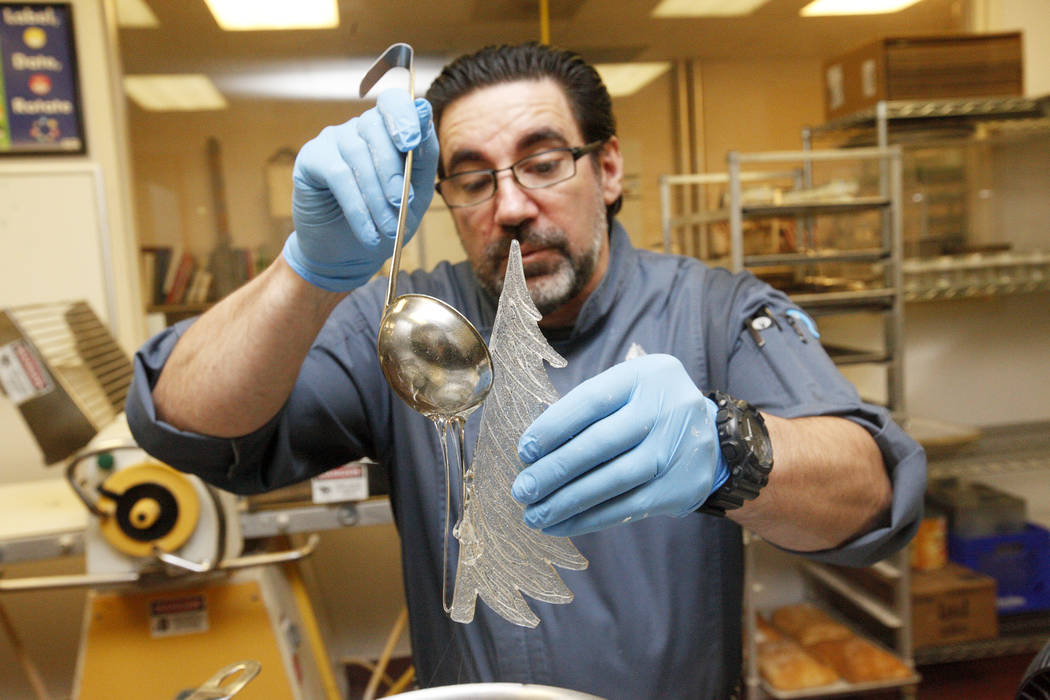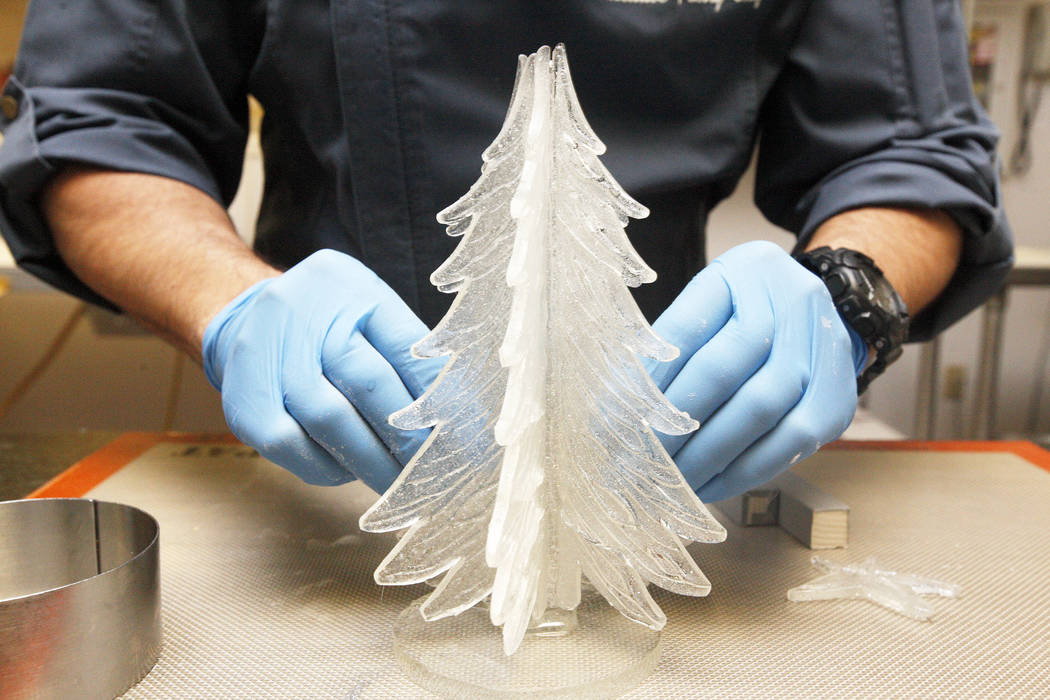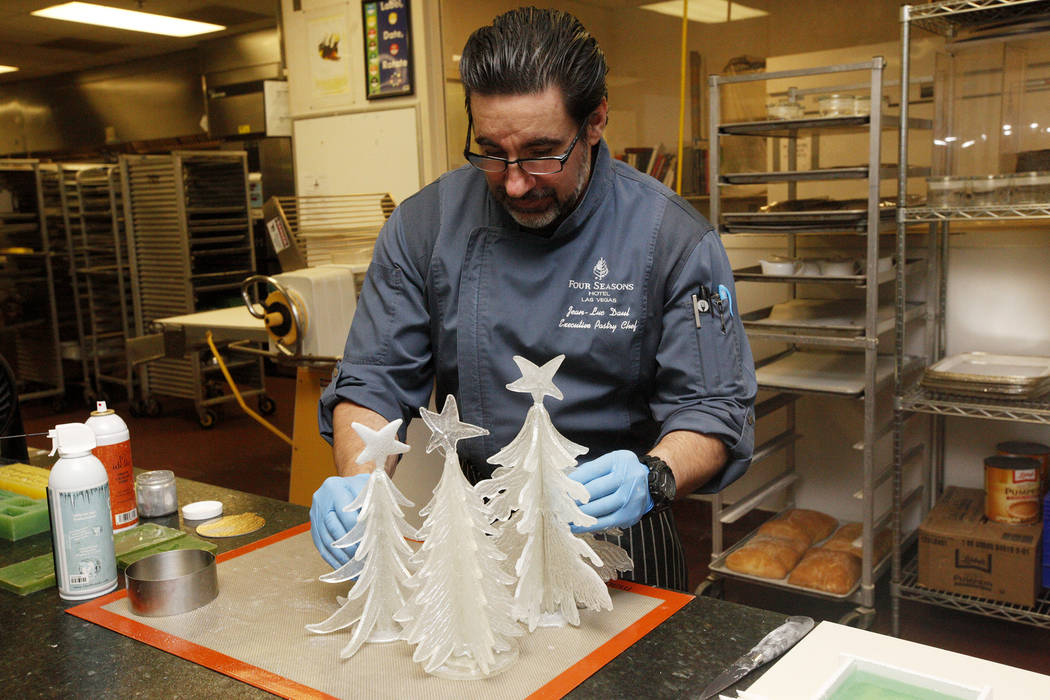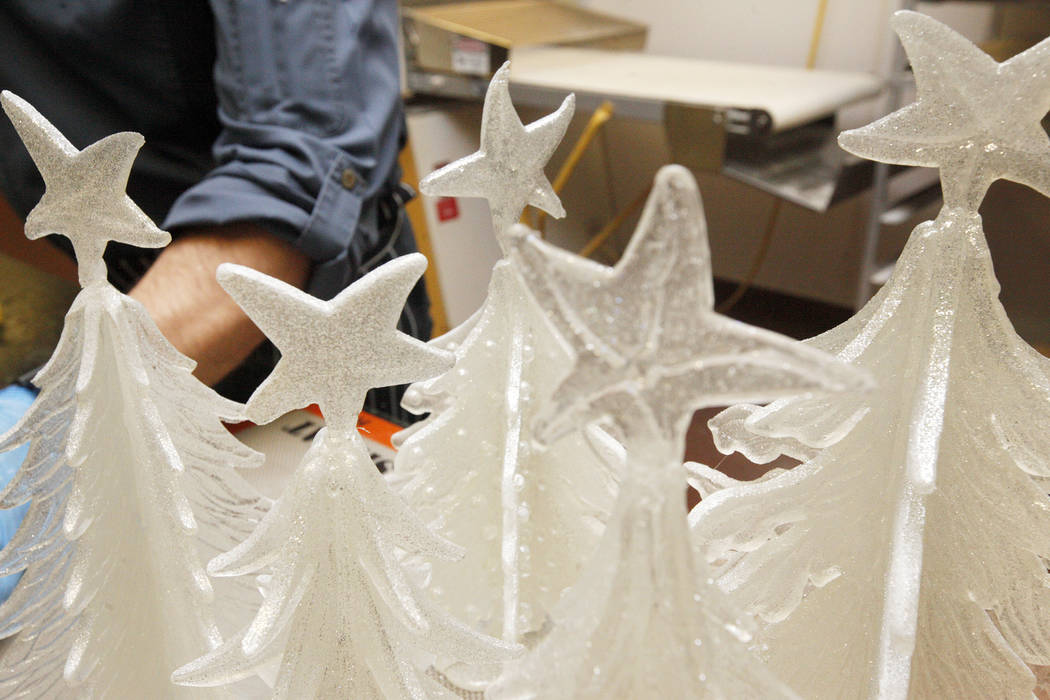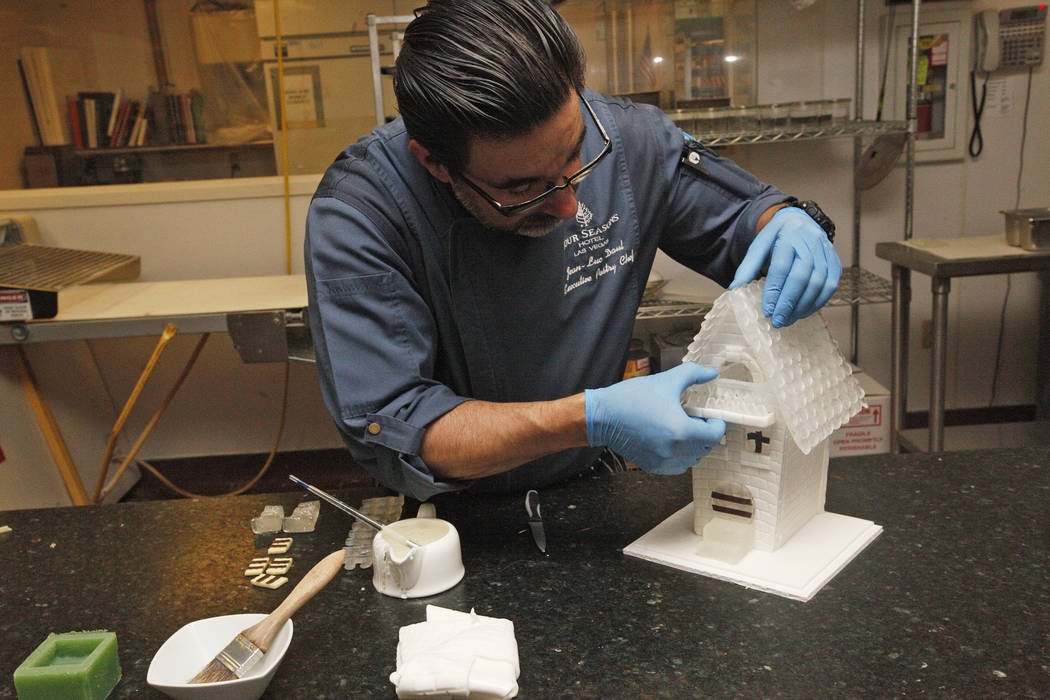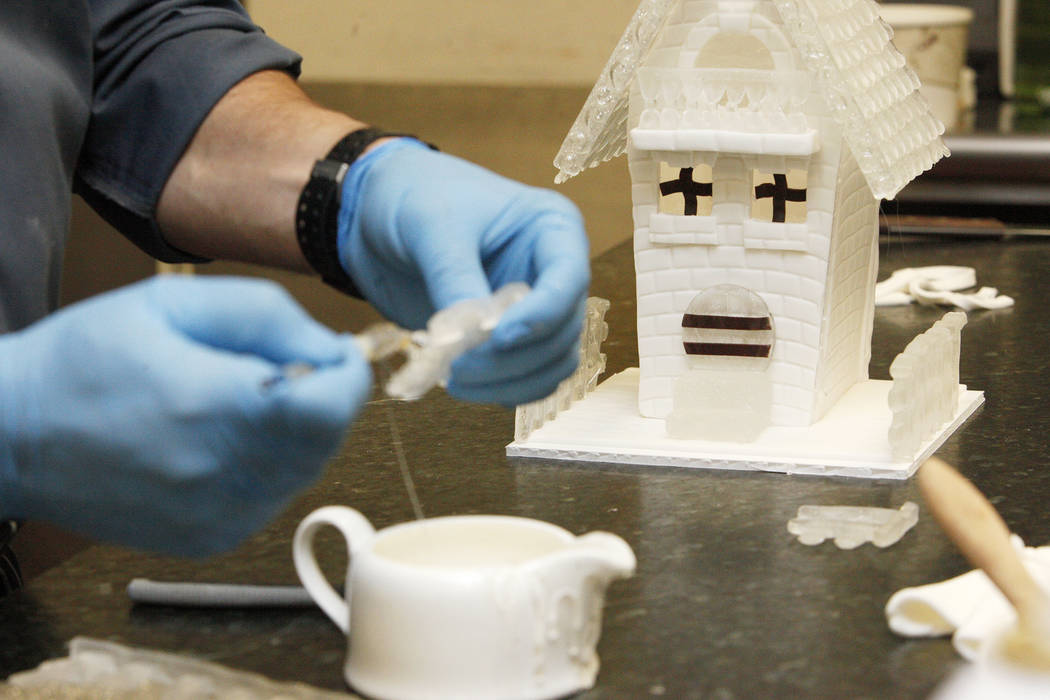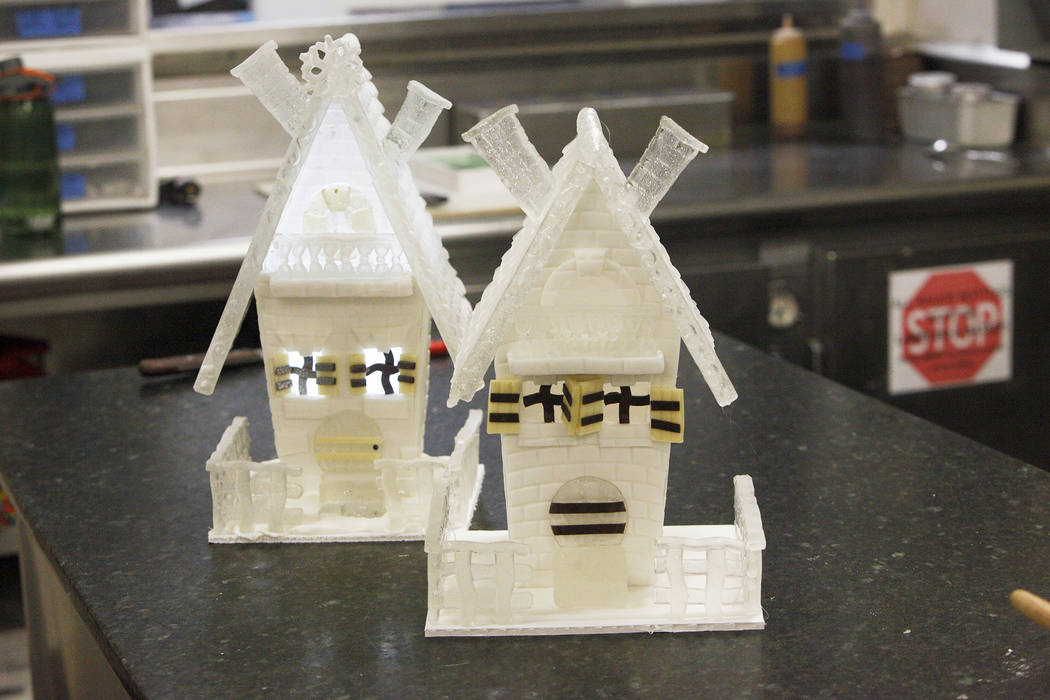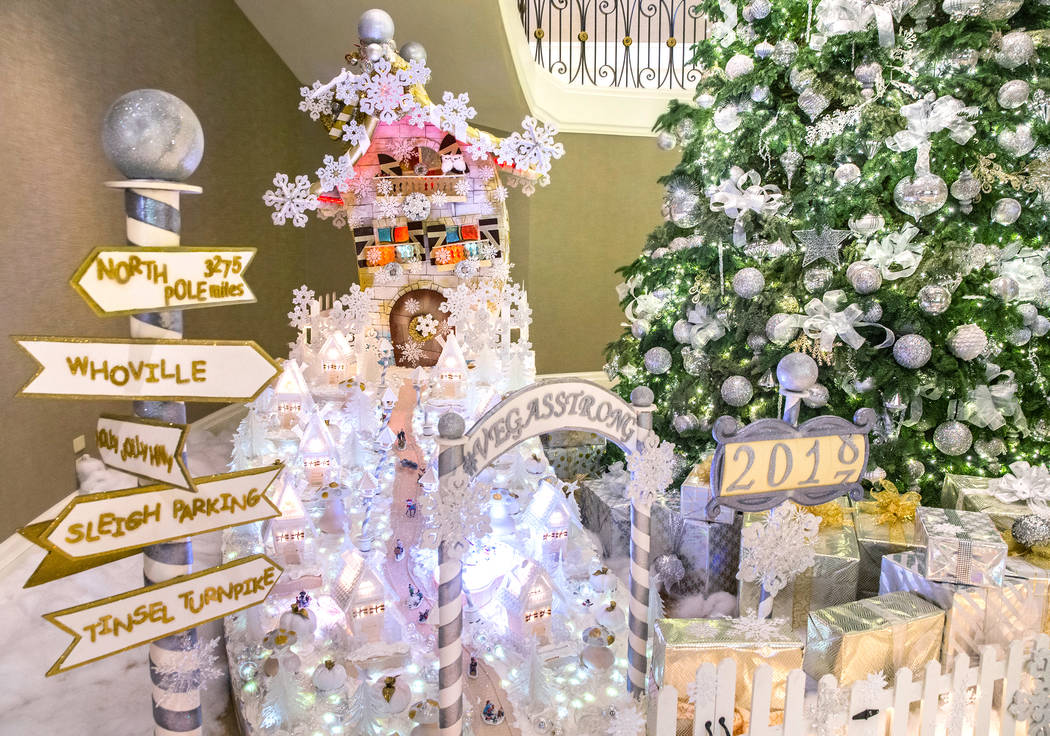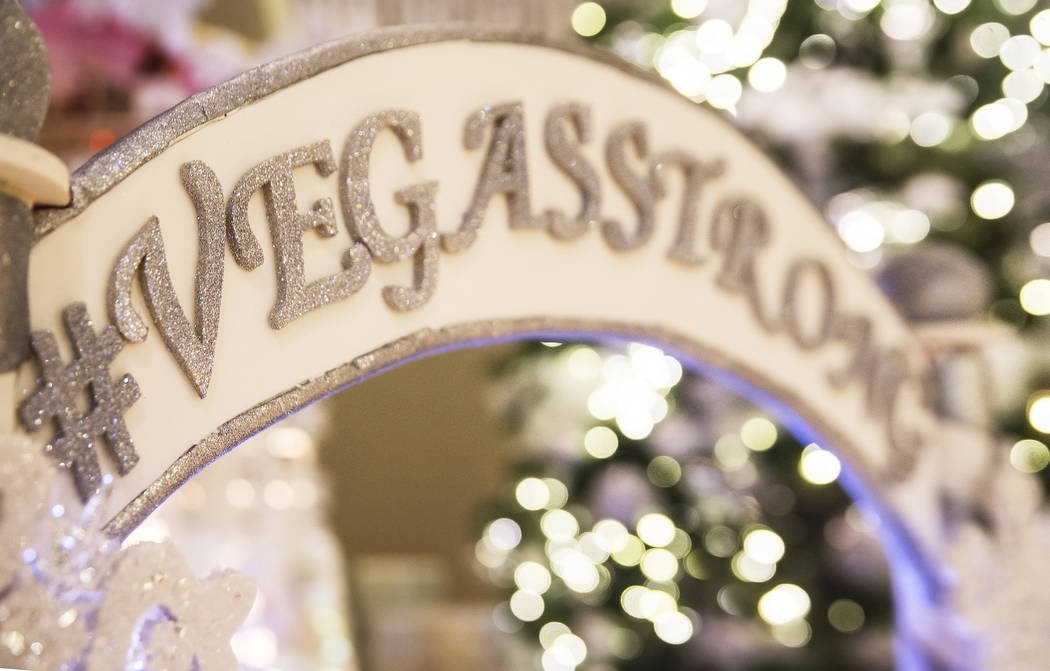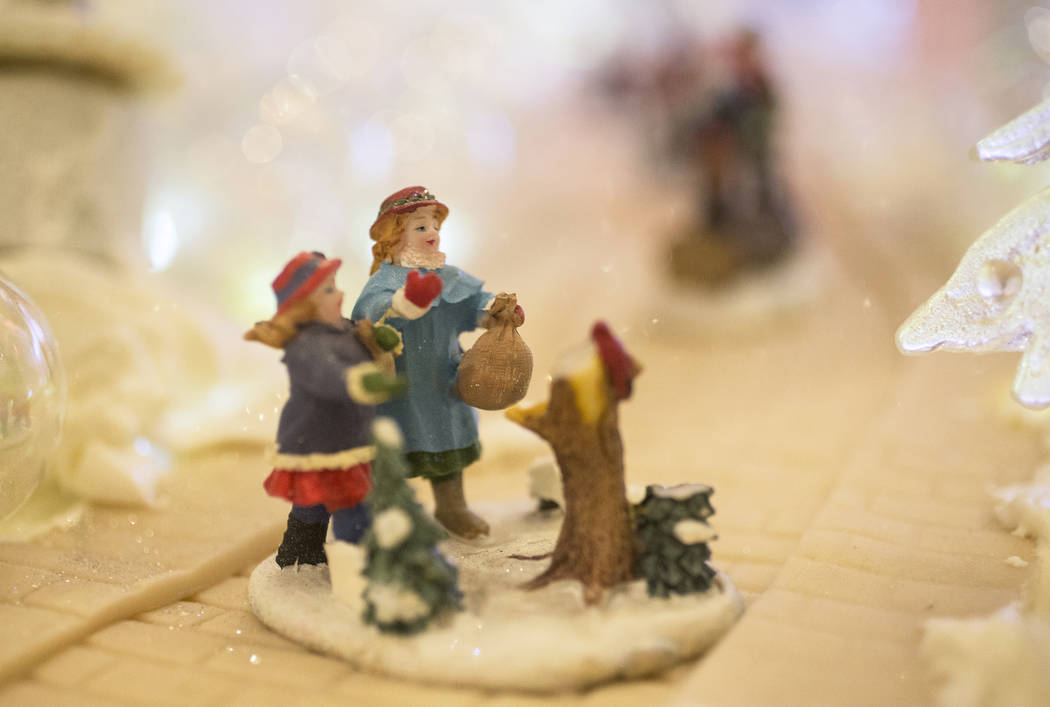 "Do not drop that house," chef Courtney Williams exclaims to co-workers, her bright pink holiday socks protruding from under a wooden platform, where she's adjusting holiday lights.
The "house" is actually a Dr. Seuss-style castle, adorned with oversized sugar snowflakes and holiday packages, that seems to sway in the breeze near the top of the platform.
With the lighting secured, Williams is pulled by those socks from under the platform. She and her cohorts begin coating the wooden slope with hundreds of gallons of royal icing. A few feet to their right stands a massive Christmas tree, behind them two carts of assorted sugar creations.
It's a little before 7 p.m. on the Tuesday before Thanksgiving, and the display shows only hints of what it will become. By the next morning, as holiday guests begin arriving, the team will have transformed the spiral stairwell in the hotel lobby into a sugary winter wonderland that will remain on display through the New Year.
Set behind a white picket fence, a frosting mountainside sprawls down from the door of the castle. A village of bright white fondant cottages, roofs with shingles of crystalized sugar and adorned with chocolate window panes, nestled among a forest of brilliant Christmas trees, oversized white toadstools dotted in silver and gold, monstrous snow-white pumpkins and magical sugar orbs, all crafted of sugar. A curving roadway runs through the center of town, lined with white and silver striped lampposts that appear to bend to a fantastic winter wind. And the entire landscape is dotted with miniature villagers engaged in holiday tasks. There's even a tiny reindeer that seems to have mistaken the fantasy land, quite clearly labeled as #VEGASSTRONG on its front gate, as someplace closer to the North Pole.
Four Seasons executive pastry chef Jean-Luc Daul has been crafting a sugary holiday scene at the hotel every year since it opened its doors in 1999, much to the delight of customers.
"We have had kids climbing the picket fence and playing with the houses and the snow. And one year I put a mailbox on it, and before I knew it I actually had letters to Santa in the mailbox."
Over the years, the display has become more compact, more modern, and more striking.
"Back in the day," the Frenchman recalls, "the gingerbread houses were traditional, like Hansel and Gretel. But this year we've completely moved away from it to make it a little more contemporary."
His current ingredients of choice: fondant, sugar (rolled and poured), frosting and marzipan. (The only remnant of gingerbread is in some spices in the icing, which serve more as a symbolic nod to tradition than anything else.) The color scheme is almost all brilliant white, with bright flashes of silvers, a few dots of gold and the only slightest hints of the rest of the rainbow.
Daul and his team began work on this year's display two weeks before their late-night installation. Over the course of several days they would take advantage of lulls in the workday to begin creating silicon molds, and using them to create the component pieces of the village out of liquid sugar, or the sugar substitute isomalt (which is less prone to yellowing and crystallization).
The following week was spent working on the wooden frames of the project, which is dismantled each January and kept safely in storage for next year.
"The goal," Daul explains, "is if I can stop people and get them out of their reality for a minute, and put them in a different place for the holiday, then I think we have achieved what I want to do. Because when people come to Vegas this time of year, it's not a Christmas destination per se. So we're trying to give them a taste of that, whatever way we can."
What it takes
In addition to time and effort, plenty of calories and deliciousness also went into the Four Seasons' holiday display this year. For those of you thinking of making your own, here's what you'll need to add to your shopping list.
250 lbs. powder sugar
5 gallons egg whites
80 lbs. marzipan
92 lbs. fondant
75 lbs. Isomalt
20 lbs. white chocolate
15 lbs. dark chocolate
12 oz. gold flakes
10 oz. silver flakes
5 oz. blue decor flakes
8 oz. gelatin
12 oz. citric acid
8 oz. white vinegar
5 o oz. green food coloring
12 oz. white food coloring
2 lbs. gingerbread spice