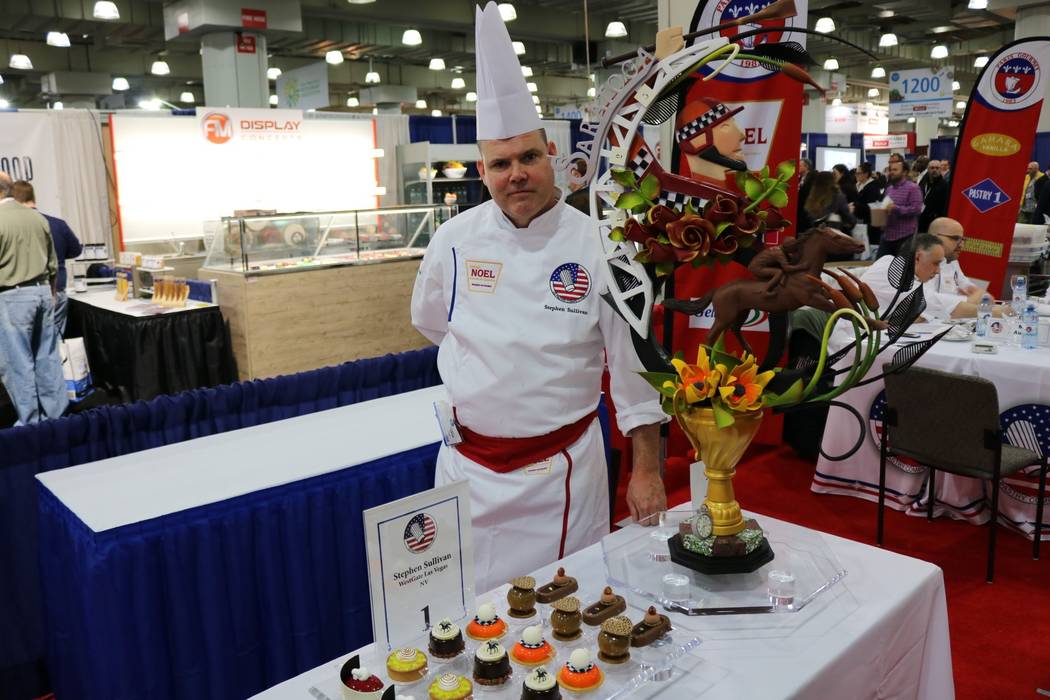 Stephen Sullivan, executive pastry chef at the Westgate, took top honors Sunday at the 29th annual U.S. Pastry Competition in New York. Sullivan's eight signature desserts, plated dessert and custom-made chocolate showpiece helped earn him the title of Pastry Chef of the Year. We're told the showpiece, a horse-racing vignette highlighting the theme "The Great Race," is being transported to Las Vegas for display in the Westgate lobby.
New noodle spot at Palms
Send Noodles, an Asian-inspired restaurant, will open at the Palms on Thursday. With just 34 seats, Send will blend Mandarin, Cantonese, Szechuan, Japanese, Korean and Thai influences with international flair. Look for dishes such as udon carbonara, ramen mac and cheese and buttermilk-fried broccoli with truffle spicy aioli, most from $8 to $18.
Donut Mania expands
A host of celebrities turned out Sunday to help aquarium builder, reality TV star and aspiring pastry magnate Brett Raymer celebrate the opening of his fourth Donut Mania shop. Musicians D.J. Ashba, Zowie Bowie and The Tenors of Rock, "Sexxy" star Jennifer Romas, comic magician Mike Hammer and impressionist John Di Domenico were all on hand to congratulate the "Tanked" star on the Summerlin location at 1930 Village Center Circle. Magician Murray Sawchuck even levitated a doughnut. As you might expect, there's an aquarium in the shop, although some ornamental doughnuts Raymer made for the fish are currently out for touch-up work. More on that in an upcoming episode of "Tanked."
Freed's widens its reach
"Vegas Cakes" fans and sweets lovers in the northwest part of the valley no longer have to drive to Henderson for a Freed's Bakery fix. The 59-year-old Las Vegas institution has joined forces with the Centennial location of Sticks & Shakes at 6475 N. Decatur Blvd. Freed's offers a selection of cookies, signature cupcakes, cake slices and 7-inch round cakes in addition to Sticks & Shakes' signature milkshakes and desserts.
Sightings
Rachel Lindsay of "The Bachelorette," with other former contestants at MB Steak at the Hard Rock Hotel. Professional racers and NASCAR reporters Jeff Gordon and Regan Smith with Fox Sports NASCAR announcer Mike Joy at Topgolf at MGM Grand.
Have an item for Kitchen Confidante? Email hrinella @reviewjournal.com or amancini@reviewjournal.com.