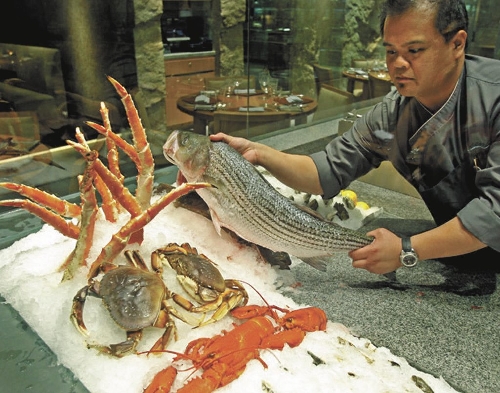 In the mood for a nice piece of Chilean sea bass? Perhaps you should try some Pacific halibut instead.
The reason for that is the relative places the two hold (Pacific halibut under "best choices," Chilean sea bass under "avoid") in the Monterey Bay Aquarium's Seafood Watch Program, considered the gospel of the seafood-sustainability movement.
Sustainability is expected to be one of the hot topics in the food world in 2011, but Las Vegas chefs say their customers are already well aware of the issue, and one local chef has become a leader in the movement during the past 17 years or so.
First of all, seafood sustainability is an effort to combat overfishing of some species, mismanagement of the fisheries and other factors that can endanger various species of fish and seafood. And Rick Moonen, executive chef of RM Seafood at Mandalay Bay, started seeing signs of it in 1994, when he was a chef in New York.
"I was going to the Fulton Fish Market and experiencing the changes that were happening in front of me," Moonen said. Those changes — especially to swordfish — included diminishing size and quality.
"I was curious and started asking questions," Moonen said.
What he found out was that at one point, fishermen in search of swordfish could go out a few miles into the ocean to find their catch. But as time went on, "they had to go out further and further and for longer periods of time," Moonen said.
Swordfish had been a pretty popular banquet item, he said, and he would normally purchase fish that weighed 200 pounds or more. But then those kept getting more and more difficult to find. Eventually, the average fish supplied to him was called a pup.
"I found out that a pup had not reached sexual maturity," he said. "We're eating the babies, and there's obviously no replenishment going on."
The change, he said, had happened over five or six years. "It dropped off quickly."
Moonen was introduced to the Give Swordfish a Break campaign, eventually becoming its spokesman. The message was that consumption needed to drop to prevent overfishing. There were, he said, "major closures — no-fishing zones for swordfish in the parts of the ocean that were known as nurseries."
The result: The population of swordfish spiked dramatically.
Well, swordfish had a little help. There was, Moonen said, a moratorium on it because of contaminants.
"So they went to another species of fish," he said. "There is proof right there of what we need to do."
Moonen said he sees chefs as "gatekeepers," able to purchase seafood that's not as familiar to customers and educate them on how appealing it can be.
"It's important to us as chefs to serve fish that's being caught responsibly and to educate the consumer," echoed Roy Ellamar, executive chef of Sensi at Bellagio.
Mike Minor, executive chef at Border Grill at Mandalay Bay, said he has seen more awareness on the part of customers.
"It's kind of cool to see that the public is being educated in some form or another," Minor said. "Our guests who are coming in the restaurant are becoming very knowledgeable."
Border Grill's chef/proprietors, Mary Sue Milliken and Susan Feniger, also are leaders in the sustainability movement, and Border Grill customers receive pocket guides that they can take to other restaurants or the supermarket to vet their seafood choices.
"To us, it's a huge message," Minor said.
(Anyone can download a free Seafood Watch pocket guide at www. MontereyBayAquarium.org. A free iPhone app also can be downloaded from the site, and public relations director Ken Peterson said an Android app is coming soon.)
Like Moonen, Milliken and Feniger have taken the program's chefs' pledge, and Minor said he won a sustainability award two years ago.
"With that stuff behind me, I'm able to go out and make an even bigger impact in the community," he said.
And that's important, because some aspects of sustainability are counter-intuitive.
"People see farm-raised salmon and they say, 'It's really good for me,' " Minor said. "What's happening is this salmon's being raised out in the ocean in the nets. It's killing all the marine life around these nets.
"Honestly, it's completely everything you shouldn't be eating. Alaskan wild salmon is the way to go."
"People need to be aware that wild salmon is much better than farmed salmon, and farmed salmon is causing the problems for wild salmon," Moonen agreed.
Besides overfishing, poor farming practices and habitat destruction, another threat to sustainability is bycatch.
"For every pound of dredged shrimp, 5 to 10 pounds of unwanted species comes with it," Moonen said. "Pretty much 100 percent ends up dying. It's shoved to the side while they're picking up the gold."
Mal Wittenberg is chief executive officer of Micro Analytical Systems Inc., whose Safe Harbor Certified Seafood program has been active in Las Vegas for about nine months. The program works with suppliers to test seafood for mercury, histamines and select pathogens, in an effort to ensure food safety. But he said that by investigating, among other things, the farm-raising and bycatch practices of its producers, it contributes to sustainability.
"You look at where fish is being caught and make sure that the quantities (and) catch methods are appropriate to preserve the species," he said. "We had a tuna facility in the southern Philippines that only caught fish by hook and line — very sustainable, no bycatch."
"We as a company would never go to a facility that uses drag nets," he said. Besides bycatch, he said, there's damage to the ocean floor; "it just ruins the environment."
Wittenberg maintains that farming will be a big part of seafood sustainability in the future, but cautions against poor aquaculture practices.
"Mostly China, to a lesser extent Vietnam, just have the reputation of selling product which oftentimes one doesn't particularly want to eat," he said. "I don't think their aquaculture practices are up to snuff. I don't think quality and food safety are at the top of their list of concerns. I think the top of their list of concerns is profitability."
He said he has been told by people in the industry that shrimp farms should have 450 pounds of shrimp per acre, and that some farms in China have 89,000 pounds per acre.
"It definitely increases profitability, but by the same token, you have fish that are swimming around in their own feces," he said.
Ellamar said he has heard about some interesting new fish-farming techniques and echoed that "that's where the future is." One of them, he said, is in Kona, on the big island of Hawaii.
"They're trying to perfect it," he said. "They're working on it and also keeping the natural stock that's surrounding it in mind."
Joseph Kudrak, executive chef at T-bones Chop House at Red Rock Resort, has been using the Safe Harbor program. While Moonen said one drawback of the program is that it ties chefs to one supplier, Kudrak said he'd taken seafood from other sources to the Safe Harbor lab at Supreme Lobster and Seafood Co. for analysis.
Kudrak said he thinks sustainability and food safety are of primary interest to customers.
"I think no matter what seafood they're having, they can always take steps to ensure that they're buying a sustainable product," he said.
Moonen's advice?
"The reality is we need to stop consuming top predators," he said. "Eat lower down the food chain, folks. Eat bait; it's great for you. Have your mackerel, sardines and anchovies. There's a large population of bottom-feeders," including crab and lobster; "their population is normally kept in check by the fish that we've fished out.
"Vote with your wallet every time you decide to purchase seafood for yourself and your family."
Contact reporter Heidi Knapp Rinella at hrinella@ reviewjournal.com or 702-383-0474.