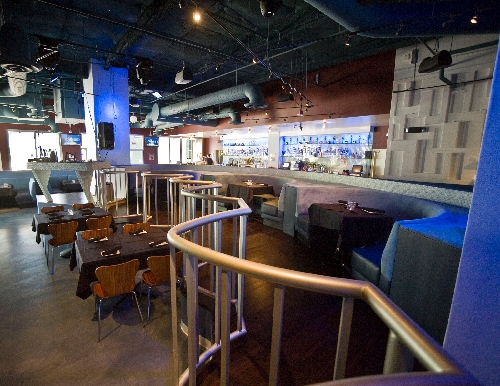 Sometimes, things don't work out the way we expect. But, when we're really lucky, things work out anyway.
Take Lolita's Cantina and Tequila Bar, the Miami-meets-Mexico City lounge/restaurant that opened about two months ago at Town Square, 6605 Las Vegas Blvd. South. Owner and veteran night life developer Eric DeBlasi had expected that his newest offering would be a lounge that also happened to serve high-quality, but medium-priced, contemporary Mexican cuisine.
As it turns out, Lolita's culinary offerings have taken off among patrons to the extent that food sales make up about 80 percent of the venture's revenue, the staff already is seeing repeat customers and appetizer sales are, to put it bluntly, going through the roof, DeBlasi says.
Lolita's night life elements remain and include dancers both real and holographic, DJs who spin from 10 p.m. to 3 a.m. Wednesdays through Saturdays, and a nightly transition from primarily restaurant to primarily lounge.
But DeBlasi is thrilled that Southern Nevadans — about 85 percent of the restaurant's clientele is local, he says — have embraced Lolita's menu.
"There's nothing over $20," he notes, making it a challenge for the menu he wants to offer. For instance, Lolita's tortillas are made fresh daily, meats are hormone-free, and all ingredients, whenever possible, are obtained from local farmers and providers.
Lolita's drink menu includes about 100 tequilas, about 45 margaritas and specialty cocktails, and a "very extensive" martini menu, DeBlasi says.
By the way: Lolita's is "very child-friendly," DeBlasi adds, and performers even stop in on weekends to entertain the kids.
Lolita's Cantina and Tequila Bar is open from 11:30 a.m. to 2 a.m. Sundays through Tuesdays and 11:30 a.m. to 3 a.m. Wednesdays through Saturdays.
Starters: Empanadas stuffed with local cheeses and poblano peppers, $6.95; ceviche, $9.95; coconut calamari (coconut milk-marinated calamari), $10
Soups and salads: Ensalada Lolitas, $8; ensalada con camarones (with grilled prawns), $13; sopa de tortilla, $4.50 a cup, $7.95 a bowl
Entrees: Ensenada-style tacos (Tecate beer-battered, with choice of sea bass, shrimp or ahi tuna), $3.50 each; chile rellenos, $13; pork carnitas, $16; sea bass Azteca, $18; ahi tuna Yucateco, $19
Desserts: Homemade Mexican-style ice cream or tropical sorbet, $4 for three scoops, $7 for six scoops; Lolita's churros (served with fresh fruit and Lolita's Mayan chocolate fondue), $7.95; torta di queso (artisanal sweet cheesecake with tropical fruit salsita), $5.95
Information: 272-1389
By JOHN PRZYBYS