Longtime Wolfgang Puck executive opens Arts District restaurant-bakery
Updated June 5, 2023 - 8:56 am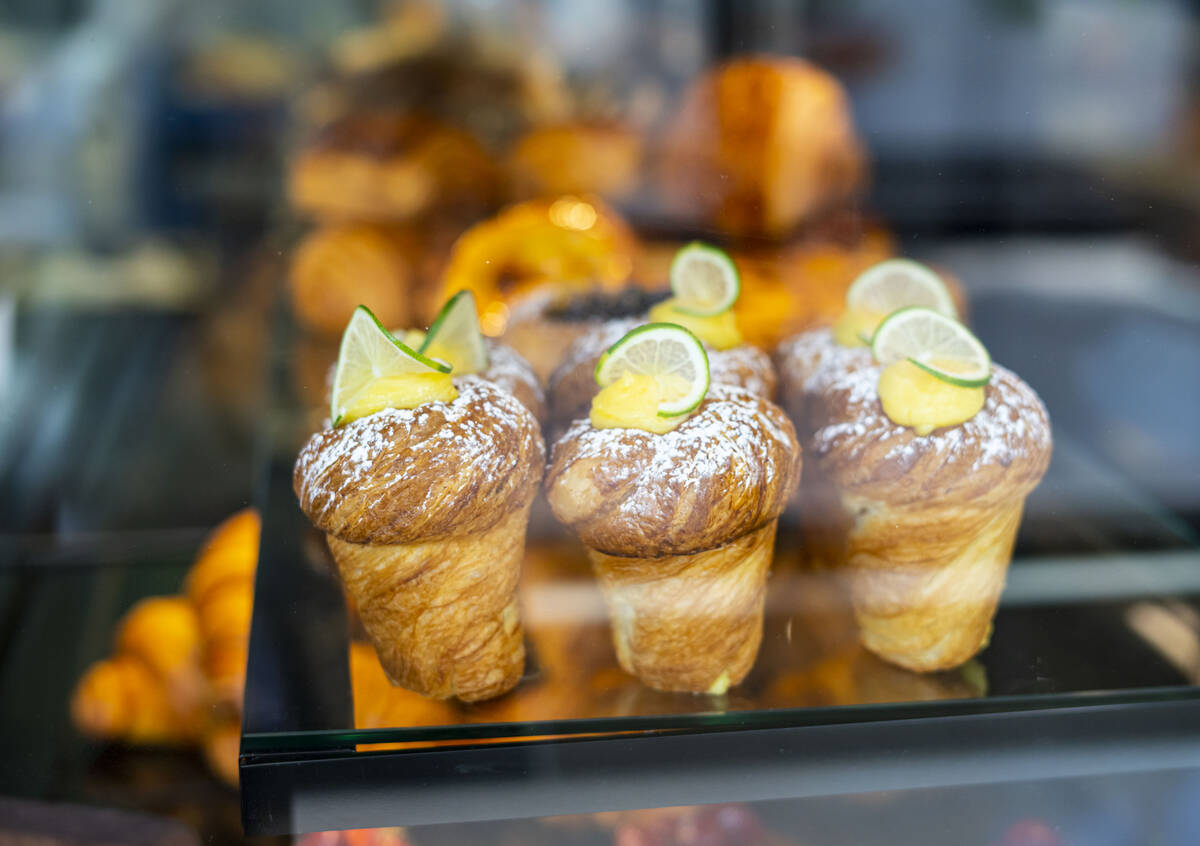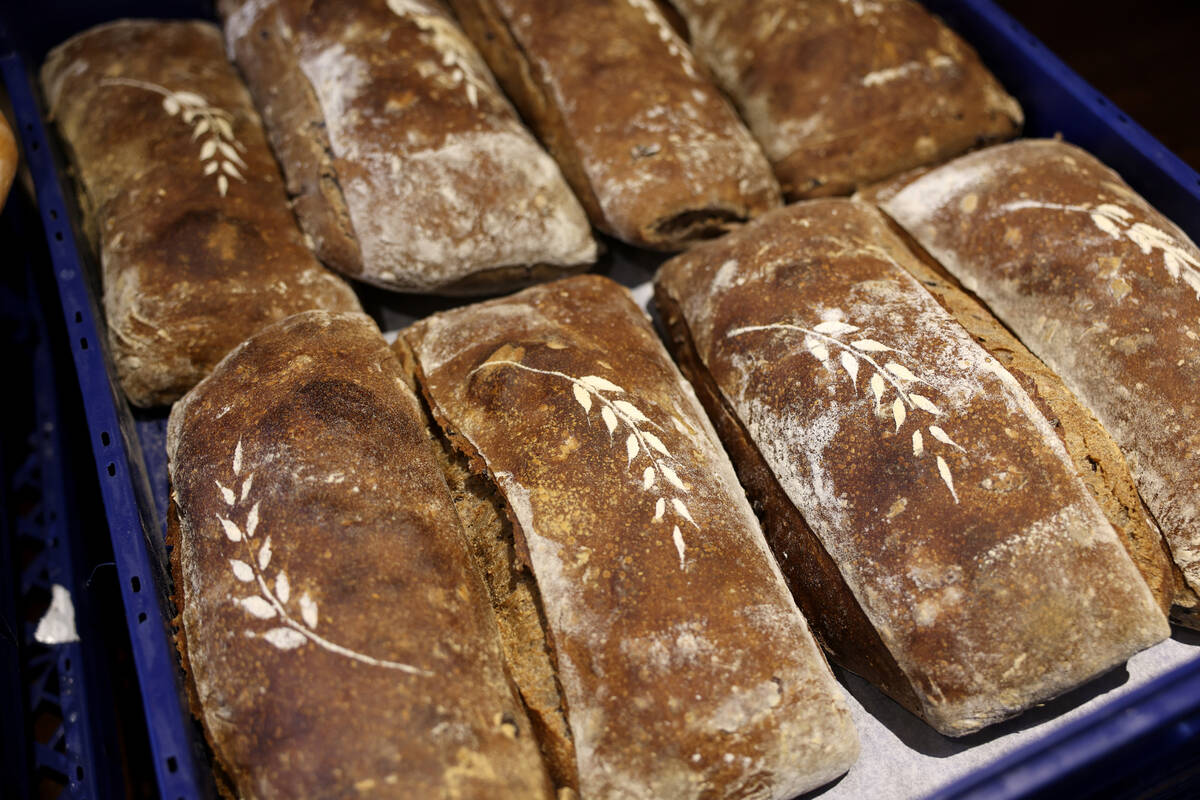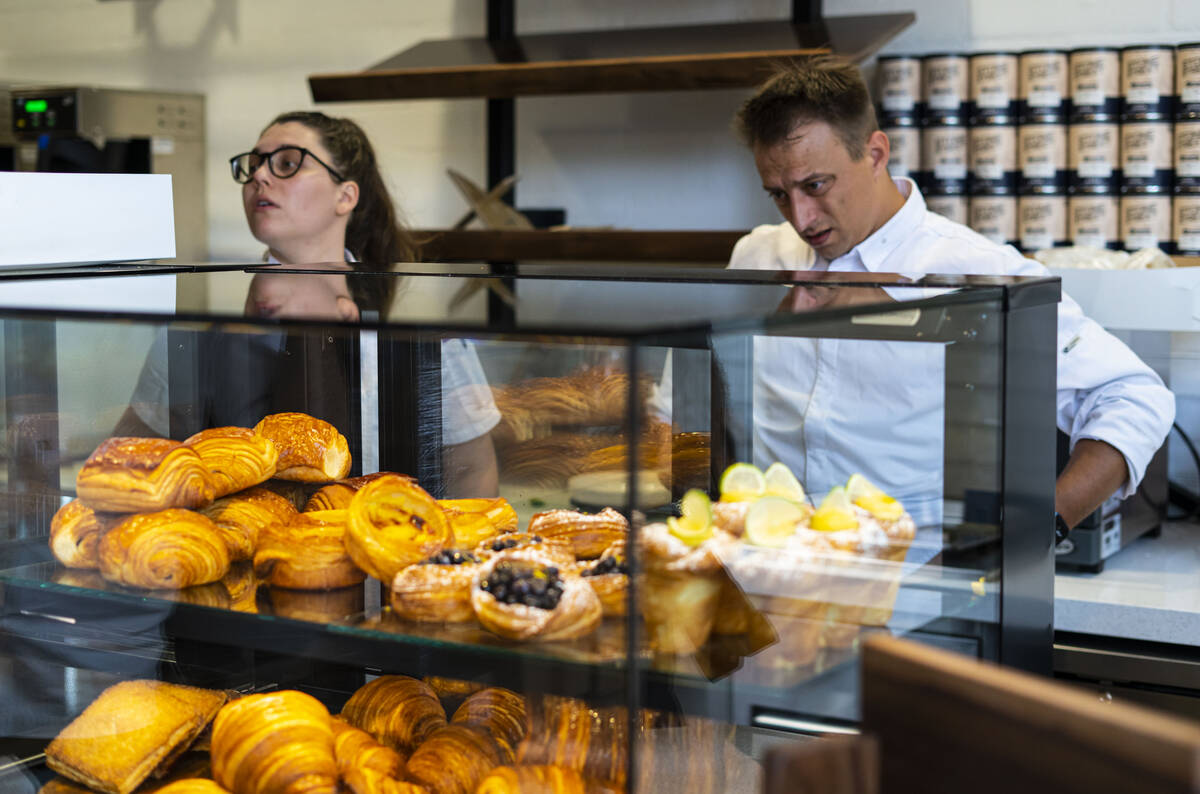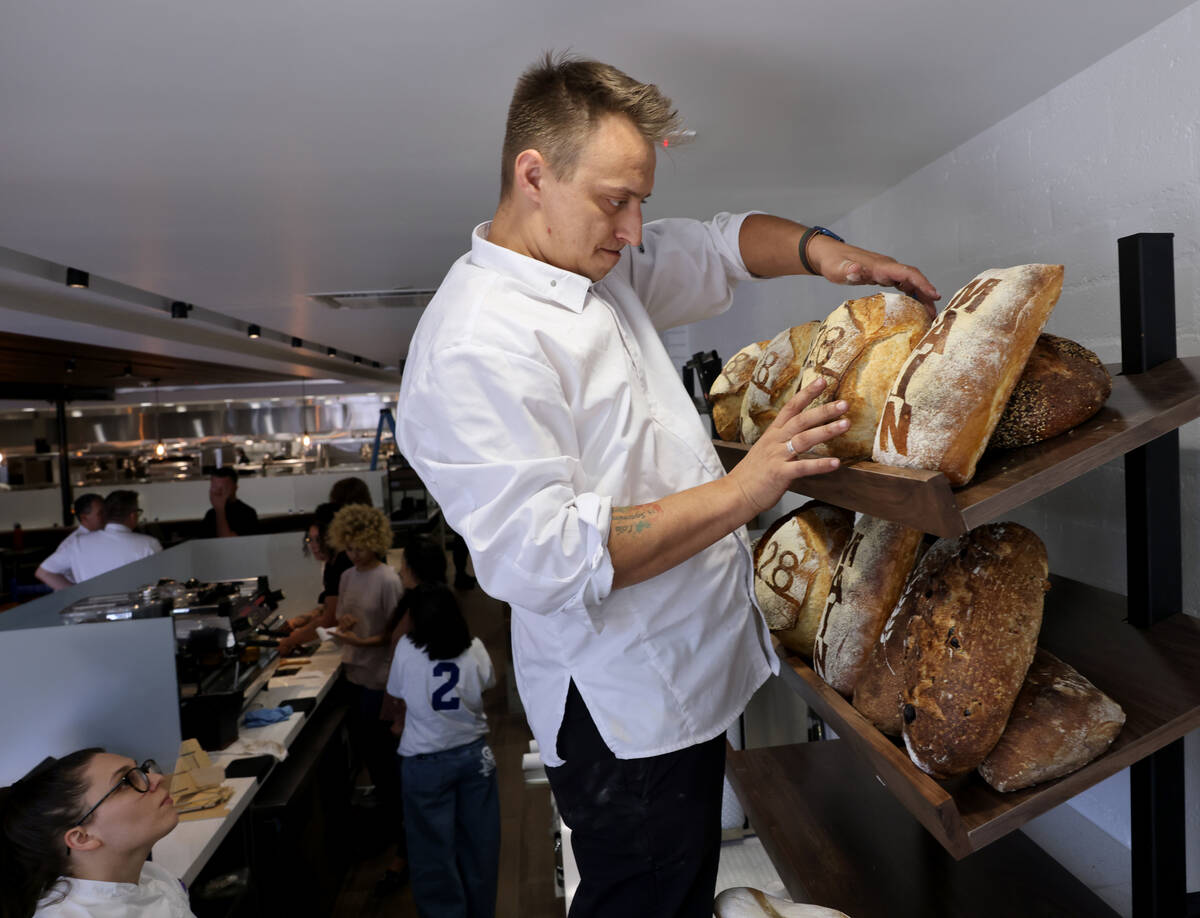 At the new 1228 Main in downtown Las Vegas, baked goods are these things all at once: menu staples and works of art, purveyors of sense memory and inspiration for the restaurant.
David Robins, a former San Francisco chef and the longtime director of culinary operations for Wolfgang Puck, created 1228 Main, and the celebrated chef is one of his business partners in the venture.
Robins, who is keeping his day gig, has ranged the world opening restaurants for Puck, and "my love of bread, my love of pastries, comes from my travels in Europe. You would come into a bakery run by a family and smell the bread, smell the pastries, smell the coffee.
"I've always wanted to have here a neighborhood spot like that or like the neighborhood spots where I grew up in San Francisco. The bakery is a central point of the restaurant."
And so the pastry case lies just inside the door, offering croissants and pain au chocolat, flaky danish cradling heaps of blueberries, and cruffins (croissant-muffins) provisioned with tangy lemon curd.
Behind the case, crusty loaves of artisan bread, artfully arranged just so, fill wooden shelves; 1228 and MAIN logos are baked into the loaves. Robins extended the rear of the 1950s building, which his company bought in 2021, to accommodate baking operations.
1228 Main (address: 1228 S. Main St.) has been a restaurant three decades in the making, Robins said, gathering long-standing culinary confrères and younger kitchen colleagues to break bread together, as it were.
"It took me 30 years to develop a team that would allow me to come down here," Robins said. "For 30 years, for every restaurant I've run for him, I've made decisions by putting on my Wolfgang Puck hat. This is an opportunity to make my own decisions. It's inspiring — and freeing."
California, France and Italy
1228 Main (1228mainlv.com) opens Monday for breakfast, lunch and sales of baked goods. A start date for bar and dinner service is still being determined. 1228 Main is a first for the Wolfgang Puck organization: a restaurant the chef is involved in that's not positioned as a Wolfgang Puck restaurant.
"We're not going to come downtown with a branded piece like we have with Spago on the Strip," Robins said. "This is part of the fabric of the growth of the street. Hopefully, 1228 Main is something we will use as a jumping-off point to go into other cities and their neighborhoods."
But back to the bakery program, which features eight different loaves and 10 pastry varietals for the menu, counter sales to customers and trade sales to other restaurants. During the day, 1228 Main is a place for breakfast, lunch and coffee. At night, elevated dinner offerings take pride of place. Menus are seasonal, built on a foundation of California cooking and artisan producers, with French and Italian influences.
There's also a catering company "out the back door," Robins said, and a marble bar built, in part, for a late-night scene. A brick wall with rectangular cutouts, window-style, partitions the dining room from the bar. Elsewhere, 1228 Main retains some of the original bricks, painted white. The main support beam, steel painted brown, stretches down a slatted walnut ceiling.
"The process of design was inspired by modern architecture and my San Francisco roots," Robins said.
Menu highlights
At breakfast, toasted sourdough provides a platform for Meyer lemon marmalade, while slices of multiseed rye await swipes of hatch green chile cream cheese. Lemon verbena spikes vegan vanilla yogurt. French toast with dulce de leche harnesses house ciabatta. The 1228 breakfast panino layers griddled eggs, mortadella and provolone between house rosemary focaccia.
"Having a bakery allows me to eat all the things I love for breakfast," Robins said. "I've put on 10 pounds in the last two months in R&D."
At lunch, bread spreads include Sebastien's butter made from organic Straus cream and sea salt; the spread is named for Sebastien Polycarpe, director of pastry for the Wolfgang Puck group. A salad showcases smoked trout from a fish company owned by an old friend of Robins. "His product is wicked good," Robins said.
Lunch and dinner see a 1228 prime-grade burger on brioche with Kennebec potato fries. "A burger is part of the fabric of America and something we do well," Robins said.
The dinner menu features small plates like duck rillettes on bakery baguette, and large plates like shrimp campanelle with garlic, chili and pea shoots, and Jidori chicken pot pie sheltering market vegetables bound by silky thyme velouté.
"Wolf taught me to make a chicken pot pie but on a much higher level," Robins said. "I love the tie to my roots."
For now, those ties at 1228 Main don't include importing dishes from other Wolfgang Puck restaurants. But never say never. Maybe, Robins said, he'll serve the chef's famed smoked salmon pizza at the bar.
Creating another institution
1228 Main encompasses about 6,000 square feet and seats about 130 across the dining room, bar and patio. Robins said he'd been looking for the right location for about six years. A property up the street caught his eye, but it was too large for his plans.
"I've always run big restaurants," he said. "This is the first restaurant on the smaller side, and it gives me the ability to really drill down on the things I like."
Those things include mentoring. As Wolfgang Puck mentored him, Robins said he saw 1228 Main as an opportunity to nourish up-and-coming culinary professionals.
"I always like to create opportunities for people to grow. I want a restaurant that allows the younger generation of chefs to do R&D and be creative. I helped make Spago an institution. My goal is to make 1228 Main an institution, just for the next generation."
Contact Johnathan L. Wright at jwright@reviewjournal.com. Follow @JLWTaste on Instagram and @ItsJLW on Twitter.