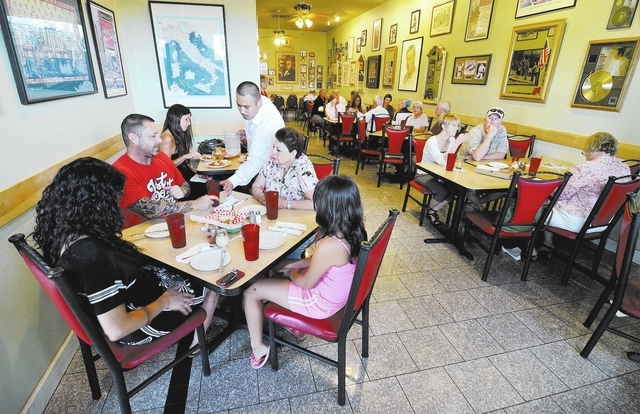 Each week Neon spotlights a different cuisine in the Dining Guide, with Italian restaurants this week. Restaurants are rated on a letter-grade scale, from A to F. Opinions by R-J critic Heidi Knapp Rinella (H.K.R.) are indicated by initials. Price symbols are based on the cost of an average entree: $ = entrees less than $10; $$ = entrees from $10 to $20; $$$ = entrees from $20 to $30; and $$$$ = entrees more than $30.
BRATALIAN NEAPOLITAN CANTINA
10740 S. Eastern Ave., Henderson; 702-454-0104
Who says you have to go to the Strip for great Italian food? You can get it — and at the hand of a Strip chef — in Henderson at Bratalian, a strip-center spot that's quaint and colorful, with whimsical clotheslines dangling above the tables. Service and food were perfect, too, the latter including a classic Insalata Caprese, Linguine al Ragu and Pollo alla Milanese. (1/27/12 H.K.R.)
Overall: A
$$
CASA DI AMORE
2850 E. Tropicana Ave.; 702-433-4967
"Vegas the way it used to be," trumpets Casa di Amore and they're not kidding; it's all there, from the live music to the old photos to the stereotypes strolling around the place. The food's another story, though, updated and refreshed and taking the form of an unusual and very good appetizer-sized osso buco, Eggplant di Amore, Gnocchi Alla Prosciutto and a crisp and creamy cannoli. (12/20/13 H.K.R.)
Overall: A-
$$$
DOM DEMARCO'S PIZZERIA &BAR
9785 W. Charleston Blvd.; 702-570-7000
Pre-opening hype generally is inversely proportional to quality but in the case of Dom DeMarco's it appears it was justified. We thoroughly enjoyed the Eggplant Pizzettes, the thick Di Fara Special pizza with its hand-sliced pepperoni and Gram's Spaghetti &Meatballs, which had a sauce that tasted as though it had indeed been slowly cooked for long hours by someone wearing a hairnet and rolled-down stockings. (10/19/12 H.K.R.)
Overall: A
$$
GAETANO'S RISTORANTE
10271 S. Eastern Ave., Henderson; 702-361-1661
Exceptional decor and atmosphere — especially for a restaurant outside the tourism corridor — sets the scene at this venerable strip-center spot, where attention to detail also shows in the service. It shows in the food, too, in carefully executed dishes such as Carciofi Fritti (fried baby artichokes to you and me), Osso buco alla Milanese and Gnocchi con Gorgonzola, even if we found the gnocchi a tad (but just a tad) soggy. (5/24/13 H.K.R.)
Overall: A-
$$$
GIADA
The Cromwell, 3595 Las Vegas Blvd. South; 702-777-3777
Despite some not-so-subtle upselling we loved Giada because the food was perfect and the atmosphere not far behind. We thoroughly enjoyed the ricotta crostini with honey, lemon and pink peppercorns; branzino with tangerine vinaigrette; rigatoni with vegetable Bolognese; and, from the dessert cart, lemon-ricotta and chocolate-amaretti cookies. (12/5/14 H.K.R.)
Overall: A
$$$$
GINA'S BISTRO
4226 Durango Drive; 702-341-1800
Excellent service was one of the best things about Gina's Bistro — an example being an errant knife being replaced by a fresh one brought on a plate — but it doesn't overshadow the food, which was nearly flawless. We were particularly enamored of our Asparago in Cravatta, Veal Piemontese, an evening-special risotto with Gorgonzola cream sauce and shrimp and a cannoli, although the latter was accompanied by burned coffee. (9/27/13 H.K.R.)
Overall: A-
$$$
GROTTO RISTORANTE
Golden Nugget, 129 E. Fremont St.; 702-385-7111
It's a challenge for Italian restaurants to stand out from the crowd but the Grotto manages to do it with dishes such as cappellini-crusted mahi, which involves a thin layer of pasta on both sides of a fillet of fish, served with shrimp and a garlicky Sicilian tomato sauce. Also worthy of note was the Pollo Romano, chicken crusted with the cheese and served with a light wine sauce, the crusty bread with its cup of seasoned olive oil and the Cannelloni di Pollo, although its pasta was a little heavy. (2/8/13 H.K.R.)
Overall: A-
$$$
ITALIAN-AMERICAN CLUB
2333 E. Sahara Ave.; 702-457-3866
Although it would be easy to dismiss the "IAC" as a throwback it's actually a deft melding of old and new, and a recent kitchen-management shift has done wonders for the food. We can recommend the stuffed artichoke, fried mozzarella, Caesar salad in crisp Parmesan frico, pork chops and IAC Amatriciana. (10/10/14 H.K.R.)
Overall: A
$$
LUNA ROSSA
10 Via Bel Canto, The Village at Lake Las Vegas, Henderson; 702-568-9921
When we sort of stumbled into Luna Rossa on a chilly evening it was like coming in from the cold on a number of levels, in no small part because of the pleasant live piano music in the cozy dining room. But our experience was only heightened when we were served the Crostini della Tradizione with its crispy crust, sage, prosciutto and melted mozzarella; the rigatoni al funghi with vodka-infused pink sauce; and the Canelloni di Carni, whose tiny bit of dryness (in the filling) was saved by blankets of red and white sauces. (2/24/12 H.K.R.)
Overall: A-
$$
MASTRIONI'S
3330 S. Hualapai Way; 702-367-7511
As neighborhood Italian spots go, Mastrioni's isn't one; it's something better. We liked the serene atmosphere (belying a strip-center location), smooth service (ditto) and great food, including a special of beef carpaccio, linguine with whole clams in white sauce, veal Parmesan and crunchy/creamy orange-laced and chocolate-embellished cannoli. (7/27/12 H.K.R.)
Overall: A
$$$
MONTESANO'S EATERIA
9905 S. Eastern Ave.; 702-870-3287
We weren't charmed by Montesano's overly soft meatballs and the cheese that we thought denigrated a sauce that needed no adornment, but we were charmed by the creativity that the kitchen shows in dishes such as the Lasagna Explosion (basically, fried lasagna), the tiny fried knots included in the bread basket and an entree of Veal Montesano, with artichoke hearts, roasted red peppers, garlic and potatoes. (7/26/13 H.K.R.)
Overall: B
$$
NOVECENTO PIZZERIA NAPOLETANA
5705 Centennial Center Blvd.; 702-685-4900 (also at 9460 S. Eastern Ave.; 702-485-2900)
Authentic Neapolitan pizza — which is to say thin-crusted, stretchy and without an overload of toppings — is prepared in the 900-degree oven at the counter-style Novecento. We liked the white cheese version but also a stromboli, a truly excellent pasta e fagioli and the roasted beet salad, which was overdressed but otherwise very good. (10/25/13 H.K.R.)
Overall: A-
$
OLD SCHOOL PIZZERIA
2040 E. Craig Road, North Las Vegas; 702-990-0070
Giovanni Mauro, former owner of Summerlin's Nora's Osteria, brings a similar artisanal focus to his tiny strip-center pizzeria in North Las Vegas. We loved the Vegas Meets Italy pizza with its dates, pistachios, arugula, prosciutto, triple-cream gorgonzola, scamorza and more, but also the roasted chicken with accompanying potatoes and garlic and some garlic knots, elevated above the crowd by a sprig of rosemary, cloves of roasted garlic and an herby house-made ranch. (3/8/13 H.K.R.)
Overall: A-
$$
OSTERIA DEL CIRCO
Bellagio, 3600 Las Vegas Blvd. South; 702-693-8865
Signature dishes: house-made pastas, grilled meats and fish.
OTTO ENOTECA PIZZERIA
Grand Canal Shoppes, 3377 Las Vegas Blvd. South; 702-677-3390
Signature dishes: Mario Batali's Sicilian eggplant caponata, house-cured salumi.
THE PASTA SHOP
2525 W. Horizon Ridge Parkway, Henderson; 702-451-1893
It's no wonder The Pasta Shop Ristorante has endured over the years, surviving a move a while back from East Tropicana Avenue to Henderson: It offers a winning combination of great food and service in a convivial atmosphere. We liked the tomato-basil polenta topped with nuts, the Caesar salad and ciabatta with garlic and cheese that came with dinner and entrees of linguine with sausage and marinara and Chicken Davida with eggplant, sun-dried tomatoes and mozzarella. (6/28/13 H.K.R.)
Overall: A
$$
PIERO'S ITALIAN CUISINE
355 Convention Center Drive; 702-369-2305
Signature dishes: Saltimbocca alla Romana, tiramisu.
PIZZA ROCK
201 N. Third St.; 702-385-0838
It's all about the crust, which 11-time World Pizza Champion Tony Gemignani proves with the four ovens (at four different temperatures) he uses at Pizza Rock. We loved the Neapolitan-style Margherita and the New Yorker, as well as the non-pizza starters of fried green beans and beer-battered artichokes. (2/7/14 H.K.R.)
Overall: A
$$
LE PROVENCAL
Paris Las Vegas, 3655 Las Vegas Blvd. South; 702-862-5138
Signature dishes: artichoke Milanese with roasted garlic fondue, Bouillabaisse (served by singing wait staff).
ROCCO'S N.Y. ITALIAN DELI
1181 S. Buffalo Drive; 702-254-4777
Rocco's has the feel of a New York deli, right down to the groceries on the shelves and the Brioschi on the counter. We didn't need it, though, because we absolutely loved the fried ravioli, the longshoreman-sized baked ziti and the cannolis, and would've loved the huge Buffalo chicken salad with grape tomatoes and mozzarella and the side salad served with the ziti, if it hadn't been for the restaurant's sole use of iceberg lettuce. (1/2/12 H.K.R.)
Overall: A-
$$
SABATINO'S AUTHENTIC N.Y. PIZZERIA
7660 W. Cheyenne Ave.; 702-459-7437
We gotta be honest; we weren't crazy about the ranchy-ranchy aspect of Sabatino's Wild White pizza, although we did like the stretchy New York-style crust and the nicely balanced Buffalo chicken that topped it. We liked the garlic knots, too, and the veal Parmesan with its soulful red sauce, the budget-rescuing layered-and-compressed meat notwithstanding. (1/4/13 H.K.R.)
Overall: A-
$$
SIRIO RISTORANTE
Aria, 3730 Las Vegas Blvd. South; 877-230-2742
Signature dishes: build-your-own antipasti and cheese selections, fish and seafood.
TRATTORIA DEL LUPO
Mandalay Bay, 3950 Las Vegas Blvd. South; 702-740-5522
Signature dishes: pizza, pasta, antipasti and desserts made at exhibition stations.