Lucky Dragon, being built near Las Vegas Strip, announces restaurant offerings
August 25, 2016 - 3:42 pm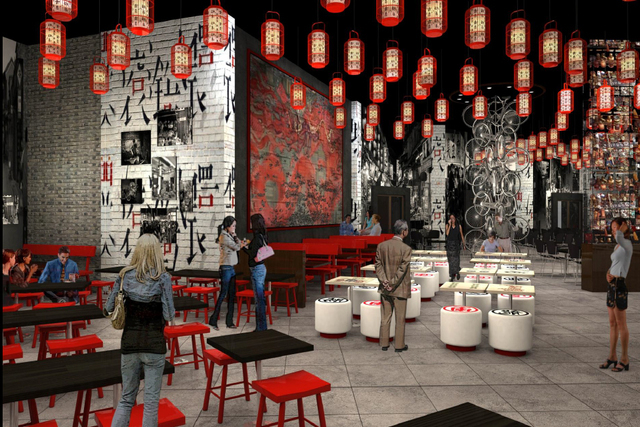 Lucky Dragon Hotel & Casino, which is expected to open late this year on Sahara Avenue just west of the Strip, has announced its lineup of restaurants, and they're in keeping with its stated goal of being the "premier authentic Asian destination in Las Vegas."
Dragon's Alley, which is designed to evoke the night markets of Ghost Street in Beijing, Taipei and greater Asia, will be a lantern-lit space where breakfast through late-evening fare will be served. The rotating menus will feature regional delicacies, live seafood, dim sum, barbecue, boba tea and more. Inside Dragon's Alley will be the Jewel Kitchen, a show kitchen that will extend onto the casino floor, from which players will be able to see dim sum being rolled and steamed and stir-fries cooking in woks.
Pearl Ocean will be a dim-sum restaurant with all-day cart service for lunch and dinner. It also will feature live seafood.
The 60-seat Phoenix, a fine-dining destination, will focus on the culinary trends of contemporary China, serving such dishes as Kurobuta pork, deer tendon and abalone.
Cha Garden will be a feng shui-designed, indoor/outdoor tea garden and lounge extending from the Lucky Dragon's hotel lobby into the pool area. It'll offer an extensive list of teas, curated by a tea sommelier, plus yum cha, the Chinese equivalent of tapas. It'll be open 24 hours, with the daytime pool cabanas converted to private tea huts at night.
And Bao Now, adjacent to the main gaming floor, will offer grab-and-go foods such as simple dim sum, soups, rice, noodles and congee.
Willy Ng of San Francisco's Koi Palace and Dragon Breaux was the Lucky Dragon's restaurant consultant. Phuoc Luu, formerly of the Golden Nugget, is executive chef, and Jacky Leung, formerly of the Palazzo, is executive chef de cuisine.
Contact Heidi Knapp Rinella at Hrinella@reviewjournal.com. Find more of her stories at www.reviewjournal.com, and follow @HKRinella on Twitter.
RELATED
At these Las Vegas resorts, it's good to see red
City rejects subsidies for Lucky Dragon