Make fancy foam art easy with chocolate wafers
October 5, 2016 - 4:34 pm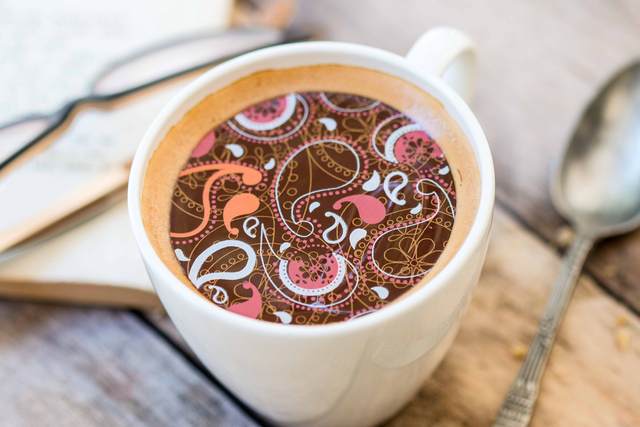 Who needs those baristas with their fancy foam art? Now you can top your coffee at home with an intricate paisley pattern — or flowers, "congratulations," stripes, kissy lips and on and on — and add some chocolate at the same time. Topperfino wafers of Belgian chocolate come in a box of 10 for $13.99 at www.topperfino.com. And if you buy two boxes between Oct. 15 and Dec. 20, you can get free shipping by using the code "holidays2016."
■ Hard root beers have been popping up in local restaurants, bars and stores for the past year or so, but here's one that's homegrown — or, rather, home-brewed. It's from Ellis Island Brewery, and it's being served at the casino on Koval Lane and at all 12 Village Pub and York's locations throughout the valley.
■ Making chicken soup for someone who's ill or just could use a comforting touch is a time-honored tradition made impractical by busy schedules and far-flung relationships. Enter Spoonful of Comfort, which will send a 64-ounce jar of chicken-noodle or tomato-basil soup, along with a half-dozen rolls, a ladle and personalized note card, to anyone you want to show a little love. Basic packages start at $59.99 (add a half-dozen cookies for $10) at www.spoonfulofcomfort.com.
Have an item for Bites? Email hrinella@reviewjournal.com.