Market Grille Cafe expands, but retains homemade feel
November 25, 2009 - 10:00 pm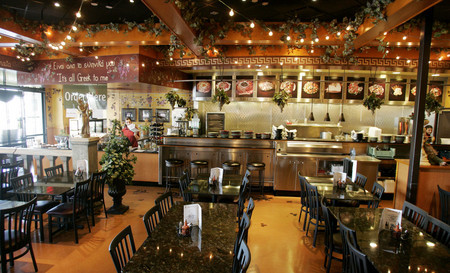 When Joe and Rhonda Pierro opened their original Market Grille Cafe about three years ago, they figured they'd start — and then build — slowly.
In retrospect, it was the perfect strategy.
In July, in the midst of a recession that hasn't been kind to most Las Vegas restaurateurs, the couple opened their second Market Grille Cafe, at 7175 W. Lake Mead Blvd.
Joe Pierro said Market Grille Cafe is built upon a foundation of Greek dishes, many of them based on recipes handed down by Rhonda's family.
However, the menu also reflects food from other Mediterranean cuisines, including a handful — cannoli, for instance — that reflect Joe's Italian heritage.
Pierro estimates that 98 percent of the items the restaurants serve or use, including soups and salad dressings, are homemade. That homemade vibe also extends to the restaurants' decor, which, Pierro said, was designed by family members.
"People come in here and want to stay for a while," he said. "It's comfortable."
The new Market Grille Cafe seats 90, with additional room on the patio for 20. It is open from 10:30 a.m. to 9 p.m. Mondays though Thursdays, and 10:30 a.m. to 9:30 p.m. Fridays and Saturdays.
Starters: Saganaki, $9.50; a combination platter of hummus, tabbouleh, baba ghanoush, dolmades, falafel and Greek salad, $10.25
Soups and salads: Pomegranate chicken spinach salad, $8.75 small and $10.95 large; and avgolemono and pumpkin-mushroom soups, each $3.50 small and $5.50 large
Entrees: Lamb souvlaki skewer, $10.50; Greek Trio Platter (spanakopita, pastitsio and mousaka), $12.95; pomegranate chicken, $10.95
Extras: Ko-ta nini, an open-faced chicken, spinach-basil pesto and feta cheese panini, $6.95; Papou's pasta (with tomato/tuna sauce), $9.50
Desserts: Aphrodite's cheesecake, $4.95; pumpkin baklava cheesecake, $5.25
Information: 564-7335
By JOHN PRZYBYS