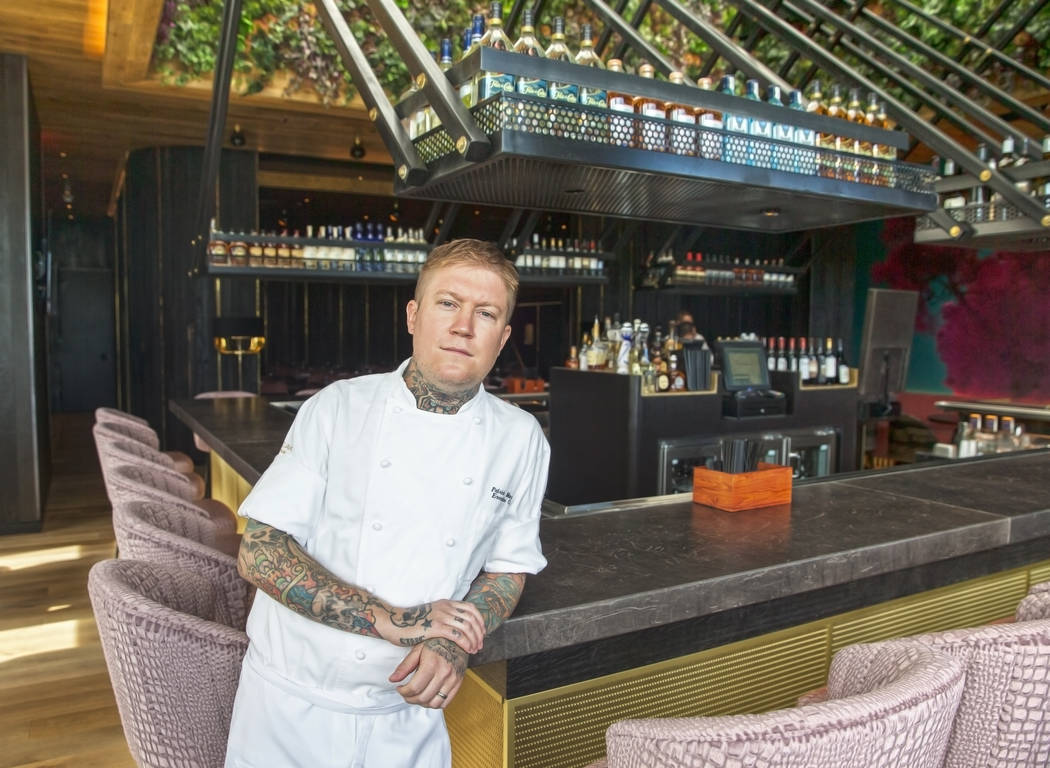 St. Louis native Patrick Munster, a graduate of the Culinary Institute of America in Hyde Park, New York, "kind of fell in love with Vegas as a food town" while doing an externship at the Eiffel Tower Restaurant at Paris Las Vegas.
After moving to Las Vegas 11 years ago, Munster worked as chef de cuisine at SW Steakhouse at Wynn Las Vegas for 10 years, then opened Clique Hospitality's Bottiglia at Green Valley Ranch Resort in Henderson. He's currently executive chef of MB Steak at the Hard Rock Hotel.
Review-Journal: Always in your fridge?
Munster: Pickled items — pickled okra, pepperoncini, olives. And an array of hot sauces.
Currently obsessed with?
Besides the steakhouse, my current, previous and probably future obsession is barbecue. I love reading about barbecue, trying different spice blends, woods to smoke on. There are times I get off work and I'll start a brisket at midnight because I know it's going to take 14 hours. Barbecue's just one of those things I grew up around and still is one of those go-to things.
Newest Las Vegas discovery?
I've been fishing a lot at Willow Beach, Arizona, which is 45 minutes away. I went out there with my son to see what it was like and realized it was a pretty good fishing spot (for striped bass and trout).
Favorite indulgence?
I like a good wild ale or a good sour stout — a really well-put together beer that I can probably not afford too many times. Like a barrel-aged wild ale.
I never eat …
Eggs. I just steer clear of them. It's hard, being a chef. I have to taste a lot of things with eggs. I can always get that flavor in anything.
Favorite brunch at home?
I'm usually cooking for the family. We'll do pancakes. My daughter's almost 2, so she likes to grab a pancake and run around the house with it. Breakfast burritos, good thick-cut bacon. We do savory waffles, like cornbread with cheddar or jalapeno. That will get me involved and I can actually eat with everybody while they're eating their scrambled eggs.
Best tip for home cooks?
Practice and have fun. Don't be too stressed out. My wife is not the greatest cook, and she knows it. I just tell her to relax. Learn the basics first; you've got to learn to crawl before you walk. If you see a recipe you like, you can change it up, make it your own. If it works and everybody loves it and you love it, keep that in your recipe book and use it forever.
What are you working on?
This (MB Steakhouse) is my baby. It's my main focus. I love it. I love seeing what happens — taking an empty warehouse and building maybe one of the most beautiful restaurants in all of Las Vegas. Pumping out really great food and seeing the guest reactions to the food and the vibe — everything we talked about when we were building this. It's a really great feeling.
What are you doing to make MB Steak different from other Las Vegas steakhouses?
We're walking that fine line of fine dining and having a fun, approachable atmosphere for everybody. I come from fine dining, but with barbecue, I have two different loves. With MB Steakhouse we do that same thing. It's fine dining, but it's approachable for everybody. We have a great burger on the menu — something for everybody here, which makes it a fun atmosphere. The staff and the guests really engage.
Contact Heidi Knapp Rinella at hrinella@reviewjournal.com. Follow @HKRinella on Twitter.