Meet the man who might be making the best pizza in Vegas
Updated October 19, 2023 - 11:33 am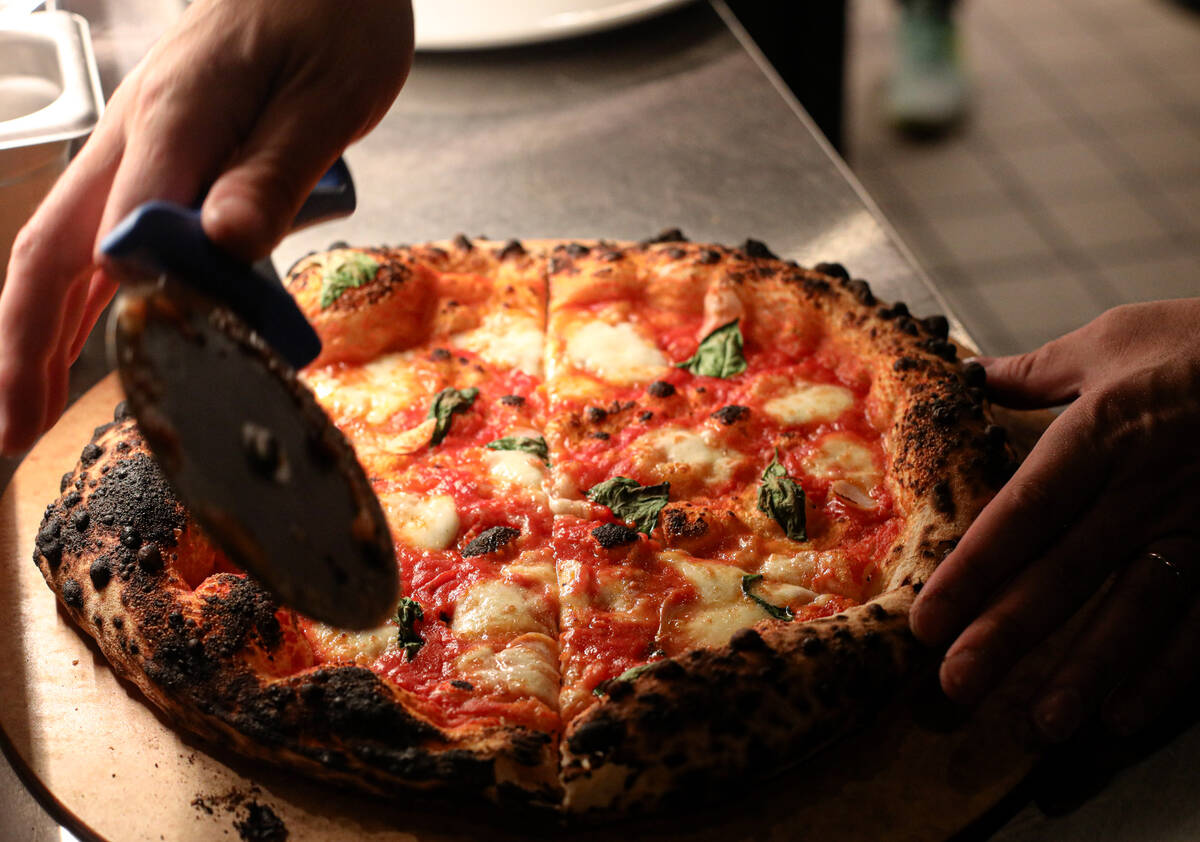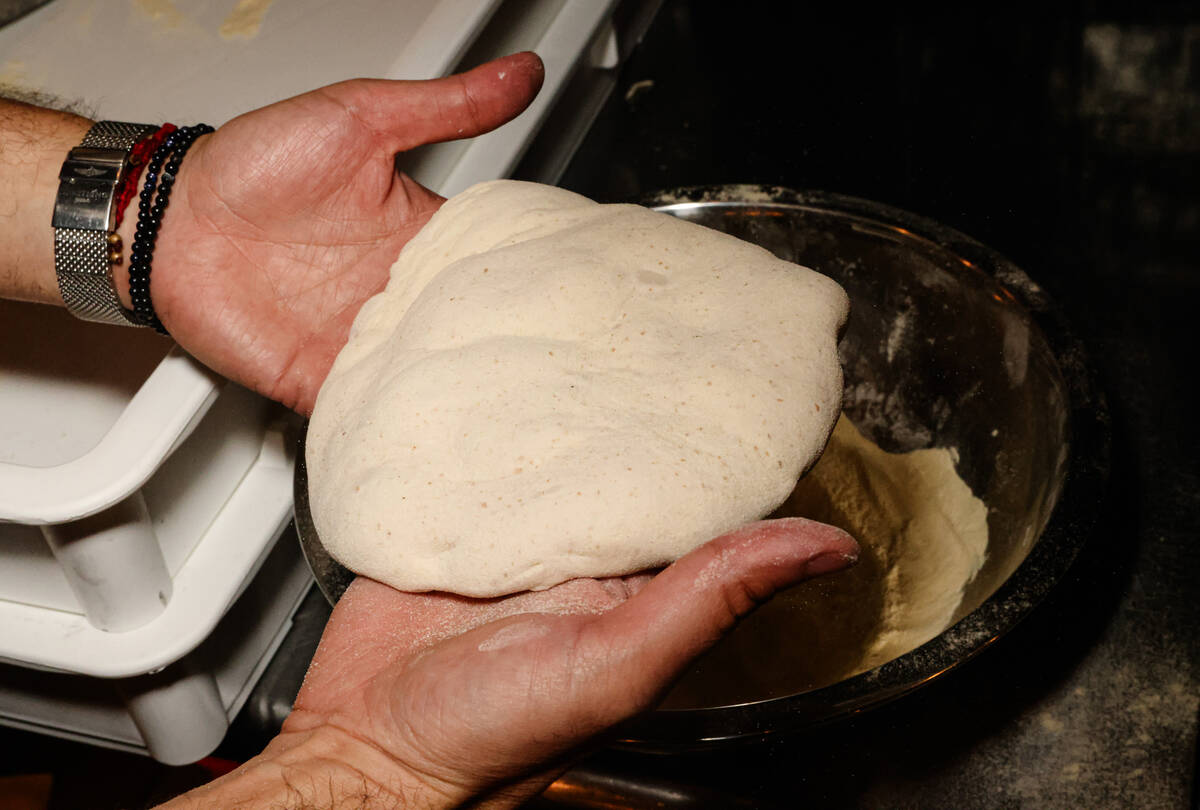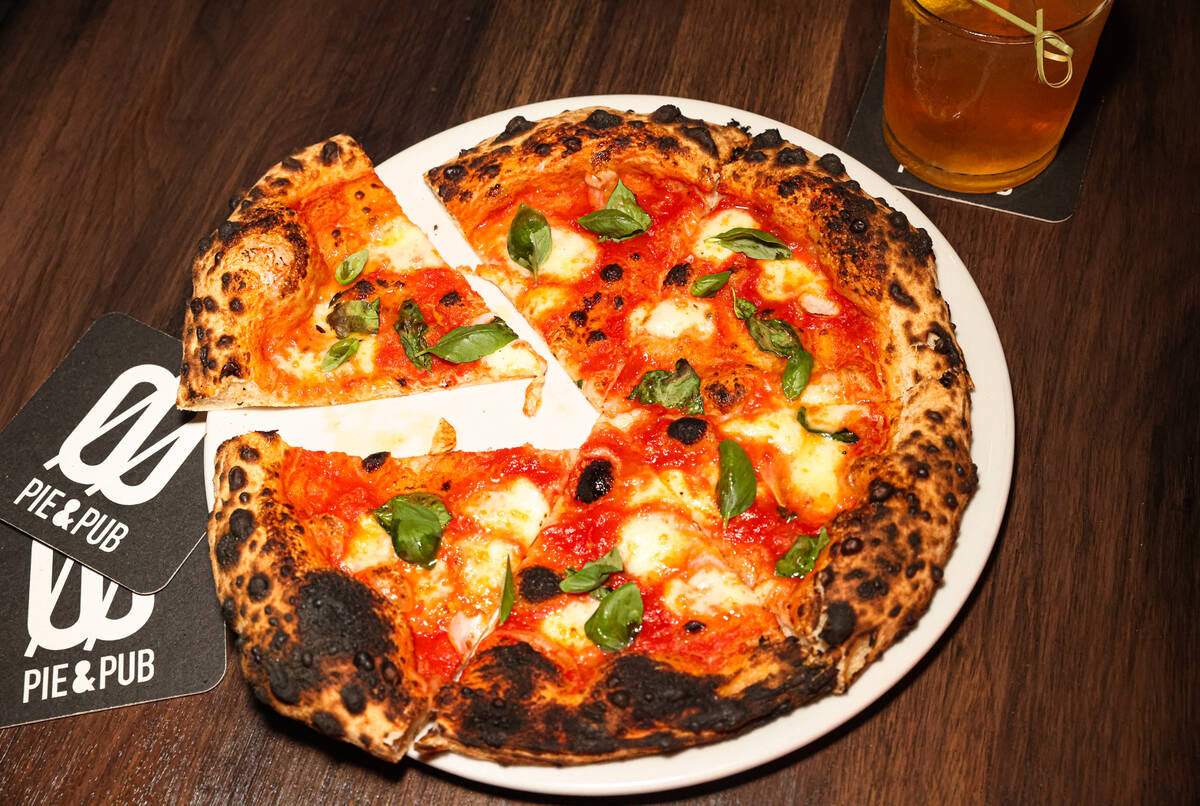 Michael Vakneen is making a pizza, his fingers — slender, supple, strong — lifting and pressing and stretching the dough to form a crust. Watching him deftly at work, a thought inevitably comes to mind: Vakneen might have been a pianist. Or a sculptor. Or a surgeon. But the kitchen gods had other plans: They made him a pizzaiolo.
Vakneen, a World Pizza Champion, owns ØØ Pie & Pub, the Chinatown pizzeria he opened in June that often goes by Double Zero Pie & Pub, because Google Search. The restaurant takes its name from the finely milled ØØ flour used to make Neapolitan pies.
Vakneen is admirably ecumenical in the styles of pizza he enjoys creating, but at Double Zero, his take on new Neapolitan or neo-Neapolitan or progressive Neapolitan (take your pick of label) anchors the output of the wood-fire oven.
To date at Double Zero, Vakneen has experimented with at least 25 incarnations of his dough, searching for that alchemical union of flour, water, salt, fermentation and handling (science meets caress) to create a crust that is light, fragrant, springy, gently crisp and the ideal toppings platform: flexible but not floppy.
"I'm really obsessed with dough," Vakneen said the other afternoon at Double Zero. "There are so many variations in the process. Getting lost in that rabbit hole, finding myself obsessed with the outcomes and the different results.
"We finally landed on a dough. I'm not going to mess with it — for now," Vakneen continued, acknowledging that for him, dough is an endless process of becoming.
As Las Vegas continues its growth as a top town for pizza — "you can get every style, and every style is getting better," Vakneen said — the attention of pizza enthusiasts has turned to Double Zero and what many say is the city's newest great pie.
The fruitful union of crust and topping
Double Zero dispenses with a fundamental of the pizza trade: It does not offer takeout or delivery. You order, you eat. Right away.
"It's a magical moment for the pizza: three to five minutes," Vakneen said. "The pizza degrades over time. We want customers to have that magical moment."
It's a moment that celebrates not just the possibilities of dough, but also the ways in which crust and toppings work together.
For a classic Margherita, the dough is pliable enough for essential folding but sturdy enough so the red sauce, fior di latte mozzarella and a whoosh of basil (plus a hit of sea salt) never become soupy in the middle (a common failing elsewhere).
Fermenting the dough in bulk, before portioning into balls, and hand folding the dough produce strength in the crust (but not heaviness), allowing it to support a topping mix like fior di latte, eggplant caponata, olive tapenade, herbed labneh and Dorati tomatoes from Apulia.
The almost-spritzy character of the crust — "if I make it right, and I squeeze it, it should almost feel as if it's carbonated," Vakneen said — and the blistered bubbling charred edge balance the sweetness and richness of a pizza provisioned with speck, fig jam and swipes of saba, the lush cousin of aged balsamic made from wine grape must.
The journey to the wood fire
The kitchen gods visited Vakneen early on.
"I used to make bagels as a kid and a high schooler," he said. "I've always had this love and passion for dough-based foods, pizza and bagels. It's been something near and dear to me from a young age."
Vakneen earned a hospitality degree from UNLV, then worked in hospitality development, including for W Hotels. He detoured into commercial real estate and stuck it out for a chunk of the Great Recession. Meanwhile, he also worked at Oscar's Steakhouse, in the dome of the Plaza, and his future began emerging.
"The restaurant had a pizza oven in the back of the kitchen," Vakneen said. "I would bake pizzas and fill up this cart and cart it around to the roulette and crap tables. We quickly sold out, and I could barely keep up with it."
In 2012, that cart led to Vakneen opening Pop Up, a New York-style slice shop in the Plaza for which he is still a consultant. After traveling for a few years and working again in hospitality development when he returned to Vegas, Vakneen began working on what would become Double Zero.
Beyond pizza to dessert
The pizzaiolo's dough obsession encompasses more than pizza. At Double Zero, he might make a dough to stretch into piadina, the flatbread of Emilia-Romagna, and fill it with mortadella, lemon ricotta and pesto, or fashion a dough into schiaciatta, a thinner sibling of focaccia.
Vakneen is also exploring laminated doughs, significantly afield from pizza, when pastry dough is layered with butter, then folded over and over (as with croissants).
"My side hobby is going to be focusing on dessert-based doughs. I think the French mastered that. My goal is to delve into that," Vakneen said.
Wherever dough takes him, Vakneen said he recognized two influences: John Arena of Metro Pizza, one of the OGs of Vegas pies, "the Yoda of the pizza industry" and a World Pizza Champion, and Brian Spangler, of the legendary Apizza Scholls in Portland, Oregon.
"Every time I do bread doughs outside of pizza, he's always with me," Vakneen said — his hands, in a sense, joining Vakneen's hands on dough.
Contact Johnathan L. Wright at jwright@reviewjournal.com. Follow @JLWTaste on Instagram and @ItsJLW on X.