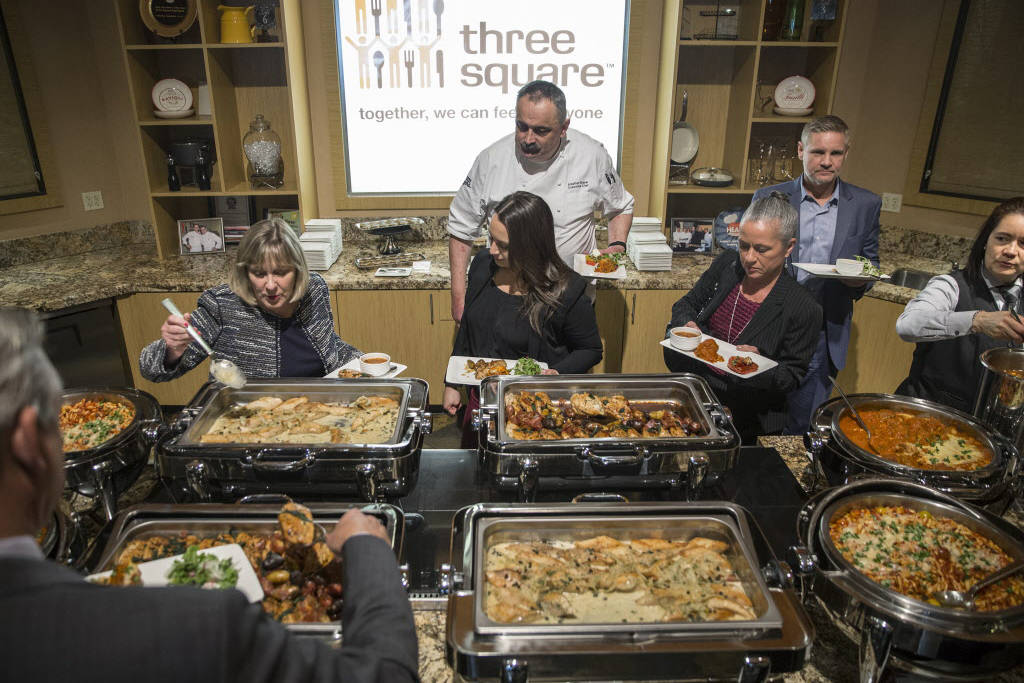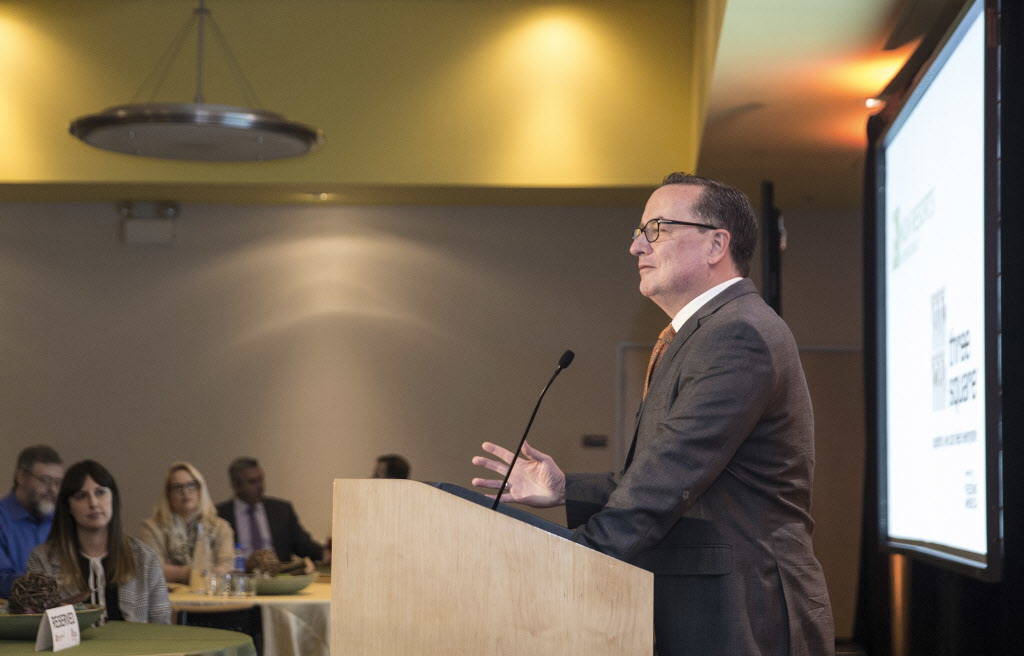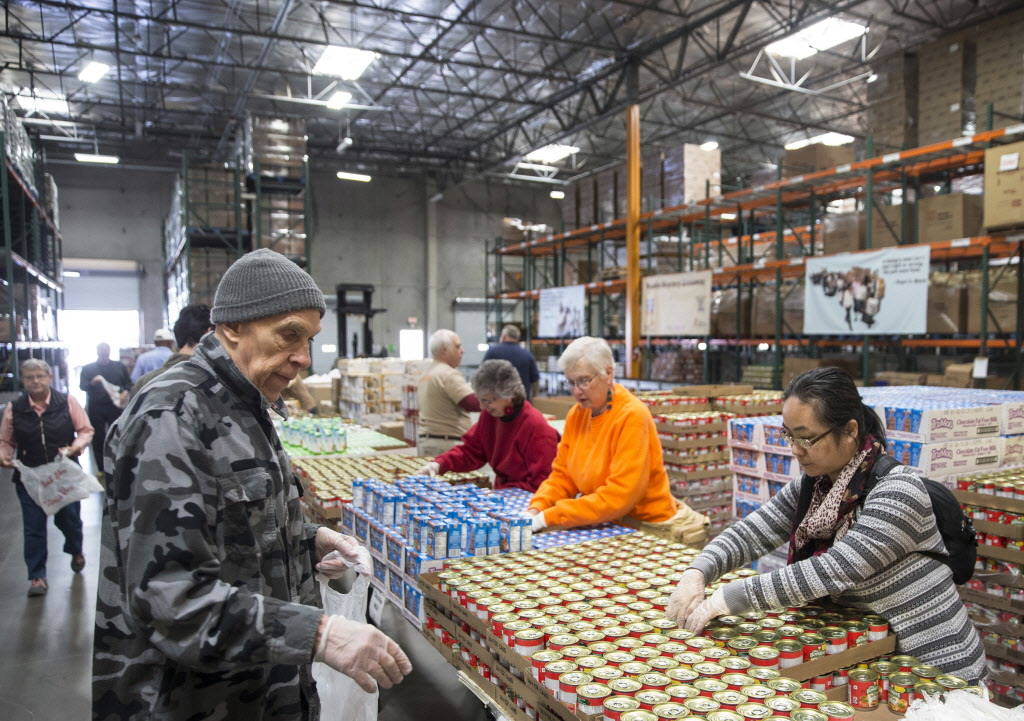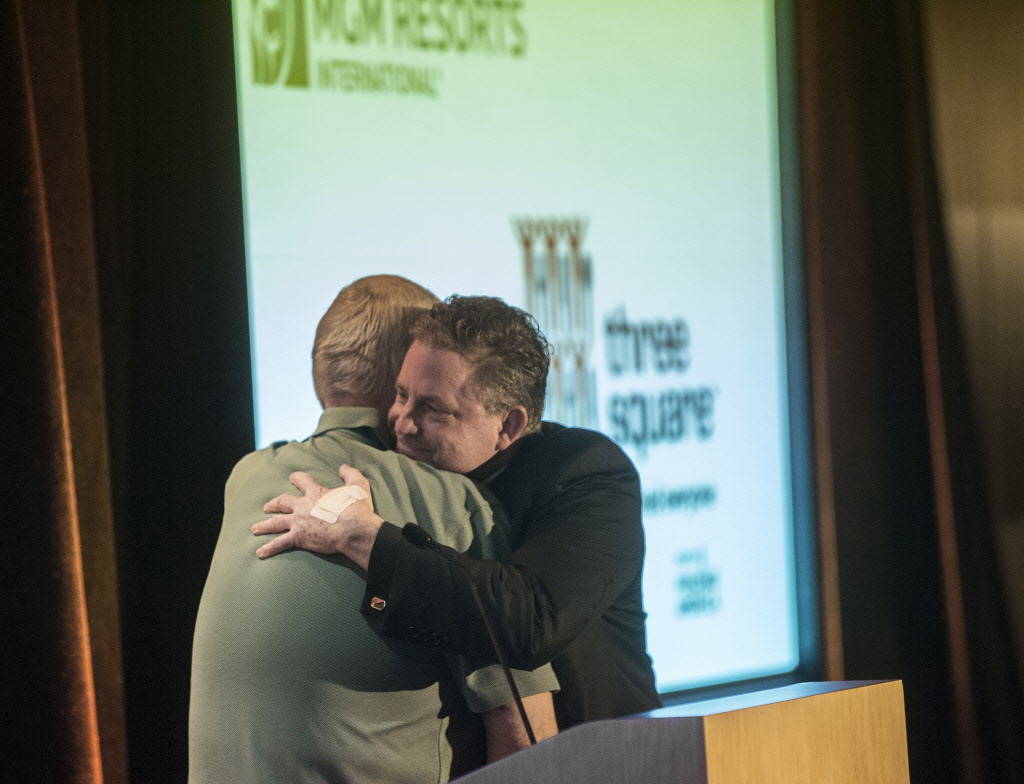 What happens to all the leftover food on the Strip?
"It's the most common question I get on any tour of the warehouse," said Brian Burton, president and CEO of Three Square, Southern Nevada's only food bank.
Until recently, most of the unused banquet food from all MGM Resorts International properties was sent to a North Las Vegas pig farm, which was sold in late 2016. That included excess food that remained in heated storage units and was never even presented to customers.
"Those (were) the best fed pigs in the United States," joked Phyllis James, the company's chief diversity and corporate responsibility officer, on Wednesday.
James and several other MGM Resorts executives were at Three Square to announce an initiative that will help bring that food to people.
In August 2016, the Aria banquet department began developing a plan to deliver its excess food to Three Square so that it could be safely frozen and then distributed to partners such as Catholic Charities of Southern Nevada. The process involves transferring the food in heated containers to Three Square's warehouse, using a blast chiller to quickly bring it to a safe cool temperature and transferring it to a freezer until needed.
The program has provided about 100,000 pounds of food, or 80,000 meals. On Wednesday, MGM announced a donation of $768,000 to Three Square to cover the cost of staff, equipment and supplies needed to expand the program to include the Bellagio, the MGM Grand, Mandalay Bay and The Mirage. The goal is to donate 800,000 meals by 2020.
Carlos Guia, executive chef of catering and banquets at the Aria, said these meals are the same ones being served to "CEOs, CFOs and all sorts of great groups in town." A day's menu might include cobia with limoncello beurre blanc, sirloin steak, pasta with meatballs and assorted desserts.
Deacon Thomas A. Roberts, president and CEO of Catholic Charities, said those details "might be the difference between help and hope for someone."
"The food is the help," he explained. "The hope comes with the quality of the meal, the way it's preserved and the way it's presented. And that might be the difference in someone's life, to say, 'Today will be the day I let go of my past and go forward, because people care enough to give me hope.'"
Contact Al Mancini at amancini@reviewjournal.com. Follow @AlManciniVegas on Twitter.