More is better at UNLVino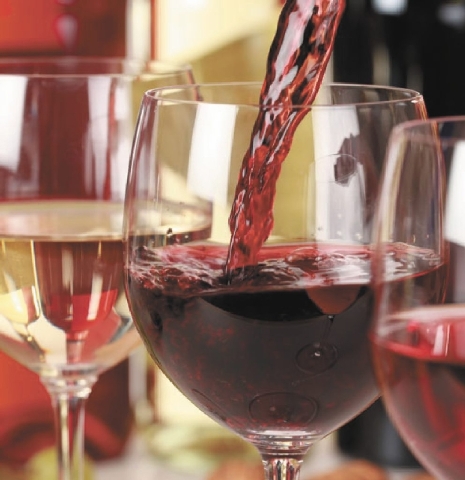 Officially, the theme of this year's UNLVino is "Fall in Love Again." But it could just as soon be "More."
That's because the 39th annual UNLVino has been expanded from three to four days — tonight through Sunday — and because Saturday's Grand Tasting will have more food stations than ever before.
First, the basics: UNLVino kicks off with Bubble-Licious from 7 to 10 tonight at The Venetian, 3355 Las Vegas Blvd. South. That will involve all things bubbly — Champagnes, sparkling wines and Champagne cocktails — at the Doge's Palace adjacent to the hotel's main porte-cochere, with eight Venetian restaurants preparing the food. Tickets are $125 in advance, $150 at the door.
The fun continues Friday, with Sake Fever from 7 to 10 p.m. at The Mirage, 3400 Las Vegas Blvd. South. That one will, as you might expect, involve imported and domestic sakes and beers, plus food from 11 local Japanese or Pan-Asian restaurants, from Aburiya Ramen to Zenshin. It's $100 in advance, $125 at the door.
The Grand Tasting, from 7 to 10 p.m. Saturday in the Champagne Ballroom at Paris Las Vegas, 3655 Las Vegas Blvd. South, will introduce participants to wines, beers and craft cocktails. Participating restaurants are only Mundo, Sambalatte and The Cupcakery, but there's more — much more — and we'll get to that in just a bit. Tickets are $125 in advance, $150 at the door.
Bubble-Licious and Sake Fever were added to the original Grand Tasting a few years ago, and this year there's a new event, Bar-b-q, scheduled for 11 a.m. to 2 p.m. Sunday at the Cleveland Clinic Lou Ruvo Center for Brain Health, 888 W. Bonneville Ave.
Bar-b-q will have food from an even dozen restaurants on and off the Strip and craft-cocktail creations by Francesco Lafranconi of Southern Wine & Spirits. Tickets are $100 in advance, $125 at the door.
But back to Saturday's Grand Tasting. UNLVino is a major fundraiser for scholarships in the William F. Harrah College of Hotel Administration at the University of Nevada, Las Vegas, and the university has a semester-long UNLVino management class to both teach students to manage such a huge event and provide the manpower to manage it.
UNLV associate professor Jean Hertzman, who teaches the class, said the 25 students (who will be joined by 500 to 600 volunteers over the four days) are excited to see their labors finally coming to fruition. They have planned and will prepare all of the food for the Grand Tasting, in conjunction with chefs from Paris Las Vegas and Bally's. And Hertzman promises change, too, at the Grand Tasting.
"We're doing things a little differently this year," she said. There will be five specialty stations: Mediterranean, with dips, vegetables and seasoned chicken; seafood, with shellfish, ceviche, smoked salmon and smoked trout; sliders, with such things as little burgers and crabcakes; specialty and flatbread sandwiches; and Asian, with beef and chicken satays, duck salad and more.
That's not all. There also will be conventional cheese, meat and dessert stations and about 10 types of passed hors d'oeuvres. "There are so many different things," Hertzman said. "One thousand to 2,000 of each of the canapes and sliders, 300 pounds of different cheeses and meats. So quite a bit of food, and 90 percent of it is donated by local suppliers."
Hertzman said the students have been working closely with chefs from Bally's, Harrah's and Paris Las Vegas, and Mark Sandoval of M Resort has been a chef-instructor.
"We'll get started on Wednesday at the hotels," she said last week, "get food deliveries and get kitchen areas set up. It's great they have so much space they can just give us kitchen areas to use. We'll prepare all day Thursday and Friday, then be back all day Saturday."
Because sometimes, more is more.
Contact reporter Heidi Knapp Rinella at hrinella@review journal.com or 702-383-0474.
PREVIEW
What: UNLVino
When: 7 to 10 p.m. April 18-20, 11 a.m. to 1 p.m. April 21
Where: The Venetian (tonight), The Mirage (Friday), Paris Las Vegas (Saturday) and Cleveland Clinic Lou Ruvo Center for Brain Health (Sunday)
Tickets: $100 to $124 in advance, $125 to $150 at the door, all four events for $350; UNLVino.com; 877-413-VINO (877-413-8466) or 702-739-3267