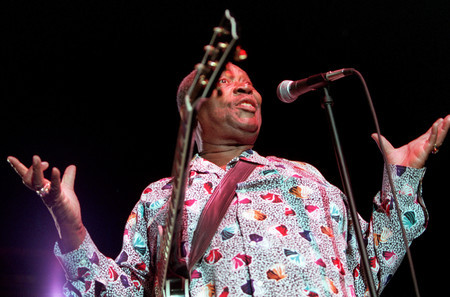 On the surface, B.B. King and Sammy Hagar wouldn't seem to have much in common, aside from the fact that both are musicians. But in the past few weeks, both added to the number of Las Vegas restaurants that provide live music with dinner. B.B. King's Blues Club opened at The Mirage on Nov. 6, and Cabo Wabo at Planet Hollywood on Nov. 17. And they may be part of a larger trend.
"Live entertainment performance in restaurants is back with a vengeance," said Clark Wolf, a New York-based consultant and author who has worked with Southern Nevada restaurants. "Where is it more natural than Las Vegas?"
Wolf said live music has an added-value appeal for restaurant customers — something he noted is especially important in light of the current economic situation.
"We want going to dinner to be more than just food," Wolf said. "It tends to be the evening.
"We can get so much at home. Going to a restaurant needs to be more."
Bob Harry, owner of Salvatore's Italian restaurant at the Suncoast and the late Fellini's on West Charleston Boulevard, said live music is a natural for Las Vegas restaurants — something he has believed for the 35 years he has lived here.
"All the old Vegas casinos had great restaurants with either violins or pianos," Harry said. "At the Dunes, they had the harp.
"I always liked that. I always thought if I ever opened a restaurant, this is what I'd like to do."
About 14 years ago, he said, he opened Fellini's, complete with piano player.
"It turned out to be just the thing for us," Harry said. "We brought in people from the Strip — musicians, singers. It was a lot of fun. It made it not just dinner, but an evening."
And now at Salvatore's, he said, the piano brings in many customers for dinner, while others come in just to have a drink at the piano bar. The pianist performs from 5 to 10 p.m. — "He's usually there until 11" — daily except Mondays, when the restaurant is closed.
Piano music also is included with dinner at the Redwood Grill at the California downtown. Lane Conley, director of food and beverage for the California and Main Street Station, said a piano player has been part of the Redwood Grill since the hotel-casino opened in 1984. Assistant food and beverage director Gregg Hawkins said the music is themed to holidays — patriotic for Veterans Day, for example, and Christmas music at this time of year. "Happy Birthday" also is on the list, upon request.
"That kind of adds a bit of a personalized element," Hawkins said. "The piano also is set up so there are stools around it and guests can sit right at the piano and have drinks." The pianist performs from 6 p.m. to closing — usually around 10:30 or 11 p.m. — daily except Wednesdays and Thursdays, when the steak-and-seafood restaurant is closed.
"We did it to get that old Vegas feel, and we've kept it that way," Conley said.
B.B. King's and Cabo Wabo, on the other hand, represent more of the new Las Vegas. At the former, the house band is B.B. King's All Star Band, which is composed of musicians chosen by Tony Coleman, King's drummer and the restaurants' national talent director (there also are B.B. King's Blues Clubs in Orlando and West Palm Beach, Fla., and Memphis and Nashville, Tenn.). The all-stars go on at 9:30 or 10 p.m. and play until 2 a.m., Tuesdays through Saturdays. Local musicians perform nightly beginning at 6:30.
The music, said general manager Cheryl Vereen, isn't limited to blues but includes "a little bit of everything" from Stevie Ray Vaughan to Eric Clapton to Elvis, with a little country thrown in for good measure.
Vereen said King himself will perform at The Mirage location occasionally, including Friday, the restaurant's grand opening, when doors open to the public at 10 p.m.
As Wolf said, though, "the key is to make sure that people don't come only for that." To that end, the menu honors King's Southern roots with dishes such as fried green tomatoes, catfish bites, fried chicken and barbecue (including, Vereen said, immensely popular "fall-off-the-bone" ribs with a smoky-sweet sauce), plus, like the music, a little bit of everything else.
"Our fried pickles are probably the best in town," she said. "Our bread pudding is also a winner."
At Cabo Wabo (which also has locations in Cabo San Lucas, Mexico, and Lake Tahoe), the menu follows the restaurant's Cabo-esque theme, with tableside-prepared guacamole, fajitas and the like (but no chicken feet).
The music, said managing partner Corey Jenkins, is classic rock, interspersed with occasional contemporary hits from the pop or alternative music charts.
Currently, Jenkins said, Cabo Wabo has live music only on weekends, although they're considering adding it on Thursdays, to lead into the weekend, or on Tuesdays, to appeal to locals. It's provided by a local house band, although Jenkins said management is open to other local bands.
The Red Rocker himself is expected to perform there about a half-dozen times throughout the year, sometimes with performer friends, Jenkins said.
"We're going to have some great surprise performances throughout the year," he said. "Sort of a free concert. We'll never do a cover charge."
And while the genre might tend toward the raucous, Jenkins said he doesn't think that's a problem for restaurant customers.
"We kind of think there's a festiveness about our food and menu that really lends itself to live music and drinking," he said. "I think most people, when they're experiencing live music, they love talking to their neighbor or their girlfriend or friends, but when the live music is on — and it's not on the whole night — I think they're more concentrated on the music."
Vereen is of a similar mind.
"That's what B.B. King's is all about," she said. "Everybody can relax and have a good time. The dance floor is always open, and we have had people standing up at tables and dancing. I think it adds energy."
The piano bars are a little more subdued, and Conley said because the Redwood Grill's pianist is actually in an adjacent lounge, he can control the volume of the music that reaches the dining room.
"During the dinner hour we play more background, very soft," said Harry of Salvatore's. "They can hear him; some of them applaud and some of them just go about eating their dinner.
"It's not like a place where you can't hear yourself think. I've never had one person come up to me and say, 'Get rid of the piano.' "
Contact reporter Heidi Knapp Rinella at hrinella@ reviewjournal.com or 702-383-0474.