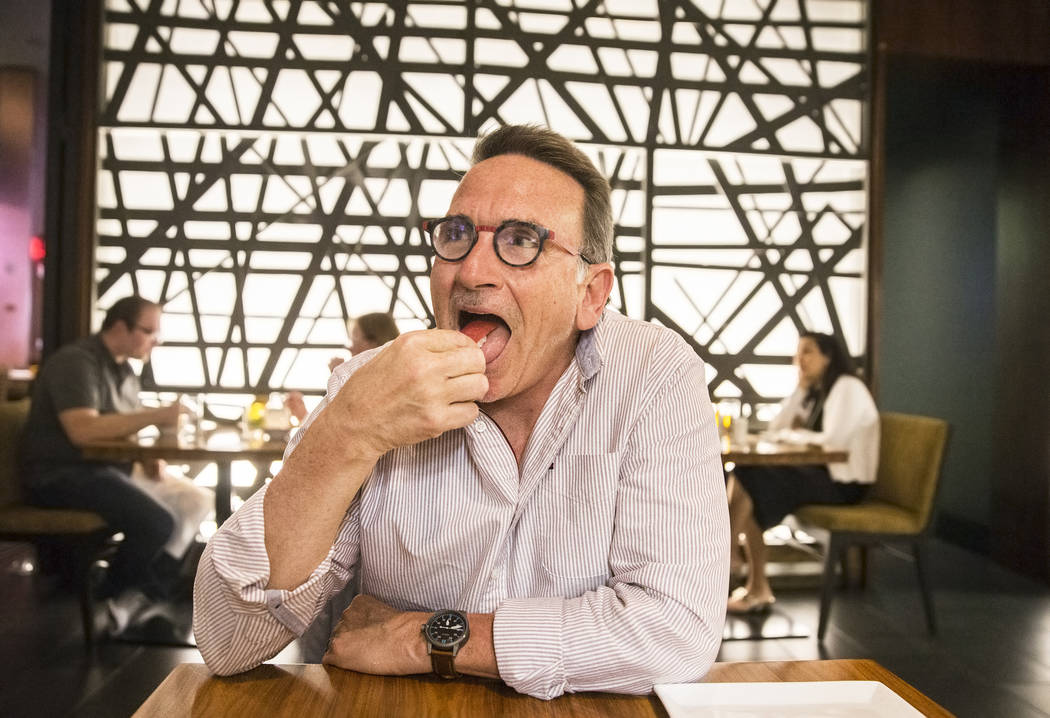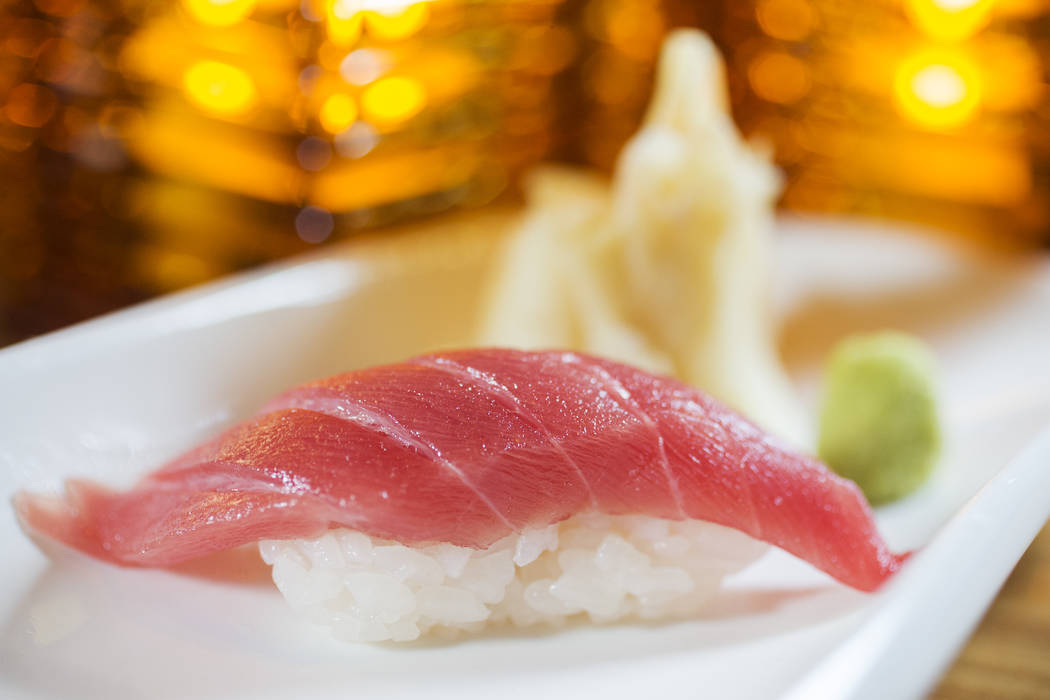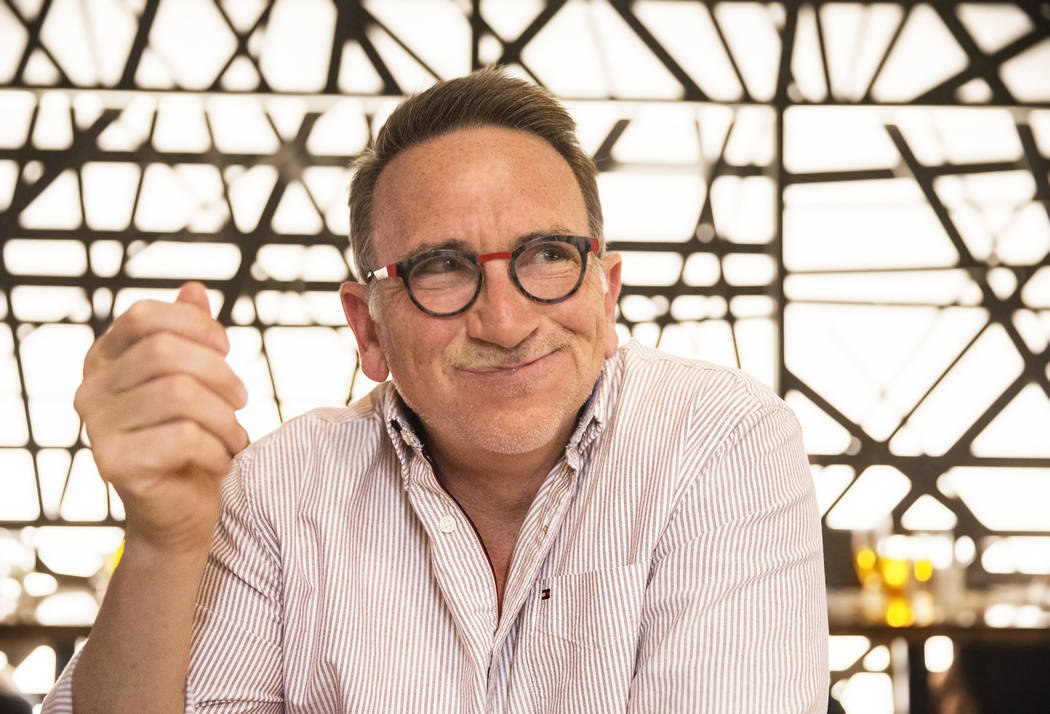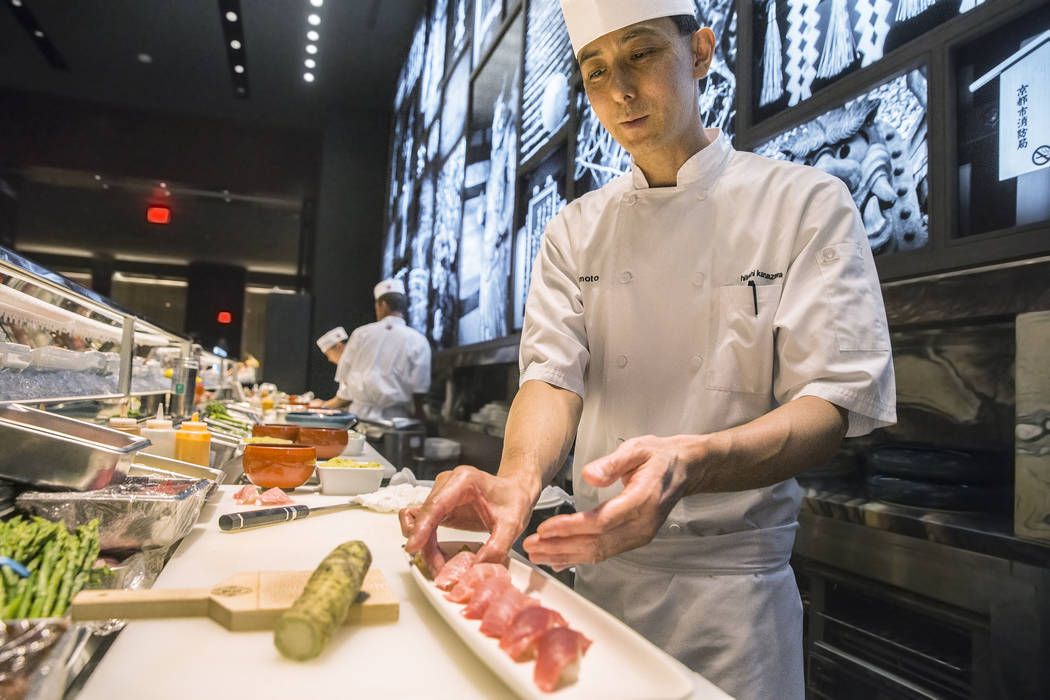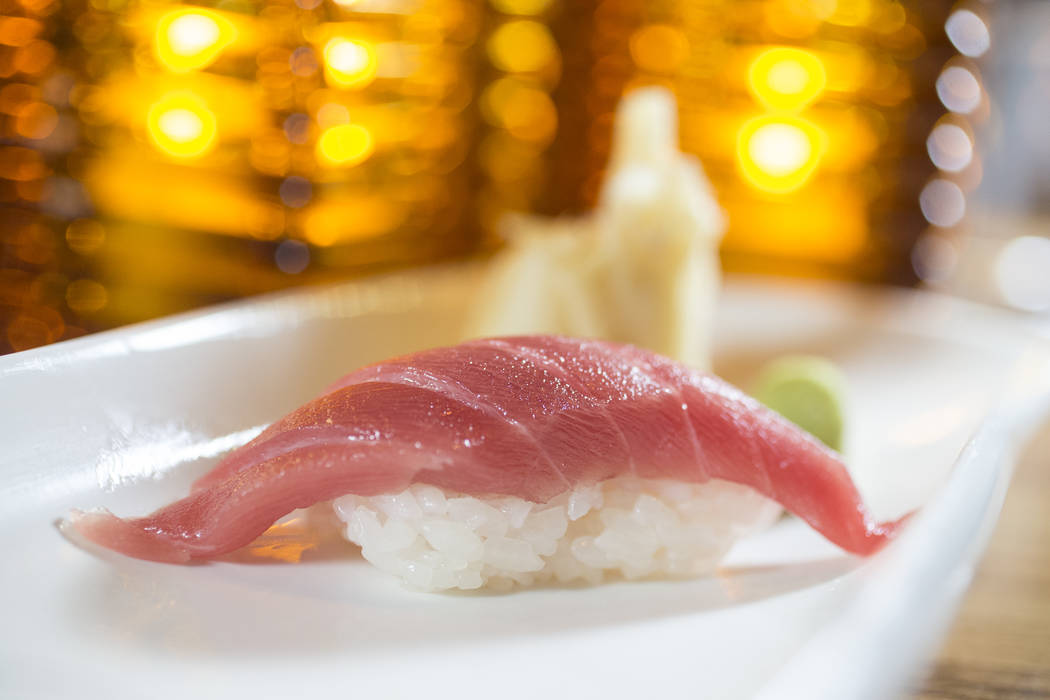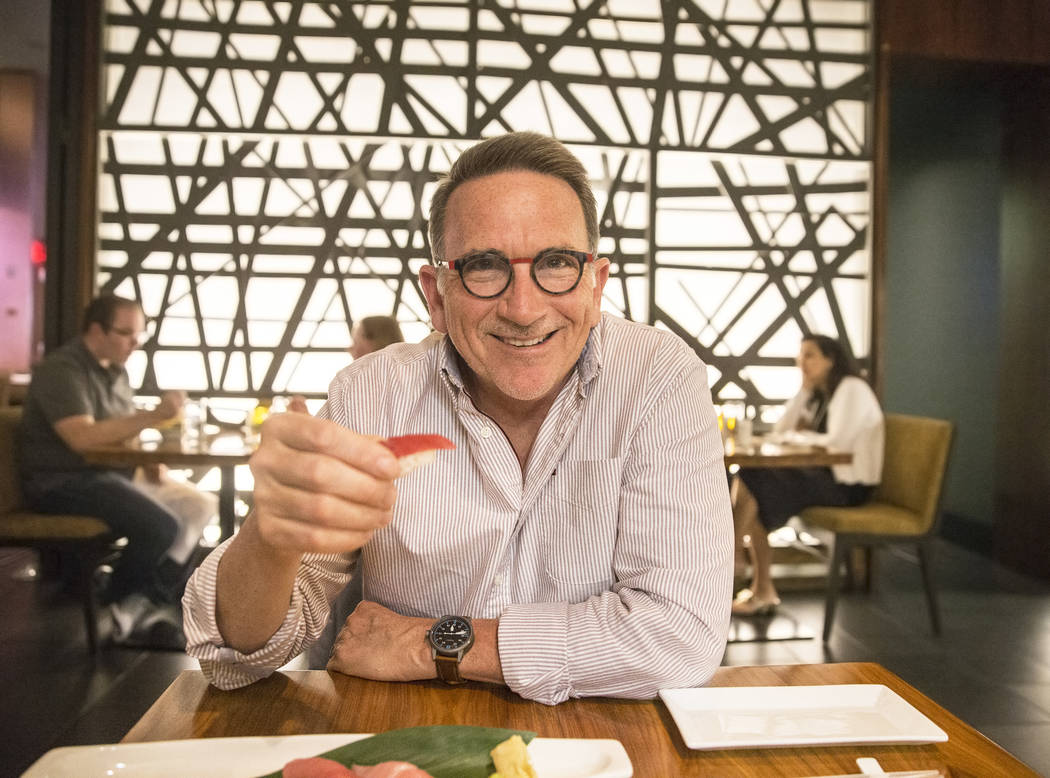 The sushi chef's knife deftly glides through the fatty flesh of the bluefin tuna, expertly preparing pieces of maguro, chutoro and otoro for a plate of nigiri. One would expect nothing short of exceptional in Iron Chef Masaharu Morimoto's MGM Grand restaurant.
What might shock many environmentalists, however, is that these cuts are headed to the table of Rick Moonen, a chef who has spent much of his career railing against the consumption of bluefin and other endangered species.
And what few customers could imagine is that the tuna that gave its life for these gourmet treats — hatched in captivity more than 5,700 miles away and raised under the watchful eyes of scientists and students — may play a role in preserving the species for future generations.
Loving them to death
Bluefin tuna is a fish fraught with controversy. Its immense popularity has driven it to the verge of extinction. Its population in some areas has declined more than 95 percent from historic levels. The diminishing supply has led to skyrocketing prices: a single fish can easily sell for six figures at Tokyo's famous Tsukiji fish market.
"We end up loving certain fish to death because they're so good," Moonen laments on the fate of the bluefin and other overfished consumer favorites, before sampling Morimoto's attempt to remedy the problem. Moonen isn't exaggerating. Unless something changes dramatically, the last wild bluefin tuna will almost certainly be eaten in our lifetime.
The Monterey Bay Aquarium's Seafood Watch, America's leading authority on sustainable seafood, classifies bluefin as red — a fish to avoid. But consumers, particularly sushi eaters, continue to prize the fish.
Farming is not yet a viable commercial option. Most commercial tuna "farms" are better described as "ranches," which corral young bluefin in the wild and grow them in pens, feeding them smaller fish.
A chef's dilemma
Like most great Japanese chefs who deal in sushi, Morimoto is caught between the proverbial rock and hard place. His customers expect, even demand, bluefin. Yet, as he so simply puts it in an email interview on this topic, "We don't want good things to disappear."
To serve his customers, yet try to preserve the fish they love, Morimoto has turned to Japan's Kindai University. In 2002, the school's aquaculture program became the first in the world to raise bluefin from eggs to maturity. In the years since, its success has allowed it to release juvenile tuna hatched through the program into the oceans, and provide them to farms in Japan.
As part of their research, Kindai experiments with raising fish to adulthood. Mature fish are sold to a handful of restaurants, mostly in Japan. About five or six years ago, Morimoto began purchasing Kindai products for his restaurants, and he's been serving them in Las Vegas whenever available since the restaurant opened. (Guests should ask their server if it's in stock.)
Addressing the skeptics
Seafood Watch doesn't have an official opinion on Kindai's product. Its manager of program engagement, Ryan Bigelow, has concerns about the amount of fish a tuna consumes compared to how much meat it produces, known as the feed ratio. But he admits that fish farming is the future of seafood and that research is necessary to reach an environmentally acceptable level.
"If all fisheries were (sustainable), there are still not enough wild fish. So if we're going to farm, we should do it as sustainably as possible," he says.
Moonen is also a tough sell, asking numerous questions before he would even try a piece of farm-raised bluefin. Some answers (pollution levels at the farm) were more satisfying than others (feed ratio). In the end, a point made by Kindai's international business adviser Nick Sakagami sways him.
"Kindai is not producing bluefin tuna to gain commercial success," Sakagami says. "They're doing it as research. So they're not expanding their production size (for restaurants). They're not interested in expanding that."
Basically, the Kindai tuna that makes it onto your plate at Morimoto is a byproduct of research that may lead to fully sustainable bluefin tuna as well as more effective, environmentally friendly farming techniques for countless species.
"I am extremely interested in the science of finding solutions, and that's what this is," Moonen says after hearing the responses of Sakagami and another Kindai representative. "And for science to become successful, tests have to happen. This is a test. And it's being fully tested because it's coming to the consumer through a well-respected test market: Morimoto."
First bites
Moonen decides the fish is worth a try. In an instant, any trepidation disappears from his face, replaced with a beaming grin of satisfaction.
"Nice," is nearly all he can muster after his piece of maguro. "And that was the least fatty one of the three." His smile increases as he progresses to the chutoro, and finally the otoro, which he describes as "ridiculous."
When a manager comes over to ask how he's enjoyed everything, the sustainability champion gives about the greatest endorsement anyone could ask for.
"I can't wait to come back here and kill it," he says. "Morimoto is the only place I'll eat bluefin."
Contact Al Mancini at amancini @reviewjournal.com. Follow @AlManciniVegas on Twitter.
Swimming with the tuna
Commercial fish farms are typically open-water pens packed tightly with fish that need to be treated with pesticides and hormones to counteract their unnatural conditions. The chemicals, as well as the natural waste material of the fish, pollute the waters around the farms.
Nick Sakagami, international business adviser to Kindai University's tuna program, insists this is not the case at the school's farms. In fact, he's seen the water up-close.
"I'm a scuba diver," Sakagami explains. "And my wife and I scuba dived in the bluefin tuna farming pen. That was a dream of ours. We did it in the southern part of Japan."
He notes the species need to swim constantly to take oxygen through their gills.
"The tuna farms are always located somewhere with good currents. And they're not packed like salmon farms, or other fish farms that you might have seen."
The farm where the couple swam with the tuna was about 100 feet in diameter and 50 feet deep. It contained 30 to 40 of the monster fish. By way of comparison, some salmon farms might have tens of thousands of fish in a similarly sized pen.
"And it wasn't dirty water," he says. "It wasn't musty or smelly water or anything like that."
The chances of the general public getting a similar opportunity soon are pretty slim. But Kindai researchers are looking into farming agreements, including some inland sites in North America. Should they materialize, Sakagami hopes more people will at least get to see these beautiful fish — before they hit the plate.
"We can hopefully work with some university or aquariums to have small displays of our bluefin tuna and other fish that we farm-raise, hopefully somewhere in North America or Mexico."