Multicourse traditional Japanese kaiseki arises in Las Vegas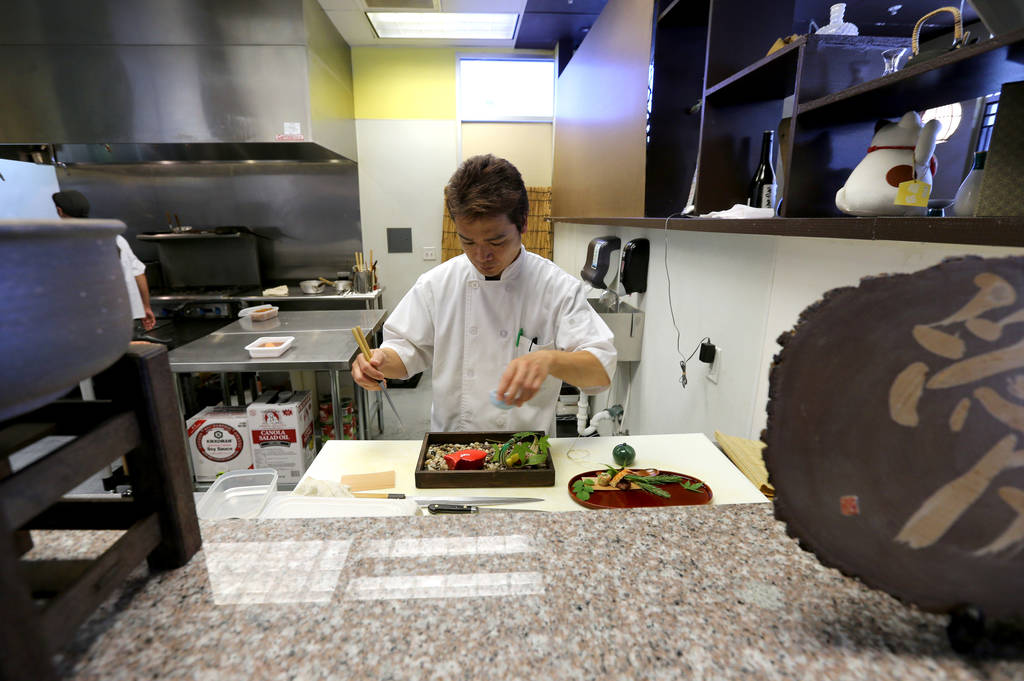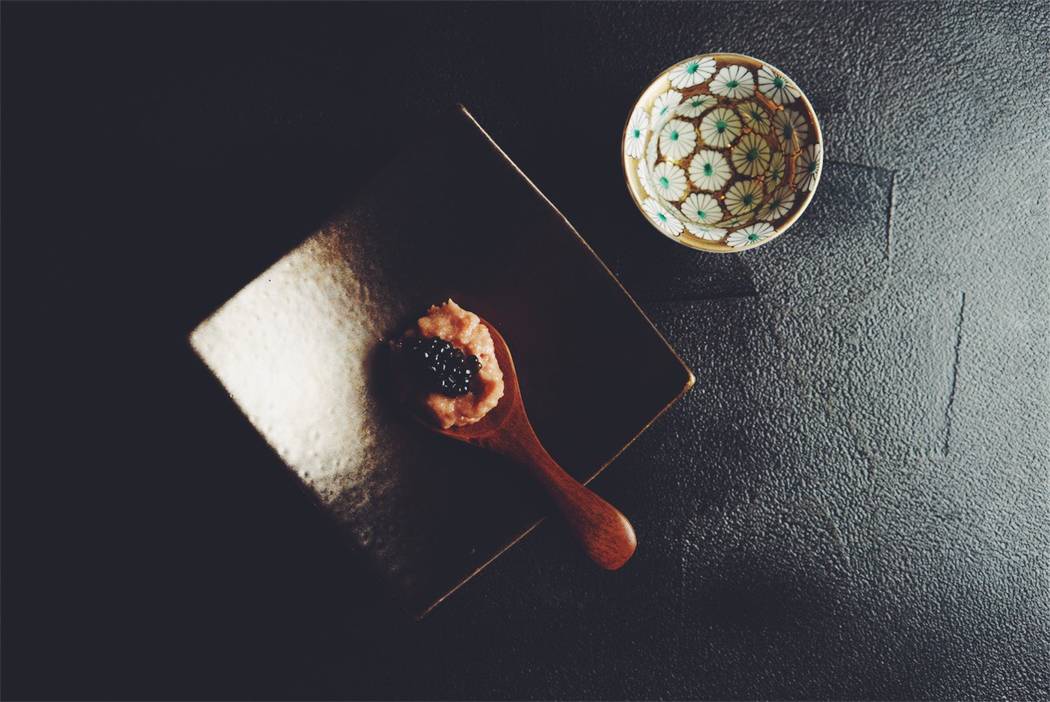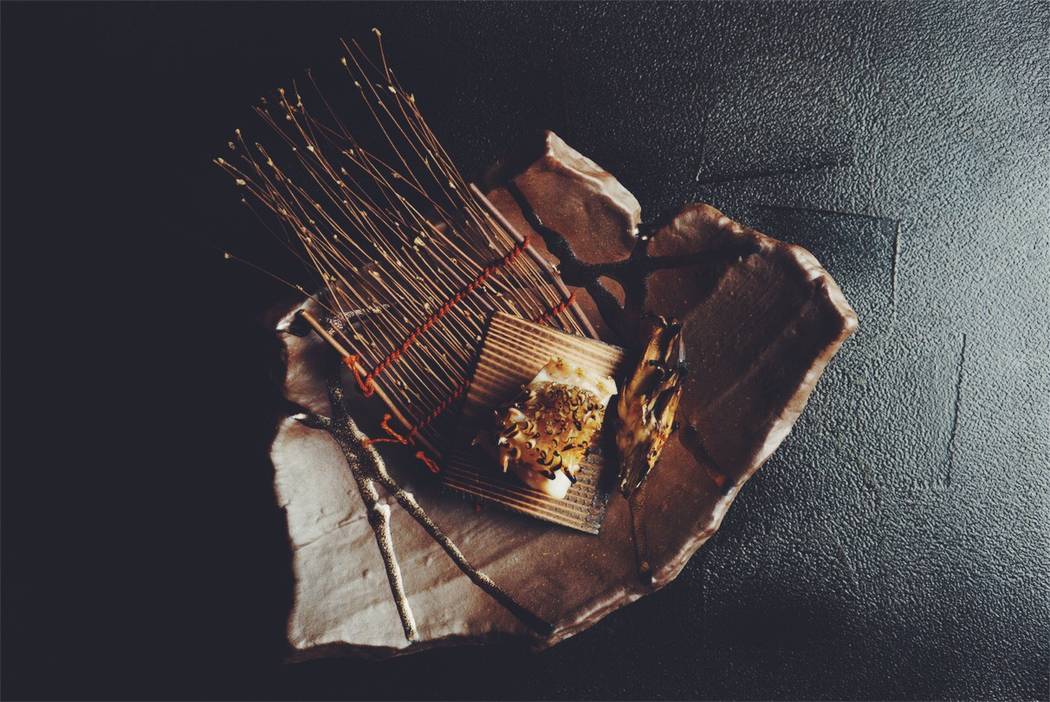 "Oh, you have to try kaiseki!"
If you're serious about Japanese dining, it's only a matter of time before you hear those words from a foodie friend, or find yourself saying them to someone else. Kaiseki is viewed by many as the ultimate expression of Japanese cuisine. A 2016 article at CNN Travel called it "the world's finest meal." It has now made its way to our valley, and despite its cult status and often hefty price tag, the phenomenon is confined almost exclusively to small off-Strip restaurants.
At least three neighborhood spots have recently introduced kaiseki experiences. Meals last several hours and include a progression of painstakingly prepared small dishes served on a rotating assortment of beautiful vessels, hand-selected to showcase the food's beauty. None is cheap, with the average price in the $100-$200 range, before tax, tip or beverage pairing.
A recent Yakimono (grilled course) at Kaiseki Yuzu
A brief history lesson
Defining kaiseki can be difficult — especially its American interpretations.
Tradition and seasonality are recurring themes. The meal has its roots in light snacks prepared by monks to accompany tea services in the 15th and 16th centuries. Those evolved into extended meals prepared in numerous traditional cooking techniques to showcase only the freshest ingredients. In Japan, this means using only foods native to areas surrounding the restaurants, when they're at their height of freshness. Everything about the experience, from the knives used in the kitchen to the plates upon which each course is served, is selected to highlight those choices.
"It's the most refined and aware type of Japanese cuisine," says local chef Dan Krohmer, who studied the style in the Michelin two-star restaurant Zeniya in Kanazawa, Japan, and occasionally featured it at his restaurant Other Mama. "It's about seasonality, simplicity (and) just enjoying the moment."
The Hassun at Kaiseki Yuzu in Las Vegas Monday, May 7, 2018. K.M. Cannon Las Vegas Review-Journal @KMCannonPhoto
Yet speaking by phone from Japan, his former mentor Shinichiro Takagi admits of the format, "We don't have any particular rules, it's just that it's based on Japanese traditional meals."
The number of courses in a kaiseki dinner can vary. "Some restaurants prepare seven courses," Takagi says. "Some restaurants prepare 10 courses. Sometimes in my restaurant I prepare 12 courses."
Among those courses, certain themes are common. A traditional kaiseki meal almost always begins with a small starter dish called sakizuke (the Japanese equivalent of an amuse bouche) or a zensai (assortment of appetizers). Other courses are each intended to demonstrate a particular method of preparation, and can include futamono (soup), mokuzuke (raw), nimono (simmered), yakimono (grilled), mushimono (steamed), agemono (fried) and sunomono (vinegared).
While chefs are free to choose techniques, kaiseki demands they don't add modern touches. And a restaurant's format or menu will not change based on the customer or the mood of the chef. It's that sense of structure that separates kaiseki from more free-handed omakase tastings, which allow for meals prepared on the fly, customized to the preferences of each patron.
The Zensai at Kaiseki Yuzu in Las Vegas Monday, May 7, 2018. K.M. Cannon Las Vegas Review-Journal @KMCannonPhoto
Coming to America
Exporting kaiseki to the U.S. is not an easy task.
"Kaiseki here in America is very hard, because you're supposed to just use whatever you have around you," explains Ramir DeCastro, who learned the format while working in a Japanese restaurant in the Philippines. "And being here in the desert, it's impossible."
That admission hasn't stopped him from converting his restaurant, Yonaka on West Flamingo Road, into a kaiseki-only experience. His menus ($125 for 12 courses) are designed around ingredients he knows will be available for several months and rarely change during that time frame. He also limits his hours to Tuesday, Wednesday, Friday and Saturday, when he knows those ingredients will arrive at his kitchen fresh.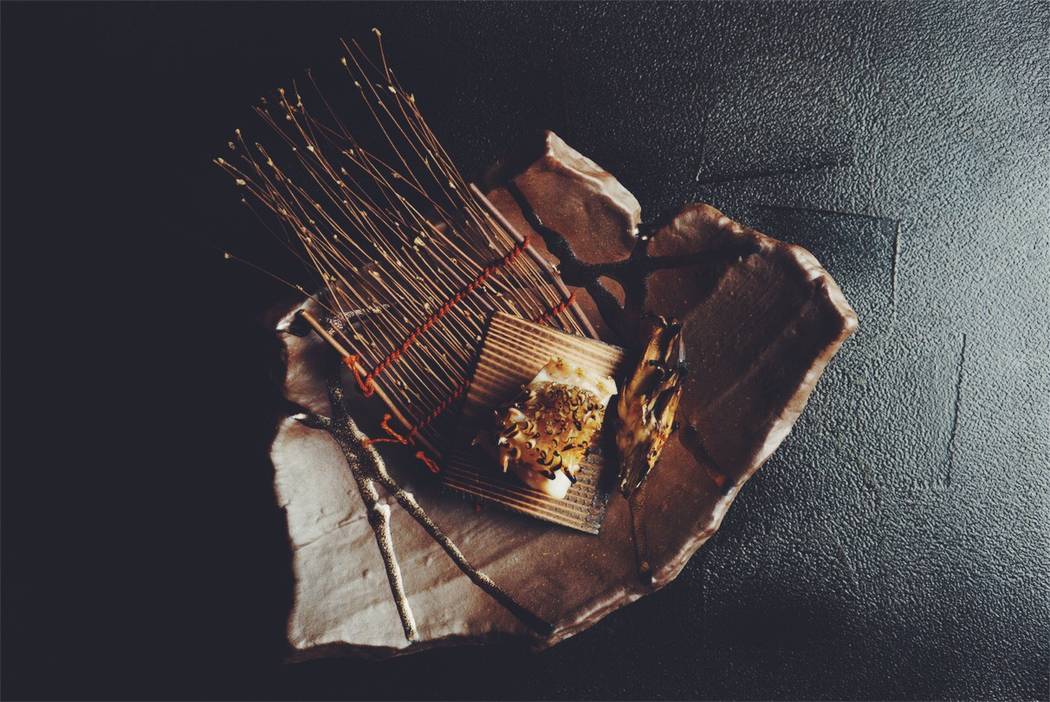 Amadai matsukasa yaki (grilled tile fish with crispy scales) at Hari
Kaiseki Yuzu, on Silverado Ranch Boulevard, takes another approach. Chef Kaoru Azeuchi consults with suppliers in Japan to locate many of the products he would use if cooking there. (For a recent meal in late April, when Japanese cherry blossoms were in bloom, he used them in two separate parts of a 10-course meal.) To locate and transport them, however, the restaurant asks guests to make reservations at least three days in advance. For those requesting higher-end experiences — Yuzu's options range from $75 to $200 or more for nine to 10 courses — more time might be required.
Hari, a tiny private side restaurant attached to the popular western valley sushi spot Naked Fish, goes to even greater lengths to secure ingredients for its sushi kaiseki meals (a modern incarnation that embraces the structure, technique and attention to detail of kaiseki in an all-seafood experience). Reservations for dinner must be made at least a week in advance.
None of these chefs claims his kaiseki is the same as what's available in Japan. But each infuses his experience with a philosophy and level of execution unlike anything else in our valley.
So, have you tried kaiseki?
Honmaguro zuke (marinated bluefin tuna) with fresh wasabi at Hari
One night, seven courses
Two local chefs are teaming up for a one-night kaiseki experience. Other Mama's owner and head chef Dan Krohmer and Sushisamba's executive sushi chef John Um will offer a seven-course meal from 5-11 p.m. June 26 at Other Mama, 3655 S. Durango Drive.
The price is $95 per person, plus $30 for an optional premium sake pairing, with reservations now available. A single VIP seating in the private dining room featuring additional courses will be available for $150. Call the restaurant at 702-463-8382.
Contact Al Mancini at amancini @reviewjournal.com. Follow @AlManciniVegas on Twitter.