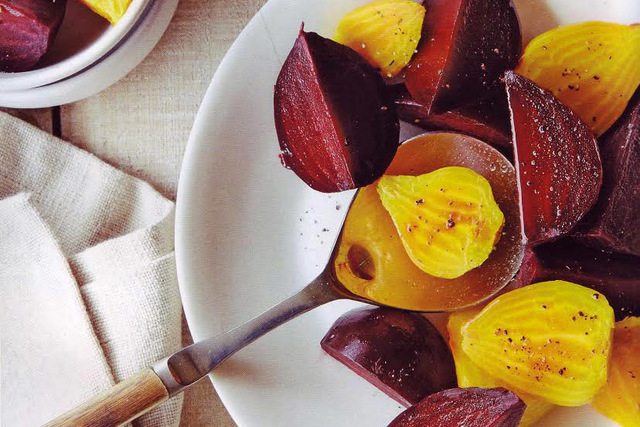 NEW BOOKS FOR COOKS
PACKET-STEAMED BEETS WITH TARRAGON YOGURT
2 pounds (about 7 medium) beets, preferably a mix of red and yellow
1 tablespoon toasted walnut oil, or butter
4 sprigs fresh tarragon, plus 2 tablespoons minced
3/8 teaspoon kosher salt (divided use)
2 tablespoons white wine vinegar
1 garlic clove, minced
1 cup plain reduced-fat (2 percent) Greek yogurt
Preheat oven to 450 degrees.
Trim roots and stems from beets. Pierce beets with a fork. On a sheet of foil 24 inches long, lay down the beets, oil or butter, tarragon sprigs and ¼ teaspoon salt
Drape another sheet of the same length on top of the beets and seal the packet around all four sides, turning inward toward the beets to crowd them together.
Place the packet directly on the oven rack, leaving the packet in the oven for about an hour (more or less, depending on the size of the beets).
When the beets can be easily pierced with a fork, remove the packet from the oven. Set aside for 20 minutes to rest.
Unseal the packet and peel the beets with a spoon, paper towel or dull knife. The skins should slip right off.
On a cutting board, quarter the beets and place in a bowl.
In a small bowl, combine the vinegar and the raw garlic. Allow to steep for 2 minutes.
Add the Greek yogurt to the garlic and vinegar. Stir well, finally folding in 1/8 teaspoon salt and the minced tarragon.
Either mix the beets with the yogurt sauce (a la potato salad) or dollop the yogurt on plates next to the steamed beets. This is a great side dish for whole roasted fish or chicken.
Serves 6.
Recipe from "Cooking Light Mad Delicious" by Keith Schroeder (Oxmoor House; $35)
— Heidi Knapp Rinella