New name, upscale comfort food fuel Hilltop Cafe
October 29, 2008 - 9:00 pm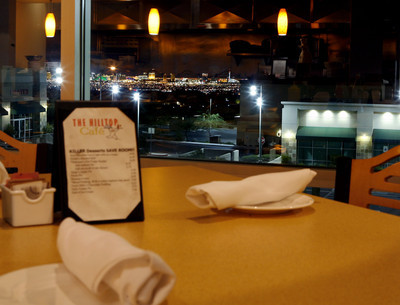 The Hilltop Cafe applies the ambience and culinary flair of a chic steakhouse to a cuisine formerly associated with kissing the grits of waitresses named Flo.
Called upscale comfort food, it's a growing national trend and a shrewd move for owner Brett Roselli, who in eight years watched business for his Viaggio's dwindle as a dozen other Italian restaurants opened along Eastern Avenue.
The rechristening in May brought over chef/general manager Charlie Roberts from Alexis Park, who prepares popular home-cooked — and not necessarily health-conscious — meals from all parts of America, which are offered at lower-than-Viaggio's prices.
There was some remodeling of the restaurant at 11261 S. Eastern Ave. in Henderson — brighter colors and wine in a separate room instead of on racks — but, as was the case before, most eyes are on the breathtaking, 250-degree valley view.
The restaurant seats 200. Reservations are not necessary.
Signature dish: Diane's meatloaf, $14.95
Starters: Warm goat cheese with oven-roasted tomato, pesto and fresh baked herb flat bread, $9.95; Magoo's Maryland crab cake with remoulade sauce, $9.95; filet tips with mushroom sauce and Gorgonzola cheese, $9.99
Soups and salads: Chef Charlie's chopped salad, $8.95; chicken and vegetable soup, $3.95; Greek salad, $8.99
Entrees: Pug's barbecue spare ribs of pork, $14.99 for half-order, $18.99 for full order; Gregg's pulled pork platter, $15.99; Lorenzo's chicken potpie, $14.99
Desserts: Bread pudding, $7.95; banana's Foster, $8.95; Donna's banana split, $6.50
Information: 702-492-6900
By COREY LEVITAN