New Nora's Italian Cuisine even better than the original
January 13, 2017 - 10:45 am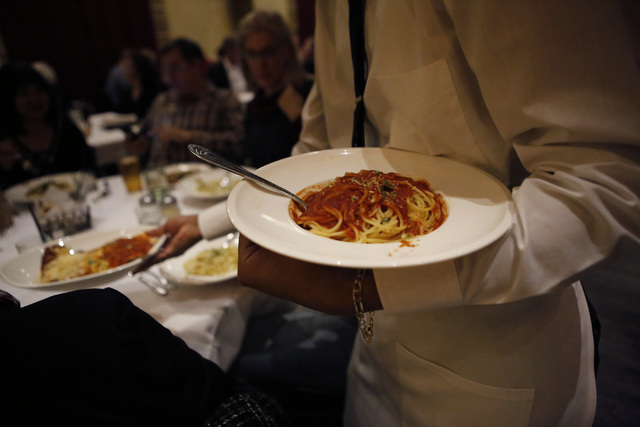 Shortly after the new Nora's Italian Cuisine opened in late September, general manager S. Marcello Mauro said that after nearly 30 years the restaurant had simply outgrown its original location, which was only 900 feet from the new one. Equipment was dated, parking was a problem, they were renting and so on.
The new restaurant seats 166 people, compared with 115 for the old one. And it was packed on a recent weeknight visit, drawing locals clearly known to the staff and badge-wearing CES attendees.
It's easy to see why. The place is gorgeous, inside and out — all stone, wood and Italian plaster.
The kitchen boasts a new Josper unit, a charcoal-burning grill/oven hybrid capable of cooking at very high temperatures. (I know of only two others in the valley, both on the Strip.)
The falcita sausage and vegetables ($18.95) clearly benefited from its Josper preparation. The sausage, a narrow rope style with parsley and aged cheese, was nicely caramelized, which added texture and flavor. But the real stars of this dish were the stacked vegetables (red bell pepper, zucchini, fennel, eggplant and yellow squash), grilled to crisp-tender perfection and delicately accented with charcoal.
Other parts of the menu that have made Nora's a locals favorite for so many years remain largely unchanged. A steak and arugula bruschetta starter ($8.95) was a finely tuned balancing act, the richness of the tender beef playing off the bitter austerity of the crisp arugula, with bits of sun-dried tomato and a lemon vinaigrette for surprising but welcome accents.
Rigatoni Gorgonzola ($16.95) had nicely al dente rigatoni (a little tricky sometimes, because it's so much thicker than most other cuts) with more of that sun-dried tomato for concentrated flavor, plus mushrooms and roasted red peppers, the cheese contributing its earthy, pungent notes to the creamy but fairly light sauce.
The side of fettucine marinara ($5.50) reassuringly proved that Nora's hasn't changed its beloved signature red sauce.
Nora's has embraced the craft-cocktail trend, with selections including a pucker-up house-infused limoncello ($6) with just a whisper of basil flavor, and What a Pear ($10), house-infused pear whiskey with the warmth of cinnamon and cardamom.
One quibble: The parking lot isn't large enough for the hungry crowds, which means many end up parking on the edge of the empty lot next door, which wouldn't be a problem if there weren't a drop-off between pavement and dirt.
Another expansion plan may be in order.
Las Vegas Review-Journal restaurant reviews are done anonymously at Review-Journal expense. Email Heidi Knapp Rinella at hrinella@reviewjournal.com. Find more of her stories at www.reviewjournal.com and follow @HKRinella on Twitter.
Review
Nora's Italian Restaurant, 5780 W. Flamingo Road; 702-873-8990
The essence: New and improved in many ways, without losing the flavor and spirit of the original