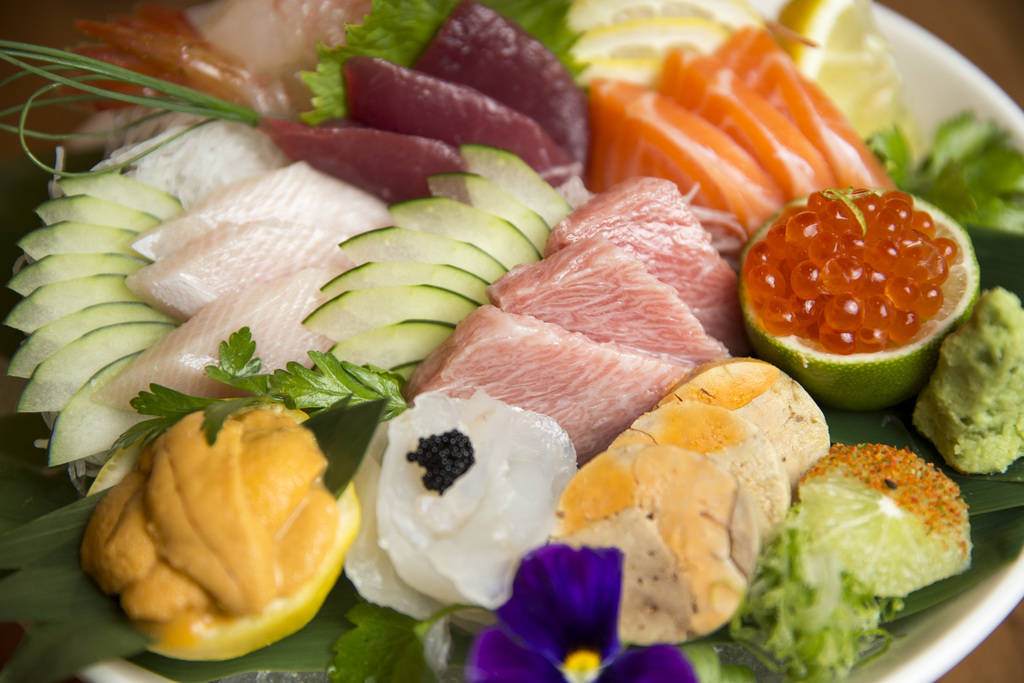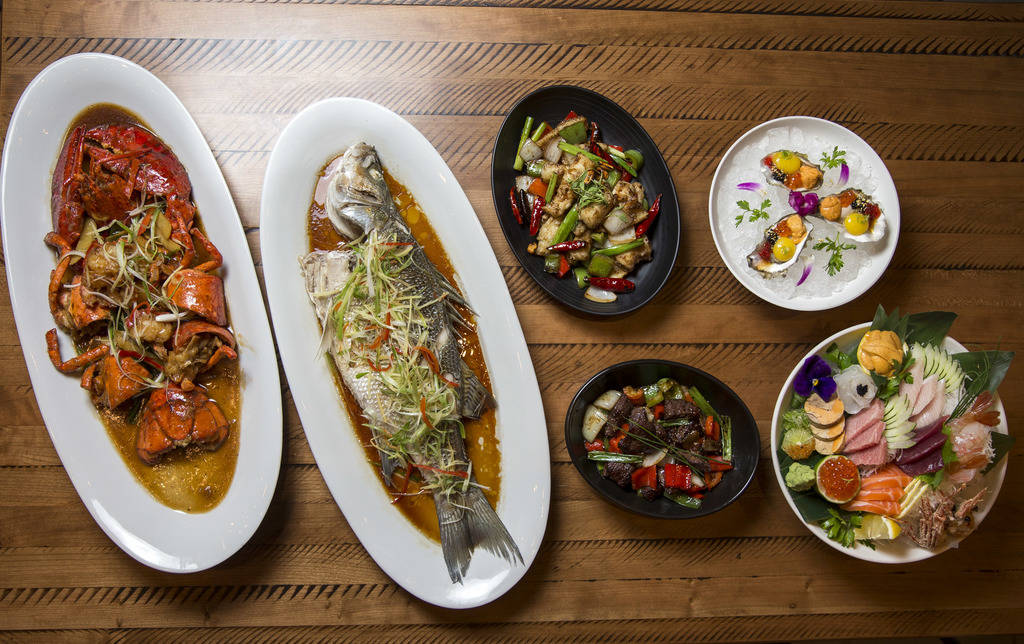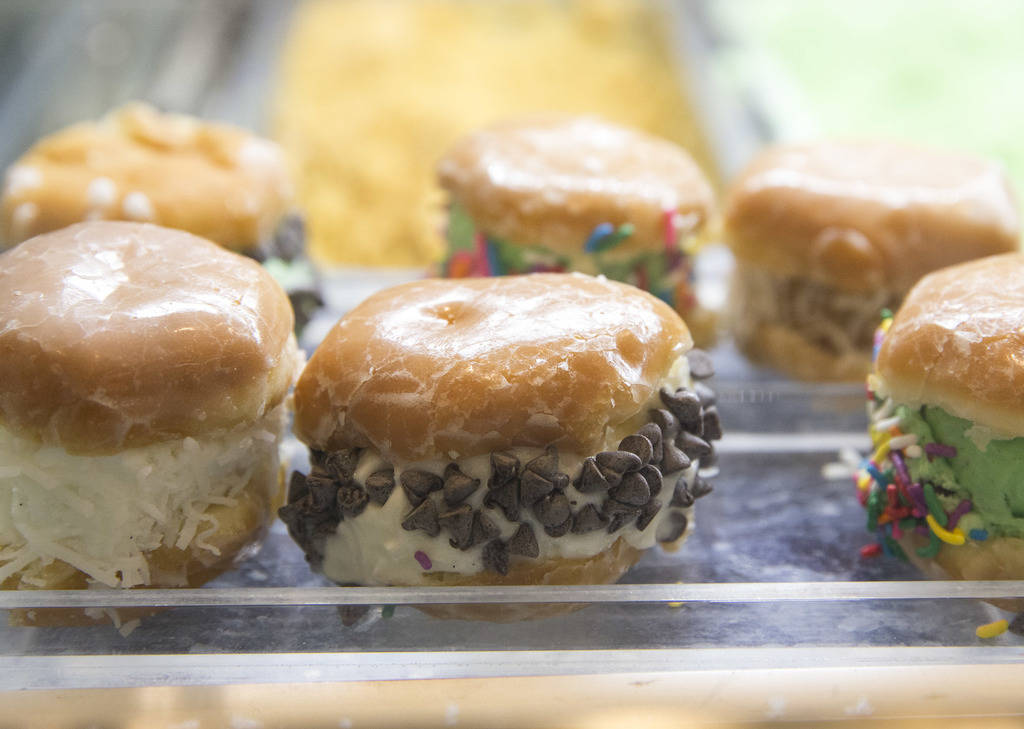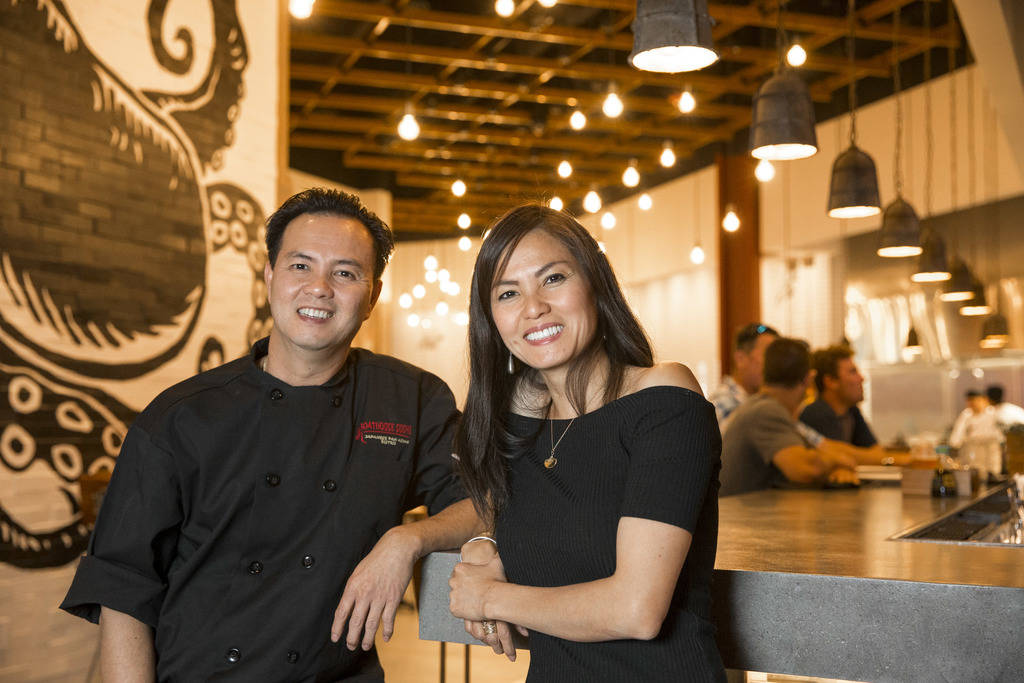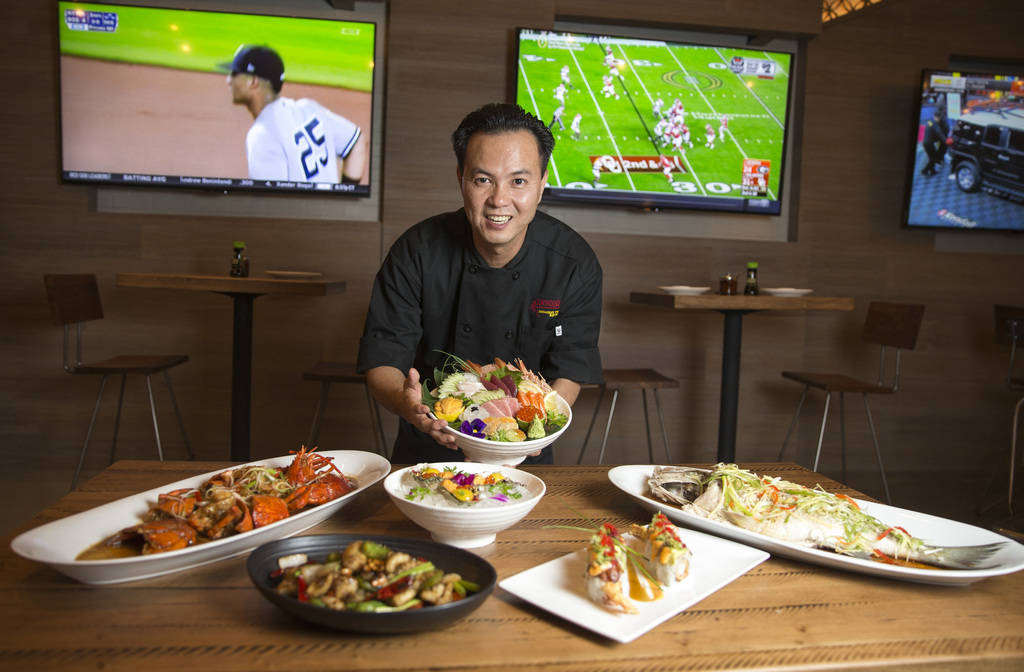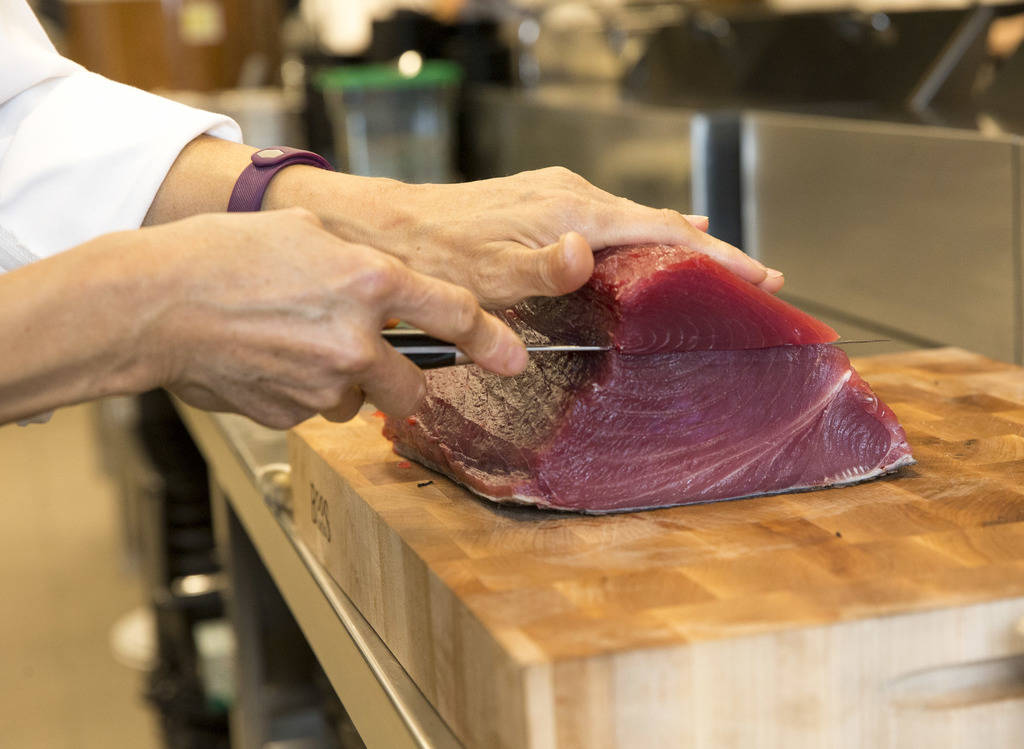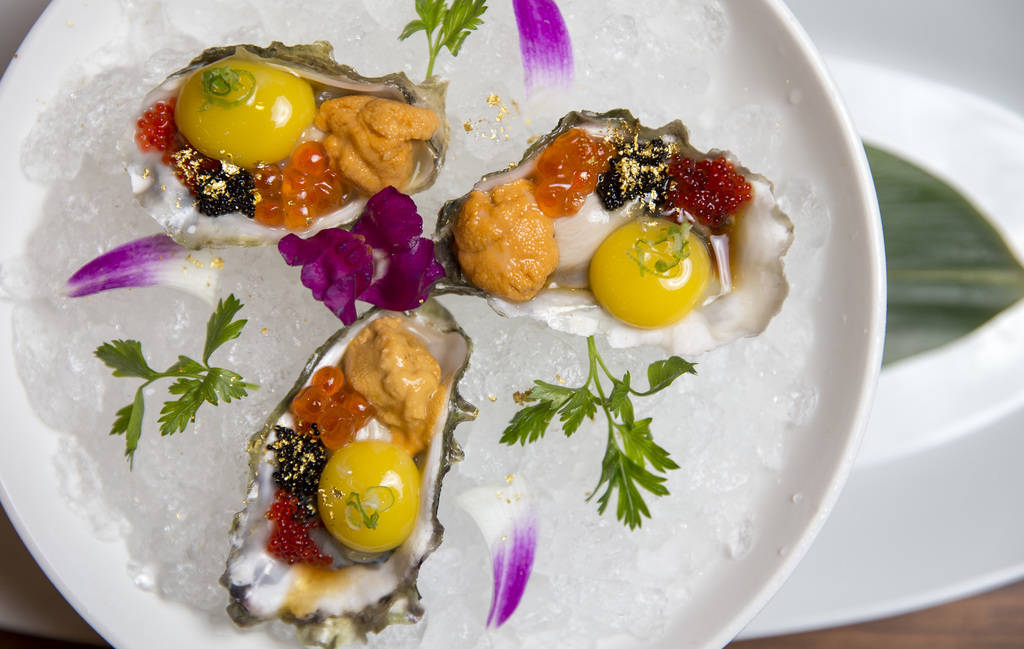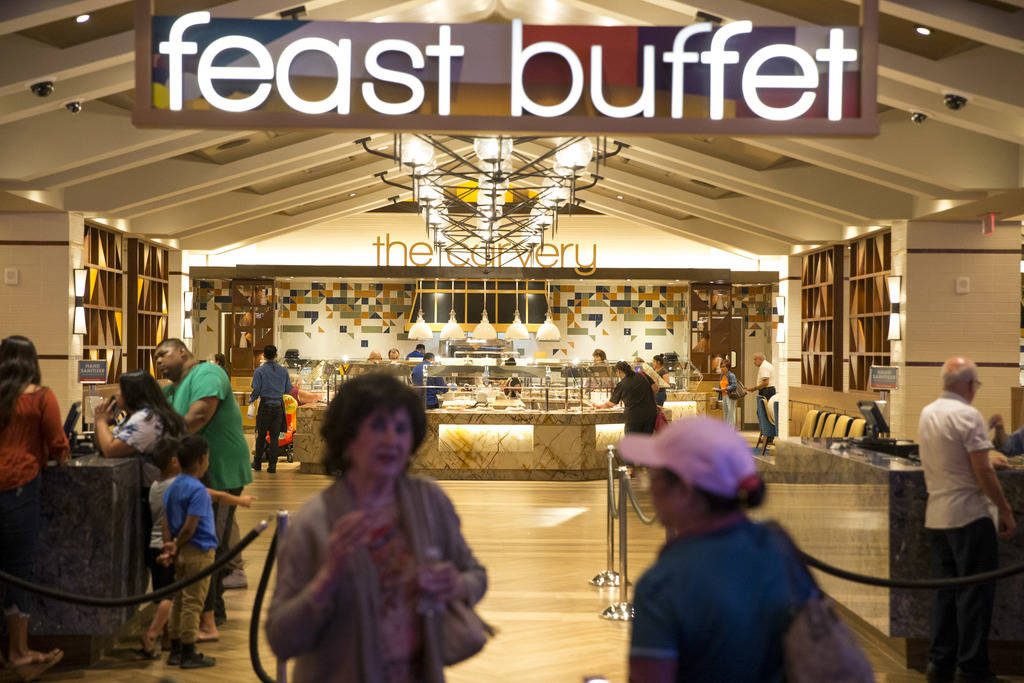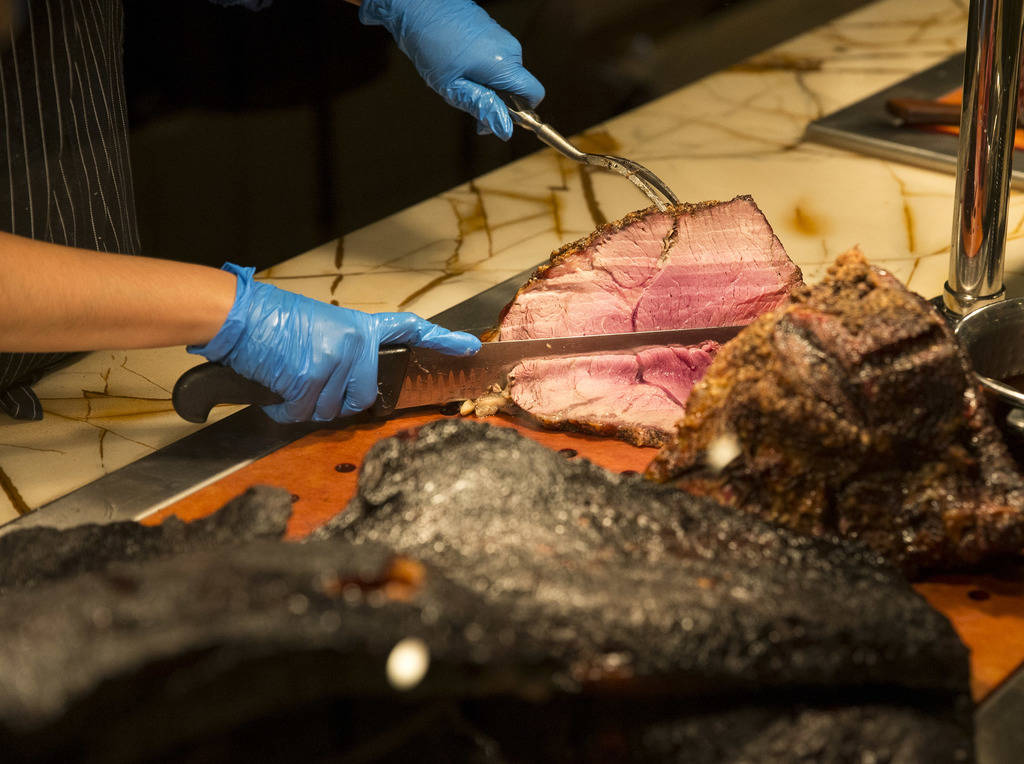 Seafood belongs in water, not in a freezer. That's a guiding principle behind Boathouse Asian Eatery, one of the restaurants — including a newly constructed, freshly conceived Feast Buffet — making their debut at the reborn Palace Station.
Boathouse, which opened July 30, is from the sister-and-brother team of Tu and Cat Do and their business partner, Hans Mogensen. They have a Boathouse Asian Eatery and a fast-casual spot at the Station Casinos-operated Graton Resort &Casino in Rohnert Park, in California's Sonoma County. They also have restaurants in Santa Rosa and San Jose, California, and at the San Francisco International Airport.
Tu Do said they were approached by Station executives for the Palace project, adding that the two Boathouses are similar.
"They like our concept," he said. "The design is almost a mimic of that."
The restaurant is sleek, with beveled white subway tiles and hand-painted art including an octopus and flying fish. Five monumental prayer wheels suspended in one area can actually be spun for good luck, he said.
The cuisine is Vietnamese, Chinese and Japanese, with a focus on live seafood. And not just live seafood, but large live seafood — king crabs up to 10 pounds, lobsters in the 3½-5-pound range, which Do said are particularly popular with family groups.
Sauces, which are made in-house, are extremely important; he has created more than 15.
"Almost every item has its own unique sauce," he said. They're used in dishes such as steamed striped bass with ginger, onion and soy sauce; whole lobster with ginger-scallion sauce; and a Cajun-style seafood boil.
Tu Do is in charge of the back of the house.
"I'm everything with food," he said.
Cat Do handles the restaurant's visual aspects, including plate presentation, which her brother said gets particular attention, and which he believes elevates Boathouse over other Asian restaurants.
"We also make sure the presentation matches the food," he said. An example is the Golden Eye appetizer, a dish of oysters topped with the crazy-quilt colors of uni from the sea urchin, ikura red caviar, red and black tobiko flying-fish roe and a quail egg.
Boathouse has a prominent bar area, which Tu concedes is a little unusual for an Asian restaurant. It also has a sushi bar and a noodle bar.
"You can actually move around and have different experiences," he said.
After realizing the demand for dim sum in Las Vegas, they added it this week, serving it at lunch and for late-night.
Tu Do has been working in restaurant kitchens since 1984, when he was 12 years old. His friend's family owned a restaurant, and the two would earn $5 for breaking up 40 pounds of frozen chicken wings.
"I didn't last long at Chuck E. Cheese," he quipped.
But the spark was there — literally.
"When you're older, chefs show you things," he said. "When you see the flare of the wok, a squirt of wine and then they go 'pop.' It just went from there."
Mogensen said the clientele at their Sonoma location is heavily local, much like Palace Station.
"That's what we understand well," he said.
Steps away from the Boathouse entrance is another restaurant of particular interest to locals, the new Feast Buffet, which opened July 18.
Besides its 394 seats (up from 330) and expanse of 14,000 square feet, the buffet's fresh approach includes some individual portions and some smaller buffet pans. The Carvery section serves diminutive loaded baked potatoes, mini-meatloaves and cheeseburger sliders in addition to rotisserie chicken and pork.
The Greenery serves the expected soups and salads and such dishes as a cold Mexican street-corn salad with hot Cheetos dust. In The Hearth, individual dishes hold a spirited Hungarian goulash, served beside roasted vegetables, pizzas and stromboli.
Other sections are Wok This Way, Healthy Favorite, Blazing Grill and Just Desserts.
Contact Heidi Knapp Rinella at hrinella@reviewjournal.com or 702-383-0474. Follow @HKRinella on Twitter.