New steakhouse at the Palms to feature 'dedicated scotch program'
Updated March 26, 2018 - 5:35 pm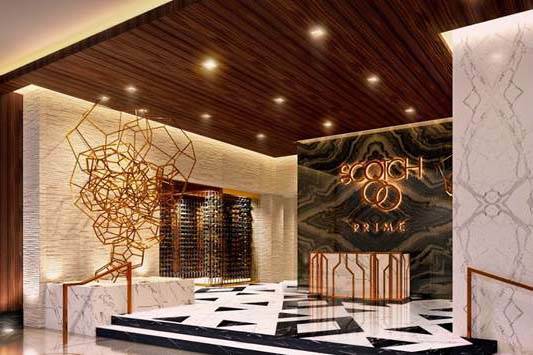 The Palms, which has been without a dedicated steakhouse since the closing of N9NE in September, will remedy that situation in May with the opening of Scotch 80 Prime.
The new restaurant promises tableside preparations, a cocktail cart, locally grown lettuce and herbs from Urban Seed Las Vegas, and a steak selection that will include certified Japanese Kobe. Menu highlights include the rib cap known as Chef Barry's Steak, fiery banana splits with fruit caramelized at your table and a "Russian Baller" caviar tower with vodka shots.
Chef Barry Dakake, who was with N9NE from the opening until its final day, will be Scotch 80 Prime's executive chef. He'll be assisted by executive sous chef Mark Purdy, who most recently ran the kitchen at The Palms' now-closed French restaurant Alize.
The bar menu will highlight a dedicated Scotch program, overseen by Scotch master Cody Fredrickson, that is being touted as one of the largest retail collections in the country. It will focus on rare and vintage bottles from top producers in Scotland, including the Macallan Fine & Rare Vintage collection.
The restaurant's name pays tribute to Las Vegas' historic Scotch 80s neighborhood, established in the early 1900s by the city's first mayor. Its décor will feature wood textures, chocolate leather booths, fine art and a large window overlooking Flamingo Road.
Scotch 80 Prime is part of the Palms' ongoing $620 million renovation. It joins an evolving restaurant collection that now includes Send Noodles, Lucky Penny Café and A.Y.C.E. Buffet. Restaurants by Bobby Flay, Marc Vetri, Michael Simon and Chris Santos are in the works.
Contact Al Mancini at amancini@reviewjournal.com. Follow @AlManciniVegas on Twitter.