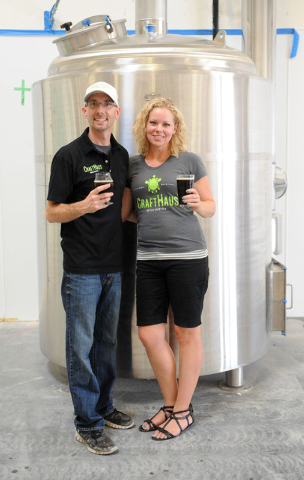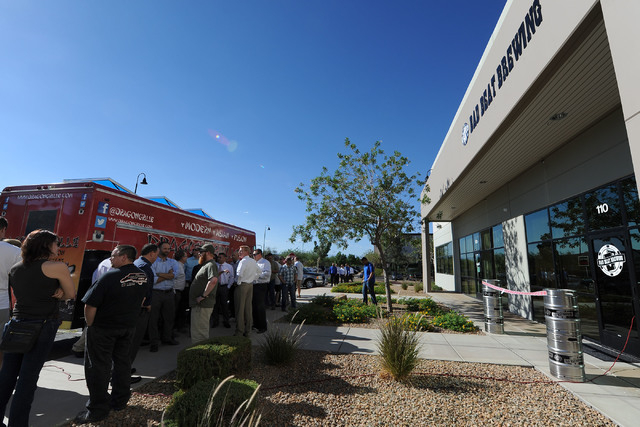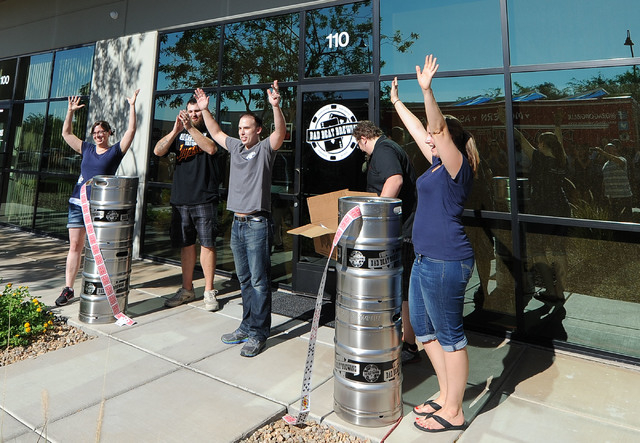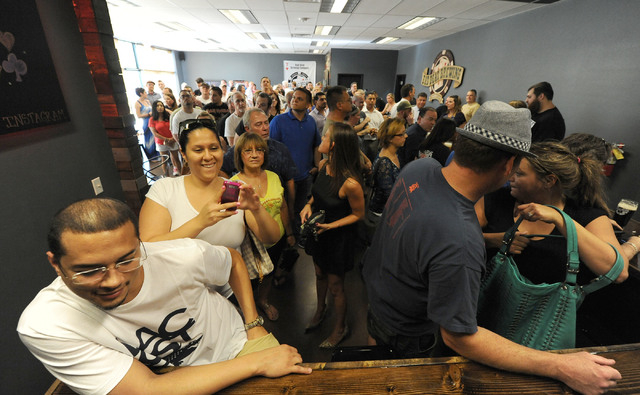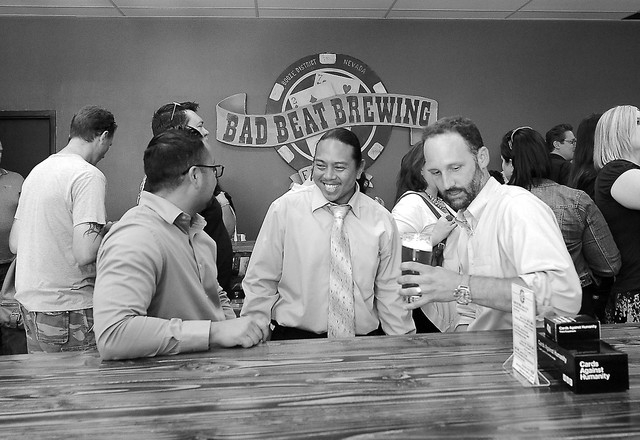 Sin City? Fuhgetabout it.
How about Beer City?
The valley is poised to tip beer glasses filled with an increased variety of new craft beers, with three microbrew businesses alone opening in the Eastgate commerce center's Booze District in Henderson this year, while a fourth is debuting on Main Street in Las Vegas' Arts District.
On July 11, Bad Beat Brewery opened to a packed house at its Eastgate location after a 5 p.m. ribbon cutting. Two neighboring Booze District craft brewing companies — CraftHaus Brewing and Vegas Brewing — are expected to join Bad Beat in the same industrial park later this year. The Booze District also includes Las Vegas Distillery, which produces spirits including Nevada's first bourbon whiskey, plus vodka and gin, and Grape Expectations, a wine-making school.
Meanwhile, near downtown Las Vegas, Hop Nuts is opening.
Also, Tenaya Creek, a veteran Las Vegas brewer, is opening new production operations and a tasting room on Bonanza Road across the street from the old Moulin Rouge on the edge of downtown.
The flurry of craft beer openings follows the December debut of Banger Brewing next to SlotZilla on the Fremont Street Experience.
The new beer kids on the block join Big Dog, Tenaya Creek, Joseph James and Boulder Dam Brewing in the region's suds-producing fraternity.
Las Vegas' thirst for craft beer — India pale ales, porters, lagers, stouts, ales — is not at the level of beer towns such as Portland, Ore., Denver and San Diego, but five new microbreweries opening in a calendar year is big for the valley.
Fueling Las Vegas' more sophisticated beer tastes are festivals staged by Motley Brews, a Las Vegas-based company that held a monster beer bash downtown at East Fremont and Sixth Streets, filling the blocks with 5,500 craft brew fans quaffing beer from 80 exhibitors.
Local beer distributors are also pushing local craft beers.
Craft beer sales are rising in the United States. In 2013, the overall U.S. beer market generated $100 billion in sales, including $14.3 billion for craft beer — a 20 percent jump from the previous year, the Boulder, Colo.-based Brewers Association reports.
Las Vegas is catching the craft beer wave.
CASH AND NO DEBT
"It took time and Vegas is finally welcoming craft beer. We're not north San Diego County, but we're getting there," said Marc Longwith, one of five partners who own Banger Brewing.
A poker player, Nathan Hall opened his Bad Beat Brewery nine days ago, launching the enterprise with $300,000 — and no debt. He and his wife, Sara, sold their house to help finance the microbrewery.
"We went all in here," he said. "We don't have to worry about investors or a bank loan. There is zero debt."
Hall said a new law in Henderson allowing a brewpub license without gaming or food helped him open his business.
"Las Vegas is lacking in the locally brewed beers. We bring in a lot of beers from out of state, but we don't have that many beers produced locally. We thought there was a need," said Hall, a home brewer for the past five years. "Talking with my friends and home brew clubs, I think people are welcome for another craft brewery to emerge."
Bad Beat is projected to produce 1,000 barrels of beer in its first year. The beer will be brewed in 10-barrel batches that produce enough beer for 310 gallons, or 20 kegs. Southern Wine and Spirits is the distributor. Weston Barkley, who worked at Joseph James brewery in Henderson, is Bad Beat's head brewer.
A Bad Beat beer neighbor will be CraftHaus, owned by Wyndee and Dave Forrest. The couple are aiming for a September opening.
Wyndee Forrest said Las Vegas has a strong foodie community and is ready to embrace high-quality craft beers to complement sophisticated culinary tastes.
"Our community is starting to appreciate local artisanal companies, whether they're making soap or beer," she said. "Las Vegas is the largest consumer of alcohol and the least producer of alcohol. It's about time we start making our own."
Brian Chapin, owner of Motley Brews, which stages Las Vegas beer events, said, "People are starting to recognize the popularity of craft beer. Downtown has been a catalyst and the (brewpub) license changes in Henderson has opened a market for local breweries … It's a cool thing to watch these new breweries come on line.
"What's good for local, is good for all people in the beer community. And it's the foundation of most of these (beer) cities."
Motley Brews is working with the Downtown Project to stage beer-tasting events at Container Park on the last Fridays of the month. The inaugural event June 27 sold out 400 tickets, with similar beer tastings set for July 25 and Aug. 29. Motley Brews is also staging a beer-tasting event Sept. 20 at the Clark County amphitheater. Three thousand craft beer lovers are expected to congregate to try 150 beers and taste food prepared by celebrity chefs.
BLENDING IN KICKSTARTER FUNDS
The Forrests worked with Henderson officials to update the city's brewpub license process and allow a brewpub operation without gaming and food. After the permit process was updated, the new brewpub license initiation fee cost the couple $10,000 — a big decrease from the $60,000 tavern license permit that the city required for a brewpub with gambling and food under the old system, Wyndee Forrest said.
The couple poured the $50,000 difference between the two license costs into the brew business, along with $25,859 they raised through Kickstarter. It's part of the $450,000 they plowed into their craft beer operation. Like the owners of Bad Beat, the Forrests opened their brewery debt-free.
Plus, the property developer amended the land agreement with the city to allow a microbrewery on the site, she said.
Wyndee Forrest said the Booze District's three craft beer companies have distinct identities and backstories.
For example, she said her microbrewery has Nevada's first female head brewer: Steph Cope. The Australian was traveling the U.S. with her boyfriend visiting 300 microbreweries along 18,000 miles when the couple agreed to work for CraftHaus. Cope and her boyfriend, Steve Brockman, brewed beer in Australia.
Shortly after CraftHaus comes on line, a new Las Vegas Arts District microbrewery, Hop Nuts, is projected to open at 1120 S. Main St. in September or October, owner and brewer Kevin Holder said.
He launched the operation with $250,000. It will be a full bar and brewery, offering everything from India pale ales and a golden ale to porters and seasonals like a pumpkin ale just in time for Halloween.
"You can see how popular craft beer is in Las Vegas by going to the beer festivals," said Holder, who has developed his craft beer business plan for three years. "Why shouldn't Vegas have more of a craft beer scene?"
Contact reporter Alan Snel at asnel@reviewjournal.com or 702-387-5273. Follow @BicycleManSnel on Twitter.