Non-Southerners finding out how delicious cuisine can be
February 18, 2009 - 10:00 pm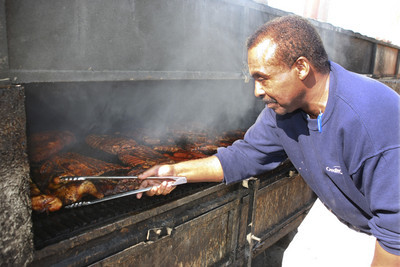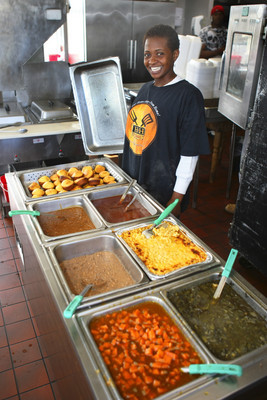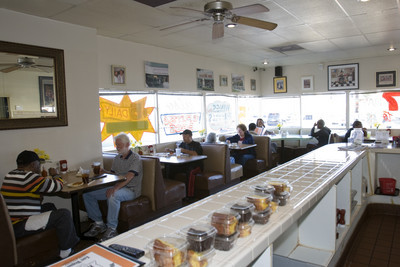 Cassandra Black has seen soul food go from sustenance to sensation.
"I basically grew up on soul food, which is like collard greens, black-eyed peas, pinto beans, yams, macaroni and cheese, oxtails," she said. "That's all I grew up on, because that's all my family could afford to cook."
It's a style of cooking — a cuisine — that developed generations before Black was born.
"The slaves didn't have a whole lot," she said. "Basically, they fried up the chitlins and used the neck bones. That's all they gave them, the leftovers from the pig. They didn't give them the good stuff, the pork chops."
But it seems that things have changed. Black said she remembers her grandmother telling her that when she had been a child, neck bones were a nickel and chitlins — pig intestines, for the uninitiated — were free.
"Now, that's like a delicacy," she said. "Pigs' feet and chitlins cost almost as much as pork chops. Now that's all people want."
Black sees the demand at her family's Hicks' H&H Barbecue Pit Stop, 2245 Las Vegas Blvd. North, as an outgrowth of a business founded by her father, Elbert Hicks. In her customer base, Black said, are blacks, whites, Hispanics and Asians.
"I'm really surprised when you ask them what sides they want, and they want collard greens," she said of people who, at least from outward appearances, didn't grow up with soul food. "What do you know about collard greens? But they like the way we cook it."
That's also apparently the case at M&M Soul Food, 3923 W. Charleston Blvd., and sister restaurant M&M Chicken and Waffles, 1100 Martin Luther King Blvd.
"We've got such a diverse crowd," said owner Tim Gee. "People come here from around the world; that's why I like to pronounce us 'worldwide' now. We have actually had people from Japan, England, Canada, Australia."
Soul food's appeal appears to come from several sources.
"I think what makes soul food special to me is it was something that was considered food that wasn't edible; we took it and make something that was very edible, very appetizing," said Trina Jiles, owner of Gritz Cafe, 1911 Stella Lake Drive.
Gee sees soul food as a perpetuation of a culture, and something more. He hews to the tradition of one of M&M's founders, Mary McCallum, originally from Jackson, Miss. She started M&M in Los Angeles with her brother, Ventress McCallum, who Gee said was his mentor.
"We still make everything from scratch," Gee said. "It's hand-prepared. We peel our own potatoes. That's the way Mary did it and that's the only way to get that original taste. Substitutes just don't work. If you just pull out a bag and throw it in a pot, the soul is gone."
Black said she thinks the appeal also comes from what was added to the scraps to make them so appetizing.
"I think it's the richness of the food, because we use a lot of butter," she said, acknowledging, "the unhealthy things. My grandmother always said that was our food. She felt it was better for us than all the other stuff, the imitations. I think that's why our food is so different, because we use the real stuff."
And it's inevitable that, because soul food originated amid slavery, it's almost analogous to Southern food.
"It's traditional — it brings you back to your Southern roots," Jiles said.
When she opened Gritz Cafe a little more than a year ago, she decided to focus on grits because it's "the oatmeal of the South. I realized there was a need for quality breakfast and lunch for business owners, for business-goers in this community." Like Black and Gee, she said her restaurant attracts a wide variety of people, "people who enjoy the Southern cuisine itself — grits, hand-pattied sausage, thick-sliced bacon, pork chops, things like that."
Jiles said she has seen a lot of soul-food restaurants come and go in Las Vegas over the years.
"The majority, unfortunately, do not survive," she said. "Soul food is very labor-intensive."
"Soul food is from the heart," Gee said. "It's the love you put into the food. It comes from within. That's the soul."
COLLARD GREENS
1/2 pound smoked meat (smoked turkey wings, drumstick, smoked ham hocks or smoked neck bones)
1 tablespoon seasoning salt
1 tablespoon onion powder
1 teaspoon black pepper
1 teaspoon garlic powder
1/2 teaspoon crushed red pepper
1/2 teaspoon sugar
1 large bunch of collard greens
4 tablespoons (1/2 stick) butter
2 tablespoons vegetable oil
1/4 cup chopped onion
1/4 cup chopped red and yellow bell pepper
In a large pot, bring 3 quarts of water to a boil and add smoked meat, seasoning salt, onion powder, black pepper, garlic powder, crushed red pepper and sugar. Reduce heat to medium and cook for 1 hour, or until meat is tender.
Meanwhile, wash collard greens thoroughly. Remove the thick stem that runs down the center of the greens by holding the leaf in your left hand and stripping the leaf down with your right hand (the tender young leaves in the heart of the collard don't need to be stripped). Stack 8 to 10 stripped leaves on top of each other, roll up and slice into 1/2-inch slices. Place greens in pot with cooked smoked meat.
Add butter and oil and chopped veggies. Cook for 45 to 60 minutes or until tender, stirring occasionally. When done, taste and adjust seasonings.
Serves 4 to 6.
— Recipe from Cassandra Black
FRIED DILL PICKLES
1 cup all-purpose flour
1 cup yellow cornmeal
1/4 cup cornstarch
1 teaspoon baking powder
1 teaspoon salt
1 cup ice water
2 egg yolks
2 tablespoons dill pickle juice
4 cups of drained dill pickle slices, or equivalent amount of medium to large pickles, sliced 1/4 inch thick
Vegetable oil for frying
Stir together flour, cornmeal, cornstarch, baking powder and salt in a large bowl. Make a well in the center and add ice water, egg yolks and pickle juice all at once. Stir with wire whisk to make a smooth batter. Cover and refrigerate for 45 minutes.
Heat oil in a deep-fryer or large skillet to 375 degrees. In batches, dip pickle slices in batter to coat evenly and lightly. Fry without overcrowding in oil until golden brown and crisp. Drain on paper towels.
— Recipe from Cassandra Black
SWEET POTATO PIE
4 medium sweet potatoes (enough to yield 2 cups mashed)
1 unbaked 9-inch pie crust
8 tablespoons (1 stick) butter or margarine, softened
11/4 cups sugar
2 eggs
1/4 cup milk
1 teaspoon vanilla extract
2 teaspoons ground allspice
Scrub and rinse the sweet potatoes. Cut away eyes or sprouts and discard. Place the unpeeled sweet potatoes in a large pot. Cover with water and bring to a boil. Cook over medium-high heat for 25 minutes, or until the potatoes are tender when pierced with a fork. (The potatoes can also be steamed over boiling water for about 30 minutes, or until tender.)
Preheat the oven to 350 degrees.
Prepare the pie crust. Prick generously all over with a fork and brush lightly with beaten egg white. Set aside.
Remove the cooked potatoes from the hot water and drain. Peel while still warm and transfer to a large bowl.
Using an electric mixer set on low speed, beat the potatoes until they are light and fluffy.
Add to the bowl the butter or margarine, sugar, eggs, milk, vanilla extract and allspice. Beat again for 2 to 3 minutes or until the filling is smooth and creamy and well blended.
Pour the filling into the pie shell. Use a knife or metal spatula to spread the filling evenly.
Place the pie on the bottom shelf of the hot oven and bake for 1 hour, or until the pie is lightly browned and a knife inserted into the center comes out clean.
Cool on a wire rack before serving.
Makes 1 pie; serves 6.
— Recipe from "Soul Food: Recipes and Reflections from African-American Churches," by Joyce White
Contact reporter Heidi Knapp Rinella at hrinella@reviewjournal.com or 702-383-0474.