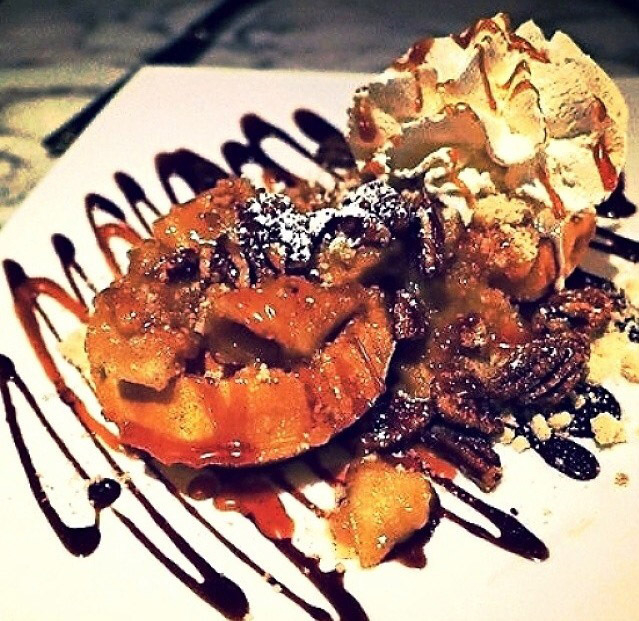 Upside-down cake
Vintner Grill
The caramelized-apple upside-down cake is served with yogurt gelato and caramel sauce, $8.
Apple Pie Waffles
Sugar Factory American Brasserie, Town Square
Two warm waffles are topped with roasted apples, creamy caramel sauce, whipped cream and toasted pecan crumble and served with vanilla ice cream and warm maple syrup, $10.95.
Apple Bacon Fritter
O Face Doughnuts, John E. Carson Hotel
Applewood-smoked bacon, oven-roasted apples and house-made apple butter are folded into the signature fritter and topped with a creme fraiche glaze, $2.25.
Apple Cider Margarita
Willy and Jose's Cantina, Sam's Town
Sweet apple cider is mixed with Grand Marnier, tequila and muddled oranges, garnished with apple slices and cinnamon sticks and served in a glass rimmed with sugar and cinnamon, $7; available this month only.
Apple Pie Doughnuts
Fix, Bellagio
Apple-filled doughnuts are served with rum raisin sauce and apple Anglaise, $12.
Send information to Heidi Knapp Rinella, P.O. Box 70, Las Vegas, NV 89125. You also can send faxes to 702-383-4676 or email her at Hrinella@reviewjournal.com. Follow @HKRinella on Twitter.