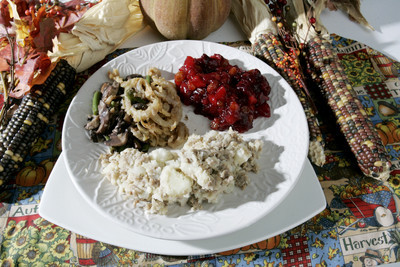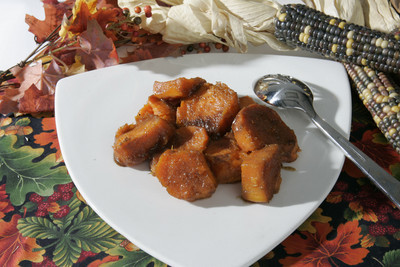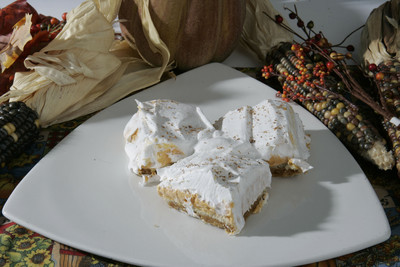 Marty Ann O'Roark swears it's a true story — or as close as it gets for "a person of such a theatrical nature."
She was, it seems, involved in Army amateur theater at Fort Leonard Wood, Mo., in the mid-'80s. She also enjoyed developing recipes and was trying to duplicate a restaurant's pumpkin dessert when she finally hit it.
One day a friend of O'Roark's — a friend with a rather salty vocabulary — had a party for the cast and crew, and O'Roark took her new dessert. O'Roark had to leave early because of church the next morning, but she left some dessert behind for the hostess. And then came a 2:30 a.m. phone call from her "obviously inebriated" friend: "Marty Ann, this is the best god-(expletive) pumpkin (expletive) I have ever tasted."
The name stuck — although it has been changed slightly over the years for members of O'Roark's church, and now for R-J readers.
O'Roark's recipe was one of 57 submitted for our Thanksgiving-themed Taste story. The selection here includes Patti Lunn's grandmother's Irish potato stuffing. ("New family members introduced by marriage initially feel as if they're being robbed of their traditional bread stuffing. Then they try it. Hooked," she wrote.) There are other side dishes as well, and more appear below.
Oh, and the winner of the drawing for the Thanksgiving turkey? That's Margie McAvoy, who submitted a recipe for mushroom casserole.
BUTTERSCOTCH YAMS
6 medium yams, cooked, peeled and thickly sliced
3/4 cup packed brown sugar
1/3 cup dark Karo syrup
2 tablespoons butter or margarine
1/4 cup light cream
1/2 teaspoon salt
1/2 teaspoon cinnamon
Arrange sliced yams in a single layer in a 12-by-8-by-2-inch baking dish. Bake at 450 degrees for 15 minutes.
In a heavy 11/2-quart saucepan, stir together sugar, syrup, butter, cream, salt and cinnamon. Stirring constantly over medium heat, bring to a boil and boil 3 minutes. Pour over yams. Bake 10 minutes longer, basting once.
— Recipe from Lois Anderson of LaVerkin, Utah (from a friend a long time ago)
GREEN BEAN CASSEROLE
1 pound fresh green beans, trimmed
3 tablespoons olive oil
2 tablespoons butter
16 ounces mushrooms, sliced
2 cloves garlic, minced
2 teaspoons fresh thyme leaves
Kosher salt, to taste
Black pepper, to taste
1/2 cup brandy or cognac
1/2 cup red wine
1/2 cup canned chicken broth
Fried onions (recipe follows)
Cook beans in microwave or steam them. Drain and set aside.
Heat olive oil and butter in skillet on medium-low heat. Add mushrooms and then garlic, thyme, salt and pepper and gently stir to cook until evenly browned, about 4 minutes. Remove to a serving dish.
Add brandy or cognac, wine and broth to cooking pan and boil 1 minute on high, to reduce by about half. Return mushrooms and beans and coat with pan mixture while reheating. Return to serving dish and place in warm oven.
Top with fried onions.
Fried onions:
2 tablespoons kosher salt
11/2 teaspoons whole black pepper
3 cups rice flour (found in Asian markets, health-food stores and health-food sections of supermarkets)
1 cup all-purpose flour
2 quarts peanut or canola oil
3 medium onions (red, yellow, sweet or white), very thinly sliced and separated into rounds
2 cups buttermilk
Place salt and pepper in a spice grinder or small food processor and whir for a few seconds, until it's ground to a fine powder. (This is an essential part of this recipe.) Mix flours with salt-and-pepper mixture.
Heat oil in deep fryer or large pot to 375 degrees.
Put onion rings into buttermilk and toss with one hand to coat thoroughly. Shake off excess liquid a handful at a time and drop into flour mixture. Coat thoroughly and lift out with other hand while gently shaking off excess flour.
Fry in small batches only; they need lots of room to crisp up properly. When lightly browned use wire scoop or slotted spoon to remove from oil and drain on paper towels.
— Recipe from Belinda King (from a TV cooking show)
POTATO STUFFING
5 pounds Idaho potatoes, peeled and chunked
1/2 pound butter or more
2 pounds Jimmy Dean sausage
1 pound or so ground pork
1 large yellow onion, minced
3 or more large cloves garlic, minced (optional)
Fresh black pepper, to taste
Kosher salt, to taste
Boil potatoes in large stockpot until tender but not mushy. Drain and place in large Dutch oven over low heat and add butter. Barely mash the potatoes (do not whip).
While potatoes are boiling, crumble sausage and ground pork into a large frying pan; add onion and garlic and cook until pink is gone. Add sausage to potatoes along with seasonings and stir well — but not too well.
Use to stuff turkey, or bake in a casserole in a 350-degree oven for about 45 minutes.
— Recipe from Patti Lunn of Las Vegas (from her grandmother)
CRANBERRY CHUTNEY
1 bag fresh cranberries
2 apples, peeled, cored and cut into chunks
2 pears, peeled, cored and cut into chunks
1 cup golden raisins
2/3 cup sugar
1/2 cup honey
1/2 cup orange juice
1 tablespoon orange rind
1/4 teaspoon cinnamon
1/2 cup Chambord black raspberry liqueur
Combine all ingredients except Chambord in a large saucepan and simmer for 30 to 45 minutes, or until desired consistency.
Remove from heat and add Chambord.
— Recipe from Jo Ann Mangiarelli of Henderson (handed down; origin uncertain)
MUSHROOM CASSEROLE
1/2 to 1 pound fresh mushrooms, thickly sliced
Butter for sauteing and buttering
8 thin slices white bread
1/2 cup chopped onion
1/2 cup mayonnaise
1/2 cup chopped celery
1/2 cup shopped green pepper
3/4 teaspoon salt
1/4 teaspoon pepper
2 eggs
11/2 cups milk
1 can condensed cream of mushroom soup
Grated cheddar cheese, to taste
Saute mushrooms in butter just until they start to smell like mushrooms.
Butter three slices of bread, cut them in 1-inch cubes and place in the bottom of a casserole dish.
In a bowl, combine the mushrooms with the onion, mayonnaise, celery, green pepper, salt and pepper. Spoon over the bread squares in the casserole dish.
Butter three more slices of bread and cut in 1-inch squares. Add them to the casserole dish, then beat eggs and milk and pour over mushrooms and bread. Refrigerate at least 1 hour, or as long as overnight.
An hour before serving, spoon the soup over the mixture and add two more slices of buttered bread, cut into smaller cubes. Bake in a preheated 300-degree oven for 60 to 70 minutes, or a 325-degree oven for 50 to 60 minutes. Ten minutes before it's done, sprinkle grated cheese on top.
— Recipe from Margie McAvoy of Henderson (who got it in 1967 from Peg Bracken's "I Hate to Cook Book")
MARTY ANN'S FAMOUS
PUMPKIN (STUFF)
1/2 cup butter or margarine
13/4 cup graham cracker crumbs
1 cup sugar (baker's or superfine sugar, if possible), divided use
1 8-ounce package cream cheese, softened
2 eggs, beaten
2 31/2-ounce packages french vanilla-flavor instant pudding mix
3/4 cup milk
2 cups solid-pack pumpkin (1 15-ounce can)
Dash cinnamon
12 ounces frozen whipped topping, thawed, divided use
Nutmeg
Melt butter or margarine; mix with crumbs and 1/4 cup sugar. Press into a 13-by-9-by-2-inch baking dish and set it aside.
Combine cream cheese, eggs and remaining sugar. Beat until fluffy and spread over crust.
Bake in a preheated 350-degree oven for 20 minutes; set aside to cool.
Combine pudding mix and milk; beat for 2 minutes at medium speed of electric mixer. Add pumpkin and cinnamon; mix well. Stir in 1 cup of whipped topping.
After cream-cheese layer is thoroughly cooled, spread pudding mixture over the cream-cheese layer. Spread remaining whipped topping over pudding layer. Sprinkle with nutmeg. Refrigerate until set.
Store covered and refrigerated.
Note: Nuts can be added (pecans recommended).
— Recipe from Marty Ann O'Roark of Las Vegas (original recipe)
Contact reporter Heidi Knapp Rinella at hrinella@reviewjournal.com or 702-383-0474.
Submit your favorite Thanksgiving recipes