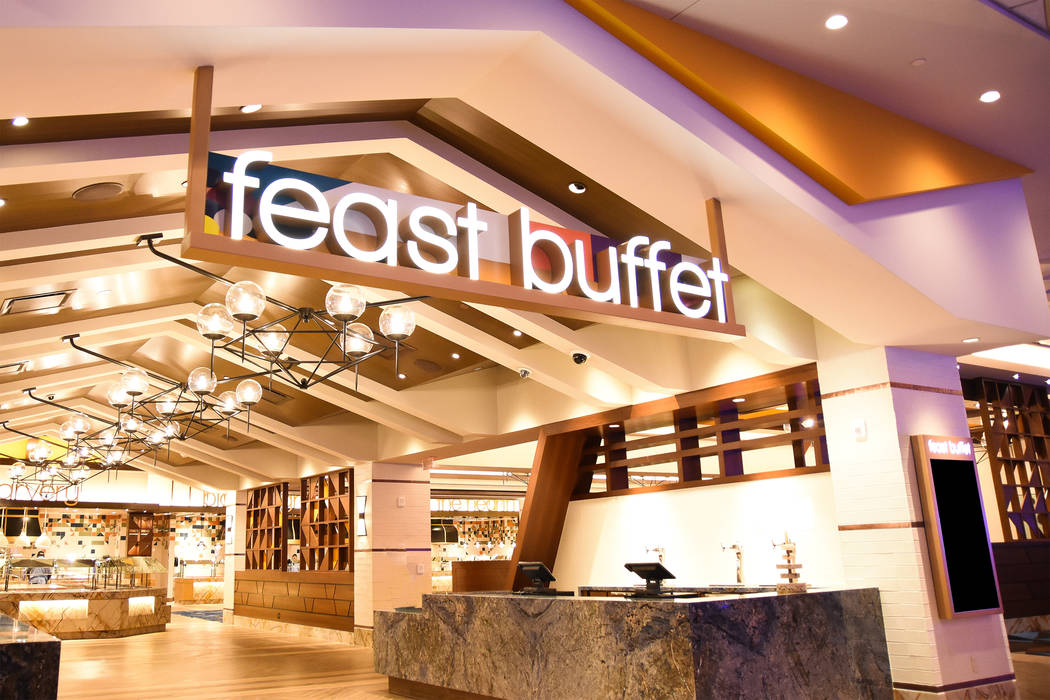 The new Feast Buffet at Palace Station began serving customers Tuesday, three days earlier than expected. According to a spokesperson for Station Casinos, the decision to stage the surprise soft opening was made because, "We were ready to roll."
The new 14,000-square-foot buffet is located on newly expanded casino floor, which is part of an ongoing $192 million renovation. It's inspired by the recently opened A.Y.C.E. buffet in the Palms, with its serving stations (The Hearth, Wok This Way, Blazing Grill, Health Favorite, The Carvery and Just Desserts) based around cooking techniques rather than the more traditional divisions by ethnicity. Breakfast, lunch and dinner options range from pizzas, pancake poppers and stuffed crescent rolls to Asian noodle salads, pork belly and spam fried rice. Deserts include sweet treats such as s'mores bites, doughnut ice cream sandwiches, caramel and candy apples, funnel cake and gelato.
The Feast Buffet seats 394 guests. It's open for breakfast, lunch and dinner Mondays through Saturdays, with breakfast from 8 to 11 a.m., lunch from 11 a.m. to 4 p.m. and dinner from 4 to 9 p.m. On Sunday, brunch will be served from 8 a.m. to 4 p.m., followed by dinner from 4 to 9 p.m. The introductory pricing is $6.99 for breakfast, $8.99 for lunch and $12.99 for dinner for Gold, Silver, Platinum or Chairman level Boarding Pass members, and approximately $4 to $5 more for diners without player's cards.
Contact Al Mancini at amancini@reviewjournal.com. Follow @AlManciniVegas on Twitter