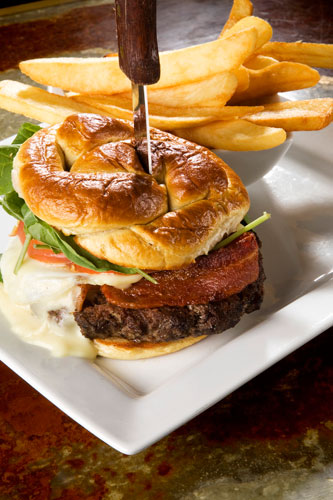 Although it is inside the O'Aces Bar & Grill, 9050 W. Post Road, The Paparazzi Grill does not focus on bar food.
Executive chef Jay Webb, who co-owns the restaurant with his wife, Monica, describes the menu as "casual modern American cuisine with personal takes on traditional food." Many dishes are named after movies, and no item on the menu costs more than $16.
While in the same building as the bar and grill, Paparazzi is separated by a glass wall and is smoke-free. It opened in April with the goal of "serving food that the entire family will enjoy," Webb says.
"As newcomers to Las Vegas, we are eager to become involved in our community," he adds. "The Rotary and the Lions already meet here and we'd like to work with other organizations and charities. We want people to have fun here."
The decor in the high-ceilinged room is airy with light wood furniture accented by geometric wood art on the walls. The restaurant seats 70 people and there is a private event area that can accommodate as many as 40 people.
House specialties and small plates: shrimp and grits ($15); braised short ribs with wild mushroom risotto, red wine sauce ($14); lobster mac 'n' cheese ($16); roasted chicken and mushroom pasta ($10)
Breakfast: two eggs with hash browns, bacon or sausage, and toast ($8); BLT omelet ($10); buttermilk pancakes ($6); Phoenix omelet, green chili pork, roasted poblanos, salsa verde, queso fresco ($10)
Appetizers: chicken wings, hot, medium or mild ($9); haywire, deep-fried haystack potatoes, topped with fontina, bacon, green onion and truffle oil ($7); homemade jumbo soft pretzel with spicy mustard or cheese sauce ($4)
Soups and salads: soup of the day ($4 cup; $6 bowl); wedge salad, Caesar salad ($8 each); chophouse salad ($10)
Sandwiches: Ricky Ricardo, green chili pork, ham, mustard mayo and pickles on a bolillo roll ($9); meltdown, Angus beef patty, caramelized onion, cheddar, Thousand Island dressing on Parmesan-crusted bread ($11); grilled cheese on Parmesan-crusted sourdough ($7); BLT ($8)
Specialty burgers: Pulp Fiction comes with bacon, arugula, tomato and an over-easy egg with fontina cheese sauce ($10); Tombstone, topped with homemade bourbon barbecue sauce, longhorn cheese, peppered bacon, battered onion rings ($11); Desperado, with habanero Jack, roasted peppers, salsa verde, guacamole and pico de gallo ($10)
Pizza and calzones: Casino Royale pizza with roasted garlic, bacon, clams and fresh mozzarella; Italian Job with roasted garlic, roasted tomatoes, artichokes and fresh mozzarella (each $11); Jurassic Park stromboli, a blend of cheese, sausage, pepperoni and bacon in homemade dough served with red wine sauce ($12); cheese calzone ($8)
Desserts: homemade pecan pie or New York-style cheesecake (each $6)
Children's menu: grilled cheese with fries or coleslaw, 7-inch cheese pizza, burger or cheeseburger with fries, chicken tenders, cheese crisp (quesadilla). (Each is $5 and includes a drink)
Information: 417-1812