Pasta, power dining and gorgeous views: Panevino looks back on 20 years
Updated March 24, 2023 - 11:52 am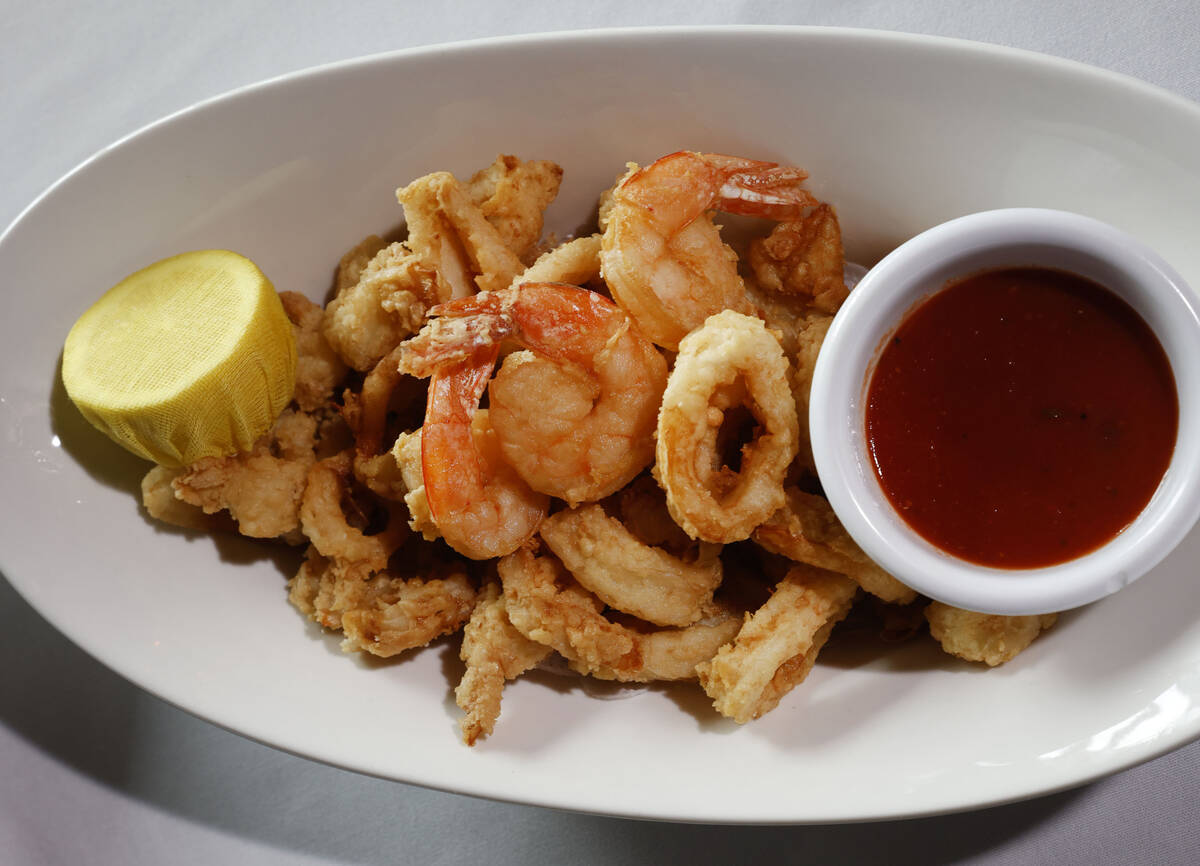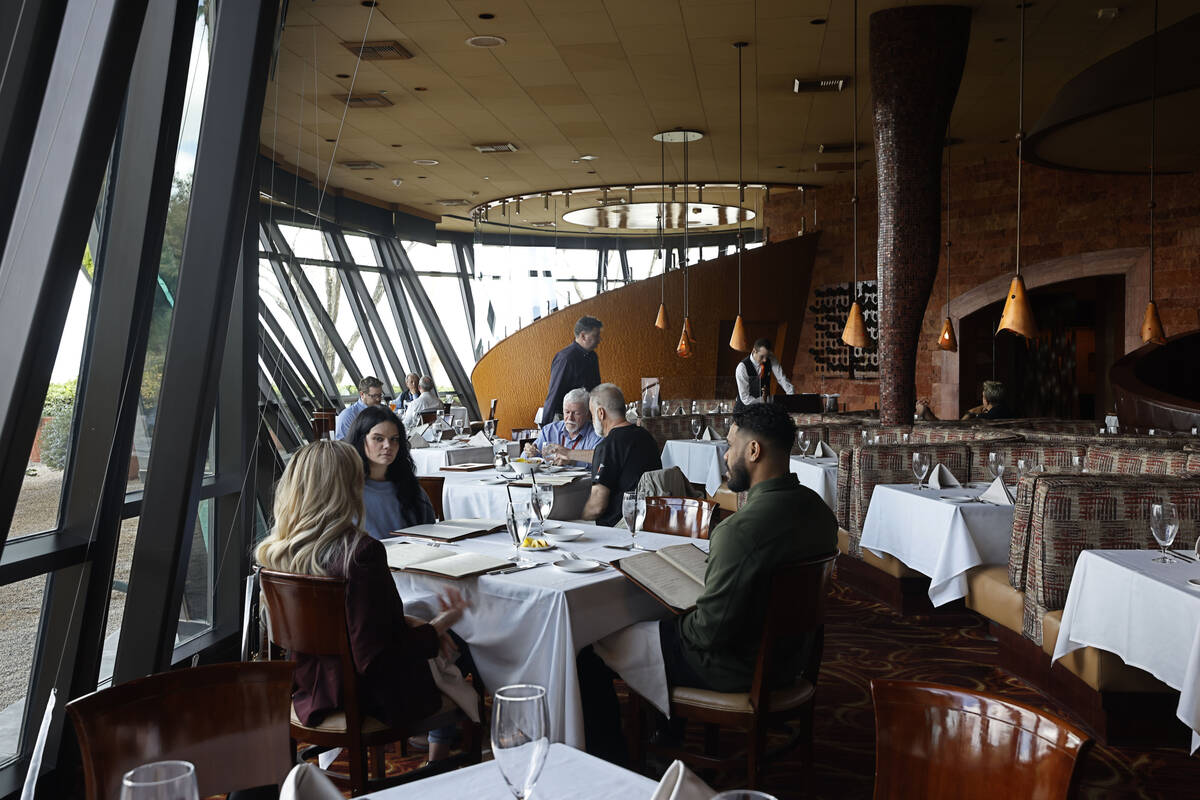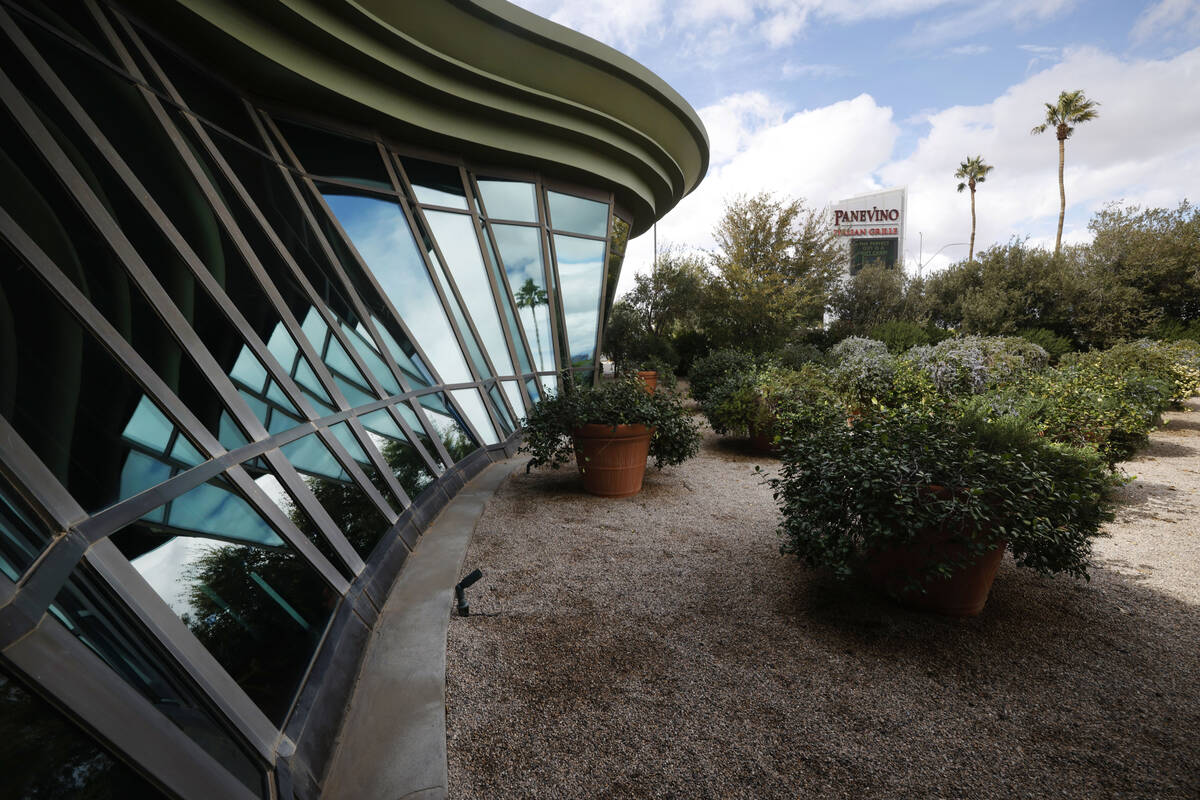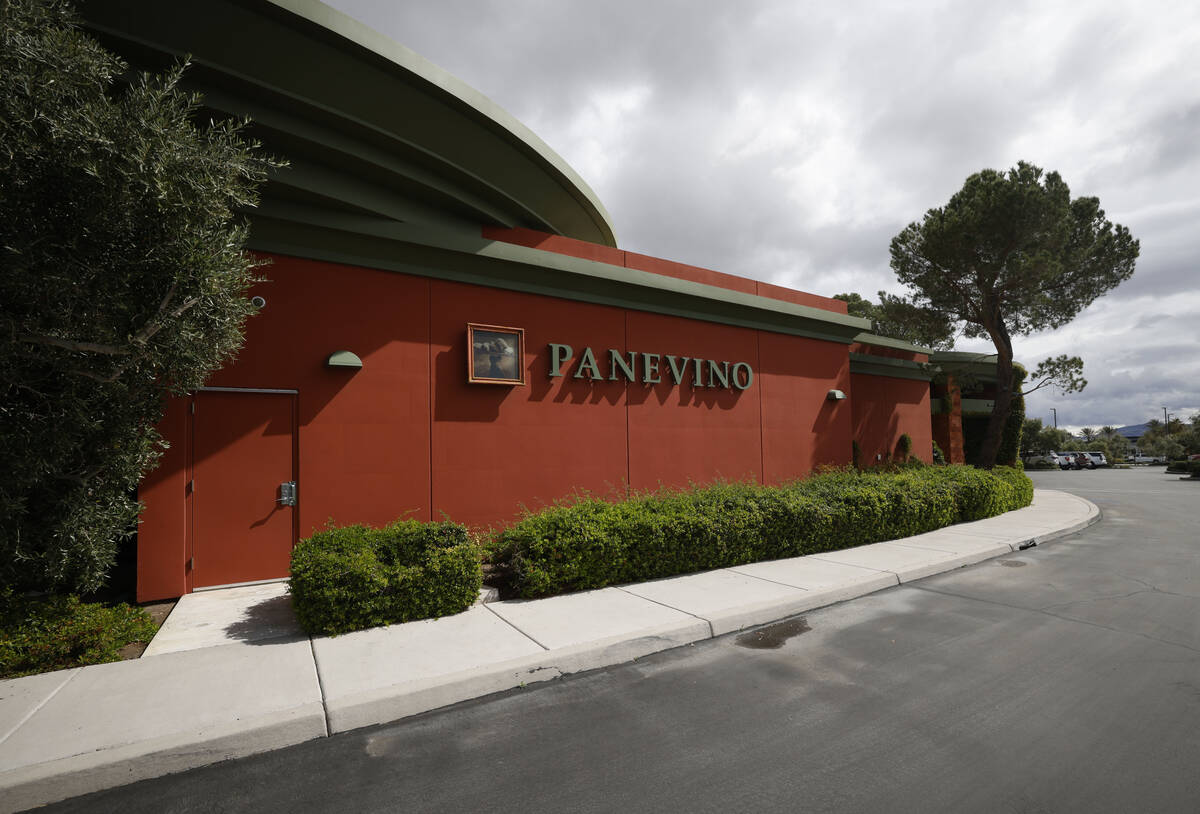 Even in Las Vegas, a city of visually striking restaurants, Panevino Italian Grille cuts a bella figura.
There are the 15-foot triangular panes of glass, interlocked at a 15-degree incline to form a sinuous expanse of window framing views of the airport and the Strip. A stacked cornice flows above the glass. Ivy mantles swatches of the exterior, and a trio of pines soars in the circular courtyard entrance.
Inside, Panevino encompasses 24,000 square feet, with lofty 15-foot ceilings; clusters of amber teardrop fixtures; lounges convening marble, dark wood and leather; an owner's dining room with fireplace and private bath; a mega-booth (big enough to play table tennis) for large parties; and a wrought iron screen — a profusion of grapes and tendrils — partitioning the dining room from a kitchen capacious enough to feed a cruise ship.
At night, because of the 15-degree angle, the curving windows do not reflect the interior lights of the restaurant. Instead, the windows afford a sweeping view of effulgent casino colossi unfurling their colorful neon.
In December 2002, when Panevino opened, it was a restaurant pioneer in the area developing south of the airport. Today, as it celebrates passing the 20-year mark, Panevino has become a Vegas institution, showcasing the Italian standards, cosseting service and sumptuous setting that have made it beloved, while also embracing changes in the ways people dine out.
"We're not afraid to experiment, but we stay within the bounds of quality and tradition and recipes," said Tony A. Marnell II, founder and chairman emeritus of the Marnell Companies and the creator and builder of Panevino.
"At a certain point, you become an institution. The secret is to keeping things an institution."
Becoming a Vegas icon
Around the turn of the century, after selling the Rio, Marnell began building the office park in which Panevino (and the Marnell Companies) now sit.
"There wasn't a real place to eat out here 20 years ago," Marnell, a registered architect in 25 states and D.C., said the other morning in his office with high ceilings, lush pile and a baronial desk set with rolled architectural plans. (There are presidents of countries with less impressive offices.)
"We thought, 'Let's build a restaurant that's open for lunch and dinner and also have a deli so a lot of employees who work in the park and in the area have the same quality food for takeout.' "
The restaurant would be Italian, in keeping with Marnell's heritage; architecturally distinctive, in keeping with his training; and it would harness the splendid view.
"No one would ever build on the airport, so we would always have a clear view of the skyline," Marnell said.
The debut of Panevino tracked with a shift in business dining in Vegas. "We all used to meet on the Strip for lunch, but the hotels got so big and so crowded, we kind of got pushed out," Marnell said.
With that shift, with the restaurant near the confluence of two freeways, and with visitors increasingly seeking out restaurants off the Strip, Panevino became one of the city's power lunch spots and dinner destinations.
But for the first third of its life, the restaurant struggled, Marnell said, before coming into its own. "There's just this one. It's home."
Menu standards
Vincenzo Granata, a native of the Puglia region of Italy, is general manager of Panevino. He is vastly charming; his beautifully fitted suits might have been cut by lasers. He arrived at the restaurant a year after its 2002 opening.
Mario Andreoni, whose impressive resume stretches from Cipriani in Venice (his hometown) to the Crillon in Paris to the Strip, has been executive chef since March 2009. Together, they lead 80 employees in keeping Panevino, Panevino.
"Our agreement, when Chef and I met, we agreed to work with and for the guests," Granata said. "The way in which you make people feel when they come to eat. It's not just sit down, slam a plate of pasta and move on. How can I genuinely cater to you?"
That pasta is freshly made, and lemon linguine with blackened shrimp is the No. 1 seller at Panevino. Other mainstays range from the Andrea salad (named for Marnell's wife) with romaine, cannellini beans and jabs of radicchio to fried calamari and shrimp Antonio with spicy tomato sauce to a tangle of tagliatelle with short ribs braised in red wine.
The specials might feature squid ink pasta with shrimp. And there are several plant-based dishes, including spinach ravioli stuffed with tofu "ricotta," that draw on Granata's expertise in plant-based nutrition.
"A segment of the clientele was asking for it, so as a business, we saw it as a way to get these guests in," Granata said.
It tastes as it should
Still, a fundamental classicism fuels Panevino.
"Our job is to deliver consistency every day. This is what people are looking for. The confidence they can have a great dinner one evening and three weeks hence," Andreoni said.
"We don't do all the frou-frou. You come in, I give you a piece of veal, a piece of chicken, it tastes like a piece of veal, a piece of chicken. You can taste the quality. We're lucky to have him," Andreoni continued, referring to Marnell. "He believes in quality. He loves Panevino. It's his baby."
Not a gimmick
It has become the fashion in the restaurant business, and in the hospitality trade in general, to tout immersive experiences, a hugely gimmicky term (like curated) that often means nothing more than a meal with art and a soundtrack.
Consider, by contrast, one recent evening at Panevino. There is the weave of imported napkins, spread across laps. The aroma of puffed balloons of housemade bread. A view of the glittering Strip. The rich savor of pappardelle with wild boar. The clink of crystal, the hum of conversation, the gush of laughter.
Now, that is an immersive experience.
Contact Johnathan L. Wright at jwright@reviewjournal.com. Follow @ItsJLW on Twitter.