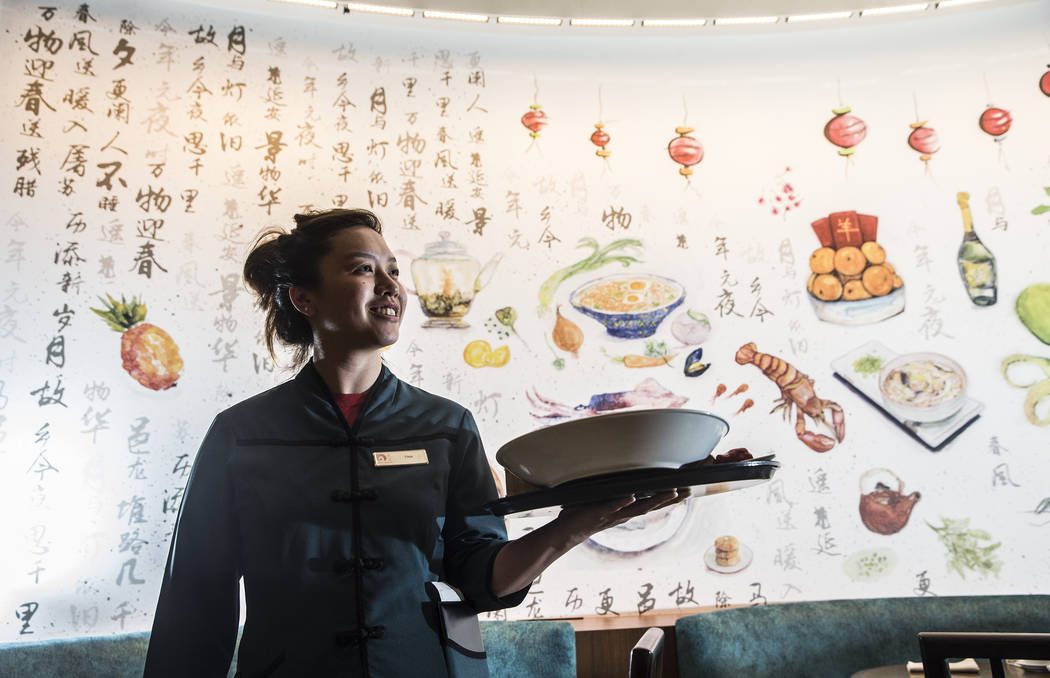 Chinese restaurants in general and dim sum spots in particular have matured in this country, the black-lantern and red-wallpaper set giving way to a streamlined, more contemporary look and the little dishes becoming more commonplace and approachable. Both evolutions are exemplified by the new-last-year Lucky Dragon resort, just west of the Strip.
The Lucky Dragon's hot spot for dim sum is the Pearl Ocean restaurant, which revels in the cuisine — at least, hewing to tradition, during the early part of the day. The fact that carts aren't employed is understandable if only for the fact that Pearl Ocean offers nearly 100 dim-sum dishes, some including seafood from the restaurant's tanks (although the selection is much slimmer at dinner). There's a little bit of charm lost in ordering off the menu instead of choosing from a cart, but the trade-off is a much greater range of options that arrive uniformly hot and fresh.
A selection this broad sets up an expectation for variety, and that especially plays out when it comes to texture. Consider the ethereal nature of the rice crepe wrapper of the Mongolian beef rice roll ($8.88, and you'll notice lucky 8's in the prices), six strips of whispery dough wrapped around a slightly spicy filling of lightly sauced beef with lots of crunchy red and green bell pepper bits.
At the other end of the spectrum was the veggie and pork tofu skin wrap in oyster sauce ($6.88). Tofu skin — the film that's skimmed off in the tofu-making process — has an extremely chewy texture. The filling in this case was heavy on scallion tops with maybe a little cabbage and the oyster sauce played off it nicely, but the tofu skin was the star, as it should be.
And then there were the in-betweens. The barbecued pork buns ($5.88), with their typically spongy nature, were filled with a traditional preparation of finely cut char siu. Far less commonplace were the pea-shoot and shrimp dumplings ($8.88), their relatively delicate wheat-flour wrappers enclosing firm, medium-sized crustaceans, their brininess offset by the springlike flavor of the shoots.
Many dishes will appeal to those seeking traditional and authentic fare, as well as those seeking more familiar American restaurant-style options. Most, like the Five Guys Xiao Long Bao ($12.88), will likely appeal to diners on both ends of the spectrum. Five soup dumplings, the wrappers in different colors and flavors crossing culinary borders, sit atop slices of carrot in little dishes within a bamboo steamer — the soup-filled pillows were a feast for the eyes as well as for the palate.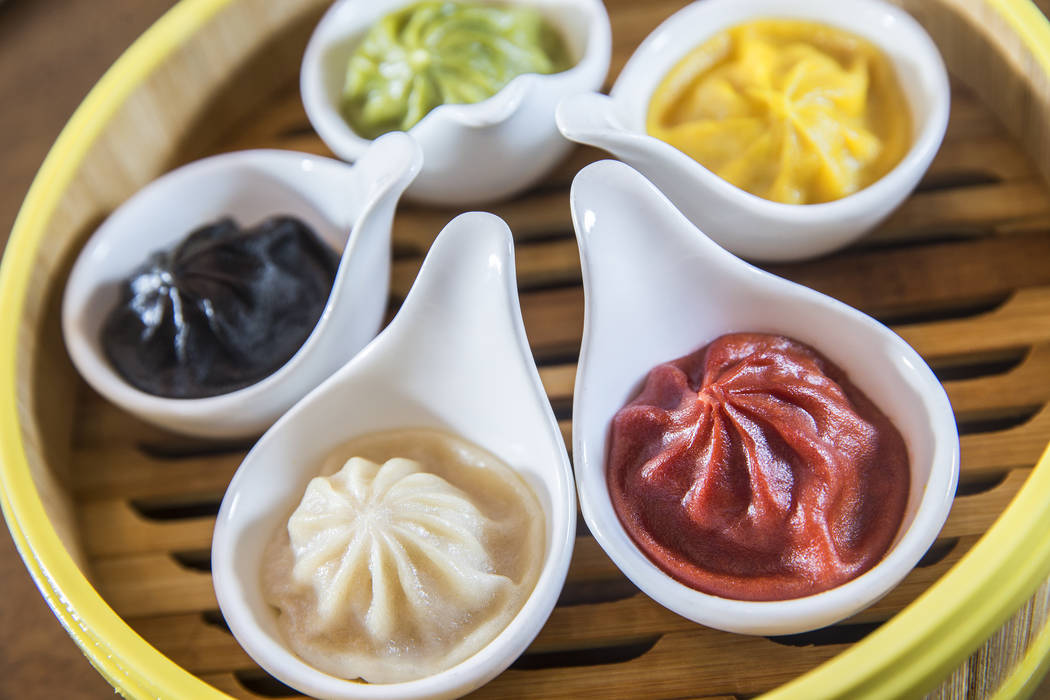 Five guys xiao long bao. Benjamin Hager Las Vegas Review-Journal
For example: Black squid-ink skin enclosing a filling subtly flavored with black truffle. Yellow turmeric skin with a poppin' crab-roe filling. Bright red beet skin with a savory filling that truly elevated beets. Green spinach skin, with a filling that could give kale a good name. And the least interesting but still appealing white flour skin, with a classic pork filling.
Service was smooth and professional, but brings up a caveat: Just like cart-service delivery, these dishes (and their accompanying sauces) come out as they're ready. No problem there, but if everything's ordered at once, those sweet steamed egg custard golden bao ($4.88) may not be timed to end the meal if that's intended, so it's best to order later.
One bit of reassurance for those who like to order from the cart by sight: The dim-sum menu has photos of many of the dishes. Keep it handy (no objection from the server) and you can refer to it to figure out what's what if you miss the runner's rapid-fire delivery.
Besides, you can take it home, and then it'll remind you that Pearl Ocean's dim sum is laudable both for its quality and variety.
Las Vegas Review-Journal restaurant reviews are done anonymously at Review-Journal expense. Contact Heidi Knapp Rinella at Hrinella@reviewjournal.com or 702-383-0474. Follow @HKRinella on Twitter.
Pearl Ocean, Lucky Dragon; 702-579-1287
The essence: Dim sum sans carts, but with a menu with lots of variety — and exceptional quality.