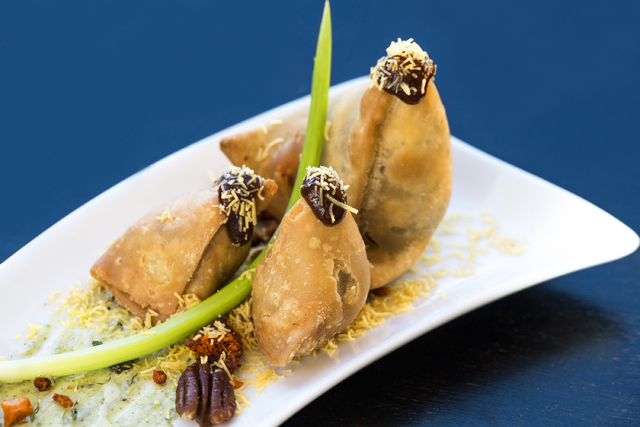 Lost Bread
Standard & Pour
This take on pain perdu starts with cinnamon-roll bread and adds maple icing and toasted pecans, $8.
Chocolate Pecan Hand Pie
The Perq, SLS Las Vegas
Chocolate chips and pecan pieces are enfolded in a buttery pie crust, $4.75.
Potato samosa
Urban Turban
Mashed potatoes are mixed with pecans, onions, spices and green chili, stuffed into a flour shell and topped with mint chutney $8.
Pecan pie
Delmonico, The Venetian
This version of the classic has an oatmeal shortbread crust and is topped with vanilla ice cream and caramel sauce, $11.
Apple-pecan tart
DB Brasserie, The Venetian
Cookie batter cheesecake and vanilla poached apples are gilded with cinnamon crumble caramel sauce and butter-pecan gelato, $12.
If you have suggestions for On the Menu, please contact Heidi Knapp Rinella at hrinella@reviewjournal.com. Find more of her stories at www.reviewjournal.com and follow @HKRinella on Twitter.