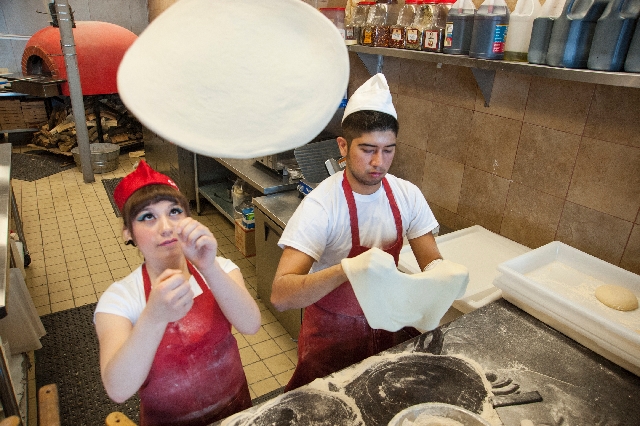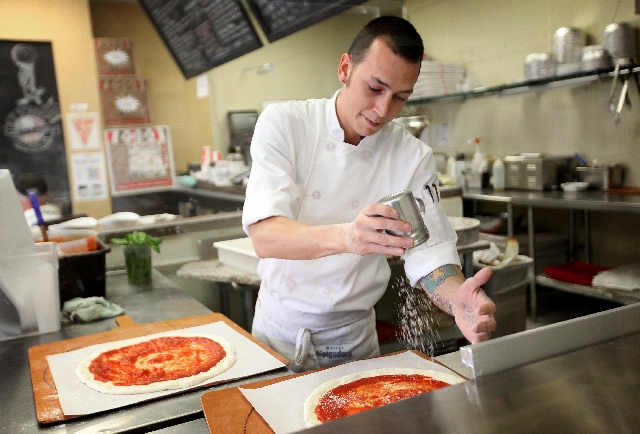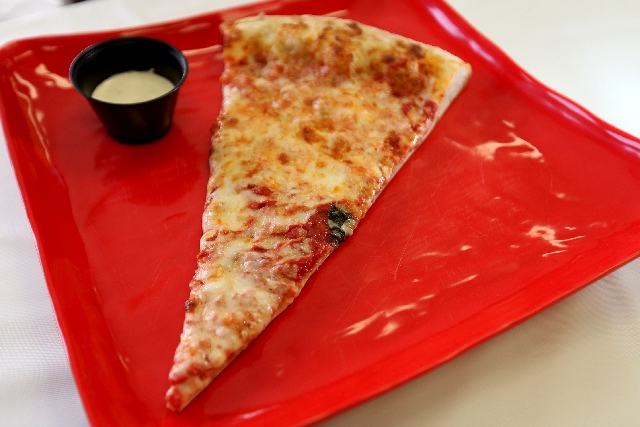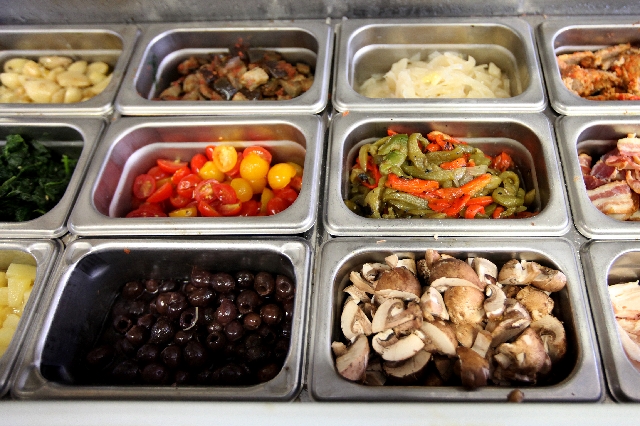 When Brad Otten opened Settebello Pizzeria Napoletana in late 2005, his was sort of a lone voice in the wilderness. Sure, there were plenty of pizzerias in Las Vegas, but Otten's was the only one that clung to the traditions of pizzaolos in Naples, Italy, the birthplace of the pizza.
"When we started, as far as authentic Neapolitan-style pizza, there were only like 10 in the United States," Otten said. "It was a totally new concept for anyone who hadn't been to Italy, or Naples, specifically."
That means he imports many of his ingredients, including flour, tomatoes and some meats and cheeses, from Italy. The pizzas are cooked in a wood-burning oven at about 850 degrees, which creates a bit of black charring on the dough. Originally the pizzas were left whole, cut only by request, although today customers are offered a choice, and about 75 percent want their pies cut. It also means no pepperoni, which isn't an authentic ingredient.
In the early days, Otten found himself explaining that, no, this wasn't the "real" pizza his customers had grown up with, but was indeed "real" — as real as it gets. And seven years later, that largely has changed.
"A large majority now of our customers who are coming in for the first time have already been prepped by our regular customers," Otten said. "They come in knowing what they're going to get, which is a lot easier than people who have no clue what they're about to be served."
In the ensuing years, Otten has moved the original Settebello to Green Valley Parkway, opened in Salt Lake City and in Pasadena, Calif., and plans a west valley location at Sahara Avenue and Fort Apache Road late this summer. Settebello remains the only pizzeria in the valley that has the VPN sanction of the Italian government — for Vera Pizza Napoletana, or real Neapolitan pizza. But it has recently been joined by a number of others that are creating artisan pizzas.
First, let's define "artisan."
"It means so many different things to so many people," said Giovanni Mauro, chef/owner of Old School Pizzeria on Craig Road. "To me, artisanal pizza means no use of modern quick-fix techniques."
But while the artisan pizza-makers do things the old way, they each seem to have their own specialization.
Marc Sgrizzi, owner of Parma Pastavino & Deli, opened Novecento on Centennial Center Boulevard late last year. While he hasn't tried for a VPN designation, he said his pizza follows those standards, which he learned while working in a pizzeria called Da Michele in Naples, Italy. And like Otten in the early days, Sgrizzi said, "I have to do a lot of explaining.
"This is so different from what we grew up with," he said. "I, myself, enjoy a Chicago and a New York pie." But those are quite unlike what he serves at Novecento.
"It cooks quickly in the wood oven," which is heated to 900 degrees, Novecento meaning "nine hundred," Sgrizzi said.
"It's an Old World idea," he said. "Why doesn't it stand up like a New York crispy pizza? Because it's a soft dough," with a "wetter" feel.
Sgrizzi also speaks of the "leopard effect," the spots formed in the wood-burning oven.
"That's the charm you get in the dough," he said. "That means you're cooking at 900 degrees. You've got to be turning the pizza pretty quick."
While Settebello is a table-service restaurant, Novecento has counter service.
"You walk up to the counter, like Quiznos or Subway, and we're stretching our dough," he said. "You pick your ingredients, and we suggest only three. If you put too much on this pizza, it won't develop in such a fast time."
Due Forni on Town Center Drive, a table-service restaurant that recently opened an outlet in Austin, Texas, has two ovens; that's the translation of its name. Co-owner Alex Taylor said he really didn't plan it that way, that Steve Wynn actually prompted the second oven.
At the time, Taylor said, he was working for Wynn, while thinking about opening his own restaurant serving Neapolitan-style pizza. And then he and the boss were discussing the Encore restaurant that eventually became Sinatra. As they talked, Wynn made it clear that he hated Neapolitan pizza; he said he liked a crackery crust, which is Roman-style.
Since the pizza show was going on, Taylor asked the manufacturer of the oven he was buying for his new restaurant to send over Neapolitan- and Roman-style pizzas, both prepared Margherita style with just cheese, basil and tomatoes. Wynn tried the Roman style first. His reaction?
" 'This is what I'm talking about,' " Taylor remembers the casino magnate saying. "That's what he wanted. He didn't even bother trying the Neapolitan."
The incident might've been forgotten if Taylor's mother hadn't weighed in.
"That was such a fortuitous conversation," he said. On the phone to his mother, he told her the Wynn story, and she said she was in total agreement.
"I started talking to more and more people," he said. "There are some people — shocking to me, because I love it — who really hate Neapolitan pizza."
He talked to partner Carlos Buscaglia about maybe doing both kinds. They would have to have two ovens, because Roman pizza is baked at lower temperatures. Due Forni was born. (And here's a bit of interesting trivia: Roman pizza is baked at 500 degrees for 3 minutes, Neapolitan at 900 for 90 seconds; "You want that longer cook time to dry out the dough" on the former, he said.)
Buscaglia pointed out that if they also had a 500-degree oven, they could do more with it than just bake pizza.
"What really makes us unique isn't just the two ovens, it's that we do all this other incredible stuff with it," he said, like cooking gnocchi and meatballs.
And Taylor and Buscaglia are purists in their own way, too.
"I could save probably $3,000 a month just by using American buffalo mozzarella," Taylor said. "We use Italian, because (American cheesemakers) just can't replicate that acidity. We use Roman artichokes, because they really, truly are the best. We use Taggiasca olives, from Liguria, because they're like little pieces of candy. We don't do it just to say we do it, but because they're the best."
Mauro is a purist, too. His sauce gets almost all of its flavor from — surprise! — the tomatoes.
"All you have to do is find a company that handles the tomatoes well," he said.
But he's especially a purist when it comes to yeast. Mauro thinks he's the only pizza-maker in the valley who uses the natural stuff.
Commercial yeast, he said, is called brewer's yeast, because that was the reason for which it was developed. He said it only has one strain of yeast, and doesn't do a good job maturing the dough.
"Everyone talks about fermenting and rising the dough; no one talks about maturing the dough," he said. In maturation, he said, the gluten strands relax, which makes it more digestible.
"A hundred years ago, no one had problems with gluten," he said. "It's the fault of us in the industry."
Commercial yeast, he said, works more quickly and "makes tall and beautiful products."
"We're making a loaf of bread in four hours, where it used to take our ancestors four days," Mauro said. He uses a natural leavening with upward of 20 strands of yeast, which does more than just make it digestible.
"We've known yeast affects flavor for a long time," Mauro said. "That's why the yeast that is natural to San Francisco — it's no accident that it was actually named after the city — makes a more acid-type dough. That's why San Francisco sourdough is intrinsically more acidic than other sourdoughs."
Mauro uses a starter that came from apricots from Quail Hollow Farms in the northern part of the valley. He started it about eight years ago, when he owned Nora's Wine Bar.
"It's wonderfully nutty, but very acidic," he said. "A couple of years later, I added a little mother culture from the (Italian) island of Ischia. And that balanced it out perfectly for me."
Mauro and his staff feed the starter three times a day ("They're like my little pets," he said. "Most people have dogs and cats; I have a couple billion yeast cells.") Then the biga, the prefermentation process, takes 48 hours.
"And then when I make the dough, the dough is retarded for 72 hours," he said, extending the process to five days.
"To me, that is artisanal," he said. "It's a whole different mind frame. It goes back to my firm belief in slow food. If you go too fast, you're not going to make a product that's good for us."
The artisan pizza-makers' dedication to doing things right, Taylor said, is reflected in the growing sophistication of local restaurant customers.
"There's a really good basis of food knowledge, and you can see it with what's opening," he said. "We're not there in critical mass, but we're very close."
And Otten, the pioneer, said he welcomes the competition.
"The more people who are out there trying to create a quality product, I think it helps us all in the long run," he said. "We're all trying to do our own thing, and do it as well as we can."
Contact reporter Heidi Knapp Rinella at hrinella@
reviewjournal.com or 702-383-0474.