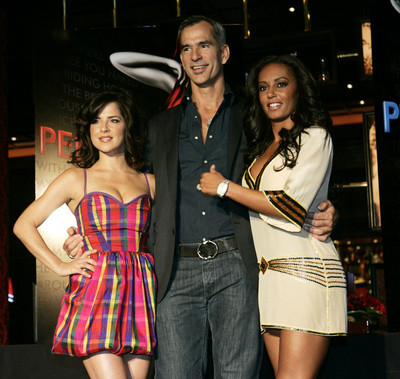 Little Bo Peep will be working the Strip with Little Red Riding Hood and Goldilocks next spring. But don't confuse them with "The Lion King."
These peeps are part of a new topless "Peepshow," one that cost $12 million and lets you peek at a "Scary Spice" and a "Dancing with the Stars" champion soap star.
Mel B. (Melanie Brown), and first season "Dancing" winner Kelly Monaco anchor the girlie show that launches March 30 at Planet Hollywood Resort, replacing "Stomp Out Loud." The burlesque-styled revue with 20 women, five men and a live band is the brainchild of Jerry Mitchell, director-choreographer of the Broadway hit "Legally Blonde."
"I love Vegas, but what's missing in Vegas for me is that sexual, adult show," Mitchell told reporters Tuesday. "A show that takes you on a journey, that introduces you to beautiful women (and) glorifies a beautiful woman."
The creators were a bit coy about how much of the two stars audiences will see. Monaco, who posed for Playboy in 1997, said she trusts Mitchell's tastes and will follow his lead. The one thing you won't see her do is sing, she says.
Brown will sing three original songs and several familiar ones. "Things start off fully clothed and then end up coming off in bits and bobs," she says. Asked how comfortable she was with that, she answered with a laugh, "Have you not seen my underwear line?"
However, producer Scott Zeiger of Base Entertainment says the degree of star nudity is "in the eye of the beholder," indicating some smoke and mirrors might be involved. "It's all about the tease."
Both stars are signed for 12-week stints, with the idea that different stars could rotate through show without having to make full-time career commitments.
Monaco says she will commute to Los Angeles, where she tapes "General Hospital" two days each week. Brown said she isn't opposed to the idea of living in Las Vegas.
"We'll see how things go," said the mother of two. "I am actually friends with Toni Braxton," who moved here for her Flamingo Las Vegas headliner run. "She's the one who said, 'Trust me, the schools out here are great for kids, and it's a really suburban life.' "
Mitchell handpicked both stars. Monaco will play "a modern, everyday woman" who falls asleep and dreams she is Little Bo Peep, led in her journey by Brown as the "Peep Diva."
"It's a very empowering story for women, as well as a sexy, hot story for men," Mitchell says.
Brown and Mitchell met on the "Step It Up & Dance" TV show. Mitchell "used to keep calling me for different Broadway shows, and I'd look at the show and say, 'That's not the right fit,' " she said. "And then he told me about this show, and I said, 'This sounds amazing. I want in.'
"I've always been on the racy side," she noted. When the Spice Girls performed in Las Vegas in December, "I got to get somebody from the audience and whip him with my whip. It was fun."
Contact reporter Mike Weatherford at mweatherford@reviewjournal.com or 702-383-0288.