Quick and creepy ideas for Halloween treats — PHOTOS
October 27, 2015 - 3:14 pm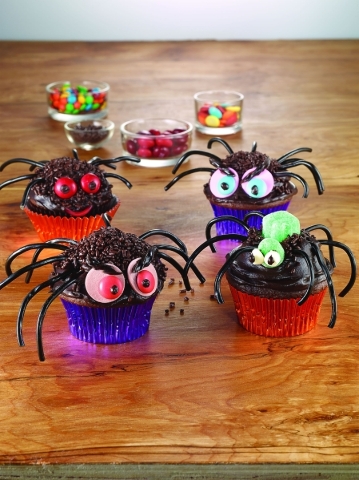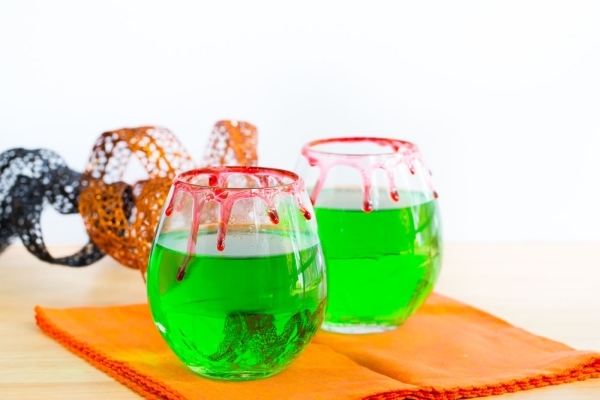 There's something about Halloween that tends to bring out the silly in the most staid of adults, not that there's anything wrong with that. Probably more than any other holiday season, it's a time when many of us — and especially the creative types — find ourselves giggling at the thought of molding brain-shaped cake pops, frosting witches' hat cookies and mixing up garishly colored punches, complete with floating frozen hands or surrounded by clouds of dry-ice-induced mist.
Some ideas require special equipment, and with Halloween just days away you'll have to scramble if you're looking for a cake pan that will produce skull-shaped cakes. But fortunately, you can have a lot of fun with Halloween treats while still keeping it fairly simple.
Debra Mitchell, executive pastry chef at Treasure Island, made tombstones for the resort's buffet from vanilla bean and cinnamon cake, covered in white chocolate, decorated with "R.I.P." icing and resting on a platform of cookie "dirt," complete with gummy worms. Mitchell said you can simplify further.
"If you have a basic sugar cookie, you can do so many things with that," she said. "Dip it in orange fondant or orange dipping chocolate and use candy corn for eyes and a nose. You can take that same cookie and before you bake it, dip it in those Halloween-colored M&M's, or dip it in candy corn and bake it."
Or frost a cookie, add concentric circles with icing and drag a toothpick between the circles to create a spider web. (The same idea works with soups, chili or anything else in a round vessel. Make the circles from sour cream or crema, again using a toothpick to create the webs.)
If you happen to have a mini-Bundt cake pan, Mitchell said, you can make pumpkin or apple cakes in them as a starting point.
"I'll glaze those in orange, and then you already have the natural likeness," she said. "Make a stem out of chocolate or fondant and then you can put a jack-o'-lantern face on it or sprinkle it with orange (edible) glitter."
For cocktails, Mitchell suggested taking lychees and, with toothpicks, attaching blueberries to one end. You can float them in a beverage or put them on skewers.
"Of course, you know all the hobby stores have so many cookie cutters — bat cookies, cats," she said. "If you did three nice Halloween cookies, like a bat, a cat and a pumpkin, and decorated them with dipping chocolate in different colors, you could make yourself a really nice cookie tray at home. Be creative with the colors and the eyes."
Joseph Passalacqua, executive pastry chef at Red Rock Resort, also suggests using decorative cookie cutters, but advises not to use the recipes that come with them. He likes to imbue his Halloween treats with seasonal flavors, and suggests using Halloween candies to decorate cupcakes, cookies "or anything you like."
Another idea form Passalacqua is shot glasses filled with gelatin.
"Before we put the gelatin in, we add some candy corn," he said. "It looks really nice floating up there. It's a whole different look. Or some little ghost candies, you can put them in there.
"Just keep it fun. When you go to any store, there's a whole bunch of ideas out there. Just make them your own."
GREEN LAGOON PUNCH
4 to 5 drops purple neon food color and egg dye
Clear clean disposable vinyl glove (nonpowdered)
Rubber band or twist-tie
1 bottle (2 liters) lemon-lime soda, chilled
1 can (12 ounces) frozen lemonade concentrate, thawed
1/4 teaspoon green neon food color and egg dye
To make the hand, mix 1 1/2 cups water and the purple coloring. Pour into glove and secure with rubber band or twist-tie. Place in resealable plastic bag and seal bag (to prevent possible leaks). Freeze 8 hours or overnight, until solid.
Just before serving, mix soda, lemonade concentrate and green coloring in punch bowl.
To serve, float hand in punch bowl. If desired, glove may be removed from the ice hand. The purple color will blend with the green punch.
To make red dripping rims for your glasses, mix 2 tablespoons light corn syrup with 5 drops of red food color and 1/4 teaspoon raspberry extract on a small plate. Dip rims of beverage glasses in corn syrup mixture to coat. Turn right side up; let stand 15 seconds to allow mixture to drip down glasses before filling with desired beverage.
Makes 10 1-cup servings.
— Recipe from McCormick & Co.
BEWITCHING BREADSTICKS
1 can (11 ounces) refrigerated breadsticks
4 to 5 drops food color
2 tablespoons sliced almonds
Pizza or spaghetti sauce
Separate and twist breadsticks as directed on package.
Squeeze 4 to 5 drops food color into small bowl. Dip individual almond slices into food color until each is coated. Press one dyed almond into one end of each breadstick to resemble a fingernail.
Bake as directed on package. Serve with your favorite pizza or spaghetti sauce for dipping.
Notes: Sprinkle Parmesan cheese onto breadsticks before baking, if desired. And wear disposable plastic gloves when dipping the almonds to avoid staining your fingers.
Makes 12.
— Recipe from McCormick & Co.
CREEPY CRAWLY CAKE TRUFFLES
1 package (2-layer size) white cake mix
1 teaspoon pure orange extract
1/2 teaspoon yellow food color
1/4 teaspoon red food color
1 cup marshmallow creme
White confectionary coating wafers
Black confectionary coating wafers
Semisweet baking chocolate (optional)
Assorted candies for decorating
Prepare cake mix as directed on package, adding orange extract and food colors. Bake as directed on package in a 13-by-9-inch baking pan. Cool completely on wire rack.
Crumble cake into large bowl. Add marshmallow creme; mix until well blended. Shape into 1-inch balls. Refrigerate 2 hours.
Melt coating wafers or chocolate as directed on package. Using a fork, dip 1 cake ball at a time into the confectionary coating or melted chocolate. Tap back of fork two or three times against edge of dish to allow excess to drip off. Place cake balls on wax-paper-lined tray.
Decorations:
Spider: Coat in black coating or melted chocolate. Add black string licorice for legs and red candy-coated pieces for eyes.
Ghosts: Coat in white coating to resemble ghosts. Add cut black jelly beans for eyes and mouth.
Vampire bats: Coat in black coating or melted chocolate. Use red candy-coated pieces for eyes, white tips of candy corns for fangs and cut-up licorice wheels for wings and ears.
Notes: For one batch truffles, you will need about 1 pound confectionary coating wafers or chocolate. Confectionary coating is used for candy making and coating. It is packaged in wafer form and is available in a variety of colors and flavors, including milk and dark chocolate. It is found in the cake decorating aisle of craft and party stores.
Makes 4 dozen.
— Recipe from McCormick & Co.
RED VELVET VAMPIRE CUPCAKES
1 package (2-layer size) red velvet cake mix
2 teaspoons pure vanilla extract
1 container (16 ounces) cream cheese frosting
Black food color
Black jelly beans, for eyes
Red gummy candies, for fangs
Prepare cake mix as directed on package, adding vanilla to batter. Bake as directed on package for cupcakes. Cool cupcakes on wire rack.
Divide frosting in half. Use half of the frosting to spread a thin layer on cupcakes. Tint remaining frosting black with 1/2 teaspoon black food color. Spoon frosting into small resealable plastic bag. Snip a small corner from bag. Pipe frosting in the shape of a widow's peak for the vampire's head. Pipe a line of frosting for the mouth. Use jelly beans for the eyes and gummy candies, cut into triangles, for the fangs.
Makes 24.
— Recipe from McCormick & Co.
— Contact Heidi Knapp Rinella at Hrinella@reviewjournal.com. Find more of her stories at www.reviewjournal.com, and follow @HKRinella on Twitter.