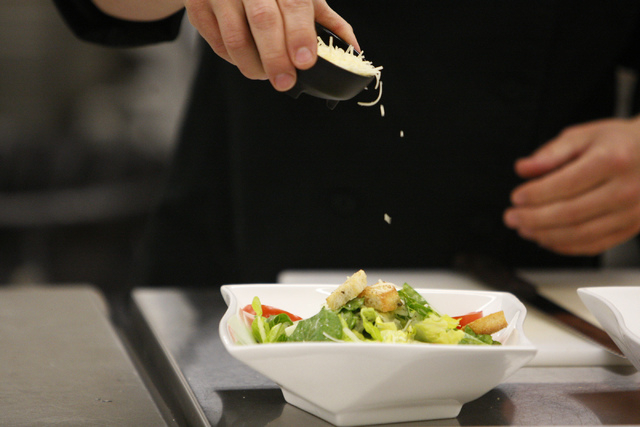 When life gives you goji berries, dinosaur kale and clotted cream — make money.
At least, that's what chef Phillip Dell, culinary instructor at Rancho High School, did on Food Network's "Chopped."
"Check out my chef!" Dell recalled his students putting on screen shots of him in the TV cooking competition, which aired May 2013.
"Battling it out in the Chopped kitchen," as host Ted Allen calls it, is exactly how viewers see it, said Dell of his first — but not last — televised food battle.
Allen announces the four mystery ingredients as the competitors open their baskets and race to beat the clock in preparing a winning dish in multiple elimination rounds.
"Time is ticking so fast, I'm so excited, I nailed it," Dell remembers thinking during the final minute of the entree round.
He was right.
One by one, the chefs were eliminated. Dell made it through the dessert round and won the competition with fruit salad and angel food cake croutons.
"And that means, Chef Phillip Dell, that you are the 'Chopped Champion,' " Allen told him.
He won the competition and its $10,000 prize.
"Outstanding!" the 25-year cooking veteran responded over the applause from judges Alex Guarnaschelli, Marcus Samuelsson and Scott Conant.
Dell recently returned to Food Network to compete again, this time on "Cutthroat Kitchen." The episode aired April 5.
The competition, as described by host Alton Brown, is "a game where sabotage is not only encouraged, it's for sale."
Chefs have just 60 seconds to gather ingredients for a dish ordered by Brown, which they must create under "ridiculous" circumstances, Dell says, as competitors bid on sabotages they place on their opponents.
He didn't come out on top that time. Instead, Dell was cut in the first round over an egg salad sandwich.
The making of it was sabotaged. Dell was forced to cook the dish using only paper utensils, while balancing his prep table with a much taller chef.
"I still made exactly what they asked," Dell later stressed to his students.
When he is not cooking on TV, Dell teaches culinary arts to high school students, who call him "super chef," in Las Vegas.
He taught about 20 aspiring chefs how to prepare a table-side Caesar salad Wednesday.
"Joking, entertaining always makes for a better presentation," he told students at the high school on Owens Avenue and Bruce Street.
But the work isn't all fun and games.
"He's, like, really serious when it comes to competing," said Tania Aguilar, one of Dell's students.
Win or lose, Dell is channeling his experiences into something positive.
His episode of "Chopped" featured chefs with inspirational weight loss stories and was titled "Cook Your Butt Off."
"Five years ago, I was 244 pounds," Dell said in his show introduction. He's since lost 92 pounds, he added.
Bullies in high school would call him "Fat Philly" or "the Phillsbury Dell Boy," he said on the show.
Now, he teaches high school students that just about anything can be made in a healthy way.
"My mission is to help people eat better, one bite at a time," Dell said.
Cooking under pressure, whether in a Food Network kitchen or a classroom, is not daunting to Dell.
"I'm a chef. Every day is like this."
Contact Kimberly De La Cruz at kdelacruz@reviewjournal.com or 702-383-0381. Follow @KimberlyinLV on Twitter.