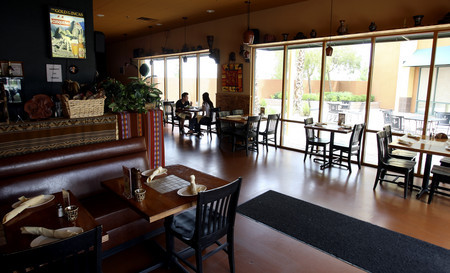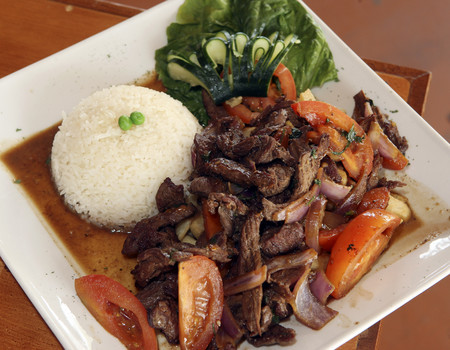 Newcomers who are unfamiliar with Peruvian cuisine will find the offerings at Mi Peru South American Grill different, yet comfortably familiar.
That, notes Raymi Mosca, is because Peruvian cuisine is built upon a roster of culinary influences that ranges from Japanese and Chinese to Spanish and Basque, Italian and French and British.
Mi Peru, 1450 W. Horizon Ridge Parkway, Henderson, opened about 11/2 years ago. Since then, owner Mosca says, it has been developing a clientele of both neighborhood residents and adventurous valley diners wishing to sample what, he notes, is an increasingly trendy cuisine.
Mi Peru's menu features about 40 items built upon such familiar foundations as beef, seafood and chicken, but accented with a decidedly South American flavor.
The wine list includes South American, Spanish, Peruvian, Chilean and Argentinian labels, while beer offerings include Peruvian and South American brands. The ambience, meanwhile, is given a distinct South American flavor via Peruvian DVDs that play on the TV, Peruvian music pouring from the sound system and souvenirs and decorative items Mosca obtained on trips to Peru.
Mosca is from Peru and had his own family restaurant there. While he worked mostly in real estate after moving to the United States, opening a Peruvian restaurant here "is something I've always wanted to do," he says. "I've always been close to food."
Mi Peru South American Grill (www.miperugrill.com) opens daily at 11 a.m., and closes at 9 p.m. weekdays and 10 p.m. weekends. The restaurant seats about 60, and reservations aren't required but are recommended, particularly on weekends.
Starters: Papa a la huancaina (boiled potatoes covered with aji cream sauce), $6.95; ceviche de pescado (whitefish marinated in lime juice and served with sliced yams, onions and corn on the cob), $11.95
Soups: Aguadito con pollo (chicken, cilantro, rice, diced potatoes, vegetables and Peruvian spices), $9.95; parihuela (fish, clams, shrimp, mussels and squid in a tomato broth), $14.95
Entrees: Lomo saltado (beef tenderloin sauteed with tomatoes and onions, served with french fries and rice), $13.95; arroz con pollo, $12.95; tacu tacu con lomo fino (beef tenderloin garnished with Peruvian-style beans and fried rice), $14.50; pollo a la brasa (rotisserie chicken marinaded in Peruvian spices), $18.95
Desserts: Passion fruit pie, Peruvian flan, alfajores (caramel sandwich cookies), all $4.95
Information: 220-4652
BY JOHN PRZYBYS