Readers offer enough hors d'oeuvres to feed a party
December 9, 2014 - 10:49 pm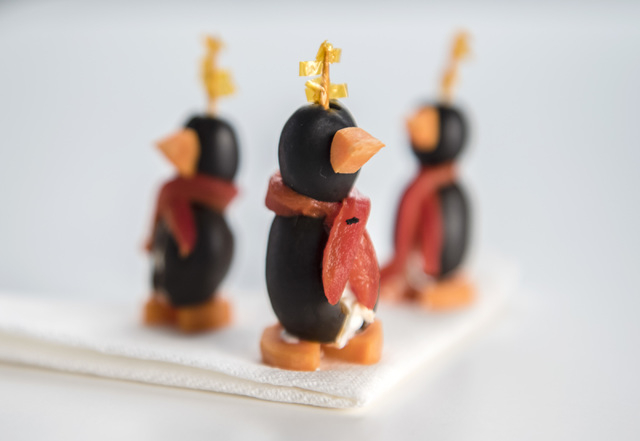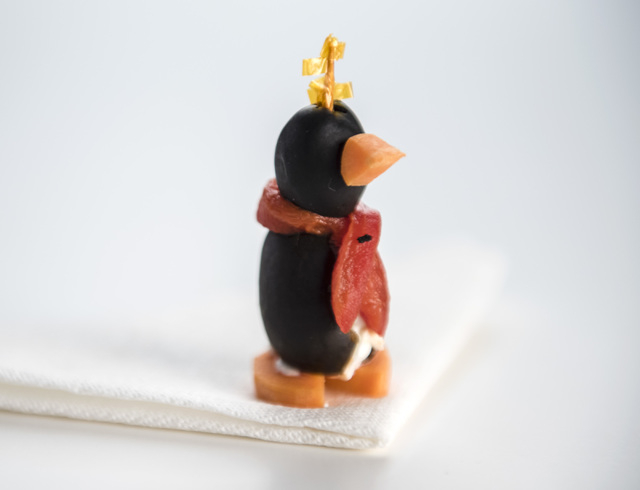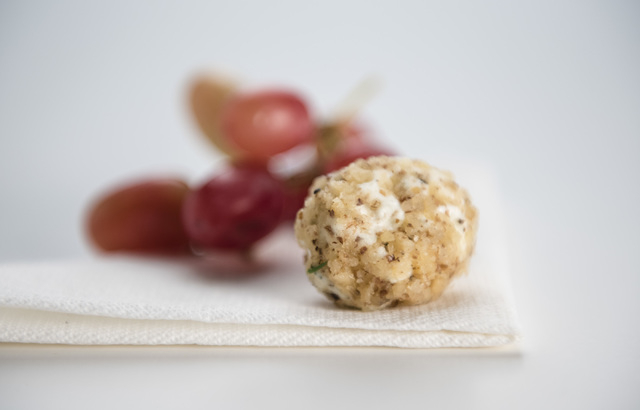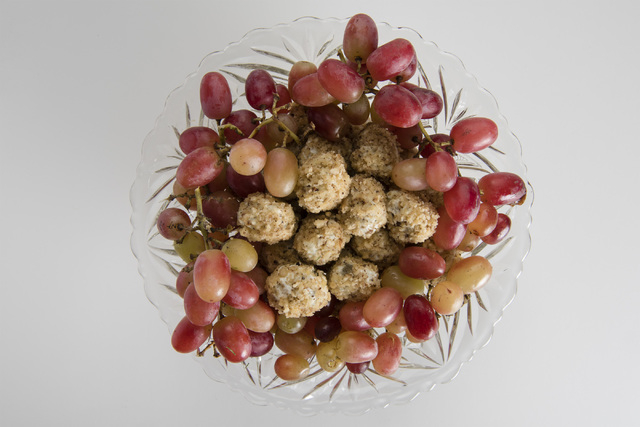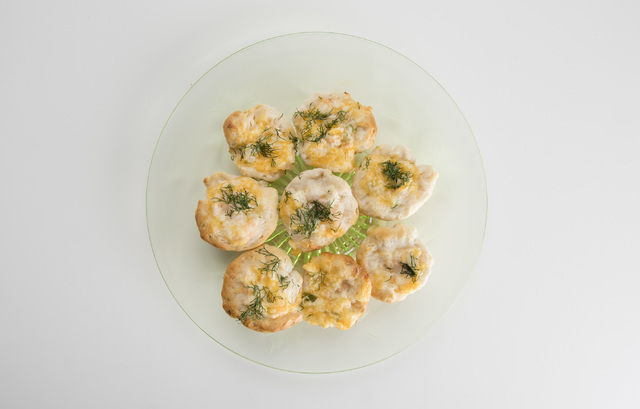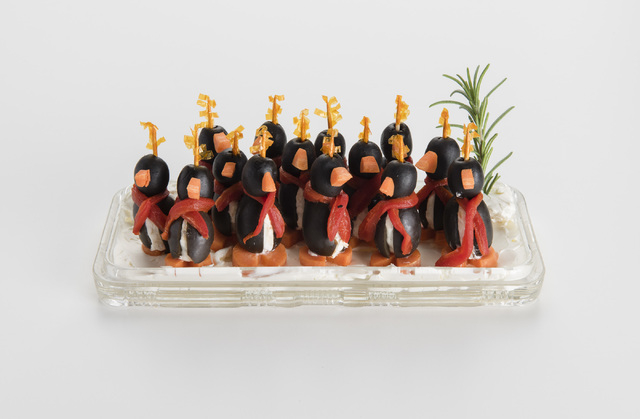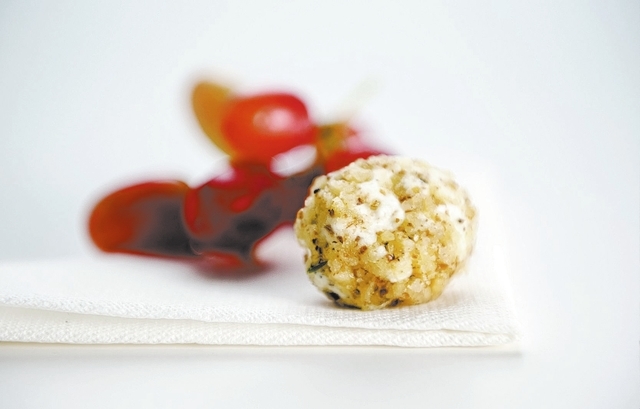 Wow. It appears Las Vegas Review-Journal readers are always up for a party.
Since it's the most festive time of the year, we asked readers to send us their favorite hors d'oeuvres recipes, and we got enough to satisfy a massive group of holiday partiers (or, if we save them for the Super Bowl, to feed a couple of football teams). We got recipes for dips and rolls and spreads and … well … penguins. Judges picked these mainly because of originality.
The drawing winner is Carol Jordan of Henderson, who gets a copy of "The Taste of Home Cookbook."
Party on.
BLACK OLIVE PENGUINS
1 can (about 6 ounces) jumbo pitted ripe olives
1 3-ounce package cream cheese, softened
½ teaspoon dried minced onion
¼ teaspoon prepared horseradish
1/8 teaspoon salt
Dash pepper
Dash garlic powder
1 medium carrot, cut into ¼-inch slices
12 small pitted ripe olives (from can of medium size)
12 toothpicks with cellophane frills (any color)
1 jar roasted red peppers
Cut slit in jumbo olives from top to bottom.
Combine next six ingredients in a bowl. Put into a pastry bag or small heavy-duty zip-top plastic bag and pipe into olives via the large hole in the bottom.
Remove a wedge-shaped piece of carrot from each slice and reserve. Take larger piece of carrot (for feet) and top with a jumbo olive, with large hole facing downward (body), and a small olive (head), all held together with a frilled pick inserted through olives into carrot. Use piece of toothpick to adhere wedge of carrot for nose, and drape a sliver of roasted red pepper around "neck" for scarf.
— Recipe (adapted) from Candace Rosiak, Las Vegas
GRAPES WRAPPED IN WALNUTS AND BLUE CHEESE
1 cup walnuts, finely chopped
6 ounces cream cheese
3 ounces blue cheese, crumbled
1 bunch seedless grapes, red or green
Put walnuts in shallow bowl. In separate bowl, blend cheeses together.
Press a thin layer of cheese around each grape, then roll in walnuts until evenly coated. Mound grapes on a serving dish and garnish with remaining grape clusters.
— Recipe from Doris Wilson, Las Vegas
SHRIMP PUFFS
1 small can refrigerated biscuits
1 cup shredded Monterey Jack cheese
1 scallion, white part and some green, chopped
½ cup mayonnaise
½ pound baby shrimp, cooked and peeled
½ teaspoon chopped fresh dill
Preheat oven to 350 degrees. Coat a miniature muffin tin with cooking spray.
Split each biscuit in half and place each half in a muffin cup, pressing it into the bottom and up the sides.
In a medium-sized bowl, mix the cheese, scallion, mayonnaise, shrimp and dill. Place 1 tablespoon of the shrimp mixture on top of each biscuit half. Bake for 20 minutes, or until the puffs are golden and bubbling.
— Recipe from Barbara Dill, Las Vegas (Source: Food Network Magazine)
BACON CHEDDAR DEVILED EGGS
12 eggs
4 slices bacon
½ cup mayonnaise
2 tablespoons finely shredded cheddar cheese
1 tablespoon mustard
Place eggs in a saucepan and cover with cold water. Bring water to a boil and immediately remove from heat. Cover and let eggs stand in hot water 10 to 12 minutes.
Remove from hot water and cool. To cool more quickly, run cold water over eggs.
Meanwhile, place bacon in a large, deep skillet. Cook over medium heat until evenly browned. (Alternately, wrap bacon in paper towels and cook in microwave for about 1 minute per slice). Crumble and set aside.
Peel eggs and cut in half lengthwise. Remove yolks to a small bowl. Mash egg yolks with mayonnaise, crumbled bacon and cheese. Stir in mustard. Fill egg white halves with the yolk mixture and refrigerate until serving.
— Recipe from Rosemarie McKie, Las Vegas
BACON-STUFFED MUSHROOMS
32 medium or baby portabella mushrooms
¼ cup butter, melted
12 slices bacon, cooked, drained and chopped
¾ cup mayonnaise
1 medium onion, finely chopped
1½ cups grated sharp cheddar cheese
Salt, to taste
Remove stems from mushrooms and brush caps with butter. Combine bacon, mayonnaise, onion, cheese and salt and use mixture to fill mushroom caps. Place on a baking sheet and bake in a preheated 325-degree oven for 20 minutes, until the cheese bubbles.
— Recipe from Michelle Casolari, Henderson
BAKED CRAB RANGOONS
1 1-pound can white crabmeat, drained and flaked
1 8-ounce package cream cheese, softened
2 green onions, thinly sliced, or more to taste
¼ teaspoon garlic powder
½ teaspoon reduced-sodium soy sauce
Freshly ground black pepper, to taste
12 wonton wrappers, or more (unused wrappers can be frozen for later use)
Preheat oven to 350 degrees. Mix all ingredients except wonton wrappers.
Place one wonton wrapper in each of 12 muffin cups sprayed with Baker's Joy or lightly oiled, extending ends of wrappers over sides of cups.
Bake wonton cups in a preheated 350-degree oven for 3 or 4 minutes, or until lightly browned (watch carefully so they don't burn). Fill with crabmeat mixture and bake a few minutes more, until filling is heated through (or heat the crab mixture in the microwave and fill wonton shells).
— Recipe from Paulette Juryn, Las Vegas
CHUTNEY CHEESE BALL
24 ounces cream cheese, softened
1 cup sour cream
1 cup raisins
1 cup chopped salted peanuts
8 slices bacon, cooked and crumbled
½ cup chopped green onion
4 teaspoons curry powder
Major Grey's chutney
Shredded coconut (optional)
Finely minced parsley (optional)
Combine ingredients up to chutney and shape into three balls. Refrigerate at least 2 hours.
Before serving, top with generous portion of chutney and coconut and/or parsley, if desired.
Serve with crackers on a separate plate.
Can be frozen as long as 3 months. Allow 2-3 hours to thaw.
— Recipe from Kerry Horcasitas, Las Vegas
CREAM CHEESE CRESCENTS
1 8-ounce can refrigerated crescent dinner rolls
1 8-ounce package of cream cheese, softened
Poppy seeds
Open crescent rolls, spread each with cream cheese and then sprinkle with poppy seeds. Roll as directed on package. Sprinkle with a bit more poppy seed. (Optional: Brush egg white on top of crescent rolls to make poppy seeds stick better).
Heat oven to 375 degrees. Bake 13 minutes or until golden brown.
— Recipe from Gretchen Malessa, Las Vegas
MUSHROOM BREADS
1½ jars real bacon bits
2/3 cup mayonnaise, or more if needed
6 ounces shredded Swiss
6 ounces shredded cheddar
6 ounces shredded Monterey Jack
3 to 4 ounces sliced mushrooms
1 tablespoon oregano
2 tablespoons fresh parsley, finely chopped
½ tablespoon rosemary
½ teaspoon pepper
Mix well and spread on small rounds of bread. Bake in a preheated 350-degree oven for 15 minutes or until melted and bubbly.
— Recipe from Rosemarie Iliano, Boulder City
OHIO NACHOS
3 cloves garlic, mashed into a paste
1½ cups heavy cream
3 ounces finely grated Parmesan
Kosher salt and freshly ground black pepper, to taste
1 13-ounce bag kettle-style potato chips
4 ounces crumbled blue cheese
1 tablespoon chopped chives
Preheat oven to 400 degrees. Bring garlic and cream to a boil in a 2-quart saucepan over high heat. Reduce heat to medium and cook, stirring, until sauce is thick, about 10 minutes. Stir in Parmesan and season with salt and pepper.
Pile chips on an oven-proof plate, drizzle with sauce and sprinkle with blue cheese. Cook until cheese is slightly melted, 5 to 7 minutes. Garnish with chives.
— Recipe from Ann Brown, Las Vegas (Source: Saveur magazine)
ONION AND CHEESE GRATIN
2 sweet onions, finely chopped
2 cups grated Swiss cheese
2 cups mayonnaise
Grated Parmesan cheese
Mix first three ingredients and put into greased shallow one-quart baking dish. Top with cheese. Bake in a preheated 300-degree oven for about 45 minutes.
— Recipe from Carol Jordan, Henderson
STUFFED ROMA TOMATOES WITH THREE CHEESES
10-12 large Roma tomatoes
1 medium red onion, finely minced
2-3 cloves garlic, finely minced
Olive oil
½ pound ground lean beef or lamb
¼ cup Italian flat-leaf parsley, finely minced
¼ cup medium-sized bulgur (found in Middle Eastern markets)
1 tablespoon tomato paste
1 teaspoon each dried basil, dried thyme, sea salt and finely chopped lemon zest
½ teaspoon each black pepper, red pepper flakes and paprika or Aleppo pepper
Dash of cinnamon or allspice
¾ cup crumbled feta and kasseri cheese, combined
Chopped fresh mint or dried mint for garnish
Marinara or tomato sauce
Parmesan cheese
Juice of one lemon
Wash the tomatoes, cut in half lengthwise, scoop out and reserve pulp and discard seeds. Chop reserved pulp and set aside.
Saute onion with the garlic in a few tablespoons of olive oil until the onions are translucent. Add beef or lamb and brown the meat; drain.
Add the parsley, bulgur, tomato paste, spices and tomato pulp and heat through, stirring, for about 5-10 minutes until bubbly. Remove from heat and stir in the Feta and Kasseri cheeses, to taste. Let cool for about 5 minutes.
Using a tablespoon, spoon some meat mixture into each tomato shell. Place stuffed shells on a cookie sheet or in a large greased casserole dish. Top each tomato with a tablespoon or two of marinara or tomato sauce and bake, uncovered, in a preheated 350-degree oven for about 30-35 minutes, or until heated through and sauce is bubbly. (Check occasionally and spoon more sauce over tomatoes as they are cooking, if desired.)
Remove from oven, top with a sprinkle of Parmesan cheese and fresh or dried mint and drizzle with lemon juice and olive oil. Place on a serving platter with a small bowl of marinara sauce and small slices of garlic or cheese toast. Serve hot or cold.
— Recipe from Christine Vartanian Datian, Las Vegas
WARM CRAB ARTICHOKE AND PARMESAN DIP
1 8-ounce package cream cheese
2 cups mayonnaise (do not use reduced-fat or fat-free)
¾ cup very thinly sliced white onion
¼ cup minced sweet red bell pepper
¼ cup minced green onion
½ cup minced celery
½ teaspoon Tabasco
1 teaspoon minced garlic
1 tablespoon fresh lemon juice
1 can or jar (13.5 to 14.75 ounces) artichoke hearts (not marinated), drained well and coarsely chopped
¾ pound crabmeat, drained well
6 ounces high-quality Parmesan cheese, shredded
Minced fresh parsley or thinly slice green onions for garnish (optional)
In a medium bowl cream the cream cheese until soft, then beat in the mayonnaise until just blended; do not overmix. Fold in remaining ingredients until well combined. Place dip in a 9-by-13-inch baking dish, smoothing but not compacting mixture. Refrigerate.
When ready to serve, place in preheated 425-degree oven. Bake for 8 to 12 minutes, or until dip just starts to bubble around the edges and is heated though and the cheese is melted. If desired, sprinkle with garnish. Serve immediately.
Serve with thinly sliced French bread or crostini.
— Recipe from Cindi Santos, Mesquite (Source: Seattle Times)
RICOTTA THINGS
Take 1 slice Italian Genoa salami and top with 1 slice of orange, 1 slice of fresh mozzarella, 1 slice hard-cooked egg, a generous spoonful of ricotta and a jumbo black pitted olive. Repeat as desired. Tell guests to try to get a little of each ingredient in each bite.
— Recipe from Dolores Norelli, Las Vegas
Contact reporter Heidi Knapp Rinella at hrinella@reviewjournal.com or 702-383-0474.